Another sea day, another day to sleep in, especially after eating at the Emerald Steakhouse, I was out to the world; so out, that I didn't eat or want to eat for 14 hours. That 18 ounce prime rib was awesome!
I went to eat breakfast in the Lido buffet and it was late enough where there was barely anyone in there. Regardless of what time of day I eat breakfast, I will always eat it on deck 10, where the fish and chips station is located. The omelet station seemed to be super popular followed by the standard buffet line with the hot food. I miss the salmon on the breakfast buffet line, has that been gone for a while or is it only served in the Main Dining Room's breakfast service?
After breakfast I went back to the cabin and worked a little before my interview with Josh the Cruise Director.
People were asking me the chair situation on sea days and it's not that bad. There was a full ship this sailing (over 3,000 guests) and there were plenty of open chairs on the deck. It's so weird seeing this ship's lido deck after having been on a couple of ships that have the Fun Ship 2.0 upgrade.
The interview with Josh went really well. I told him to only schedule a few minutes for the interview and we wound up talking for well over 20-minutes. It's very rare that you find someone so passionate about their job. He realized he wanted to be a cruise director at age 9 and followed through with it. Josh has been with the company for eight years.
There was a bunch of big blowout sales on deck five today, 50% off this, inches of gold and all that stuff that people go crazy over. It reminded me of John Heald on Carnival Breeze telling everyone to get their Christmas shopping done early. Seriously?!
There were more whales around the ship today. It started out kind of foggy but burnt off by sunrise [edit: sunset]. I still can't get over how great these Canada/New England trips are. This year has really opened my eyes to Canada and it being such a destination.
The final dinner in the main dining room was complete with a song and dance by the servers, turns out our server was the one who was doing all the singing, the whole cruise. Pretty talented dude. I went to check out the Punchliner Comedy Club at 10:45 and the comedian Jim McCue was brilliant, again. He was really picking on the crowd. I was surprised on how packed the comedy club was. We had to stand in the back of the room to get a view. It was literally shoulder to shoulder.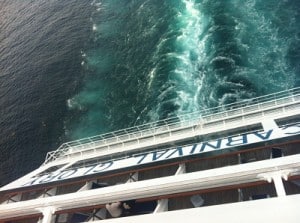 Tomorrow morning is disembarkation and for the first time in years I put my bags out by my door and am going to check them. They have me in zone 1 so I should be off the ship by 8:30 the latest but we'll see. It's been so long since I actually checked the bags but since we are traveling with audio and video gear now, it's less of a hassle to check bags.
I had a little fun with my towel animals from the week when I got back to my cabin tonight.
We arrive into Beantown at 5:30 am and should be docked by 7.
Subscribe to our Cruise News Updates.