Today we got to check out the seaport of Halifax, Nova Scotia. I woke up to watch the sunrise at 4:30 am and believe it or not, I was too late. The sun rose before that, I guess I was messed up by the Atlantic time zone. Sailing into Halifax was very cool as we passed a couple of lighthouses, spun around in front of a little island and docked port side to the dock. Halifax has a lot of history as it's where a lot of the deceased from Titanic were buried, Peggy's Cove, that has the most photographed lighthouse in the world and it suffered one of the largest manmade explosions December 6, 1917.
The ship cleared local authorities around 9am and I was off the ship to meet a friend. A travel writer friend of mine used to be a walking tour guide in Halifax, so she walked us down the boardwalk, around the town area, and over to the fort overlooking the city. People are just so nice in Halifax. The bell tower downtown Halifax which was a couple miles from that explosion I was talking about earlier, it stopped working and as a memorial, one side of the clock is frozen in time to when the blast went off at like 9:04 am. Also a piece of steel from one of the ships made its way into a church and is still stuck in the wall. The caliber of the blast was unbelievable.
We grabbed lunch at a local seafood joint on the boardwalk called Salty's Restaurant. I got to try one of the local drinks called a ceaser, basically a bloody mary with clam juice and it was really good. The lobster roll was good, as well as the local lite beer. After lunch we took the ten-minute ride over to both Titanic cemeteries. Both burial ground gave me chills. When you go to Halifax, you have to try the local fare. Later on in the afternoon I tried something called a poutine (fries, cheese and gravy) and a donair (meat with a sweet sauce) – both were so awesome.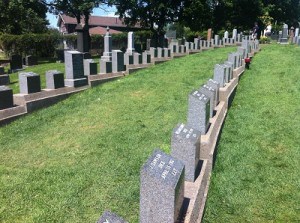 All aboard was at 5:30 and we sailed at six. The sail-away was very scenic pulling out of the harbor, as we made our way to the Atlantic. I've noticed that more people watch the Canadian Maritime sail-aways than Caribbean. I think it has a lot to do with the scenery up this way.
Tonight we ate at the Emerald Steakhouse aboard Carnival Glory. This is the steakhouse located on deck ten, aft and there's a charge of $35 per person. It used to be $30, but with food prices they recently increased it. The steakhouse seats folks from 5:30-9:30 and offers tables for however big your party is. Our reservation was at eight and was seated shortly after. I went with jumbo shrimp cocktail, the 18 oz. prime rib and cheesecake. The cut of meat was very good and I couldn't finish it all, which is a first for me. We wound up staying at the steakhouse until almost midnight and the servers kept bringing water, coffee and wine. It's a very nice atmosphere in there.
A lot of folks were talking about the Love and Marriage show aboard because it had this couple who was married for 50-years on it, they said it was really funny. As I was leaving the steakhouse they had the midnight buffet set up with ice carvings, finger foods and I'm sure a lot of other stuff, I didn't see all of it, because I was so full and only had being lazy on my mind. They also had the Mega Promenade Fun Hop at 11:30 today that I also missed but it was a dance party that spanned from one part of the ship to the other, it started at 11:30 on deck three, Colors Lobby.
There was no comedy show tonight so I came to my cabin a little early and started getting notes ready for the interview with cruise director, Josh.
Be sure you're following our cruise on Twitter, Facebook, YouTube, Pinterest, Cruise Radio Live app, and our SeaBlog.
Subscribe to our Cruise News Updates.