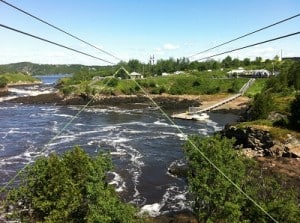 This morning I woke up all confused because of ship's time and local time. My phone said it was 7am and my watch said 6am, on Carnival Glory we stay on ship time (or Boston time). I'm not sure why, but I couldn't comprehend it so I just stayed awake and watched the ship dock in Saint John.
Because Saint John has very high tidal ranges it's necessary to disembark the ship on deck three. For Saint John I went with the zip line excursion that has five lines over the reverse rapids. The ride to and from the cruise pier to the zip line place was no longer than ten minutes and getting there's an $8 cab ride or you can buy the hop-on/hop-off bus ticket that's offered at the pier. If you buy it from the cruise line it's $42.99 per person and kids are like $30. They have a route that stops at ten different locations and runs on a schedule from every 15-30 minutes, so you get the opportunity to see everything. You can Google Big Pink Sightseeing Bus to see if you can buy them cheaper from the company themselves. They may just have an exclusive thing with the cruise line.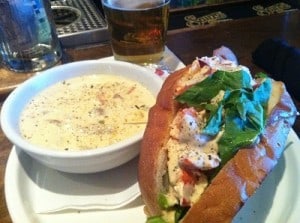 You sign a waiver, get geared up, do practice runs and training and then your off to zip lining. The views from the zip line canopies were breathtaking. One thing I noticed was a big paper mill across the reverse rapids, you can't miss it – kind of an eye sore but it doesn't take away from the reverse rapids and getting a bird's eye view of the jet boats going in and out of the rapids.  The whole excursion lasted about an hour and a half. I have zip lined a couple of time prior and it reminded me of the zip line in Mazatlan, Mexico with all the canopies and the awesome views.
After zip lining I went to get a lobster roll, a local Moosehead beer and lobster chowder from a place in the Saint John Market called Saint John Ale House. It was a little pricey; the lobster roll itself was market price of $35 but well worth it. I don't think I would have paid any more than the $35 but it was well worth. The local brews aren't too bad either.
I did some interviews with the local folks there and then boarded the ship for the sail away. On sail away there's a local that plays Amazing Grace, it gave me goose bumps watching it. It really resonated with me at that time.
Dinner was in the Platinum Dining Room and was typical. I went with the French onion soup, salad, and ribs – they were all good. The servers gave us entertainment by dancing, our server is a riot. I had him on Carnival Liberty and he's full of energy and a great entertainer as well as server. It was downright chilly outside, like lows in the 50's. Definitely not a night to sit on your balcony in gym shorts.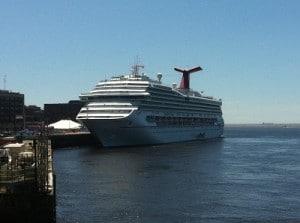 There was no comedy show tonight so I walked the deck to see where everyone was, a lot were watching an illusionist in the main theater and in the casino. They have 851 kids under 18 on this sailing and you would never be able to tell. The youth program is just that great on here. One night there was a group of late teens running around during the movie under the stars but otherwise, it's been a fairly quiet ship.
This definitely isn't that Caribbean crowd. You won't find any super late nights aboard Carnival Glory out of Boston, the excursions and walking can wear you out. I thought the same thing when I was doing my Med cruise though. The excursions are so long and require lots of walking that you don't feel like going out and raising hell at night.
Tomorrow we arrive in Halifax, Nova Scotia at 9am. I have a friend who lives there so she's going to give me a private tour of the city.
Be sure you're following our cruise on Twitter, Facebook, YouTube, Pinterest, Cruise Radio Live app, and our SeaBlog.
Subscribe to our Cruise News Updates.