In a time-honored maritime tradition, a ceremony was held earlier today aboard the 133,500-ton Carnival Horizon at the Fincantieri shipyard in Italy. During the event, a coin was welded to the ship's mast to mark a significant construction milestone.
Fabrizio Timossi of Carnival's corporate shipbuilding department represented Carnival at the ceremony with Clementina Zecchin of Fincantieri's Marghera shipyard serving as godmother.
What is a coin ceremony?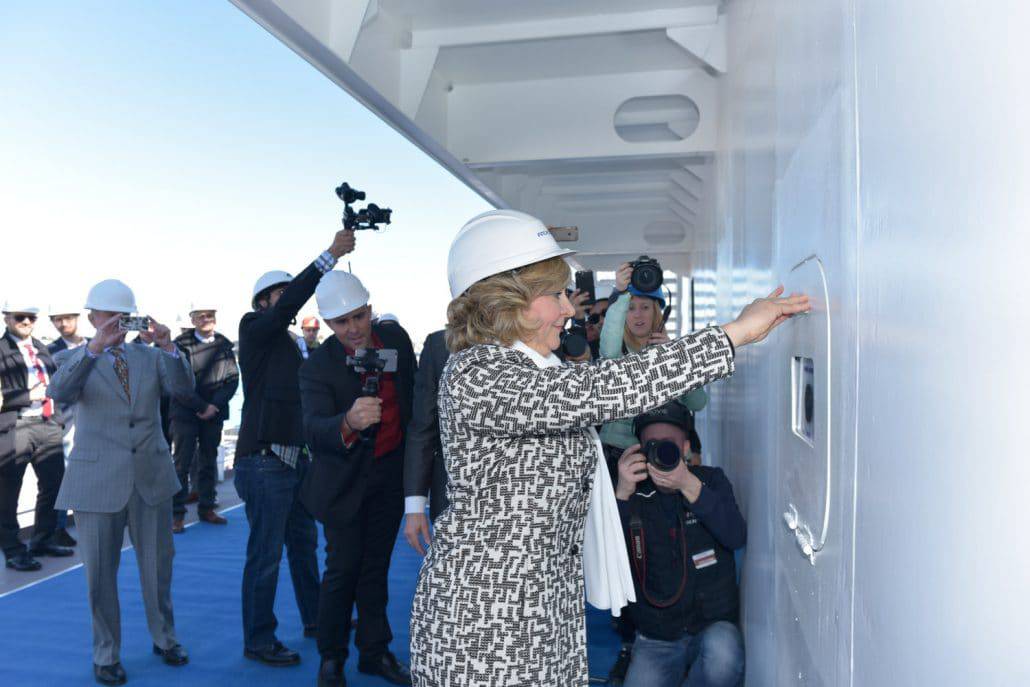 The coin ceremony – which dates back to the ancient Romans who believed that attaching coins to a ship provided divine protection – signifies the successful completion of the ship's exterior outfitting.
With 11 months until completion, the cruise ship will still go through wet dock, interior outfitting, sea trials, crew arrivals and finally the ship delivery.
VIEW CARNIVAL HORIZON DECK PLANS
Horizon will boast SkyRide, an IMAX Theatre and a WaterWorks aqua park with corkscrew slides, a tipping bucket and other attractions. A wide range of accommodations will also be offered, including spa cabins with exclusive privileges to the Cloud 9 Spa, Family Harbor staterooms, and tropical-inspired Havana staterooms and suites with exclusive daytime access to a Cuban-themed bar and pool.
Schedule 
She will enter service on April 2, 2018, with a 13-night Mediterranean voyage from Barcelona. She will spend the summer in Europe before repositioning to New York City for a series of summer cruises to Bermuda and the Caribbean. Carnival Horizon will then relocated to Miami and for year-round six- and eight-day Caribbean cruises beginning Sept. 22, 2018.