Yesterday, we engaged in a guessing game regarding where Carnival Cruise Line's new ship, Carnival Horizon would land. And this morning, we can reveal that the winner is… Miami! With bookings opening today on Carnival.com, her inaugural sailings will begin in March of 2018.
Where Will She Sail?
Carnival Horizon's initial itineraries will include 7, 10, and 13-night Mediterranean cruises in the spring.
After a 14-day transatlantic from Barcelona on May 9, Carnival Horizon will begin its sailings out of New York City.
Carnival Horizon will spend most of the summer doing 8-night sailings out of Manhattan.
Finally, late September will find the newest Carnival ship heading for Miami. Among her first cruises out of that port? A two-day journey to Nassau on September 22. She'll then begin sailing 6- and 8-day itineraries to the Caribbean.
What Should We Expect?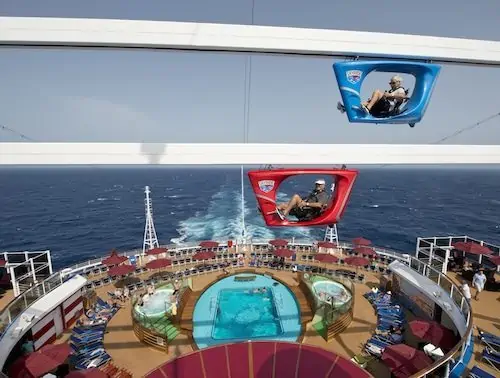 Building on the success of Carnival Vista, it is expected that Carnival Horizon will feature many of the same venues and features, including the wildly popular atrium design, the Havana cabins, an IMAX theater and the SkyRide cycling coaster.
photo: Nancy Schretter/FTN