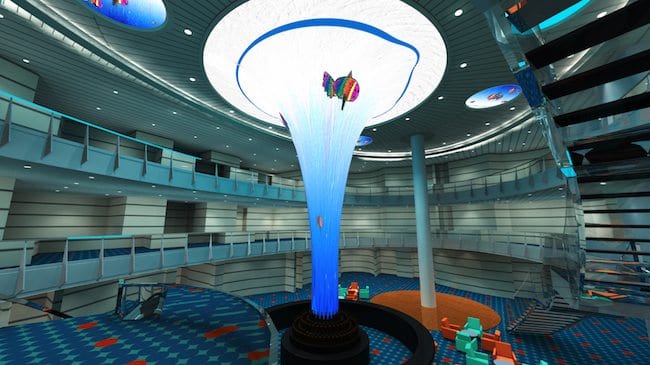 Carnival Cruise Line has announced that the LED "dreamscape" atrium sculpture on the new Carnival Horizon (like the one on Vista) will feature colorful artwork created by patients of St. Judge Children's Research Hospital when the ship debuts in Europe this coming spring. The three-deck high centerpiece will feature 33 different artistic creations from the kids.
The announcement was made at Carnival's Day of Play, an annual event held for kids and their families at St. Judge in Memphis, Tennessee. This year's theme was Carnival Playtime, and kids and their families enjoyed popular games like Sorry! Guess Who, and Yahtzee inspired by Hasbro, The Game Show which is featured onboard Carnival's ships. There was also face-painting, crafts, and giveaways during the event.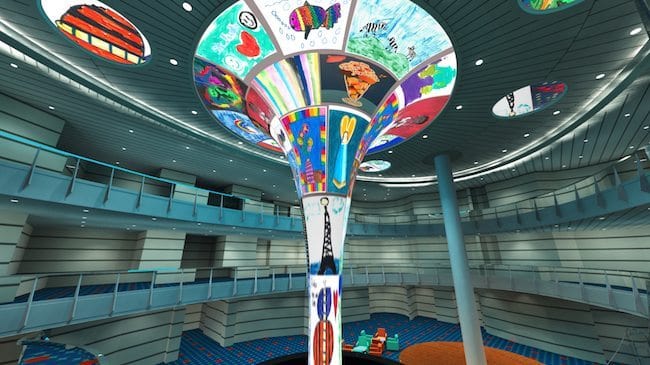 The Dreamscape is a 24-foot funnel-shaped centerpiece that is comprised of over 2,000 flexible LED tiles. Each day, technicians onboard program the rotating artwork based on the time of day, port, or occasion. For Carnival Horizon, the young artists from St. Jude were tasked with creating fun pieces with bright colors to reflect their personalities. The creations will complement the more than 100 images that continually rotate throughout the day and evening, bringing the ship to life in a unique way.
Horizon will boast the first-ever Dr. Seuss themed water park, the popular SkyRide attraction that debuted on Carnival Vista, and an IMAX theater. A wide range of cabins will also be offered, including spa cabins with exclusive Cloud 9 Spa privileges, extra-spacious cabins in Family Harbor, and tropics-inspired Havana staterooms and suites with exclusive daytime access to a Cuban-themed bar and pool.
The ship will make her maiden voyage on April 2, 2018 and operate four cruises in the Mediterranean from Barcelona. After that, she will reposition to the US with a 14-day transatlantic crossing to New York from May 9-23. Following a summer schedule from the Big Apple, Carnival Horizon will shift to Miami and kick off her year-round schedule of Caribbean cruising.
Renderings: Carnival Cruise Line