Now I already know what you're thinking.
How on earth could something as simple and sacred as a barbecue be powered by social media, of all things?  We'll find out – it's quite a unique way.
Carnival Cruise Line joined Operation Homefront on Wednesday, July 5 to extend the July 4th festivities and thank men and women serving at the Marine Corps Air Station Miramar in San Diego.  The unique summertime feast included burgers whose buns were lasered with heartfelt messages of thanks to service members using a culinary laser printer.  (Who comes up with this stuff!? That's awesome!)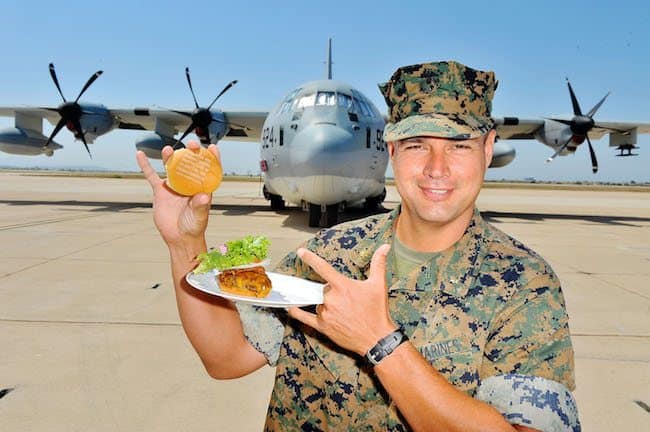 Using the hashtag #ThankYouBurger, Americans showed their appreciation of the US military by tweeting and posting messages of gratitude via Twitter, Facebook, and Instagram.  Over 15,000 messages were transmitted in real time to a tech-enabled grill at the base in San Diego, and then printed onto burger buns and served during the barbecue themed event.  In recognition of the tweets and posts received, Carnival Cruise Line also donated $25,000 to Operation Homefront to help further the organization's mission.
Deshauna Barber – godmother to Carnival Vista and the first woman serving in the military to be named Miss USA – joined Carnival Chief Maritime Officer William Burke and Operation Homefront president and CEO Brig. Gen. (ret) John I. Pray Jr. to personally serve almost 2,000 burgers to military personnel.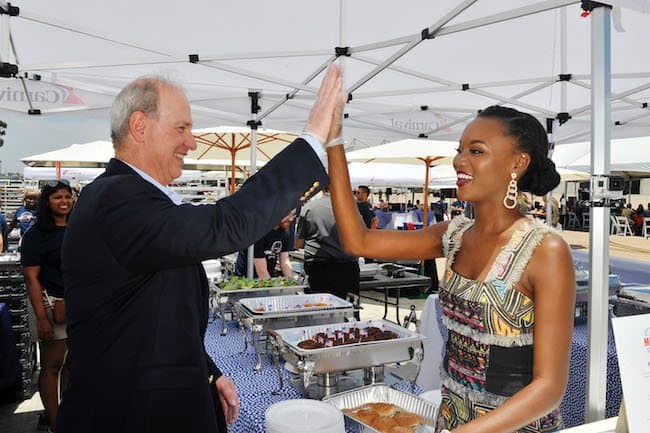 "We wanted to create a platform for Americans looking to connect with the military and show our gratitude for their service during the July 4th holiday," said Burke.  "We all want the troops to know how grateful we –and our country – are for protecting our freedom and this unique social media-powered barbecue is a fantastic way to show our appreciation."
The special event was part of the continuing partnership between Carnival and Operation Homefront.  Last year, hundreds of military families were invited for a fun event aboard Carnival Vista prior to her inaugural cruise from the US.  That was a culmination of a year-long campaign called Honor.Family.Fun which helped raise awareness and funds for the organization and its cause.
Photos by Jerod Harris/Getty Images for Carnival Cruise Line