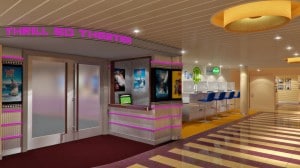 First 3D, 4D, and now 5D on a cruise ship?
That's what Carnival Cruise Lines announced today for their upcoming 3,690-passenger Carnival Breeze. The line will install a 5D-theater on their newest ship along with all the other elements of Fun Ship 2.0, their $500-million initiative to enhance guest experiences.
So what is 5D technology?
A multi-dimensional experience that will make them feel like they are actually in the movie. The theater combines a high-definition 3D projection system with 4D elements such as squirting water and bubbles, and original special effects that will tickle guests' legs, blow air on their necks and poke them in their seats. Seats within the theater will shift back and forth, move from side to side and also vibrate, creating an exciting "fifth-dimensional" element. Guests will receive special 3D glasses that deliver a truly immersive movie-going experience," says Carnival.
To kick off this announcement and get guests ready to experience it, the cruise line kicked off 5D Challenge: Trivial Pursuit Edition. If you go to their Facebook page you can play to win a bunch of cool electronic gear.
One prize will be given away daily for the next five days (January 9-13) with contestants required to correctly answer three daily trivia questions to enter into a prize drawing. Prizes include a 50-inch 3D Plasma HDTV, 3D phone, HD camcorder, and a $250 movie theater gift card. Also Hasbro Video and Board Game Prize Packs, including an Xbox 360 gaming console,will be given away throughout the contest period.
Be sure to sign-up for our Daily Updates here.
Source: Carnival