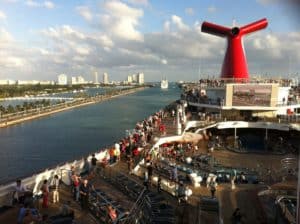 In early October, Carnival Cruise Lines announced Fun Ship 2.0, a $500-million dollar investment on a majority of the ships in their fleet. In a nut shell it's an overhaul of some public areas and entertainment on the ship. Carnival Liberty was the first ship to go into dry dock to get these enhancements and the crowds are really receptive. We decided to come put Fun Ship 2.0 to the test, the 2,974-passenger Carnival Liberty on a 7-night Western Caribbean sailing.
I did a pre-cruise night in Miami at the DoubleTree- downtown. The cab ride to the hotel from the airport was $29. The hotel was nice.
We actually reviewed the hotel in 2010, so you can read the review here. Saturday morning I woke up and took a cab to the pier around 11:30($14 cab ride). Maybe a lot of cities are doing this but Miami adds $1 to every cab fare for a fuel surcharge.
Embarkation at the Miami cruise pier was a breeze. There was 5 other ships in port: Norwegian Epic, Celebrity Millennium, Celebrity Eclipse, Carnival Destiny, and us, Carnival Liberty. We boarded the ship around noon and went straight to Guy's Burger Joint where I had two of those awesome burgers. In case you're wondering, these burgers are hands down the-best-at-sea. All the burgers were created by chef Guy Fieri and you can tell. The hand cut fries also rock!
The acoustic guitar player on the lido deck really help set the mood and he was awesome. He played a lot of top 40, rock, and country.
The lifeboat drill was down on deck four and very organized, it lasted about 15-20 minutes and then we were off to the sailaway party. If you've never sailed out of Miami before, do it! This was the first time I've sailed out of Miami on a full port day and our ship was the only ship that had to go all the way up harbour and spin around so we got to pass all the ship. As we were making our way up harbour, Norwegian Epic, Carnival Destiny and Celebrity Millinenum got a head start on us. Celebrity Eclipse was the last ship from the pier. It was clear that the passengers on the Carnival ships were hands down the one in it for fun. The other ships looked like a ghost town on the decks!
During the sailaway party led by Cruise Director Butch, the crowds were really receptive to the new dining venues Blue Iguana Cantina, Red Frog Rum Bar, Guy's Burger joint, and Blue Iguana Cantina. During the sailing there's going to be a lot of games and contests between the two bars. I thought that adding all those venues would be a complete cluster on the lido deck (where they're located) but all the venues have plenty of depth so crowding isn't an issue at all.
After we made our way out of the port I went to get my third burger at Guy's burger joint, the Pig Patty.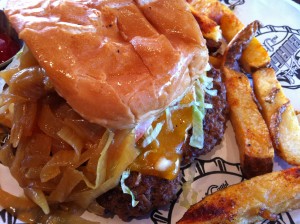 Once the casino and shops opened, a lot of passengers were down there. I went to walk around the ship and explore for a couple of hours before dinner.
We had late dining. The menu had Steak, Shrimp, soups, and a variety of other delights. I went with the beef soup and a rare steak. As always, Carnival's food and service was awesome.
After dinner we went to their EA Sports Bar which is kind of attached to the casino. This was another one of their Fun Ship 2.0 enhancements and it was a crowd pleaser. I've never seen so many screaming football fans in one bar. The 20+ flatscreen TV's and 24/7 sports ticker were awesome. I'm hoping they'll air the Jaguars game for Monday Night Football (the true test).
I caught the 11:45 adults-only comedy show. Eh, not my favorite comedian. His name was John Knight and he did the Showtime thing. I notice a lot of comedians have that to their credit. I'll give him time, it's only the first night and he sure didn't impress me. I walked out.
Though this ship has the Fun Ship 2.0 make-over, they don't yet have the comedy program implemented on any of the ships in the fleet. Once rolled out, it will be ran by comedian George Lopez.
This morning we have an event with one of the Carnival VP's, showing us top to bottom about Fun Ship 2.0.
I forgot to mention I'm on deck 8 balcony, midship. Next to the elevators. Not much noise .
Stay tuned and sign up for our instant updates to stay caught up.