The last time I was on Carnival Liberty was in October 2011, after it underwent the Fun Ship 2.0 enhancements. In fact, this ship was the Fun Ship 2.0 prototype. Carnival Liberty was the first one in the fleet to get a lot of the new Fun Ship 2.0 enhancements.
First launched in 2005, Carnival Liberty has been sailing for almost a decade. This is my Carnival Liberty review.
Hear our broadcast aboard Carnival Liberty here.
Pre-Sailing Thoughts 
The last time I sailed Carnival Liberty was in 2011, so I pretty much knew what to expect, but I was more excited about the itinerary. Carnival Liberty is now based in Port Canaveral, Florida year-round operating five, seven, and eight-night Caribbean sailings, so I was excited to explore St. Thomas, USVI; San Juan, Puerto Rico; Grand Turk, Turks and Caicos, and Nassau, Bahamas.
I will also tell you that I had Guy's Burger Joint on my mind because those burgers are just that good. I couldn't wait to get on the ship and start chowing down.
First Impressions
You board the ship on level three in the Atrium where there was a lot of music playing and people dancing. The look of the ship has not changed, it was clean, filled with excited people embarking on their vacation, and the drinks were flowing. The music was playing and there wasn't any of the old school cruise ship music playing – it was hip and modern and I liked it.
The staterooms with Carnival aren't ready until 1:30 pm unless you purchase Faster to the Fun for $49.95 per stateroom or are platinum status or above. We boarded at 2:30 pm so our staterooms were going to be ready regardless.
Overall, Carnival Liberty was  looked great for a nine-year old ship and was well-kept.
Stateroom
The cruise rate was a last minute fare so it was pretty much a steal; it was under $300 per person for seven-nights (one of the advantages of living in-state and close to the cruise port), we wound up with an ocean view cabin, and not just a porthole, a big rectangle window on the Riviera deck.
There was plenty of room with three big closets when you first walked in, a vanity after that, and then a long skinny shelf to put accessories on.
The stateroom itself only had one plug in it but we made do. There was also a plug in the bathroom but I wasn't sure how good it was, I used it a couple of times and it made my iPhone charger really hot, so I discontinued. The TV was a flat screen that let you check your folio, buy excursions and look at the dinner menus, but it was smarter than me, because I couldn't figure it.
I was impressed with the stateroom because not only did it have a bed, but a long couch, a table, and a refrigerator to store to bottle waters.  The safe was under the TV and activated by a credit card or drivers license. It said you couldn't use your sail and sign card to lock and unlock it and I wondered why, then it occurred to me that every sign and sail strip is the same without the data on it. So you had to use a unique card; I just used my Florida driver's license.
Entertainment
There is one thing that Carnival Liberty had a lot of and that was entertainment. There was literally something going on every hour of the waking day. If you wanted to see a show, play bingo, trivia, lay out, head to one of the many bars – you could. Carnival Liberty does not have the new Playlist Productions entertainment; it still has stage dancers and an orchestra which was a cool touch.
A typical day of entertainment was going ashore, coming back and showering, having a pre-dinner drink in the Alchemy Bar, doing dinner, catching a show with the orchestra (which was really cool!) and then catching a late night comedy show in the Puncherliner Comedy Club Presented by George Lopez. You'll want to get to the Punchliner Comedy Club early because it fills up fast!
The comedy club was located on deck five aft and was pretty spacious compared to the club on Carnival Sunshine. The comedians were funny and one of the performers, Happy Cole, I saw perform on sailing out of Jacksonville back in 2011 on Carnival Fascination. Typical adult comedy.
Entertainment was spot on. If someone complained that there wasn't enough to do they weren't looking hard enough because I never found myself bored, and I am not a fan of sea days at all.
Dining
Dining is so objective because no two people have the same taste buds. I thought the food quality overall was great on Carnival Liberty. It's one of the cruise ships that recently switched to the American Feast and American Table menus. Basically every night in the main dining room there is a different menu, with food based around the region you're sailing. For instance, we had jerk chicken one night and a citrus mahi another night – both Eastern Caribbean dishes.
We opted for the Your Time Dining, which allowed us to eat whenever we wanted to eat and it worked out pretty well. One night we had about an hour wait but after that we never waited more than five minutes to be seated.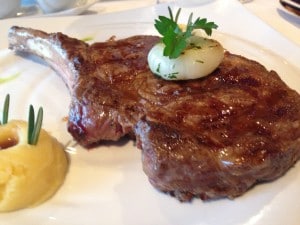 I did check out the Diamonds Steakhouse one night during the sailing and it was fabulous. The 18 oz. Cowboy Cut steak was to die for, I pretty much gnawed all the meat off the bone. The jumbo shrimp cocktail, French onion soup, Caesar salad, and fruit dish for dessert were all amazing. There aren't a lot of steakhouses at sea that I would say are worth the extra surcharge, but Crown Grille on Princess Cruises and Carnival's steakhouse constantly rank number one in my book.
The lido deck, pizza joint, fish and chips, buffet, Guy's Burger Joint, Blue Iguana Cantina, and Taste Bar were all great and really helped space out the crowds. You could tell that Carnival really thought out the venues and how to spread the people out at any given time.
On two mornings we did room service. Both mornings they were a little late but it was because we had early port days and I'm sure the whole ship ordered room service. The servers bust there butt on the ships so it was all good.
Serenity
The adults-only Serenity area was located forward on Carnival Liberty. Just forward of the slide. It clearly stated adults only, 21 and up. I was worried that Serenity would be tight because the ship holds 3,000+ passengers and both sea days were picture perfect, but both days there were no problems finding chairs together. Serenity is made up of two levels so it helped space the crowds.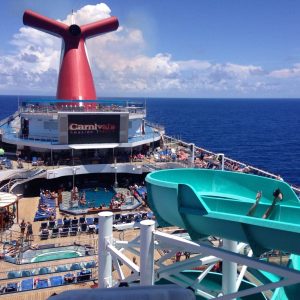 Outside
You can tell a lot about a ship on its sea day, how is the entertainment, are there any areas of mass congestion and how did they space the food venues out?  I never had a problem finding a chair on sea days, the lines were never terribly long, and the ship just seemed to flow.
This ship has three pools. There's a little pool forward underneath the water slide, there is a big pool mid ship, and then another big pool aft under the retractable roof.
Final thoughts 
Carnival Liberty is a great addition in Central Florida with her week-long sailings and with the affordable airlift into Orlando. The ship will have no problem selling out and giving guests awesome itineraries.
The Fun Ship 2.0 on Carnival Liberty was well received by all the guests and everyone I spoke to raved about the Guy's Burgers. Even at over 1,000 calories per burger, they still rock!
Have you listened to Cruise Radio yet? Subscribe to us on iTunes and Stitcher Radio Network.