Carnival Cruise Line is continuing their Carnival LIVE concert series with a new announcement to the 2017 lineup.  Country music superstar and Carnival partner Carrie Underwood will be performing aboard Carnival Imagination in April.
One of country music's leading artists, Underwood will perform in the ship's intimate Dynasty Lounge while it's docked in Catalina Island on April 4, 2017 during a four-day voyage out of Long Beach, California.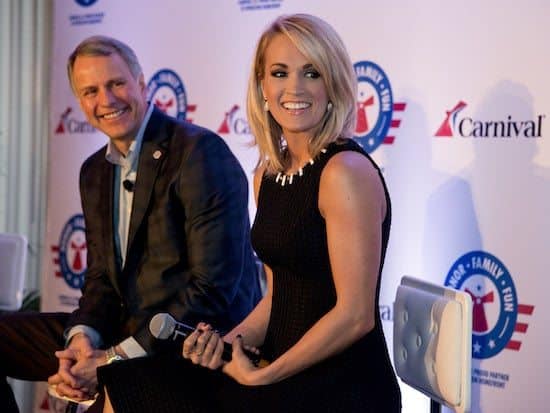 Carnival LIVE's 2017 lineup includes country artists Tim McGraw and Little Big Town, as well as comedians Jay Leno and Jeff Foxworthy who will perform on seven ships from five US homeports.
The Carnival LIVE programming is a one-of-a-kind experience that brings the best in live entertainment to sea, giving guests a special opportunity to see performances from their favorite artists in a setting that is more intimate than usual.  Performances are held in the ships' main show lounges, which range in capacity from 750 to 1,400, giving shows a more personal feel.
Tickets for Carrie Underwood are $80 for general admission, and Premier tickets are $150 and include seating in the first few rows, Carrie Underwood merchandise, an Honor. Family. Fun. dog tag, and commemorative concert pass.