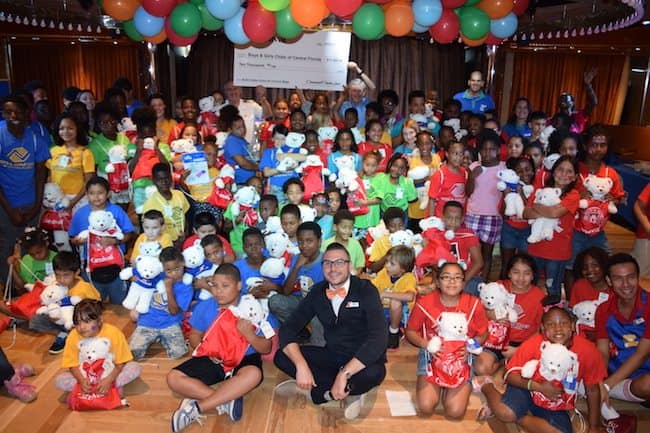 Carnival Cruise Line hosted a Build-A-Bear Workshop event that provided over 100 kids from the Brevard, Florida area Boys & Girls Clubs with a day of fun aboard Carnival Magic in Port Canaveral.
Coinciding with Build-A-Bear's 20th birthday, the event offered kids the chance to make their own cuddly bears that could be customized with a Carnival t-shirt, among other accessories. Each bear came with a "birth certificate" and special drawstring bag for safekeeping. Kids also enjoyed bear-themed sweets and a pizza party, along with a fun tour of the 130,000-ton ship. The day culminated with a $10,000 donation from Carnival Cruise Line to the Boys & Girls Clubs.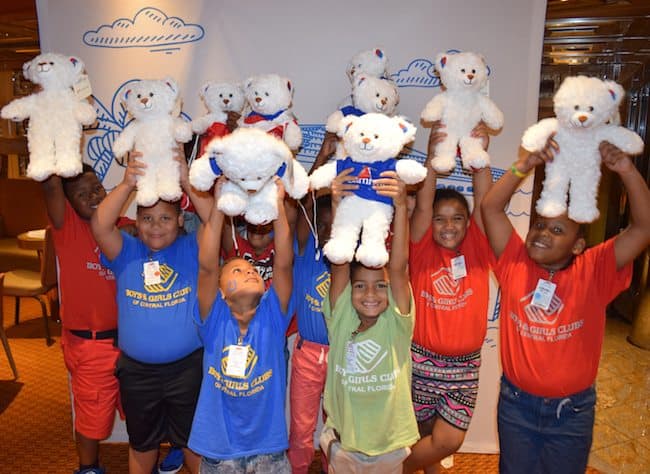 Carnival launched the first-ever Build-A-Bear Workshop at Sea last year, and the fun activity is now available on all 25 ships which collectively host over 800,000 kids annually. The program includes Build-A-Bear stations located within the kid's play area on each ship, and Build-A-Bear at Sea parties hosted by the ships' cruise directors and feature music, snacks, and photo opportunities. A variety of outfits and accessories are available so that every child's bear is personalized to their preferences, and can even include a recordable chip that gives each bear its own voice.
Build-A-Bear Workshop at Sea complements the wide variety of activities aboard Carnival ships, which includes programs for kids 2 – 17, water parks with slides and splash zones, mini golf courses, video arcades, poolside movies, outdoor sports courts, and more.
SaveSave