Mardi Gras, the ship that will change everything for Carnival Cruise Line hit a major milestone as it was floated out at Finland's Meyer Turku shipyard on Thursday morning.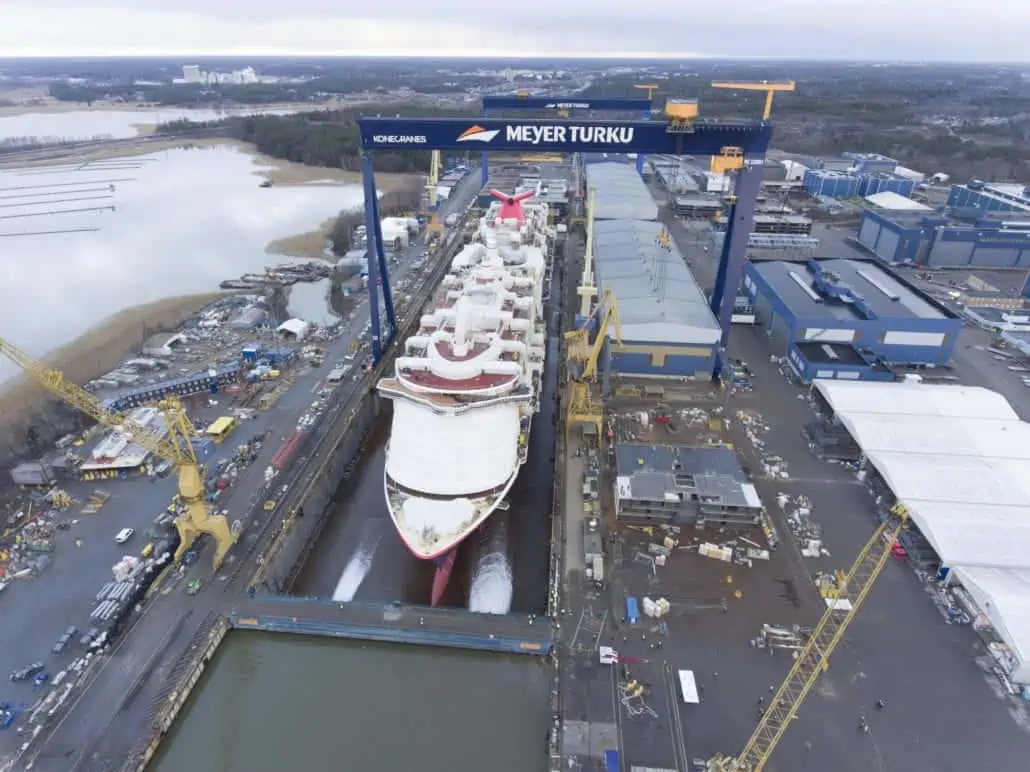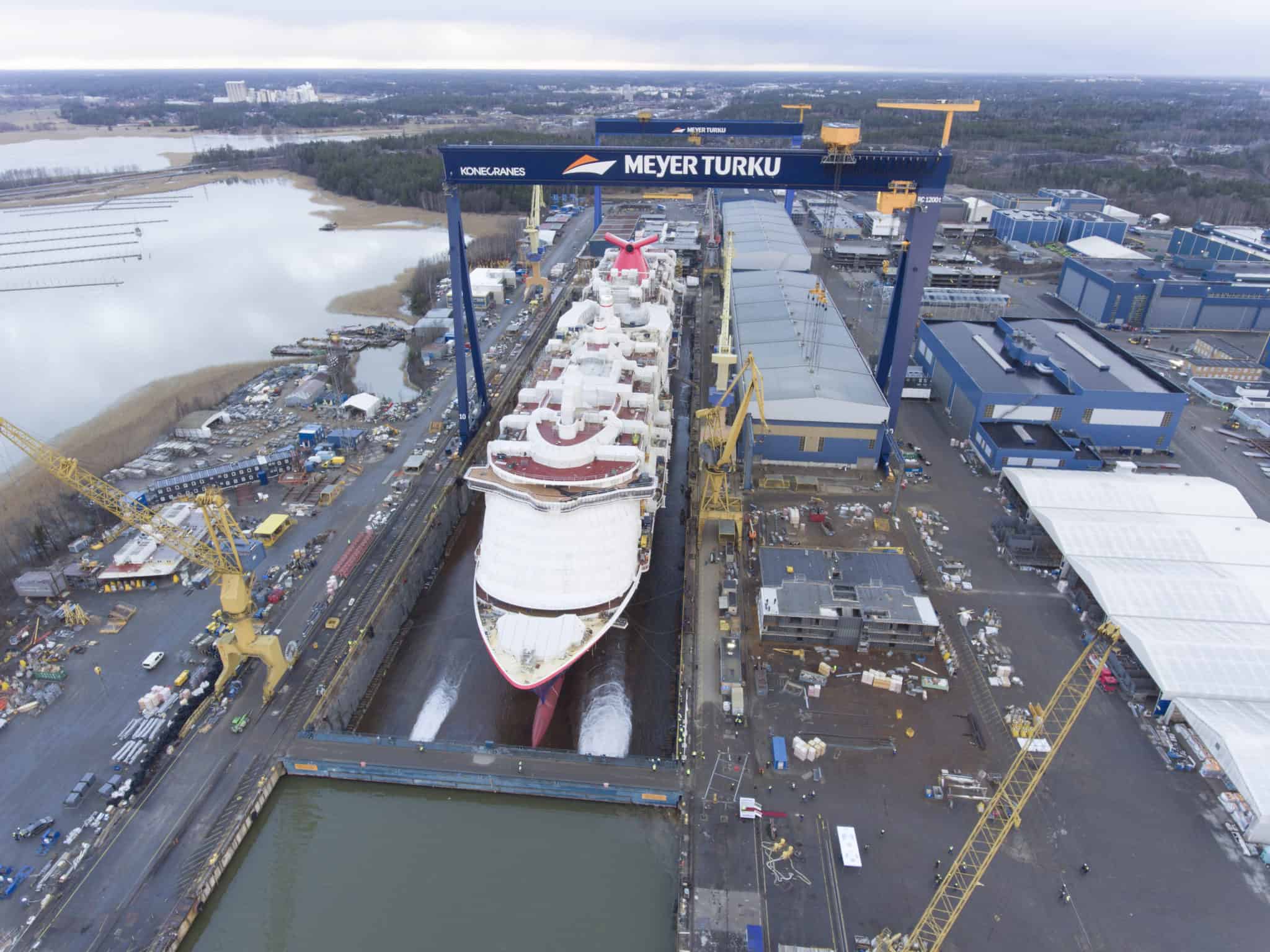 What's Next For Mardi Gras
Brand Ambassador John Heald was among those on-site for the occasion. Via a live stream on Facebook, he allowed Carnival fans and future Mardi Gras sailors to enjoy the experience.
READ MORE: How Mardi Gras Will Change Carnival Cruise Line Forever
As water filled the drydock, the ship slowly rose, ready to be floated to another location in the shipyard so that the outfitting of every stateroom and public space could be completed. "I know I should come up with some really brilliantly descriptive words for the Mardi Gras, and I'm sure I will as I continue to film," said Heald of the site. "But can I just say this: She looks absolutely huge and she looks stunning with the new coloring on the hull!"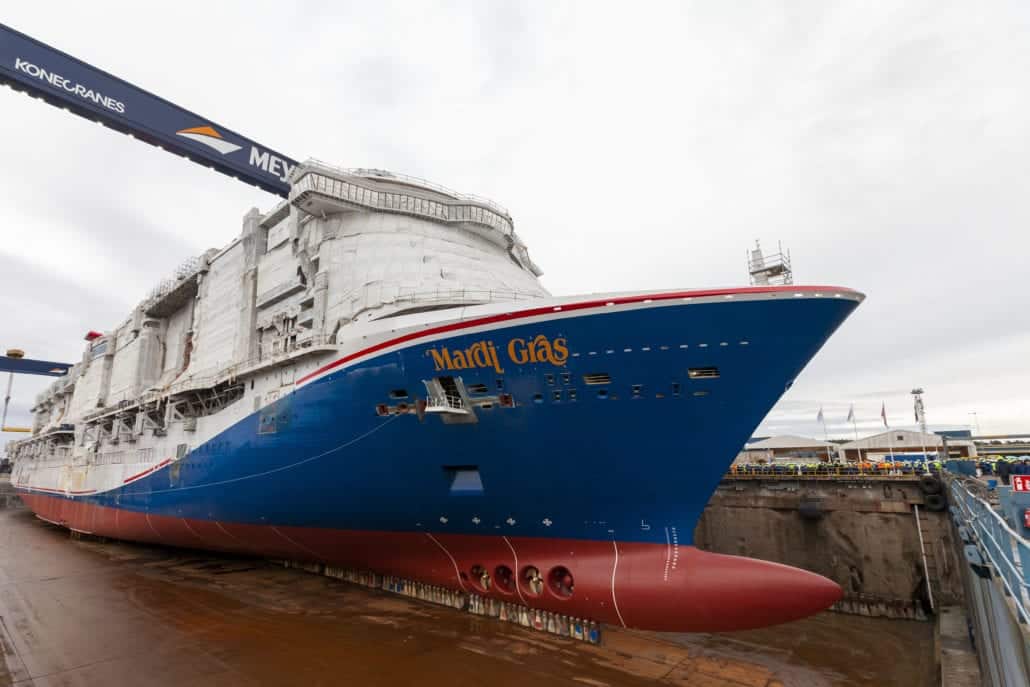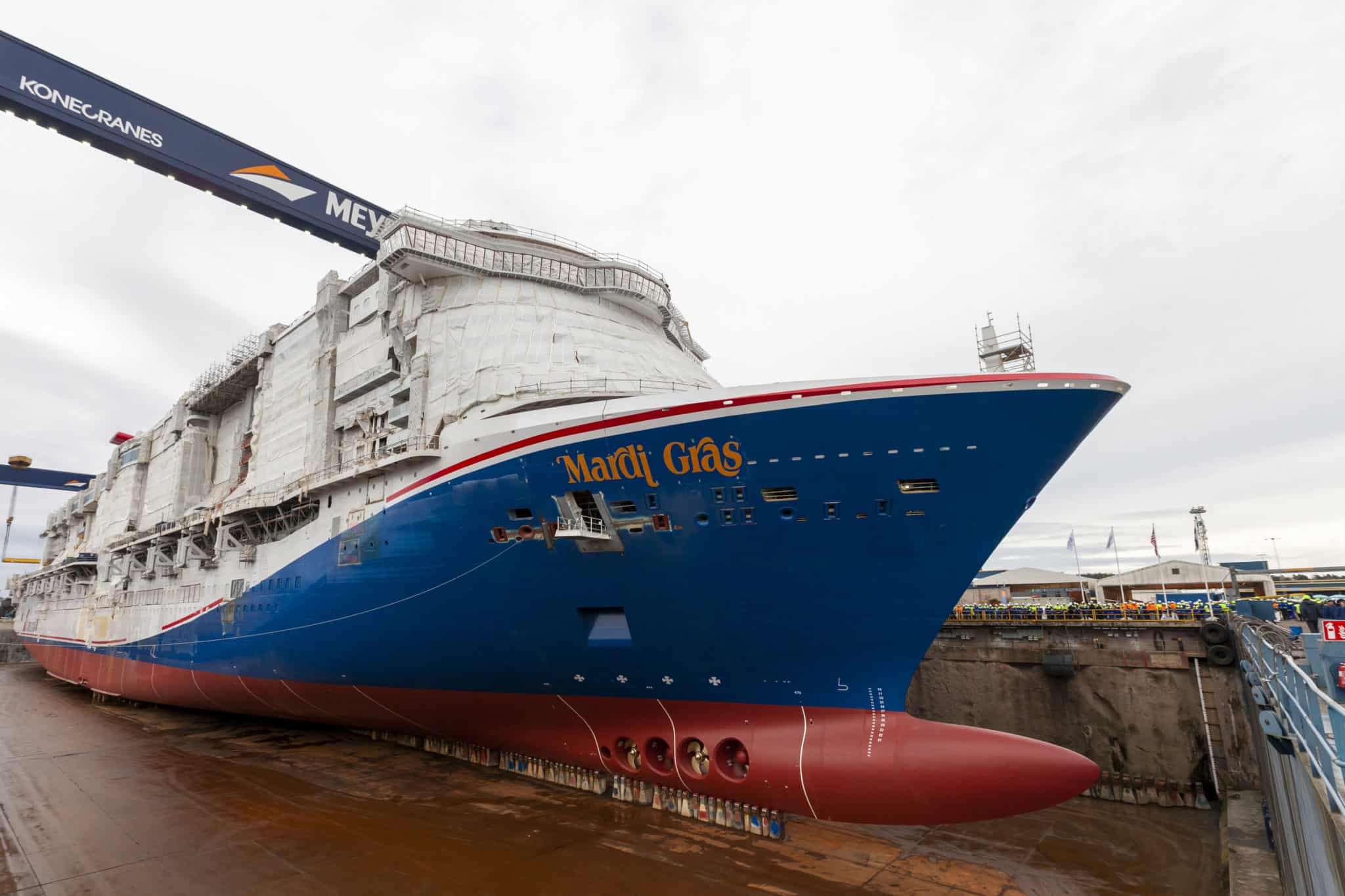 The hull is the first indication of the changes Mardi Gras will bring to Carnival's fleet. Instead of the standard white hull that passengers have long known, Mardi Gras instead features a forward-section which is painted dark blue, topped with a red and white stripe.
"Oh," added Heald, "and did I mention she is really, really big?"
What You Won't See On The Ship (Yet)
If you're looking at the pictures, you'll notice that one thing seems to be missing: The highly-anticipated Bolt roller coaster which will race along the top deck. While all of the ship's staterooms (including the high-end new suites) have been installed, the roller coaster is one of the elements which has yet to be added.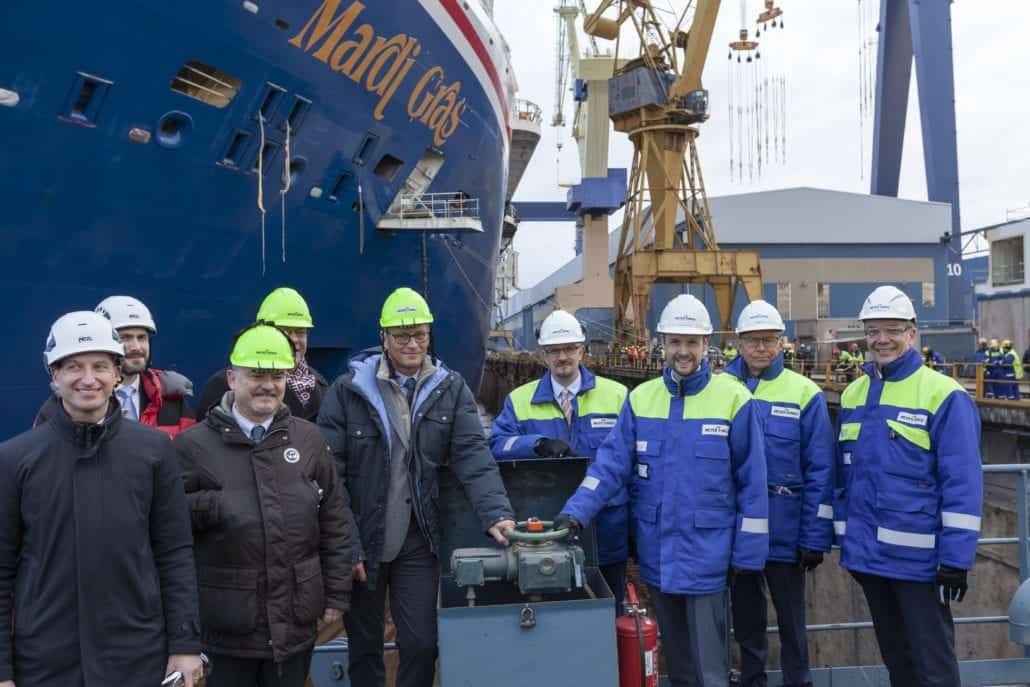 When it came time to open the valves and actually fill the drydock with water, a friendly competition took place between the management and the project team to see which could open their valves the quickest. After the firing of a cannon, the teams rushed to twist the valves.
READ MORE: New Restaurants, Venues Rolled Out On Mardi Gras
"We can't wait for guests to experience Mardi Gras, a one-of-a-kind ship that is a true game-changer and continues the evolution of the Carnival vacation experience," said Ben Clement, Carnival's senior vice president of new builds, who happened to be on the winning team.
What followed was a bit anticlimactic as it takes an incredibly long time for the drydock to fill with water.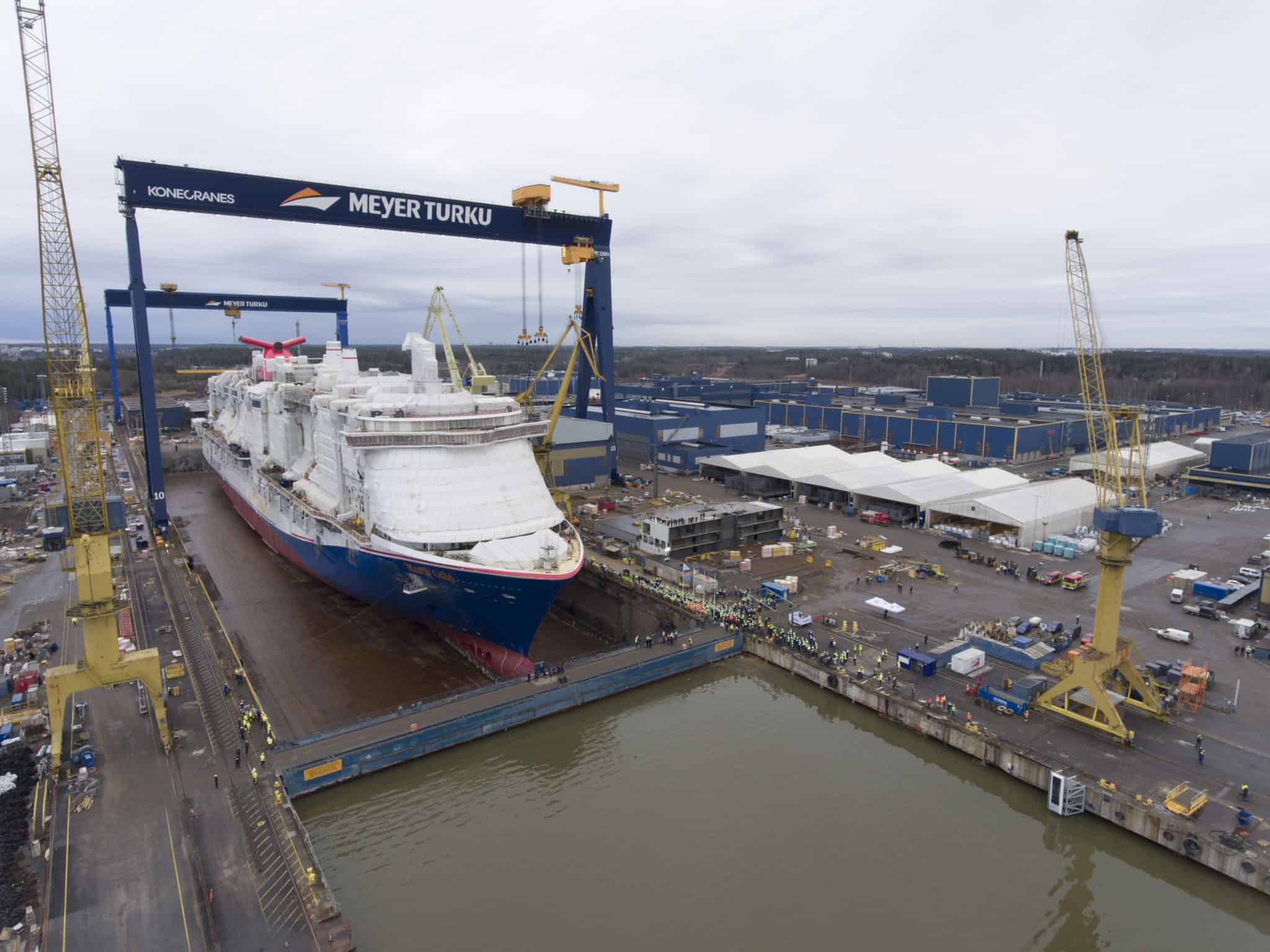 Mardi Gras will begin sailing out of Port Canaveral, Florida on November 14th. (The original launch date had to be pushed back — and eight inaugural sailings cancelled — after there was a delay at the shipyard.) The ship will do seven-day cruises to the Caribbean and the Bahamas.