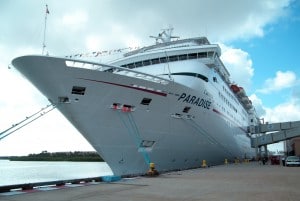 After a 14-night Panama Canal cruise, the 2,052-passenger Carnival Paradise arrived in her new home-port of Tampa, Florida this morning. Carnival Paradise is replacing Carnival Inspiration doing four and five night Western Caribbean sailings to Cozumel and Grand Cayman. Carnival Inspiration will now home-port in Long Beach, California.
"With its convenient location, excellent facilities and proximity to top tourist attractions, Tampa has become one of our most popular homeports and Carnival Paradise will provide an exciting and affordable short cruise option from Florida's west coast," said Gerry Cahill, Carnival's president and CEO.  "The Tampa Port Authority is a valued business partner and we're proud and delighted to continue our excellent relationship with the Carnival Paradise," he added.
Carnival Paradise was delivered in 1998 as "the worlds only non-smoking cruise ship" but in 2003 it was lifted. In 2015, Carnival Paradise will under-go the Fun Ship 2.0 enhancements. She will join Carnival Legend who runs 7-night Caribbean sailings out of Tampa.
Source: Carnival