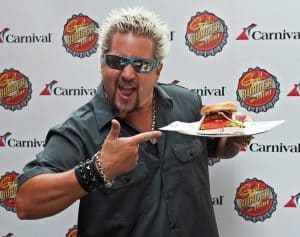 What do you get when you mix Carnival Cruise Line's Fun Ship atmosphere with eccentric Chef/Television Personality Guy Fiere, and free? Guy's Burger Joint.
Part of what Carnival is coining Fun Ship 2.0, Guy's Burger Joint will be rolled out on 14  Carnival's ships, including Carnival Liberty that leaves dry dock later this month.  Guy's Burger Joint will serve burgers and cheese burgers created by Guy, complete with all the fixings and a side of hand cut fries. All of this with no additional cost to the cruise passenger.  
A variety of innovative condiments, everything from chipotle mayonnaise and a special barbecue sauce to garlic aioli and three hot sauces, will be available at two self-serve condiment stations. For guests who like a little more spice, seasonings like garlic and herb, sea salt and hot chili also will be offered, along with a selection of toppings such as sautéed mushrooms, grilled onions, blue cheese crumbles and vine-ripened tomatoes.
"Guy Fieri is a fun, unique culinary superstar whose energy and passion for food is reflective in this one-of-a-kind shipboard burger joint concept," said Gerry Cahill, Carnival president and CEO. "We're thrilled to be able to bring his cuisine to our guests who know him and watch him on television every day. Guy's presence can be felt throughout the entire eatery and his culinary genius will truly make these the best burgers at sea," he added.
Located adjacent to the ships main pool area, the décor of the venue will be with Guy's passion for cars and the California coast. The venue will also have tables with road map signs on them and TV's with Guy talking about his new seagoing adventure.
 "I'm stoked to be partnering with the team from Carnival," said Fieri. "They understand what it takes to make a top notch burger – quality ingredients and a great attitude."
In case you're wondering, they burgers are awesome.
See the video below and be sure to listen to this week's episode of Cruise Radio where Guy joins us.