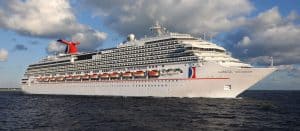 Turns out Virginia isn't just for lovers after an announcement Thursday morning by Carnival Cruise Lines. Carnival will position Carnival Splendor in Norfolk, VA to do a series of two- to seven-night sailings starting May 2015.
Itineraries we'll see:
One two-day cruise departing May 16, 2015
Three, five-day Bahamas cruises calling at Nassau and Freeport
Six-day Bahamas cruise calling at the private Bahamian island of Half Moon Cay, as well as Nassau and Freeport,
One seven-day Bermuda cruise departing
The 3,000-guest Carnival Splendor will also sail seasonally in 2015 from New York and Miami.  From April to November, the ship will operate a variety four to eight- day itineraries from New York to popular ports in The Bahamas, Caribbean, Canada and Florida.
Related articles