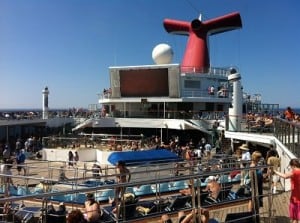 Carnival Cruise Lines outdoor theater located on Lido deck recently received an overhaul with new features like custom movie trailers and branded popcorn boxes, adding to the guests viewing pleasure.
Part of Carnival's "Fun Ship 2.0" initiative, the 270-square-feet LED screen and 70,000 watt sound system brings a variety of movie selections to guests of all ages, all while poolside. Theme nights like "Date Night," "Oscar Winners" and "Classics" are also offered in the outdoor viewing area while kicked back in a chaise lawn chair with a complimentary blanket.
Dine-In Movies are currently available on 12 Fun Ships that offer LED screens – Carnival Destiny, Carnival Triumph, Carnival Victory, Carnival Freedom, Carnival Conquest, Carnival Glory, Carnival Liberty, Carnival Valor, Carnival Splendor, Carnival Dream, Carnival Magic and Carnival Breeze.
The LED also shows popular sporting events, the Cruise Director show and concerts.
Subscribe to our Cruise News Updates.