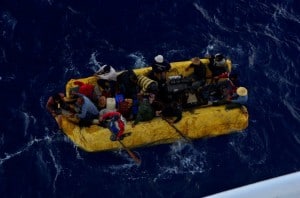 Earlier today, at approximately 4 p.m., while the cruise ship Carnival Conquest was approximately 40 miles off the coast of Key West, Fla., the ship spotted a raft with 13 individuals on board.
In coordination with the United States Coast Guard, the 13 Cuban nationals were taken on board the Carnival Conquest and provided food, water and medical treatment.  The Carnival Conquest is expected to rendezvous with a U. S. Coast Guard cutter later this evening near Key West to transfer them.
"We are happy to have come to the aid of these individuals and to support the long-established tradition among the global maritime community of providing assistance to mariners in distress," said Gerry Cahill, Carnival's president and CEO.
Carnival Conquest is on the last leg of a seven-day voyage that departed New Orleans on Sunday.
Source: Carnival
Subscribe to our Cruise Updates.