This morning I first woke up at 4 am to the whole cabin shaking and had no clue what it was. Turns out a wave smacked the front of the ship and because my room is all the way forward, it was against my wall. It scared the heck out of me. We were sailing well north of the tropical storm but it was still kicking up some swells and wind gusts. Having just been through the same storm days earlier in Florida, I knew what we were in for.
Seaday Brunch Take 1
This morning I had an extra pep in my step because I knew the first thing on the agenda was the sea day brunch. It's a brunch that Carnival does every sea day with everything from tomato soup to honey nut Cheerios crusted French Toast to banana cream pie. The double sided menu doesn't stop (nor should it). You can see the Seaday Brunch menu here.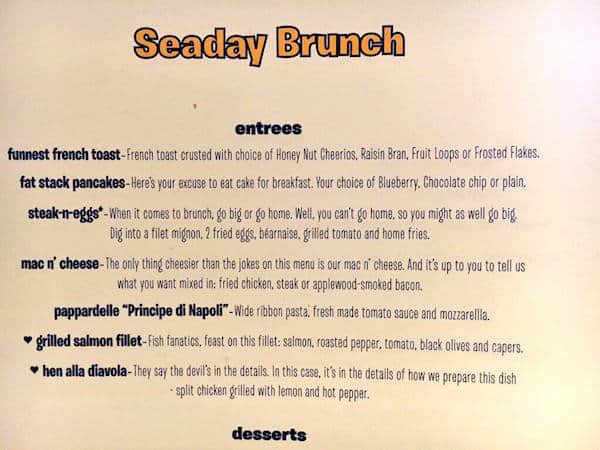 My first attempt at brunch happened around 8:30 and there was a line out the door. So I decided to come back later. One thing I appreciate about this ship is the dining options they have throughout. I wanted some coffee so I stopped by the Ocean Plaza on deck five. They basically have a scaled down breakfast buffet on this deck, and plenty of open seating. It's perfect if you don't want to deal with a crowded Lido Marketplace during breakfast rush hour.
Seaday Brunch Take 2
I walked right up and was seated immediately. The server came over, introduced himself, poured some coffee, and took my order. Within 10 minutes the food started coming out. This morning I went with flaming tomato soup, mac and cheese, and a grilled pork chop – topped off with a piece of banana cream pie. The brunch goes until 1 pm, so it's best you treat the brunch as more of a lunchtime thing than breakfast. Breakfast is super crowded in there. I tend to wander where the crowds aren't.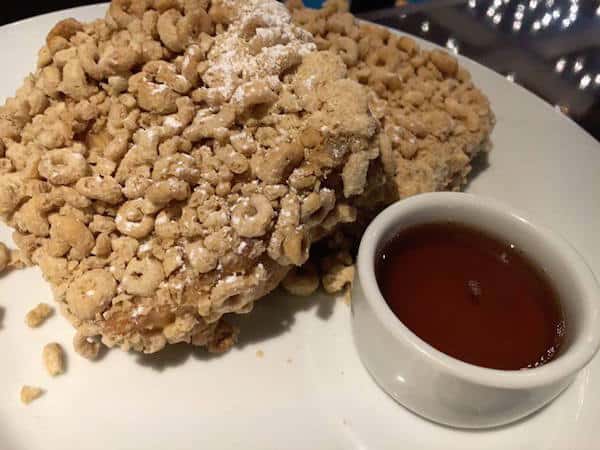 Itinerary Change
During brunch, the captain came on the PA system and gave us a storm update. He told us that because of the projected path of Tropical Storm Hermine, we are now reversing our first two ports. Instead of going to Boston and then Portland, we will be going to Portland first. It's a weird route because we are going north just go to south again, and then sailing back north to Canada. But that is okay with me.
Gym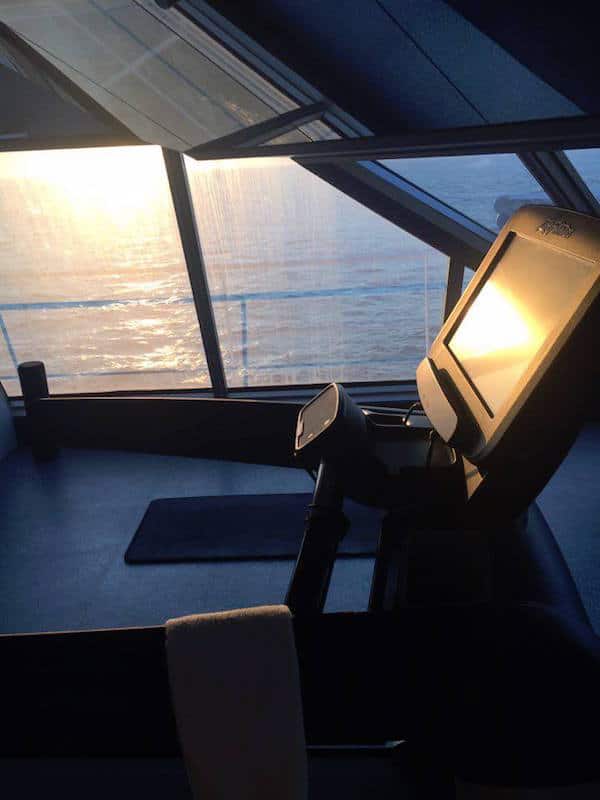 With all this food, I had to go to the gym and at least attempt to work out. Located on deck 10, I got up there around 6 pm and jumped on the treadmill. A mile and a half in, I noticed the sun starting to set so I went outside to deck 11 and started snapping some sunset photos. It was a beautiful sunset at sea.
Steakhouse
I read in the Fun Times that there was space in Fahrenheit 555 steakhouse so I walked in to see if I could get a reservation. The steakhouse is always impressive to me, because for $35 you get a Ruth Chris or Morton steakhouse experience. Also, if you book on certain nights, you get a free bottle of white or red wine. I think they use this promotion as an incentive when not a lot of people book there.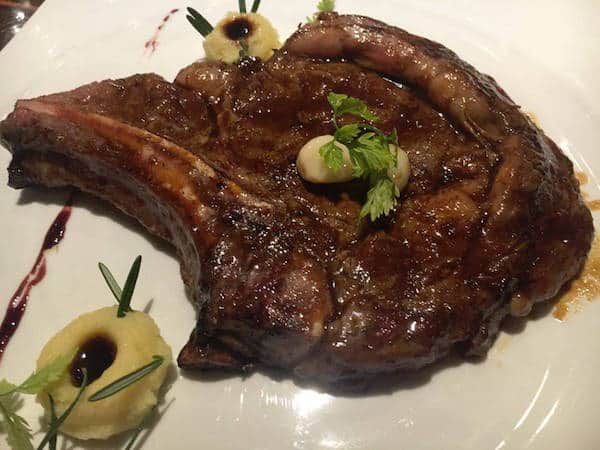 I wound up ordering a shrimp cocktail, escargot, and Cowboy Cut 18 oz rib eye with a peppercorn sauce. It was so good. I pretty much gnawed the steak all the way to the bone – it was quite embarrassing but so yummy.
Comedy Show
During dinner I was going through my Fun Hub app and noticed Happy Cole was performing at 10:30 and 11:15 in the Punchliner Comedy Club.
I interviewed Happy on Carnival Fascination back in 2011. I remembered him being super funny and he didn't disappoint. If a comedian can get through a 30 minute set with having to constantly drop the F-bomb or get really raunchy, he's good in my book. Happy Cole is one of those guys. His adult show was tame in comparison to other acts I've seen. I went to both performances.
Looking Ahead
Tomorrow we are in Portland, Maine. My friend Tim lives there and is going to meet me at the pier tomorrow and give me a brief tour before his Labor Day cookout.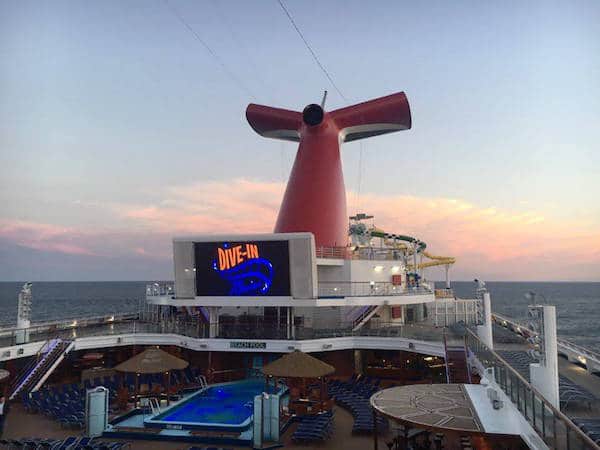 Question: All the reviews I read show that Sunshine gets really crowded. How is the ship on your sailing? 
I haven't noticed any crowding on Carnival Sunshine. Maybe I'm doing things opposite of everyone else, but it has been very easygoing between venues. One area of mass congestion is on deck three and four in the sunshine atrium before dinner. It's there you have people waiting to get into the Sunset Dining Room and buying photos. There is little wiggle room if you're in that area.
Otherwise, walking between shows, through the casino, along the promenade, and outside has been easy.
Carnival has ordered some new ships!
See my other posts during this Carnival Sunshine cruise!