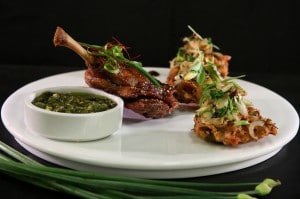 By: Sarah Phillips
China, Mongolia, the Philippines, Indonesia, Singapore and Vietnam's regional cuisines are the inspiration for Carnival Sunshine's brand new, full service restaurant, Ji Ji Asian Kitchen.  Located aft on Lido Deck, the Far East menu features mouth-watering creations and diverse delicacies.
Seven different appetizers, seven different entrees and an assortment of classic sides and soups with a new twist make up the menu. A sample of the menu:
Nanjiing-style duck appetizers
Chicken Spring Rolls with lemon marmalade, curry leaves, pink grapefruit and cilantro pearls
Slow-braised Wagyu beef short rib with watermelon radish
Chicken & Cilantro Root Soup
Sweet & Sour Fragrant Shrimp
Hakka Style Noodles
Don't forget to leave room for desert as it'll include an assortment of Asian-themed options including Rose Crème Brulee with ginger cream and Fried Wontons wrapped with lychee fruit with tapioca pearls and coconut milk. In addition to the normal full bar service, Ji Ji Asian Kitchen will also offer Japanese beers.
Elegant surroundings and clever decorative touches such as hanging light fixtures and Chinese prayer rolls provide ambiance in the restaurant.
Dinner will be a $12 per person change for adults; $5 for children 11 and under.  For lighter fare, at lunch, the restaurant will offer complimentary custom-made noodle dishes.
Carnival Sunshine – and Ji Ji Asian Kitchen – make their debut on May 5th, 2013. Carnival Sunshine will offer nine- and 12-day Mediterranean voyages until October. Starting in November, Carnival Sunshine will make her new home in New Orleans, LA and offer seven-day Caribbean cruises.
Subscribe to our Cruise Updates.
Related articles