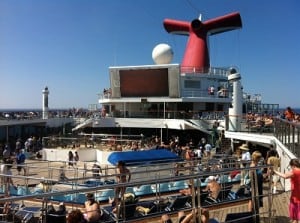 Carnival Cruise Lines announced today that their testing out a new cruise embarkation program to let guests board the ship and get their stateroom earlier. It's being coined "Faster to the Fun" – this will allow guests to embark the ship earlier, grant early access to staterooms (typically not ready until 1:30p), and express luggage service.
For a fee of $49.95 per stateroom, guests can elect the "Faster to the Fun" option. For Platinum and Diamond members of Carnival's VIFP, (Very Important Fun Program) the fee is waived. Carnival recently revamped their VIP guest loyalty program over the summer and re-branded  to VIFP.
The program is being tested on two Miami-based Carnival ships this month: Carnival Imagination on August 20 and Carnival Liberty on August 25.
The package is available on Carnival's Shore Excursion section of their website.
Subscribe to our Cruise News Updates.