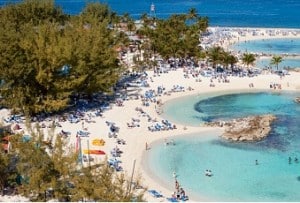 Carnival Cruise Lines announced they'll be calling at Little Stirrup Cay in the Bahamas on select sailings starting in March, replacing Key West.
According to a statement from the line, "Carnival Fascination and Carnival Ecstasy will begin calling at Little Stirrup Cay, a private island in The Bahamas.  The March 14, 2013, visit will be the first of 19 calls to the island by the Carnival Fascination through December 2013 with an additional six calls in 2014.  Carnival Ecstasy will also make 11 calls to Little Stirrup Cay in 2013 and one call in 2014."
Carnival is giving guests the option to re-book their cruise without penalty.
Located 55 miles north of Nassau, Bahamas, Little Stirrup Cay is also home to Royal Caribbean's private island Coco Cay. The excursions on Coco Cay will be available to Carnival's guests.
"Key West remains a popular port and is included on many Carnival itineraries. Even with this change we will still be bringing the most guests in the industry to Key West," said a spokesman for Carnival.
Though no statement has been made from the line regarding the the reduction in Key West port calls, local papers report it could be regarding the Naval base.
Subscribe to our Cruise News Updates.