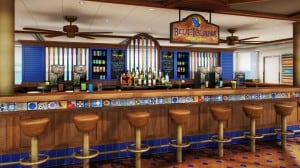 Carnival Cruise Lines announced Monday that they're going to add a little more zing to their poolside atmosphere. As part of Carnival's $500-million dollar Fun Ship 2.0 initiative, the line is adding the BlueIguana Tequila Bar and the Red Frog Rum Bar to their roster. This two venues will be installed adjacent to each other on the Lido deck, poolside.
Sister to Red Frog Pub on Carnival Magic, the Red Frog Rum Bar will offer a variety of "Frog Approved" rum drinks, tropical concoctions, daiquiris, spiked lemonade by the pitcher, the ever-so popular ThirstyFrog Red and the Dominican Republic's Presidente beers are on tap, and bottled brands from the Caribbean (Kalik) and Mexico (Corona) are also featured.  The Caribbean venue will offer soothing colors, fans, and shutters with a teak bar. Be sure to check out the Red Frog Rum Bar's menu.
BlueIguana Tequila Bar's menu will offer seven brands of tequila, margaritas, a choice of five Mexican bottled brews and a special beer cocktail called a Beer Michelada — spiced-up beer in a salt-rimmed glass – along with Dos Equis and Modelo Especial on tap. The BlueIguana Tequila Bar will feature a "south of the border" feel with Mexican tiles and soothing shades of blue. Be sure to check out the Blue Iguana Tequila Bar's menu.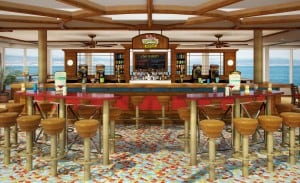 The first ship to roll out these two new venues will be Carnival Liberty, October 2011.
The first stage of Fun Ship 2.0 will include the enhancement of 14-ships spanning into 2015. For a complete schedule of the Fun Ship enhancements be sure to check out the upgrade schedule.
Source: Carnival Cruise Lines