They say that good intentions pave the road to… well, you know. But for one Florida couple, the good intentions of the Port Canaveral security team very nearly led to a vacation disaster.
According to the Arizona Republic, Henry Echevarria and his wife, Lisa, were preparing to board the Carnival Liberty for a cruise out of Port Canaveral when security screeners told them they could not board the ship because of the gun he was carrying. The only problem? The "gun" in question was actually a 2-inch house key carved to look like a firearm.
Echevarria told the paper that because of the port's no-firearms policy, he had to make a tough call. "I either [needed] to get rid of it, take it back or not cruise!"
What Happened?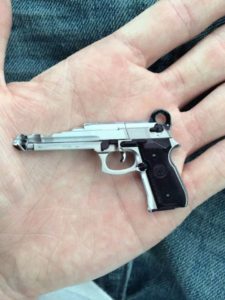 Ultimately, Echevarria – who, along with his wife, works for the Pasco County sheriff's office – opted to hand the key over, allowing it to be put in a safe until he could reclaim it after the cruise. He added that the incident was "embarrassing, because you're sitting there and everyone is looking at you like you did something wrong."
While Carnival Cruise Line does have a strict policy prohibiting any type of firearm or replica of one, a representative told the local TV station that the key in question was definitely not the type of thing they had in mind. As the good-natured traveler pointed out, "It was comical, because it's like, 'Really, what am I going to do with that? You know they give you steak knives on the cruise!'"
Carnival Steps In 
The report concludes by saying that Carnival ultimately contacted the company contracted to do screening on their behalf at the port to explain not only the policy but its intent in the hope of avoiding a similar situation from occurring in the future.
What are your thoughts on this story? What would you have done?