Welcome to Day 4 of our Carnival Trip Report from aboard the Fascination. This morning I woke up at 5:30 so I could see the sunrise… and instead rolled over and went back to sleep.  In my defense, my normal morning cruise routine — early to rise hit the gym, watch the sunrise — was thrown out of whack because I'd sent my laundry out to be done the night before, including my gym clothes. Did I subconsciously sabotage myself so that I'd have at least one day to sleep in? Probably.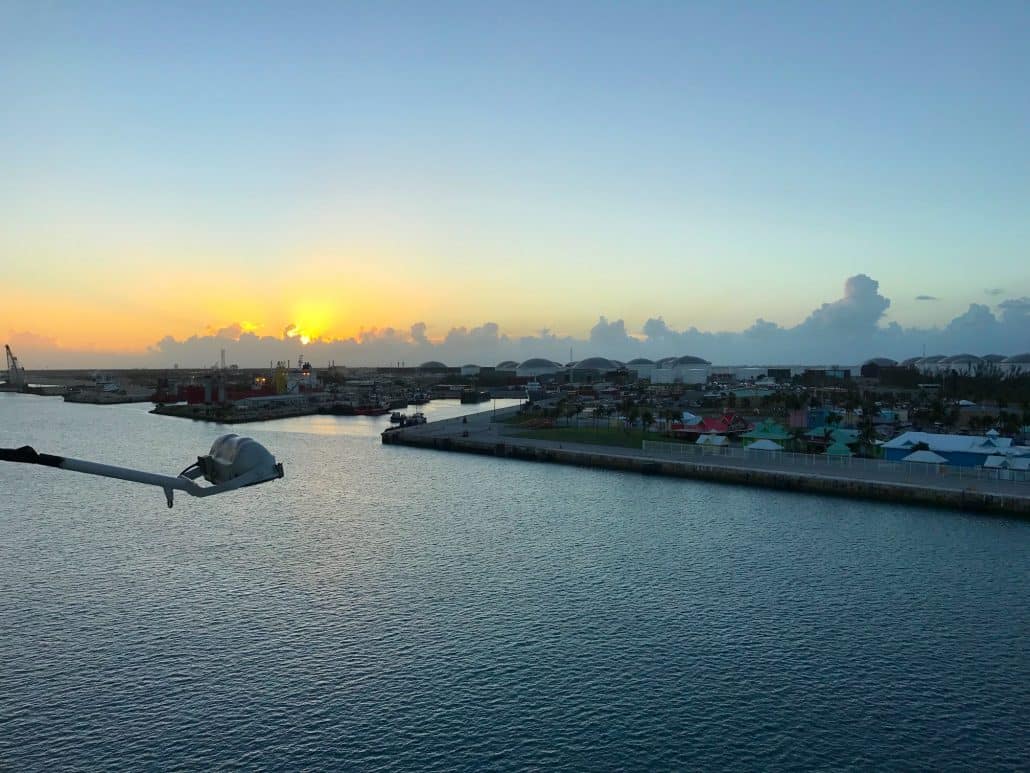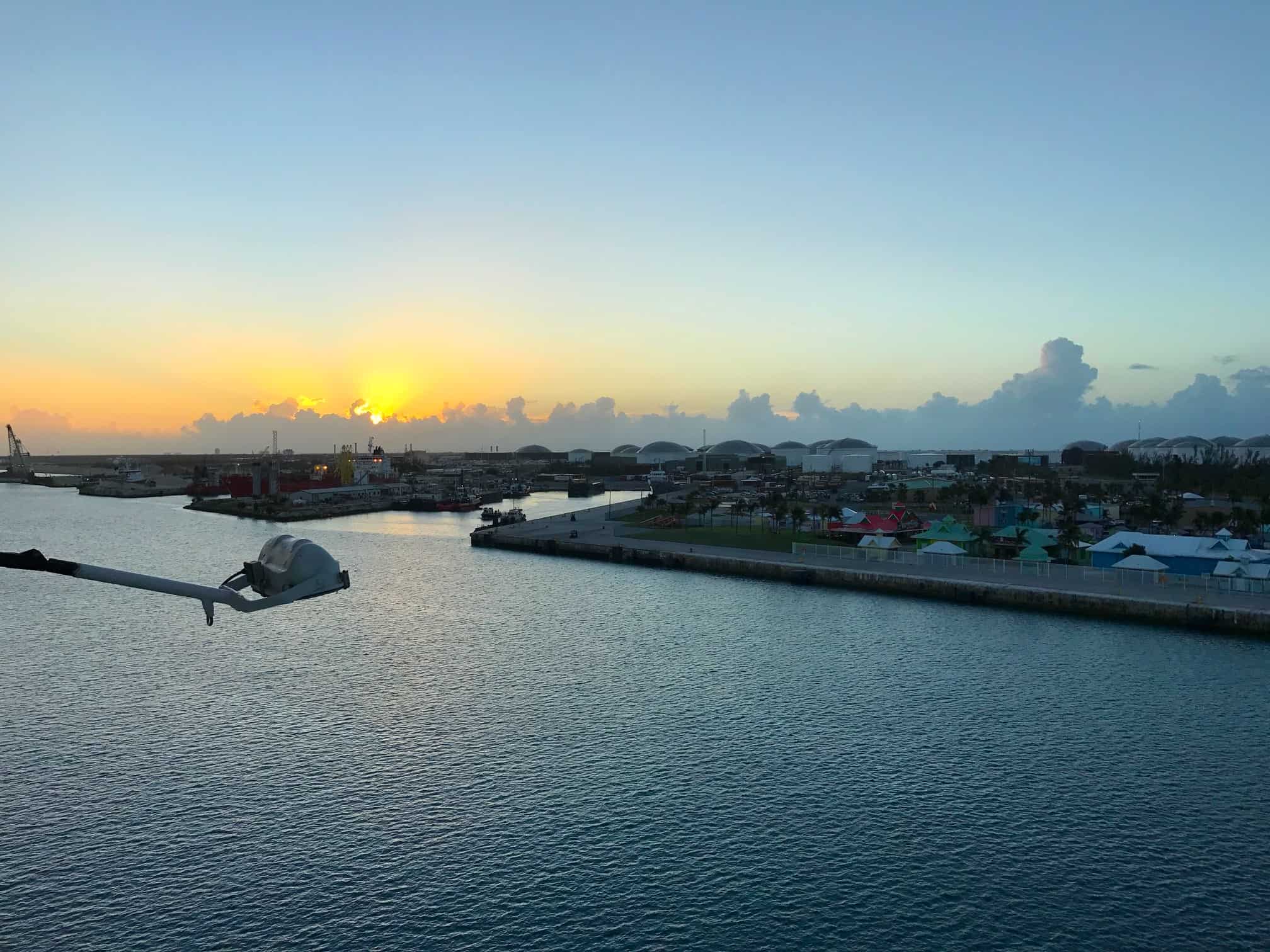 I headed down to the main dining room for breakfast. I know a lot of people prefer the grab-and-go convenience of the buffet, but the way I figure, I can serve myself at home. Vacation is a great opportunity to let somebody actually bring the food to you.
We pulled into Freeport around 7 a.m., and I noticed that the Carnival Conquest was sitting out of the water in dry dock. If you've seen pictures of a ship in dry dock, you know how odd it looks. Well, trust me, it looks even weirder when you see a massive, modern cruise ship out of the water in real life. Unlike the recent Elation refurb, which involved that ship getting a lot of the Fun Ship 2.0 upgrades, Conquest's dry dock is more of a technical/mechanical visit. Think of it as the difference between checking into a clinic for a slew of plastic surgery and going to the doctor for a physical.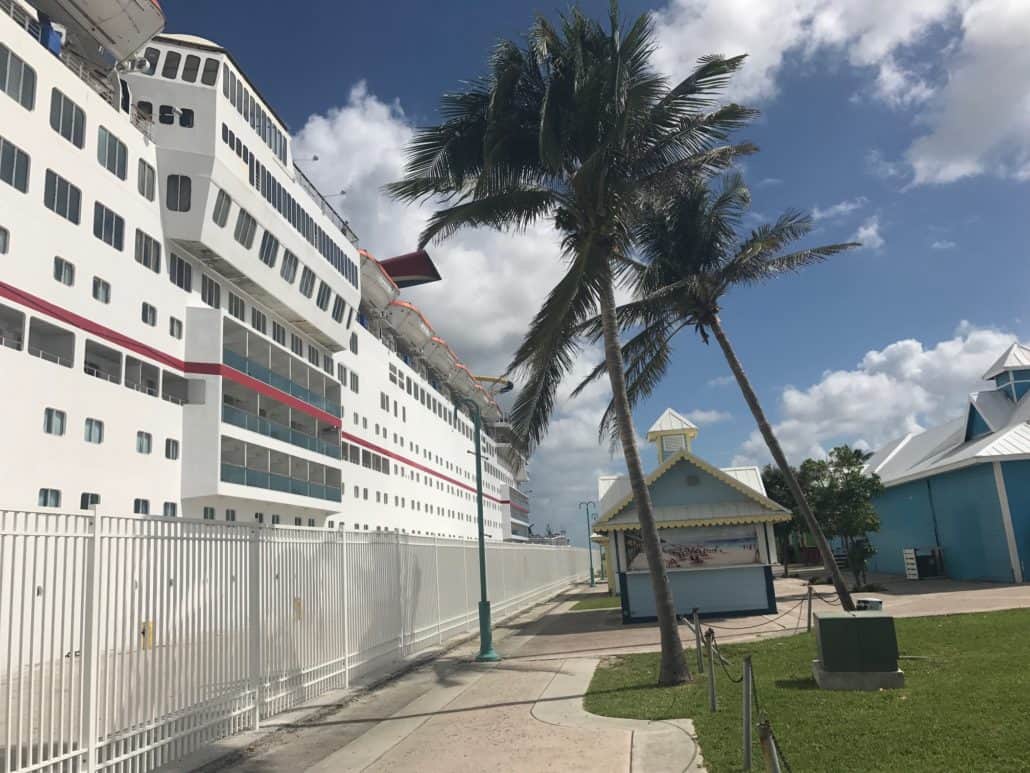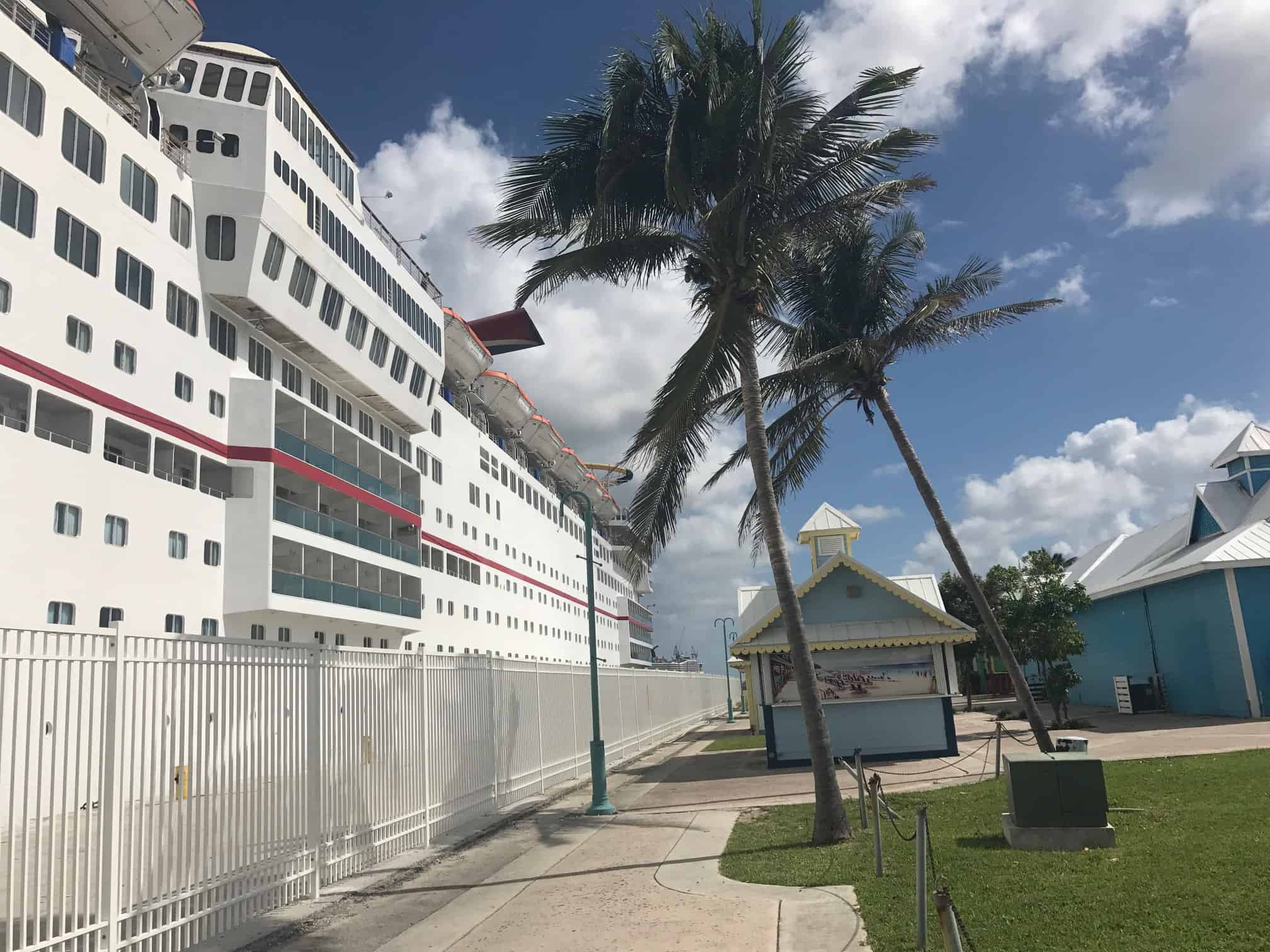 I didn't have any real plan for Freeport besides exploring the area a little bit and doing a few interviews. I wound up meeting some new friends at a couple of the bars around the pier and got to chat with some of the locals. Getting to know the people of a port and hearing about their lives is always an eye-opening experience. It gives you a perspective that you might not otherwise have, especially if the only "locals" you ever talked to were tour guides on a shore excursion. In the end I realized that while I might sometimes think of Freeport as one of those "skipable" ports, I'd sure as heck rather be there than chained to my desk!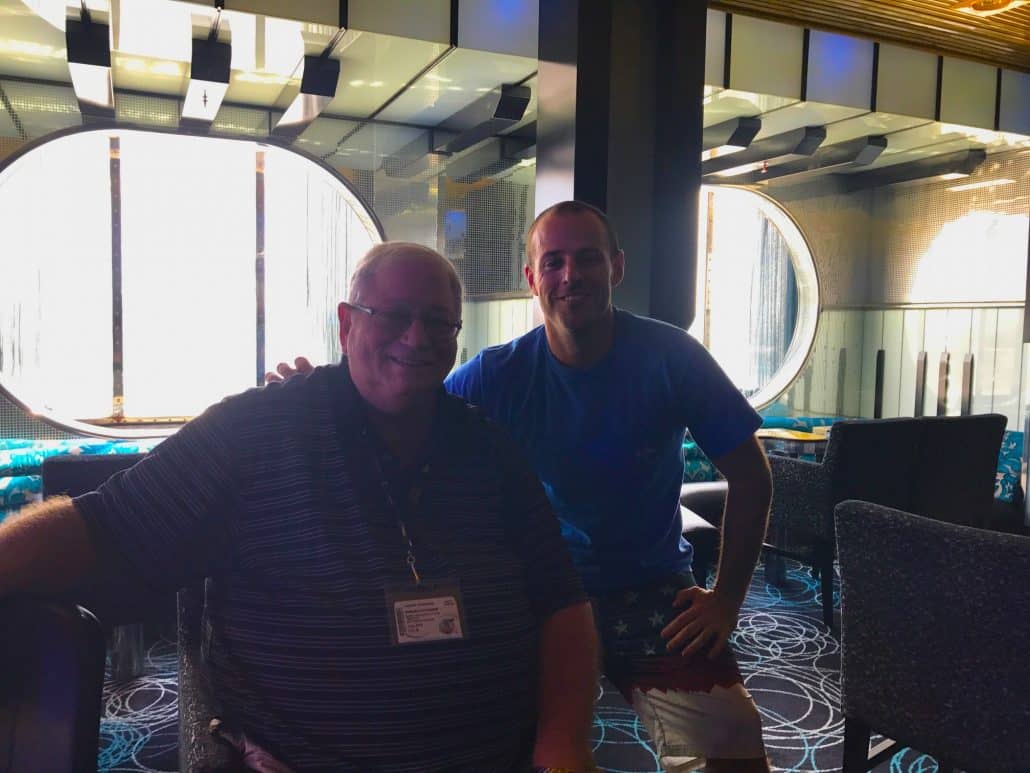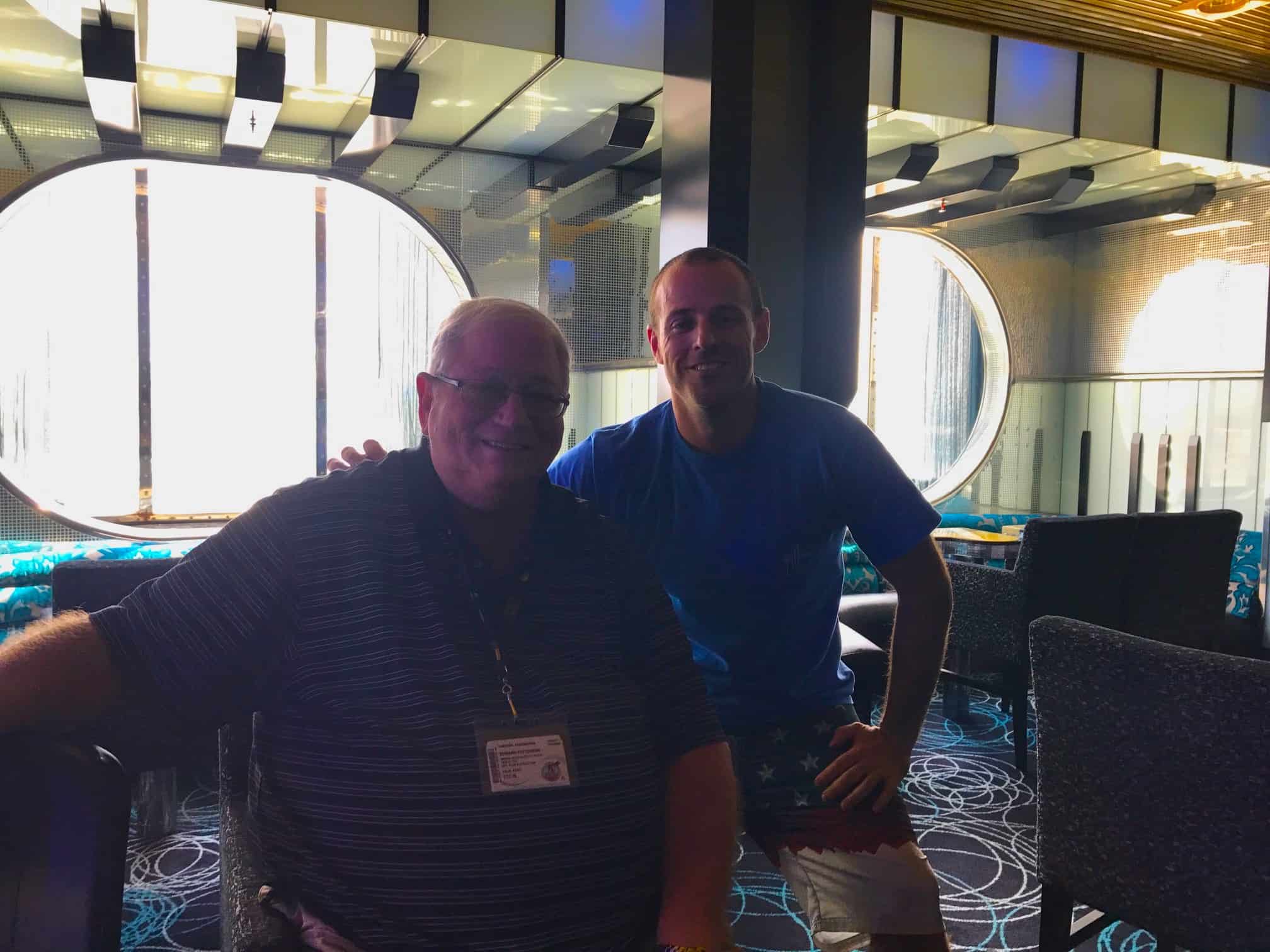 I was actually excited to go back to the ship, because I had set up an interview with a man named Ed who has spent over 1,100 days on Carnival ships. Think about it… if those were consecutive days, it would be nearly 3 solid years! Armed with not only my own questions but some submitted by you, the Cruise Radio readers, via Facebook, we wound up talking for quite a while. Our conversation will be the highlight of an upcoming Cruise Radio podcast, and I think you guys will really get a kick out of it.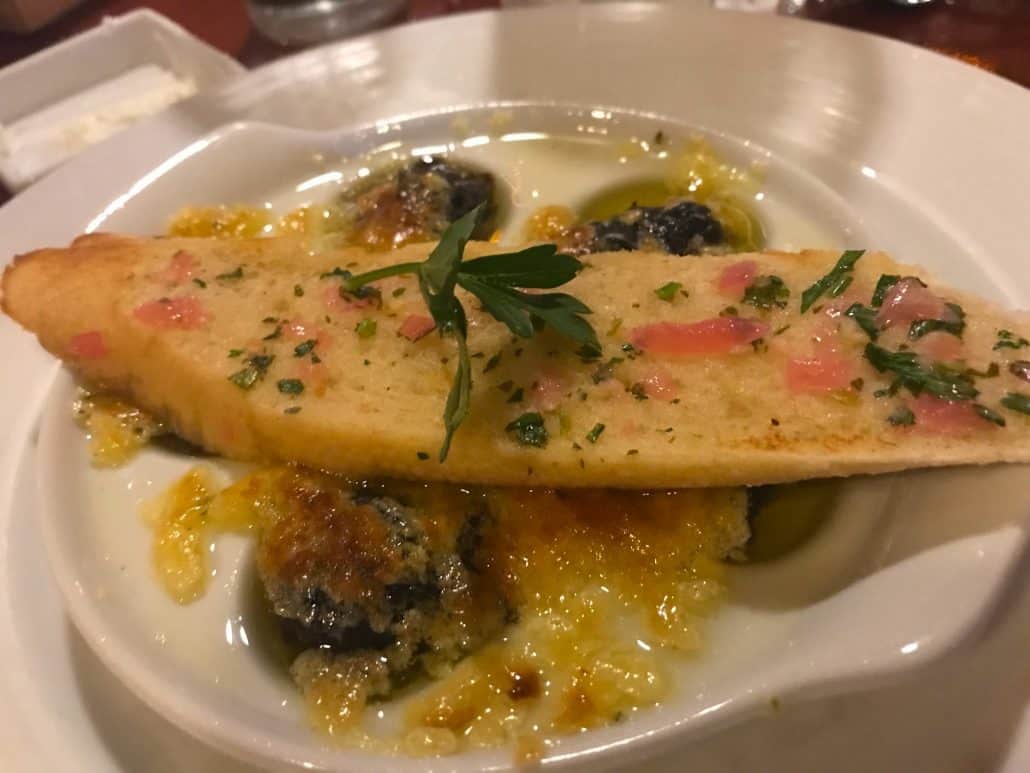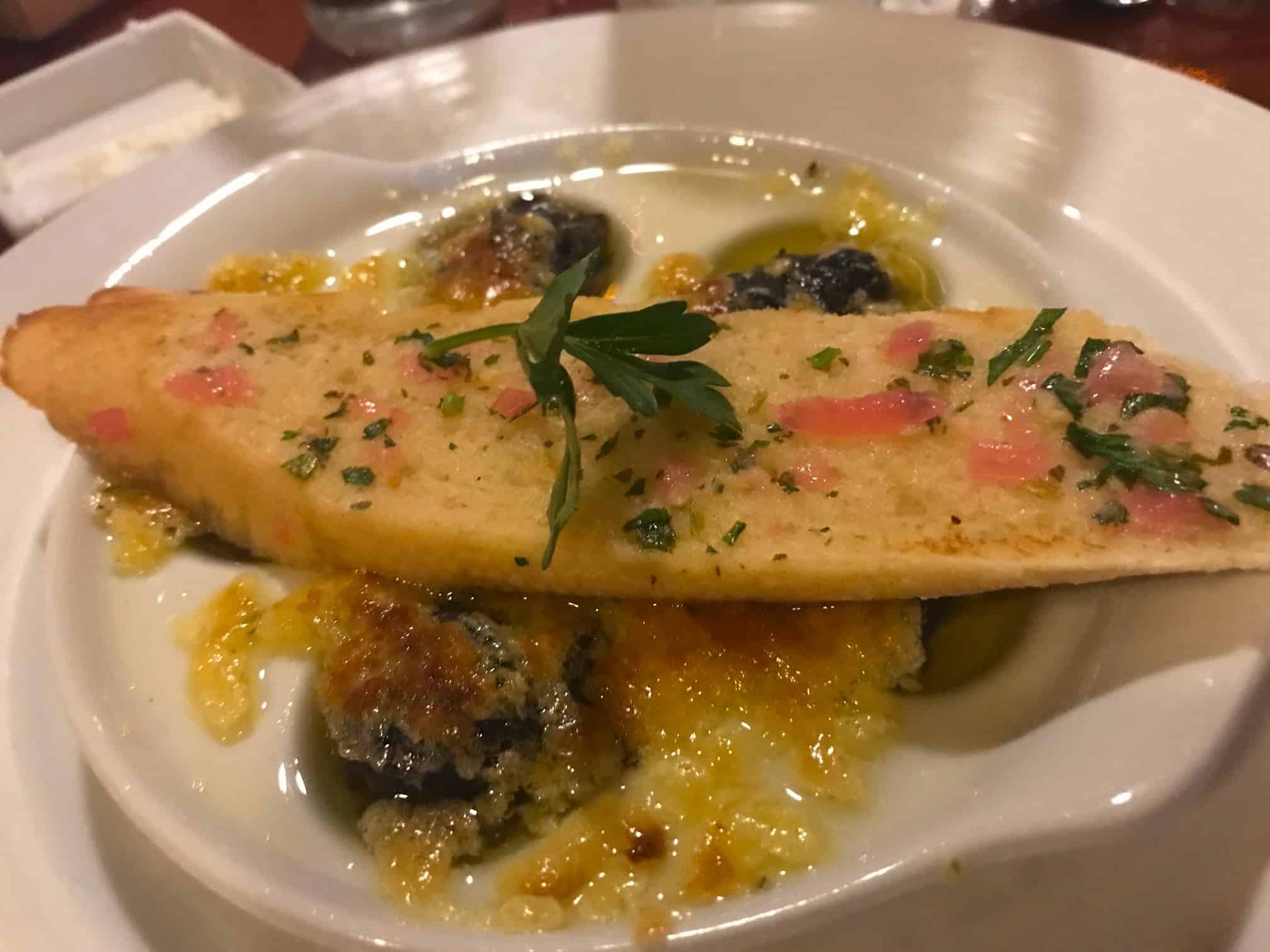 I mentioned in yesterday's post that I wanted to order something from the steakhouse menu, and that's what I wound up doing at dinner this evening. For those who may not know,  the menu in Carnival's main dining room offers several selections which can be ordered for an upcharge of $20. I went with the surf and turf, aka lobster and steak. To be honest, I don't think I'd do it again. The steak tasted no better than the one I had during the free Sea Day Brunch, and while the lobster tail was great, it's just not something I'd do again. (FYI: There's no actual steakhouse on the Fascination. If there were, I would totally have gone that route. I mean think about it: $20 to order off the steakhouse menu in the main dining room, or $35 to eat in the actual steakhouse — complete with the ambiance and all-around quality? I think that one's a no-brainer.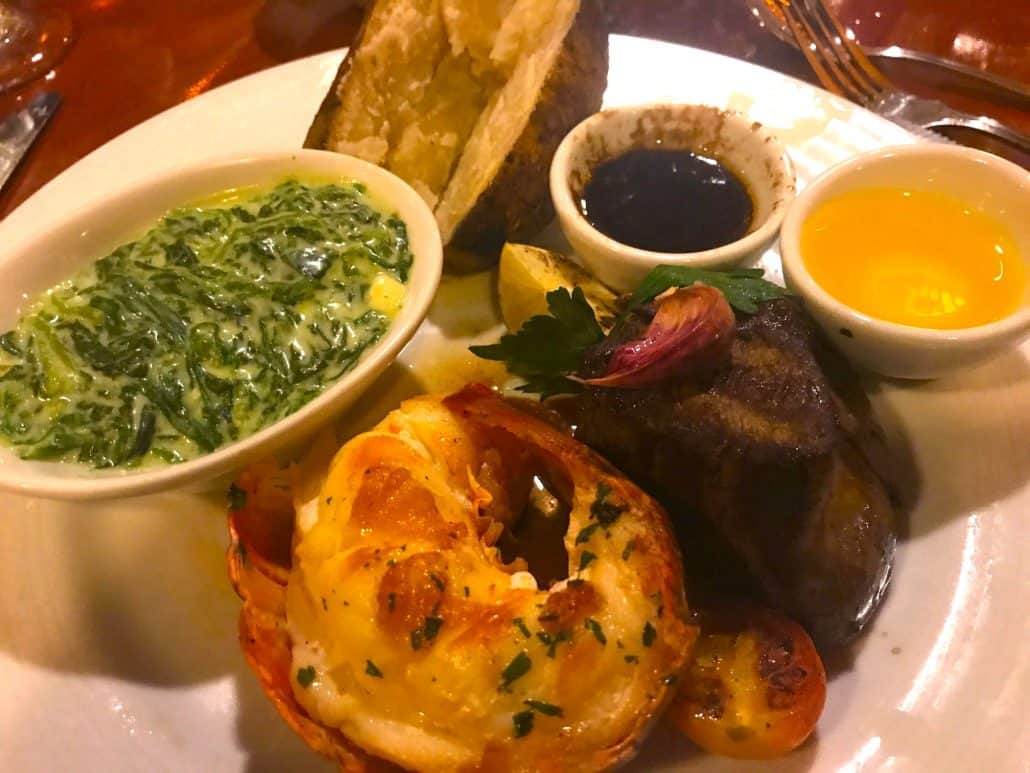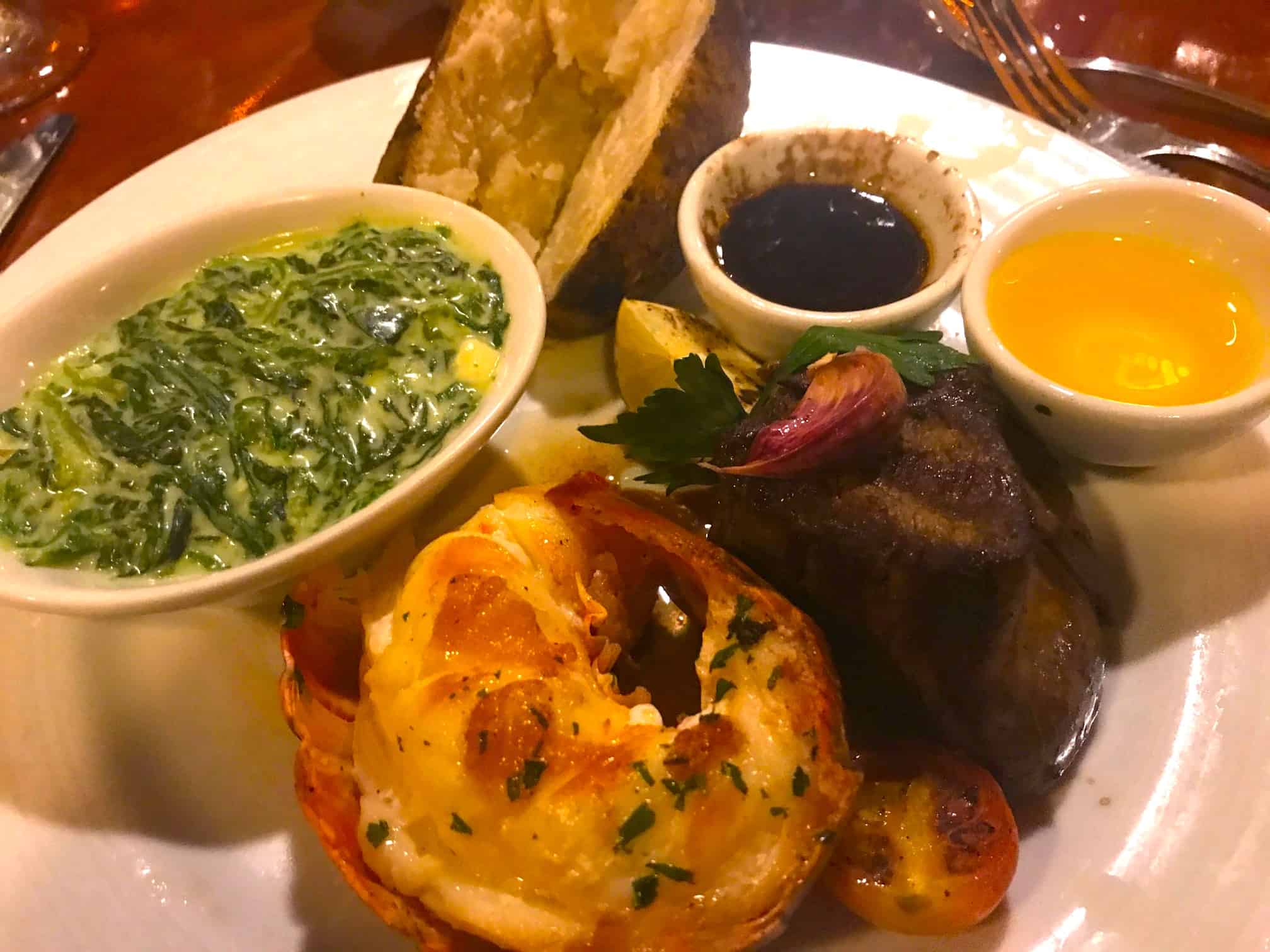 The main dining room has been very consistent on this cruise. The service has been great, the food has been good, and the crew have been over the top friendly as always. I doubled down on the escargot and dessert tonight. When I left Jacksonville I was 170 pounds, and I'm almost afraid of what the scale will say when I get back home. On the plus side, because my room is located on the Riviera deck, I've been taking the stairs a lot. One day, my step-counter indicated that I'd climbed the equivalent of 44 flights… and man, did it feel like it!
There was some breaking news and a little excitement on board when Carnival announced that the Fascination had been chartered by the Federal Emergency Management Agency and would immediately following our return, be used to house hurricane relief workers. (You can't help but wonder exactly how much the government pays to charter a ship for three months. Given how much revenue Carnival would lose, one has to assume the government makes it worth their while!)
Listen below:
[smart_track_player url="https://traffic.libsyn.com/cruiseradioshow/CRBONUS006.mp3″ title="Cruise Radio" artist="John Heald Interview" social_linkedin="true" social_email="true" ]
John Heald — the senior cruise director and wildly popular brand ambassador — has been on this sailing, and I got a chance to chat with him right after the news broke. He was kind enough to take time out of his ridiculously busy schedule to sit down for a quick segment, so you can hear the details of how this all came about for yourself.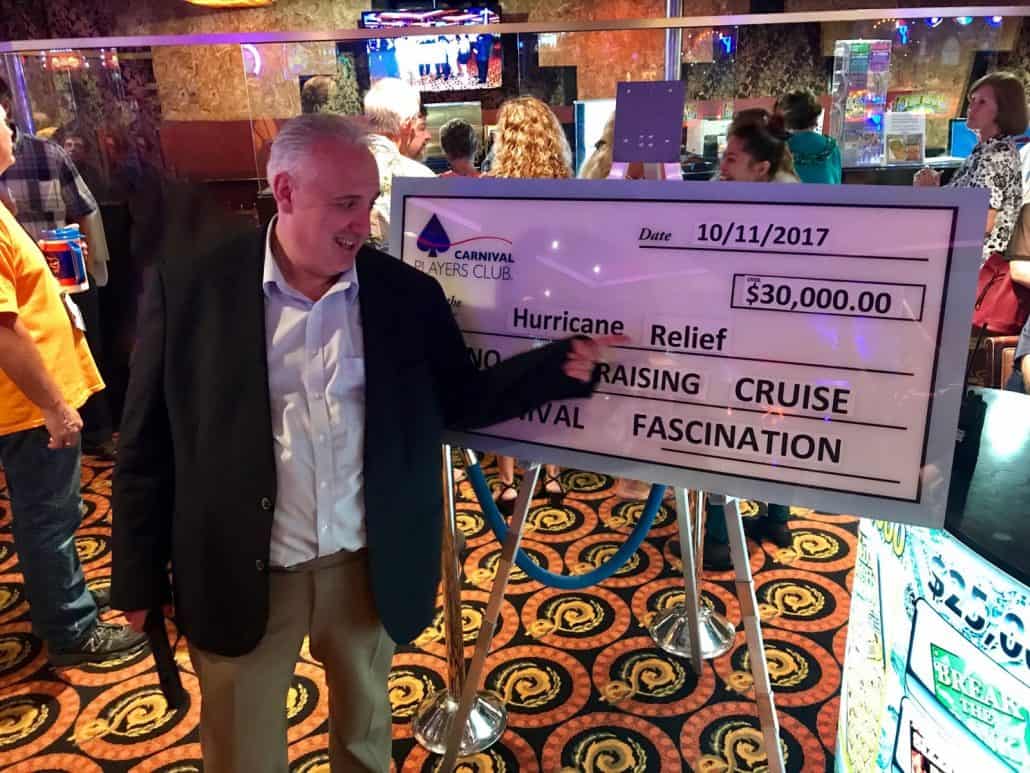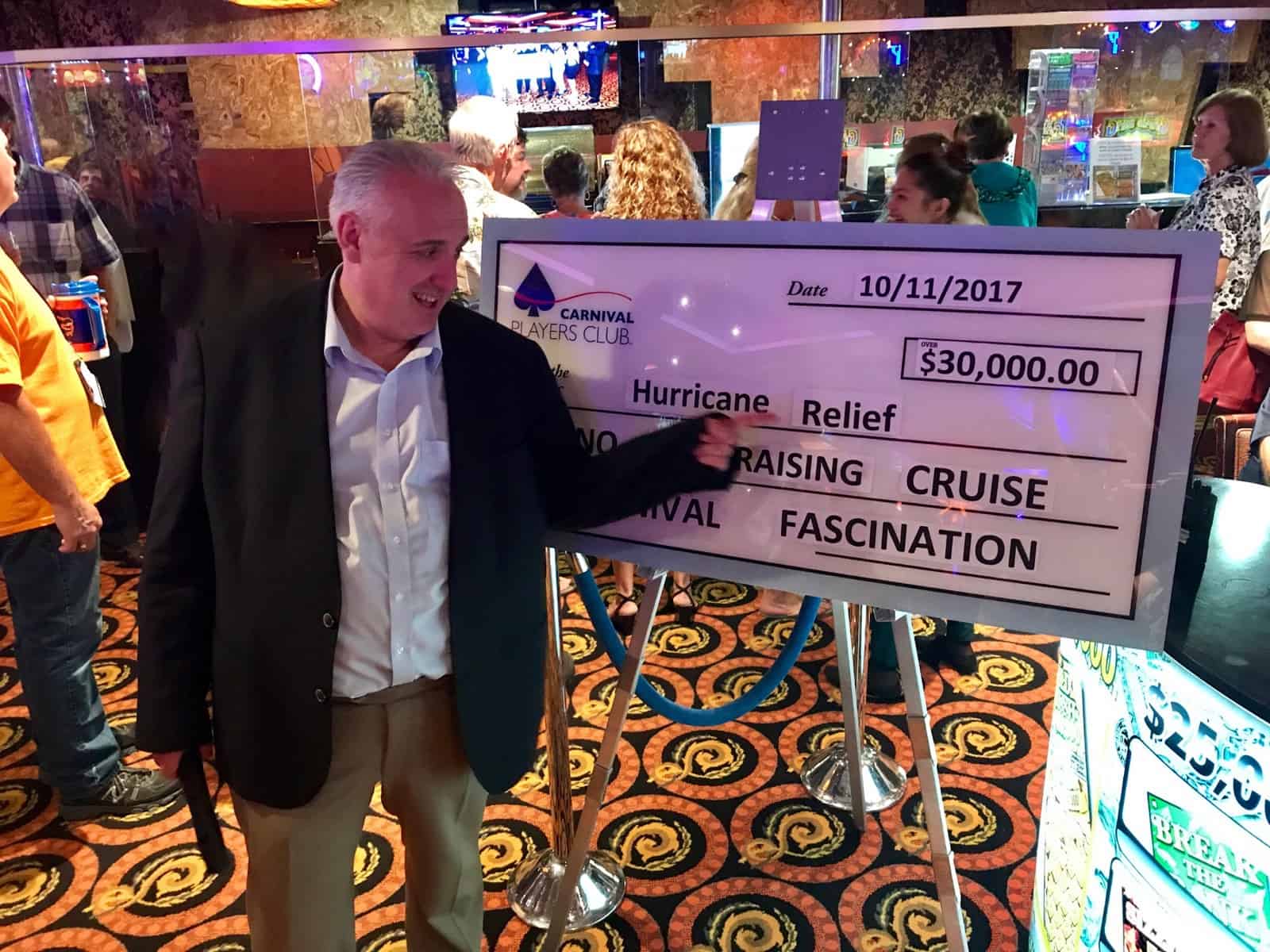 Meanwhile, I have to think that folks who lost money in the casino had to feel at least a little bit better upon learning that Carnival was donating $30,000 of the casino's earnings to the ongoing hurricane relief fund. This was a high-roller cruise, so there was a lot of money flowing into the casino over the past few days. The casino was so packed that there were times I couldn't find an open slot machine or table. (Which, come to think of it, may be why I'm actually up a little!)
Tomorrow we return to Port Canaveral. I've opted to do self-asset carry off because I only brought a single roller bag with me. It looks like you still have to fill out the blue customs form on this ship. It's always a mixed bag, I've sailed out of Port Canaveral and could just walk off with my passport before. When asking about it, it's varies ship to ship. It's always fun to see how organized (or, occasionally, disorganized!) the disembarkation process is.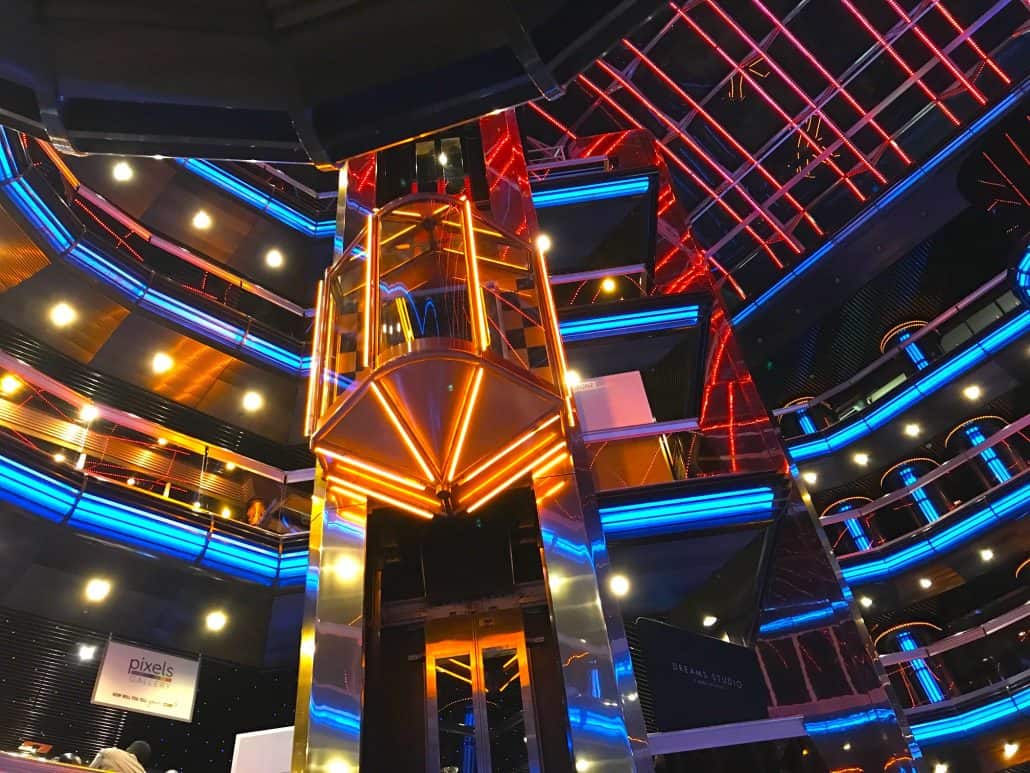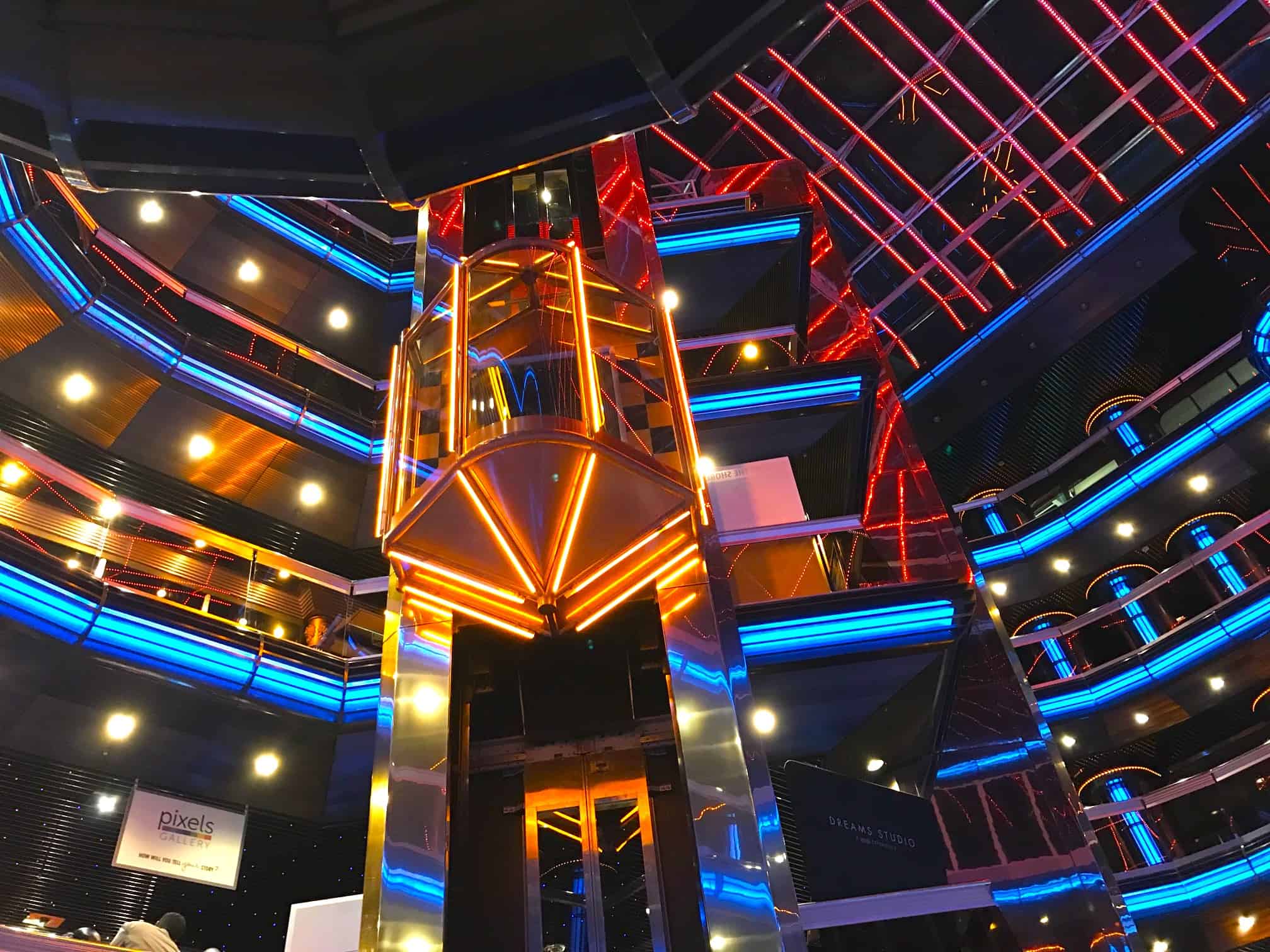 This is a bittersweet night for me, as the FEMA charter means that this was the last revenue-generating sailing of the year for the Carnival Fascination. But more than that, it's also the last time she'll sail before getting the Fun Ship 2.0 upgrades. Of course, the addition of places like Guy's Burger Joint are always welcome, but there's also something sort of cool about sailing on an old-school ship without all the bells-and-whistles that we associated with modern cruising.
As always, it's been a blast sailing with you… and I'll now reset the countdown clock and begin looking forward to my next trip!