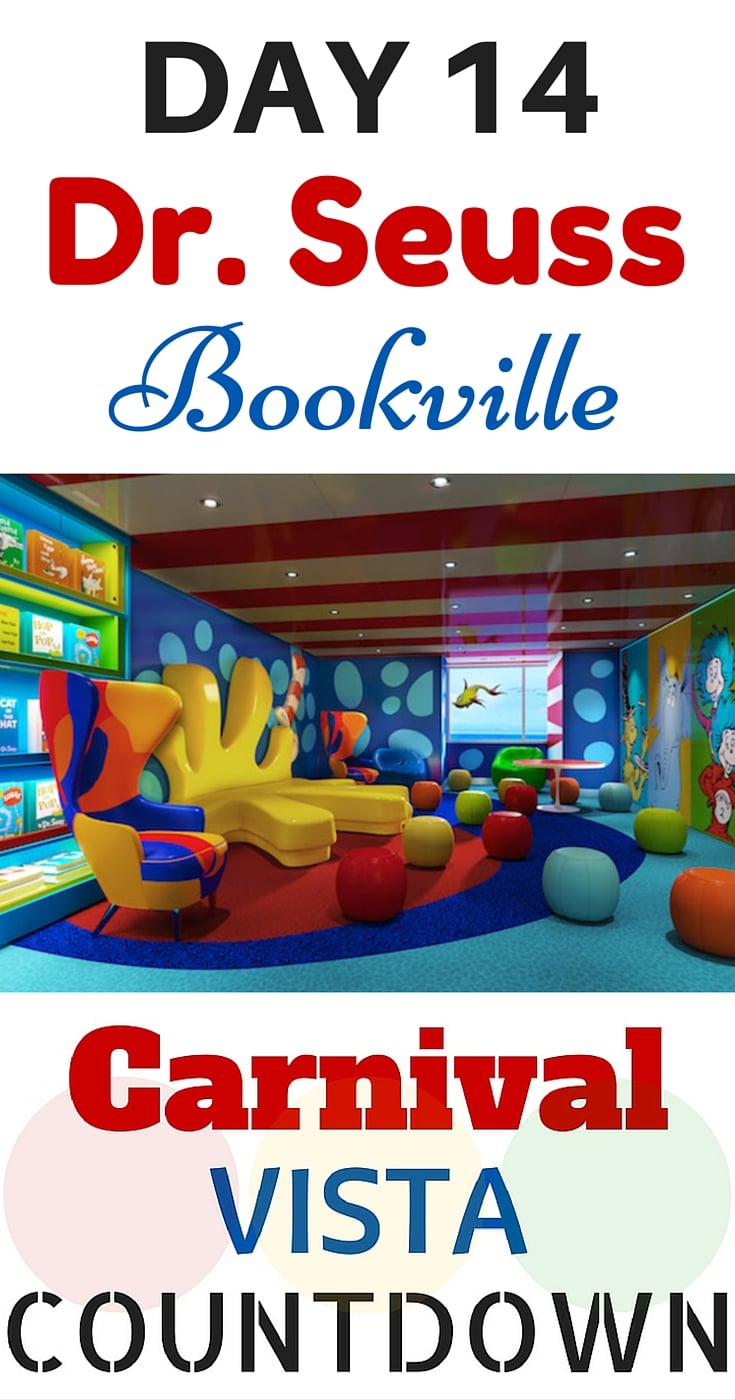 Today marks just two weeks until we officially meet Carnival Vista. Today, we're taking a look at one fun and exciting addition to the ship: the Dr. Seuss Bookville.
Fun for All
Another one of Carnival Vista's featured gems is the Dr. Seuss Bookville. Although Carnival's Seuss at Sea program is featured fleet-wide, Carnival Vista will only be the second ship after Carnival Freedom to have a Bookville. And even though the room is located adjacent to the Camp Ocean kids program on Deck 11, it's not just for kids. Here, cruisers can step into the pages of a Dr. Seuss book and into a room with colorful furniture and whacky walls, which feature famous Dr. Seuss characters like Thing 1 and Thing 2. The room is filled with fan favorite Dr. Seuss titles, board games, and puzzles for cruisers to enjoy together whenever they please, making the room a perfect retreat for both adults and kids wanting to escape with these classic characters.
What's New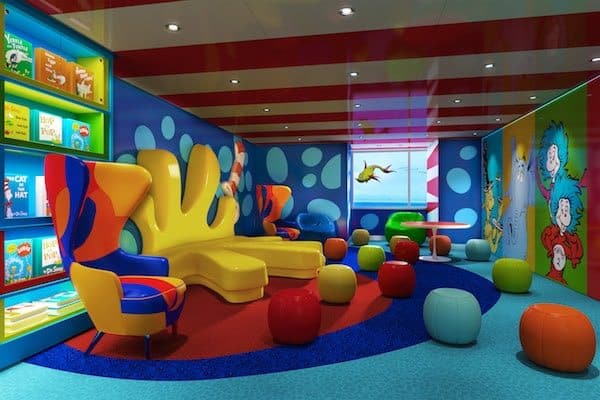 There won't be anything new that isn't on the Carnival Freedom, but since it will be only the second Dr. Seuss Bookville in the fleet, it will certainly be a new experience for many cruisers. The Dr. Seuss Bookville enhances the overall Seuss at Sea experience, rounding out a fun family experience and allowing kids and adults alike to re-enter the whimsical world of Dr. Seuss the way we were all originally introduced to it – through the timeless storybooks.
Other Seuss at Sea Programs
The other Seuss at Sea programs featured on Carnival ships fleet-wide and soon on the Carnival Vista are the Seuss-a-Palooza Parade, in which cruisers get the parade around the ship with some of their favorite Dr. Seuss characters; Seuss-a-Palooza Story Time, an interactive reading of the classic stories in which the characters come alive and cruisers have the chance to join the fun on stage; and the Green Eggs and Ham Breakfast, which is just $5 per person and includes favorites like (you guessed it) "green eggs and ham," "gravity-defying pancake stacks," "Moose Juice," and more!
For our previous countdown articles, click the links below!