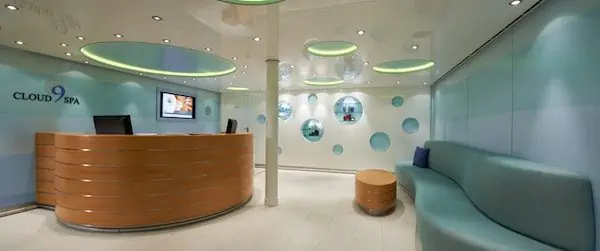 As we continue our special look at the exciting features awaiting folks lucky enough to sail upon the Carnival Vista when she hits the high seas beginning May 1, today we're asking the age old question: When is a shower not (just) a shower? And while passengers staying in suites will no doubt be thrilled by the rain showers offered in those luxe accommodations – which we'll be talking about in a few days – the ones we're focusing on today can be found in the spa, and are unlike any you've ever experienced on a Carnival ship before!
The Ultimate In Relaxation
Is there anything better than a long, hot shower following a work out or massage? As it turns out, the answer is yes, because the showers in the Cloud 9 spa aren't simply designed to wash away the tension and revive you, but rather offer the opportunity to take things to the next level. How? By allowing you to change various settings and create a feast for the senses.
Step inside, and you'll be able to change not only the water pressure and spray settings, but the very mood of the space itself. Everything from the sounds that surround you to the scents you breathe in can be adjusted to create your perfect environment.
Something tells us that once we step in, someone may have to come and drag us out! But eventually, we'll emerge, ready to explore the rest of the ship… such as the main dining rooms. In fact, come back tomorrow, and we'll tell you about some of the big changes on store where those are concerned!
Is there something about the Carnival Vista you're especially excited about? Hit the comments to tell us what and why, and we just might give you a shout-out in the coming days! Meanwhile, if you want to read the rest of our series, here's what you've missed so far! 
photo: Carnival
Pin this!