Carnival Vista is full of exciting innovations. For families and multigenerational groups, one of the best is the new, specially designed Family Harbor. Found only on Carnival Vista, Family Harbor is located in a dedicated family zone on Deck 2 aft. This exclusive Family Harbor area features 96 "family ergonomic" deluxe ocean view, balcony, and interior accommodations, extra-large suites, and a cool Family Harbor Lounge. This is a fantastic place for families to vacation on the Carnival Vista.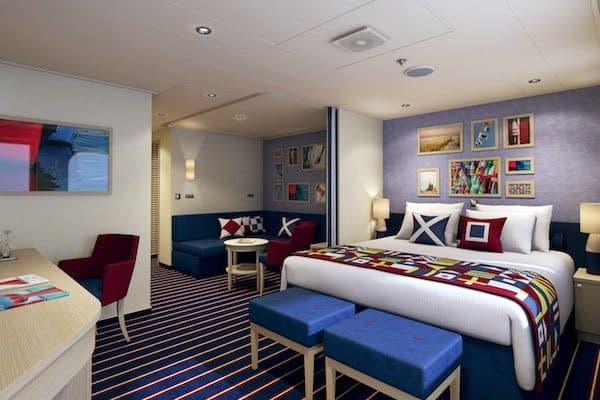 Decorated in an attractive nautical theme, spacious Family Harbor accommodations come with lots of special amenities like toiletries, bathrobes and slippers customized for younger guests. Family Harbor's suites feature separate sleeping areas for parents and kids, providing that extra privacy parents crave. A large walk-in closet and two separate bathrooms make these Family Harbor suites even more family-friendly. Larger families will be happy to know that Family Harbor's deluxe ocean view staterooms can accommodate up to five guests as well.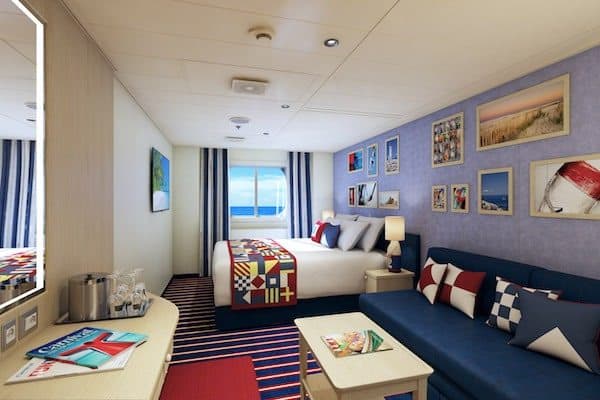 One of Family Harbor's best features is the Family Harbor Lounge. This roomy hangout is accessible by card key and it's available round-the-clock exclusively for Carnival Vista guests staying in the Family Harbor area. The private Family Harbor Lounge is the perfect spot for families to relax and unwind together. It's equipped with large screen TVs, programmed family movies with popcorn, and Hasbro board games. Video game consoles, games and movies can be checked out here, too.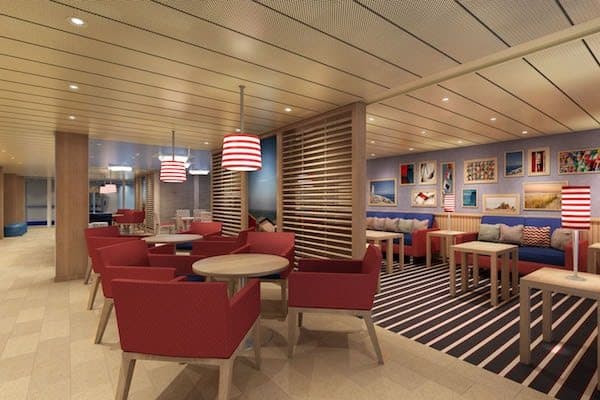 Family vacations will be smooth sailing for those staying in Carnival Vista's exclusive Family Harbor. The Family Harbor Lounge is also staffed with a dedicated family concierge from 3-5 p.m. daily to help make vacation planning easy for families and amp up the fun. The Family Harbor concierge can help register kids for youth programs, make shore excursion recommendations and bookings, handle dining and spa reservations, and much more.
In addition, families staying in Carnival Vista's Family Harbor have access to even more free goodies including:
Kids under 12 eat free at all Carnival Vista's specialty dining restaurants except Chef's Table. Kids must be accompanied by adults and order from the Kids' Menu.
One free session of Night Owls per child, providing up to three free hours of babysitting. Night Owls is Carnival's late-night activities program for children up to 11 years of age. Kids enjoy parties, music and activities until as late as 1 a.m., giving parents time to have their own brand of fun onboard the Carnival Vista.
Complimentary self-serve continental breakfast and snacks served each day in the Family Harbor Lounge.
Self-serve cookies and milk available daily in the Family Harbor Lounge during family bedtime hours. Yum!
Family Harbor is sure to be a hit with parents and kids sailing onboard the Carnival Vista. It provides a centralized place for families to meet and hang out together, helping to make their Carnival Vista cruise the best vacation ever. In addition, all the extra Family Harbor amenities will make the Carnival Vista even more awesome for lucky families making their home-away-from-home there. We can't wait to see it!
Stay up to date with all of our previous Carnival Vista Countdown posts by clicking on the links below, and also, stay tuned for a special second countdown article coming later on today!
Nancy Schretter is Managing Editor of the Family Travel Network.