PortMiami has officially welcomed Carnival Vista into its cruise ship family.  Carnival's newest and largest ship arrived there Sunday, launching a year-round schedule of six and eight-day cruises to the Caribbean.
To welcome Vista to her new homeport, the ship's Captain Stefano Battinelli and PortMiami Assistant Director Fred Wong held the traditional maritime plaque exchange before the vessel's inaugural departure from Miami.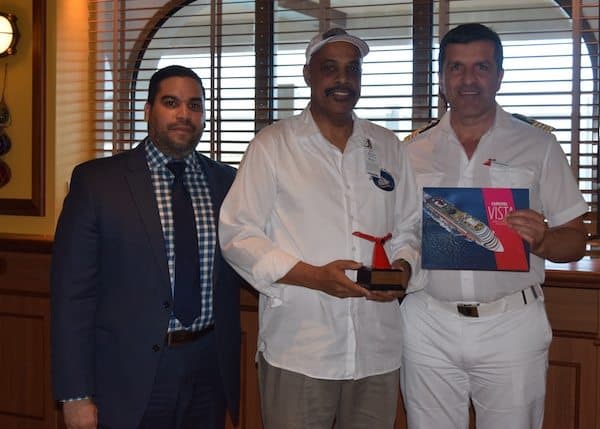 As the line's newest ship, Carnival Vista breaks out of the box with never-before-seen features, like a suspended open-air cycling experience called SkyRide, the first IMAX theater at sea, the line's first water tube slide with music and lights called Kaleid-O-Slide, and the RedFrog Pub & Brewery featuring the first brewery on a North American-based cruise ship.
Island-Intensive Itineraries
Vista kicked off her new Miami schedule with a special six-day voyage to Grand Turk, Ocho Rios, and Nassau that departed yesterday.  After that, the ship will operate six and eight-day cruises beginning December 3.  Six-day itineraries include Ocho Rios, Grand Cayman, and Cozumel, while a mix of eight-day itineraries visit islands including Aruba, Curacao, Bonaire, Grand Turk, San Juan, St. Kitts, St. Maarten, and the Dominican Republic.
There will also be some one-time voyages, including a 5-day on December 11, and 7-day cruises departing December 17 and 24 that visit Amber Cove in the Dominican Republic, as well as Mahogany Bay, Grand Turk, Belize, San Juan, St. Thomas, and Cozumel, depending on the itinerary.