We docked in Athens this morning and this is where the cruise will end. No more sail away parties, no more early morning excursions – just one last day on the ship. I have a strong dislike for the end of the cruise because it seems like we just got onboard yesterday!
Watched Sunrise
This morning I set the alarm for 5:45 and watched the sunrise over the mountains of Athens. It was remarkable. I didn't realize how busy Athens was. There was dozens of ships anchored and waiting to come into the harbor. I didn't get off the ship today. There just wasn't enough time.
SkyRide!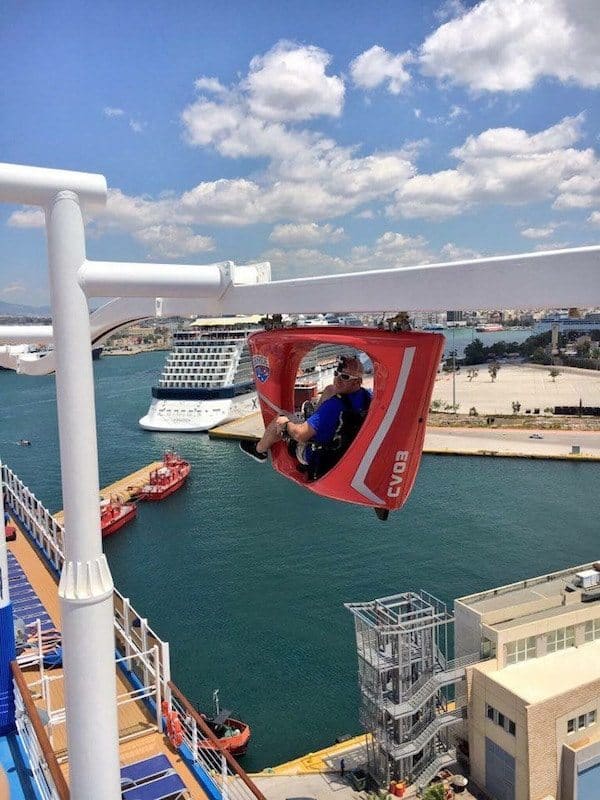 I wanted to check out the SkyRide one last time while the weather was really nice. I brought my GoPro with me to experience it. I'm sure I looked like a total dork with it clipped onto my ball cap but it got some awesome footage. One thing I did notice is if you're going to ride it, make sure you pay attention to the open and close times. You want to be one of the first ones in line to ride it, otherwise you'll be waiting. We were about six people back and it took us about 15 minutes. They run four cars at a time (two on each track) but you have to wait until the other car comes back before you can start (to prevent bumping I guess?). You can see the video I took with the GoPro below.
Ropes Course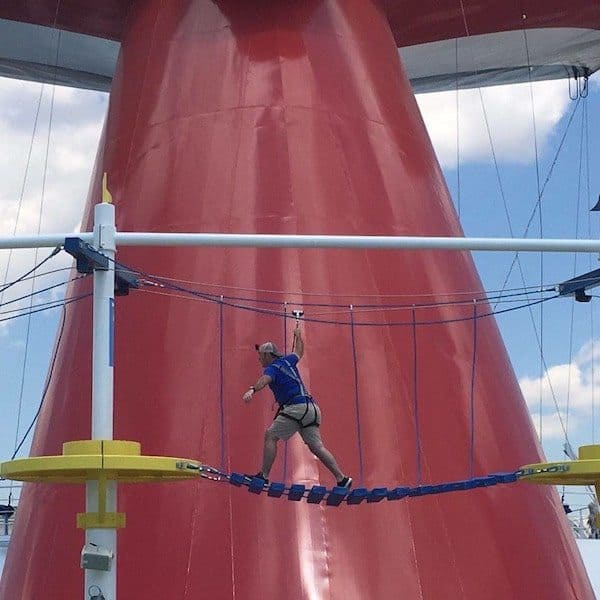 Everyone flocked to the SkyRide at 1 pm when it opened, so there was no one waiting for the ropes course. Because of that, I got to go on it two times. Doing the course with perfect blue skies is the best ever. The views you get of the ship suspended high above the sea are epic.
Trivia
I noticed there was country music trivia on the daily fun times so I went to play. One of my colleagues, Carrie, was not happy when she saw me come up because she knew I was going to dominate it. Turns out I was the only person who got 40 points out of 40, so I was the winner of my very own Carnival Vista ship on a stick. Bragging rights, right?
Brewery Tour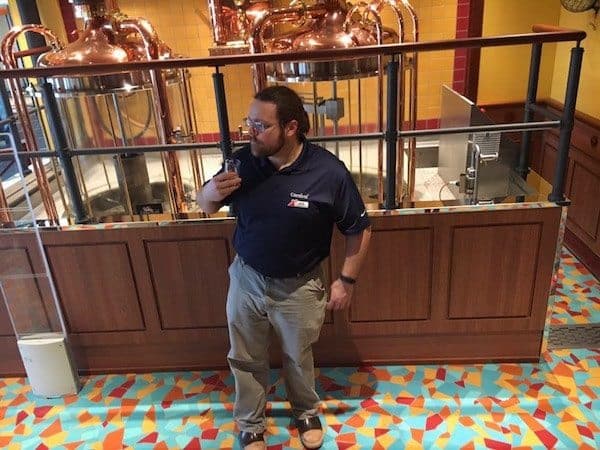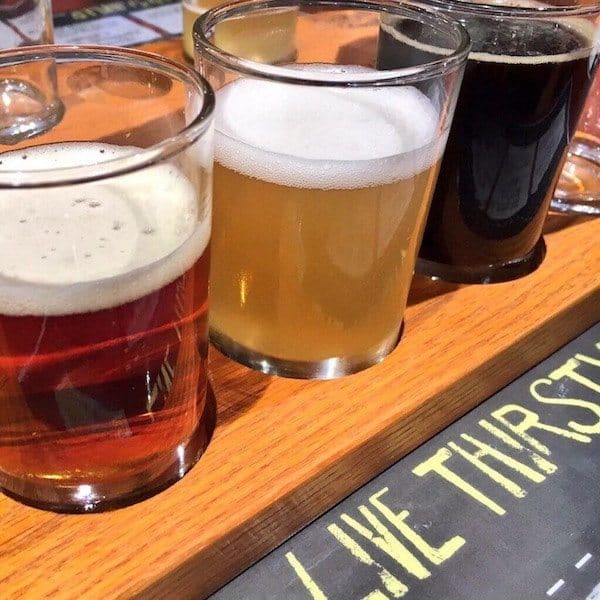 The other day I interviewed Colin, the brew master onboard. He's a pretty cool guy and has an extensive knowledge of beer. He does an hour-long brewery tour during sea days when for $12.95, you get to sample all four beers (three he brews on the ship and the original ThirstyFrog Red Pale Ale). They are also playing with doing tours on late sea days. I don't know a lot when it comes to beer, so it was cool to have Colin break it down and show us how it's made from start to finish. We also got to taste one of the wheat beers right out of one of the tanks! At the end, everyone gets a completion certificate and gets to drink the leftover beer. If you're a beer fan, it's a great value.
One of the Best Sunsets Yet!
Since we're docked in Athens all day and this is where the cruise terminates, there was no sail away or sunset at sea. However, Athens gave us a stunning sunset right behind the mountains. Check it out for yourself!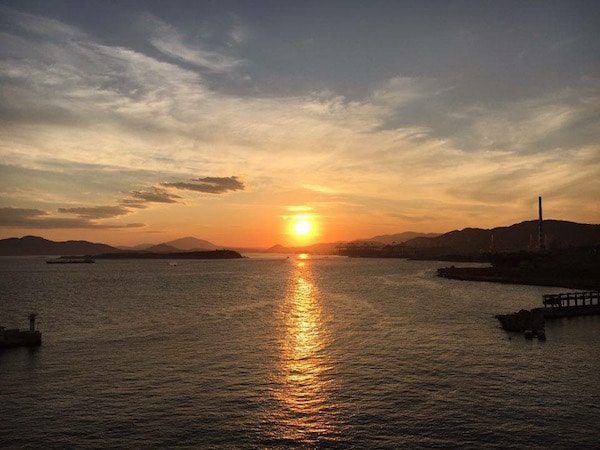 Italian Food
One of the specialty venues onboard is an Italian place called Cucina Del Capitano. It's $15 and it's served family style (except the entrée). I held off on eating here because I've been eating like a pig the whole cruise. However, I caved in and had to try it. My reservation was at 8:30 pm and they sat us as soon as we got there. They explained to us how the menu worked, took our orders, and starting getting our food. The food wasn't bad, but the service left a lot to be desired. They forgot the wine (they serve wine out of a barrel and it's a cool experience) and we had to ask to get refills on our water multiple times. There were only five tables in the place and they couldn't seem to get it together. Maybe they were having an off night? Who knows.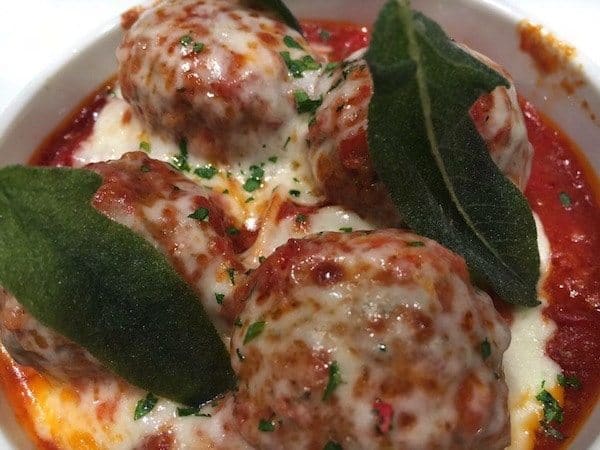 One Last Photo Session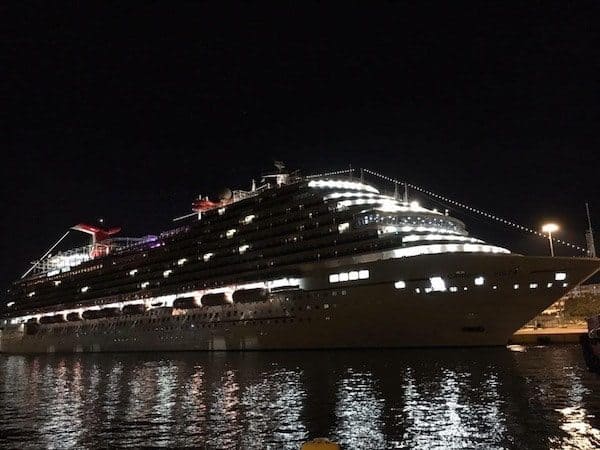 After dinner, I saw that the pier wrapped around the ship and there was an awesome place to take some photos of the ship. So I attempted to change, grab my phone, and walk over there to shoot some pictures. The photos came out decent for it being dark.
Tomorrow's airport transfer is 2:45a. Way. Too. Early.
Check out every day I was aboard Carnival Vista, by clicking the links below!