Today was a day we finally got to sleep in because it was a fun day at sea. There are two new areas on Carnival Vista that aren't anywhere else in the fleet: Havana Suites and Family Harbor Staterooms.
Cabin Tours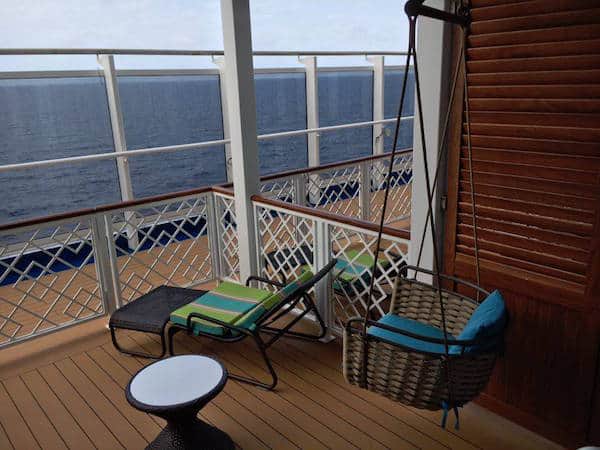 Havana Suite guests have their own private patio if they book a balcony stateroom and access to the Havana Retreat area, which is an area on the back of the ship, deck five, reserved during the day time for Havana guests only. In the evenings it opens to the public.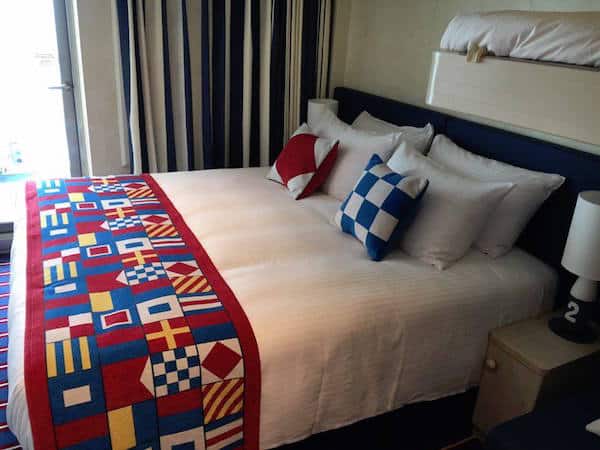 The Family Harbor staterooms are designed with families in mind and have a special concierge area just for family members. Inside this lounge they serve breakfast, snacks, 24-hour ice-cream, have a computer center, video games, and a chill area. Not just anyone can get into this area, you have to be staying in a Family Harbor stateroom.
Sea Day Brunch
I'm a huge fan of the sea day brunch on Carnival. I made it a point today to try something new – until I ordered – and I kind of stuck to the routine. The brunch is super popular, served in the Horizon dining room, doesn't cost anything, and serves everything from breakfast items to lunch items. They also have a killer Bloody Mary bar (which I did not take part in). I went with the tomato soup and grilled pork chops. I played it safe because I knew I was going to spend the whole day eating and walking the ship.
Explored Outdoor Areas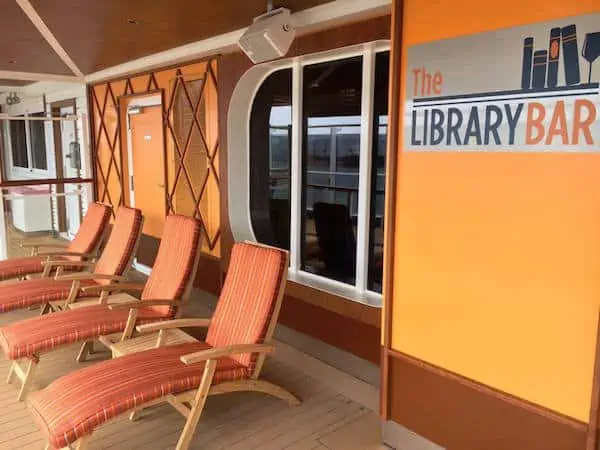 I can't wait for Carnival Vista to get to the Caribbean. This ship gives you a connection to the water that is like no other. I spent a lot of time working on deck five just outside of the Library Bar (again) and then headed to the back of the ship on Deck 10 for some peace and quiet. The weather wasn't the best for a sea day. We got some rain earlier in the evening.
More Lobster!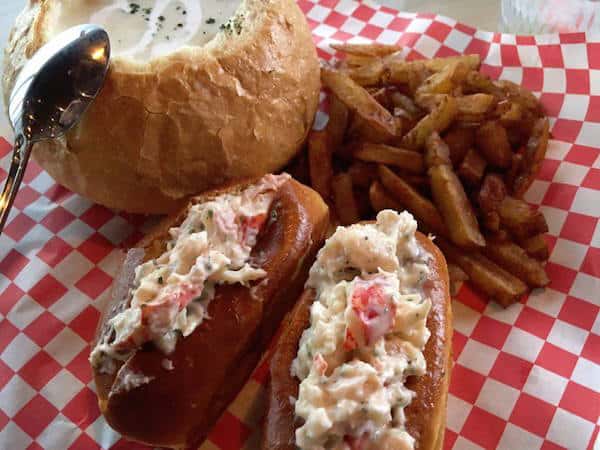 Yes, I went and had dinner at The Seafood Shack again. I was going to try something a little different but I decided to play it safe with the lobster roll ($12) and a bread bowl of fresh clam chowder ($4). I seriously think I'm addicted to this place. It hasn't been extremely packed throughout the voyage and I'm guessing that's because it's still a little new and they are working through the kinks. However, the people that do go there – if they like fresh seafood – love it! I can't speak enough good words about this place. If I turn into a lobster by the end of the cruise, you'll know why.
FLICKER!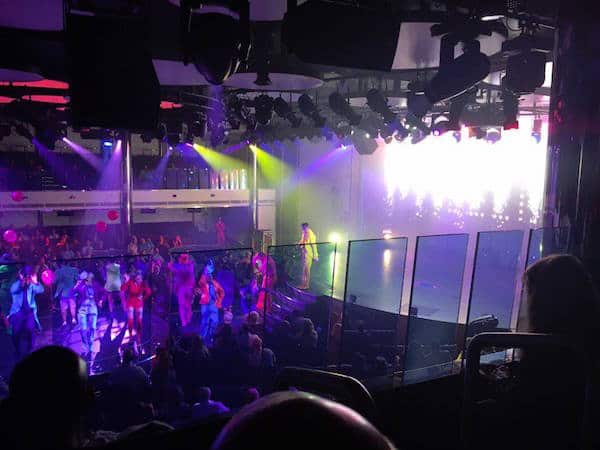 Tonight was the premier of Vista's newest show Flicker. All week I had been hearing parts of the rehearsal and was excited to catch the show. The show didn't disappoint. It was centered on a magical director as he brought to life a variety of music genres from well-known motion pictures. Some of the music showcased was from James Bond, Titanic, The Bodyguard, Wizard of Oz, and Star Wars. The stage effects and lighting were mystical and captivating and the performers voices were incredible. I was very impressed.
The Warehouse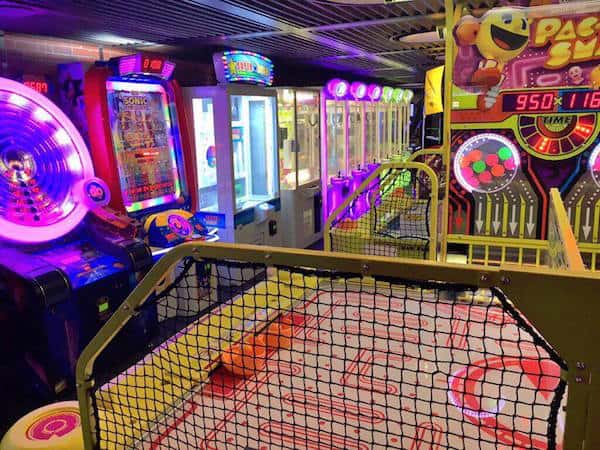 While traveling back from dinner down the many stairs through the deck floors (yes I am still going strong with not taking the elevator) I saw the sign for the Warehouse game room and the kid in me had to check it out. With it being late, the game room was empty and it was time to have some fun. There were your usual favorite arcade games such as skee ball and air hockey, as well as some new ones to me that consisted of carnival games; like trying to throw the ball in the fish tank, balloon pop, and jug toss. You simply swipe your sail and sign card and the game is ready to go. I probably spent a good 30 minutes laughing and having fun. Money well spent (though pricey). I will be back tomorrow to redeem my tickets!
Question: Do other Carnival ships have an ice cream parlor in Cherry on Top?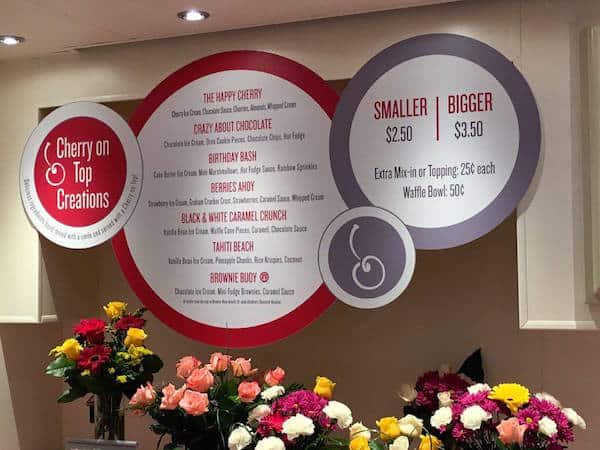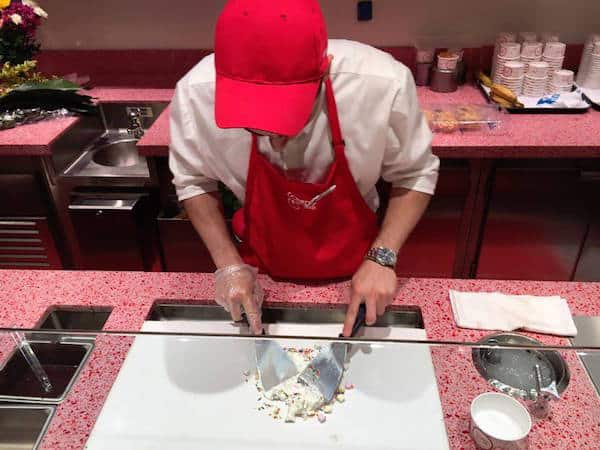 Right now, Carnival Vista is the only ship that has an ice cream parlor. You can pick from a variety of ice cream and toppings at a reasonable price. A little secret though, they serve homemade ice cream at the Sweet Spot at the Lido Deck Marketplace. Head there if it's open – it's probably close to the same kind of ice cream!
Check out all of my other days aboard Carnival Vista by clicking on the links below!
Pin this!