It's always interesting to take a cruise on a relatively new ship about a year after it's introduction. I've sailed on the Carnival Vista — which was first introduced in May of 2016 — before. Now, as we head out on an eight-night Southern Caribbean cruise, I thought this might be a great opportunity to see if anything's changed during her first year of operation. It's also a chance to re-familiarize myself with Vista in order to have her fresh in my mind as we begin writing about Carnival Horizon, the second ship in this class, which is set to take her maiden voyage this spring.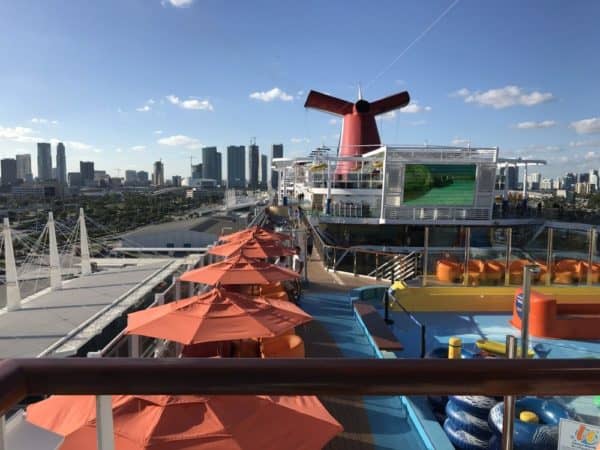 I'm also looking forward to sailing Vista again because, to be honest, I've sailed several of the line's older ships recently, and I've missed some of the options that this newer, bigger vessel have to offer.
This Week's Carnival Vista Itinerary
We're sailing out of Miami which means that, unlike when I leave from Jacksonville, I need to deal with parking. When sailing out of South Florida — whether it's Miami or Port Everglades — I like to do a pre-cruise stay at the Hilton Garden Inn Fort Lauderdale Airport Cruise Port. Why? Convenience and cost. Look, I'm going to spend $160 to park my car at the port for an eight-night cruise, but I can pay less (and get more bang for the buck) by staying at the hotel the night before, letting them keep an eye on my car for the week (which is included in the price) and using a shuttle service to get to the pier. The SAS Shuttle costs $15 per person, and it's about a 30-minute ride from the hotel to Port Miami. Total win/win.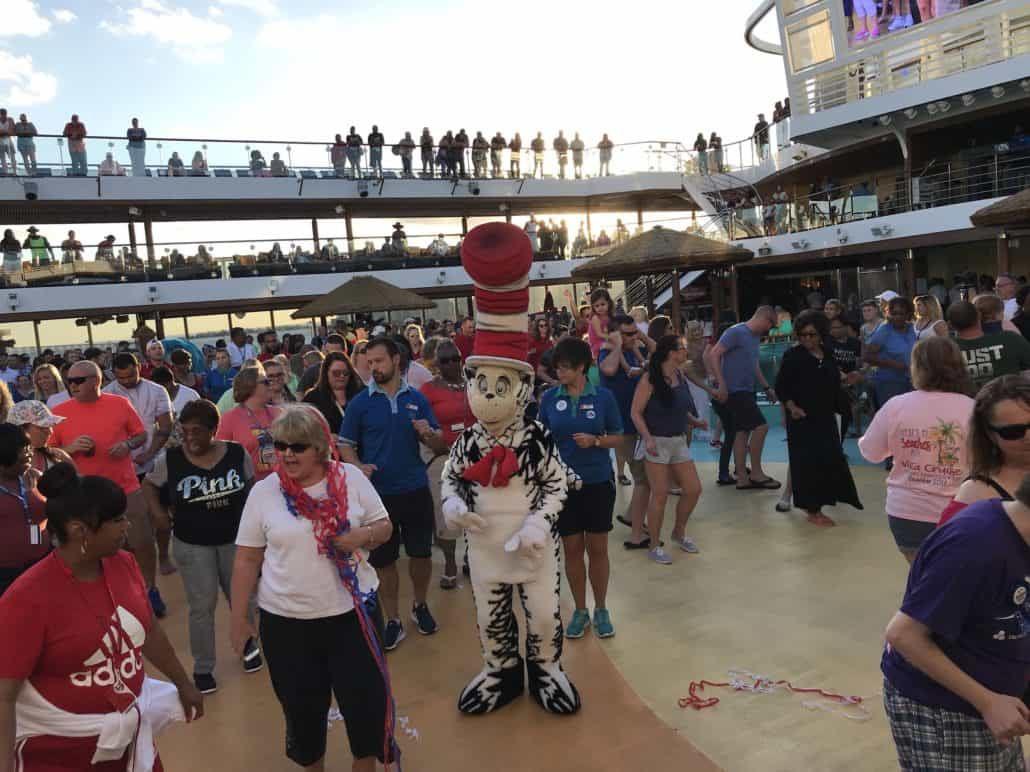 When we arrived at the terminal, it looked like a little bit of a madhouse, and I feared it might take quite a while to get on board. Fortunately, I'm a Platinum cruiser with Carnival — and yes, I'm going to be one of those people who brags about their status, but only because it's important to the story — so we were able to blow right past the line, hit the passport check, dash through security and be on Vista in no time. (If you want exact numbers, we went from the curb to the ship in 16 minutes!)
If I didn't have priority boarding status with Carnival, I'd probably have purchased Faster to the Fun. The line at the terminal was downright intimidating at 12:30 p.m., and let's face it… that's not how anyone wants to start their vacation.
Christmas on the Carnival Vista
We have a balcony cabin deck on deck six, aft, which overlooks the Havana lanais. It's a gorgeous part of the ship, and so far seems just about perfect. The muster drill was quick and easy, thanks in part to the fact that everything is now done digitally, making the whole process pretty seamless. Someone scans your card when you enter the muster station, and the technology highlights everyone in the cabin. This has been the case on other cruise lines for a while, so I'm glad to see it being fully implemented on Carnival's ships.
I've heard people ask in the past if there's anything "special" about sailing during the holidays. The short answer: Yes. If you've never done it, I can't recommend it enough. Santa's Elves clearly worked overtime at turning the Carnival Vista's public spaces into holiday wonderlands. The decorations in the atrium — including the holiday-themed images featured on the Dreamscape's LED funnels — were simply stunning.
Soon after, it was time for the lighting of the atrium's Christmas tree. Not to sound corny or anything, but it was sort of magical, with everyone gathered around for the big moment, and singers leading us in a few Christmas carols afterwards. (If there's a downside to all this holiday merriment, it's that I'm probably going to be done with all things Christmas by the time the ship returns to Miami. I apologize in advance to everyone who will have to deal with me rolling my eyes and comparing the actual holiday to the one I spent at sea!)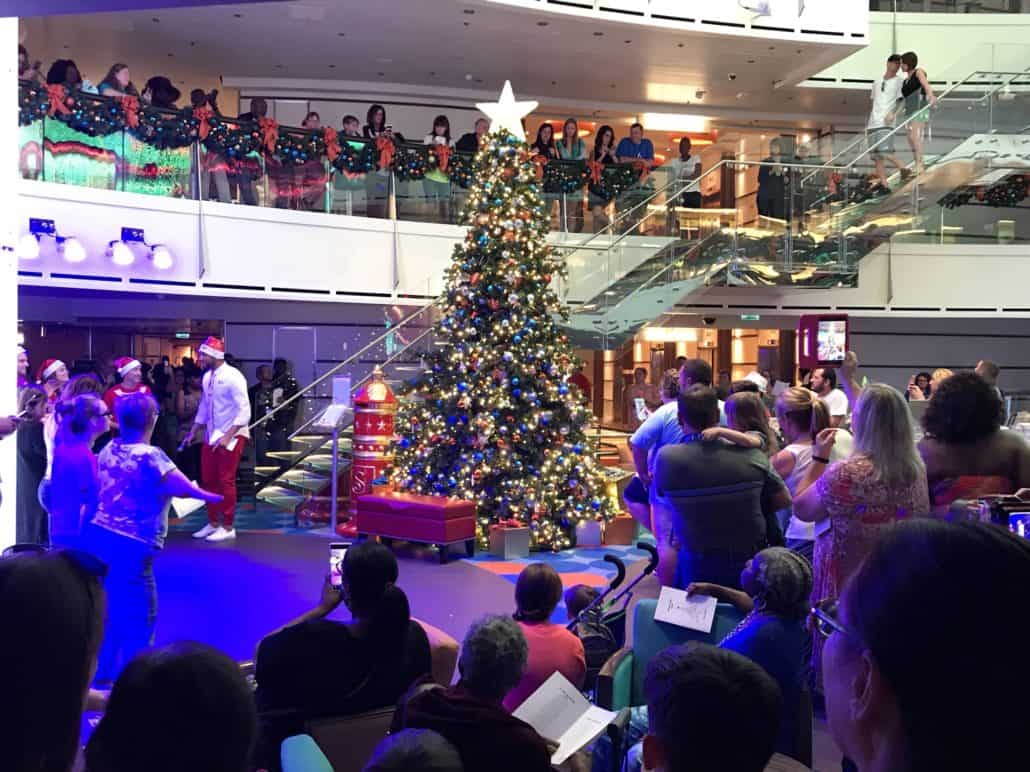 We sailed out pretty late, with the ship not even leaving Miami's port until nearly 8 p.m. Nothing on that night's main dining room menu really jumped out at me, so I thought it might be a good night to hit the steakhouse. We'd just reported on the updated menu, and since they had an 8:30 p.m. opening, this seemed like as good a time as any to check it out!
Now, I'm a steak lover, so it's pretty hard to imagine that this was going to be a disappointing meal for me. I was, however, a little nervous, because I knew that they'd removed some of my favorite items during the menu's revamp. But they also added new items, which meant this was a chance to expand my horizons. They took off escargot (one of those things I order every chance I get), but they added oysters. They removed creme brûlée, but added a dessert that the chef whips up at your table.While I'll have a full review of the new menus coming soon, let me tell you this: the dessert that capped our steakhouse meal was epic. That's right, epic. In fact, it was so amazing — and I'm so full-to-bursting — that it's time to call it a night. Part of me wants to go explore, because this ship comes alive at night, and it's practically vibrating from all the fun being had… but tomorrow is another day, and I'll be happy to start it hangover free…
Until tomorrow… good night!