What's not to love about a sea day, right? I mean, one of the reasons we cruise is to enjoy being on the ocean. If we just wanted to go to the Caribbean, there are quicker and easier ways than jumping on a cruise ship. But right now, I'm on the Carnival Vista making my way to Grand Turk, and there's no place I'd rather be.
This particular eight-night Caribbean sailing has three sea days on the itinerary. If you've read my trip reports in the past, you know that means: Sea Day Brunch in the main dining room. Three of them, to be exact. Today, I went with my standards: Flamin' tomato soup and an egg white spinach omelette. (To be honest, I have no idea how I had any room after last night's incredible meal at the steakhouse. But never fear, I found a way!) The service was a little sluggish, although that might have to do with the fact that we hit brunch during the busiest time.
Speaking of the steakhouse, a reader recently asked if the $35 per person charge includes the gratuity. I'll be honest and admit I wasn't sure. But it turns out that the fee does include tip. That said, the bill has an "added gratuity" line, and I usually leave extra. What can I say… I appreciate good service.
Flying High on the Carnival Vista
Immediately after brunch, we ran back to the stateroom to grab our sneakers so we could hit the SkyRide when it opened at 11 a.m. The SkyRide is a first-of-its-kind elevated track with suspended vehicles that you pedal like you would a bicycle. In fact, the whole thing sort of looks like a suspended recumbent bike… but is way, way more fun. (As an added bonus, there are two tracks, allowing you to race a friend.) You can pick up quite a bit of speed, and there's a hand brake with which to slow yourself down if you get nervous. (And yes, they strap you in very, very well!)
Although there was a posted 30-minute wait time, it was actually much less than that. It helps that there are two sets of vehicles, so even with the time taken to strap you in, things move along pretty quickly. By the time we'd pedaled our way around the track, we'd worked up an appetite, so we headed for the
RedFrog Pub
. It's actually been ages since I grabbed lunch at the pub, but one thing hasn't changed: The price, which can't be beat at $3.33 per item. I went with the Caribbean jerk chicken wings, grouper fingers and beef sliders.
Since this was clearly going to be an "eating" day, our next stop was Cherry On Top. A while back, they started serving homemade ice cream sandwiches at the Carnival Vista branch of the franchise. For $3.00, you get to pick your cookie, ice cream and topping. I went with an M&M cookie, cake batter ice cream and miniature peanut butter cups. (I'm sure that loop around the SkyRide worked off enough calories to account for this treat… right?)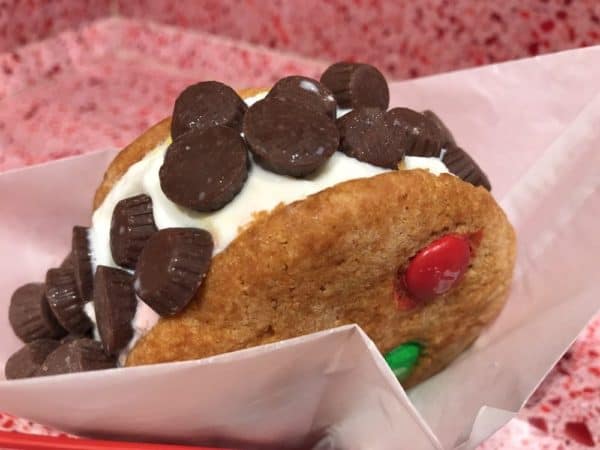 Another Day In Paradise
Weather-wise, you couldn't have asked for a more perfect sea day, so the lido deck was packed with sun worshippers getting their tan on. Around 2 p.m., we found a couple chairs on the upper level of the Lido and chillaxed there for a while before heading to Serenity. Given that there were about 1,200 kids on this particular Carnival Vista sailing, Serenity — the amazing adults only zone — was exactly where I wanted to be. Snagging one of the very comfy clamshells that can be found there, we wound up chilling until sunset, then slipped into the hot tub when everyone else left to get ready for dinner. Trust me: The best time to hit Serenity is in the late afternoon. From that point on, you basically have the run of the place. Any earlier, and the hot spot can be pretty crowded, with a whole lot of kid-avoiding adults jockeying for the best places to relax.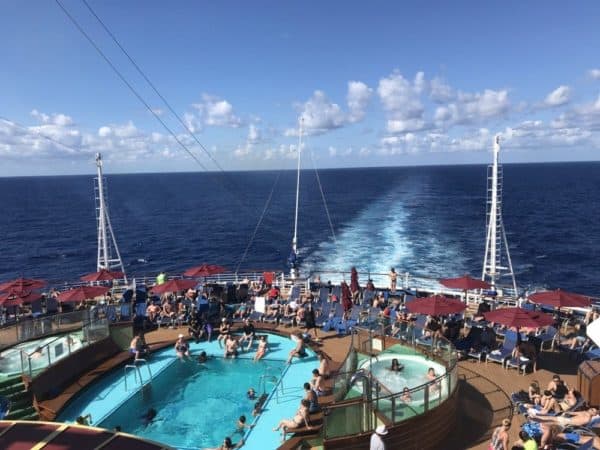 Did Someone Say "Lobster?"
Apparently, I'd signed up for Your Time Dining, which I definitely didn't want. While I don't necessarily want to follow a schedule as a general vacation rule, I do like the routine of a set dinner time. Fortunately, they were able to squeeze us into the 8:15 p.m. seating in the main dining room.  We wound up seated next to a couple from out West who had all kinds of great stories. It's always fun when you wind up crossing paths with fellow passengers who love cruising as much as you do. Sometimes, the friendships you form last a couple hours, sometimes a lifetime.
It was formal night and, as is customary on Carnival ships when the itinerary is five nights or longer, they had lobster on the menu. Now I know there are some people who practically hyperventilate at the thought of lobster (and love nothing more than to whine about the lack of it), but that's never really been me. Don't get me wrong… I love a good lobster, it's just not something I get super amped up about. That said, I hadn't had it in a while so I wound up ordering the lobster, prime rib, shrimp cocktail and creme brûlée.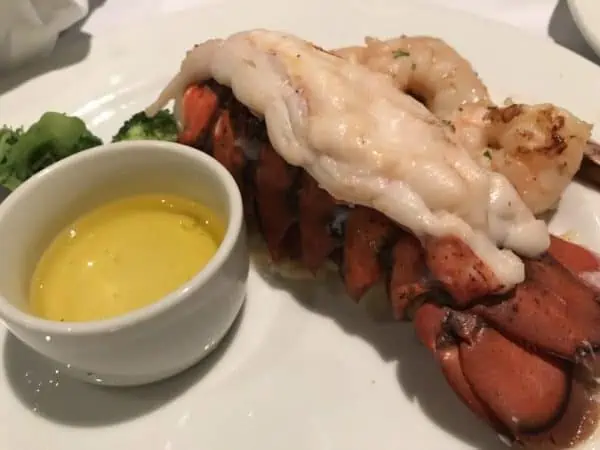 The original plan was to hit a show after dinner, but for those keeping track, we'd been eating pretty much non-stop. So it's not going to surprise anyone that I was feeling fat and happy and, as a result, wanted nothing more than to curl up in bed and let the ship rock me to sleep. You know what they say about the best laid plans…
Tomorrow we'll be visiting Grand Turk, which should mean more fun in the sun. Until then…
Goodnight.