Ever go to bed knowing something and then wake up having completely forgotten it? This morning, I woke up and, upon realizing we weren't in a port, immediately wondered what had happened and why we were skipping Curacao. And then I remembered that — as I mentioned in yesterday's trip report — we weren't actually scheduled to arrive until mid-afternoon. You can now feel free to imagine me slapping my head and saying, "D'oh!" Homer Simpson style.
The Carnival Vista Secret Breakfast
Everyone talks about the "hidden gems" they discover when cruising. We pass the tips along to one another like precious heirlooms. Well, here's one I'm going to give to you: When sailing on the Carnival Vista, if you want to grab breakfast without dealing with the buffet or a sit-down restaurant, head down to the Ocean Plaza.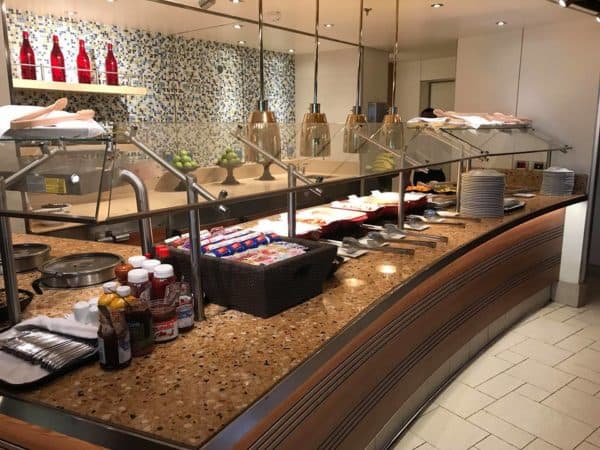 Every morning, there's a hot, self-service breakfast bar set up there with everything you could want, including beverages. And best of all, it's rarely crowded, because it's not listed as an option in the Fun Times, most people don't know about it. (You're welcome!)
They had a big watch sale going on this morning, and I swung by to take a look. But I'll admit right up front, I can never tell if these sidewalk-style sales are offering a good price or not. Obviously, I'd be terrible on The Price Is Right. ("Drew, I'd like to bid… one million dollars!") A few months ago, I bought a watch while on the Carnival Liberty, mainly because mine had died while on vacation. It lasted about 30 days and then stopped working, deader than the proverbial door nail. So when I swung by the sale today, it was really more to window shop than buy… and some of these watches cost more than my car! Since I haven't won the lottery or hit a jackpot in the casino, I'll stick to the $3 ice cream sandwiches at Cherry On Top.
All Aboard The Party Bus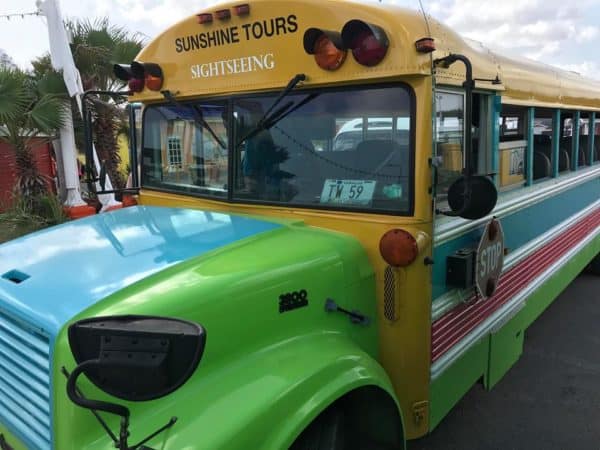 Once we arrived in port, we headed for what might be the last place I really expected to find myself: A party bus. That's right, one of those wildly-colored buses with people hanging their heads out the window, waving and shouting. We'd booked the
East Side Tour
through Irie Tours, and it was… not at all what I expected. I mean that in the best possible way. For one thing, it was tamer than I expected while still being a total blast. For another, it was far cheaper than some other excursions. For $25, we were taken on a sight-seeing tour that included a stop at a liquor factory for a free tasting (including the famous Blue Curacao), some information about the various areas we passed through and a beach visit.
There was also a cooler offering beer, soda and water and, again, this was all included in the $25 fee. I spoke with people on the ship who'd booked a similar tour which didn't include beverages, and they were paying $69 per person. So once again, big score for the planned-his-own-excursion guy.
Timing wise, the tour couldn't have worked out better. We arrived at the beach in time to swim for about an hour and then watch the sunset. Fortunately, the sun starts to set before 5 p.m. around here, so we got to soak it in, take some amazing pics and still be back to the ship in plenty of time.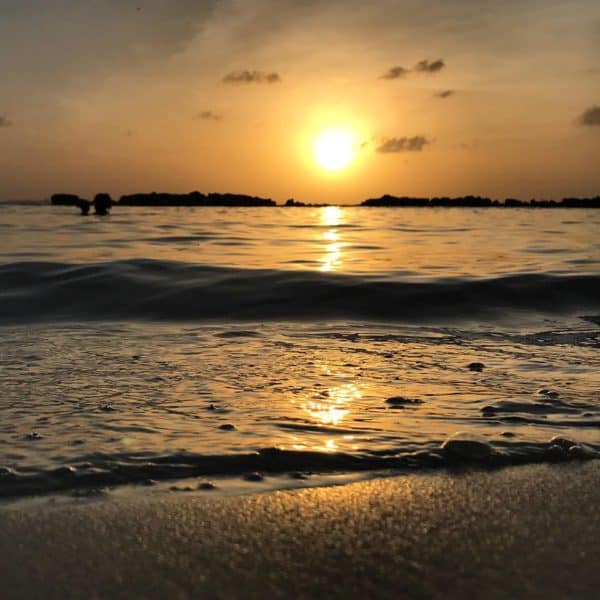 It helps that the return trip is a lot quicker, because you've already done the sight-seeing thing. Our guide was fantastic, and we wound up giving him a nice tip. (Even better? He never actually pandered for tips, the way some drivers and guides do, which made me want to tip him even more!) You could tell this was a guy who genuinely loved his job. I'm sure I wasn't the only person on that bus who found themselves thinking, "Hmm, maybe I could ditch it all, move here and drive a party bus… "
We opted to end the tour downtown instead of going back to the ship because we still had three hours until dinner, so we went shopping for a little bit. I figured this would give everyone else a chance to get back on the ship, allowing us to avoid the line. Well, turns out everyone else had the same idea — or was as reluctant as we were to leave — because we still had to wait in a 30-minute line when we decided it was time to board.
Service With A Smile
We were hitting the main dining room again tonight for dinner. I have to say that so far, the service in the dining room has been great. The three servers tending to our section are on their game and as nice as could be. You know that daily gratuity that people are always complaining about? These guys were earning every penny of it and more. I stuck with the "From The Grill" section of the menu tonight, going with a shrimp cocktail, salad and grilled salmon.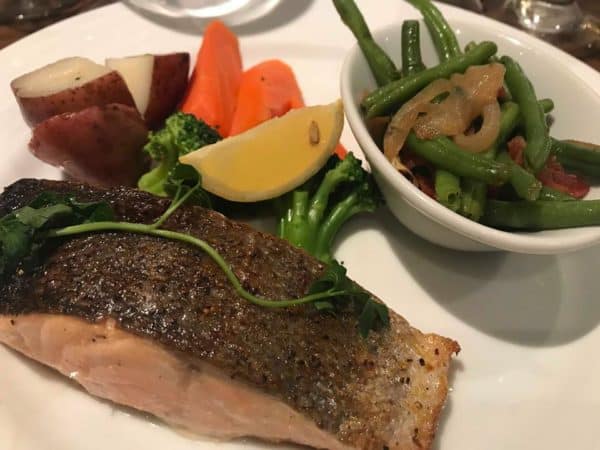 Given some of the stuff I've been eating this week, it was good to walk away from the table feeling I'd chowed down on something at least relatively healthy! Plus, because we have the late seating, I didn't want anything too heavy, because I'd be calling it a night once we finished eating.
I wanted to get a good night's sleep, because I'm really psyched for tomorrow's port. Why? Because the Carnival Vista will be arriving in Aruba. Ever hear the saying "Bring your scuba to Aruba?" Well, that's my plan for tomorrow. So until then…
Goodnight!