Today is the first of two sea days as the Carnival Vista makes her way back to Port Miami. I went to upload a picture to Instagram this morning and noticed that most of the southeast was covered in snow. Even the Panhandle of Florida got a little bit of snow. Pretty wild… and something I'm not going to think about until I absolutely have to.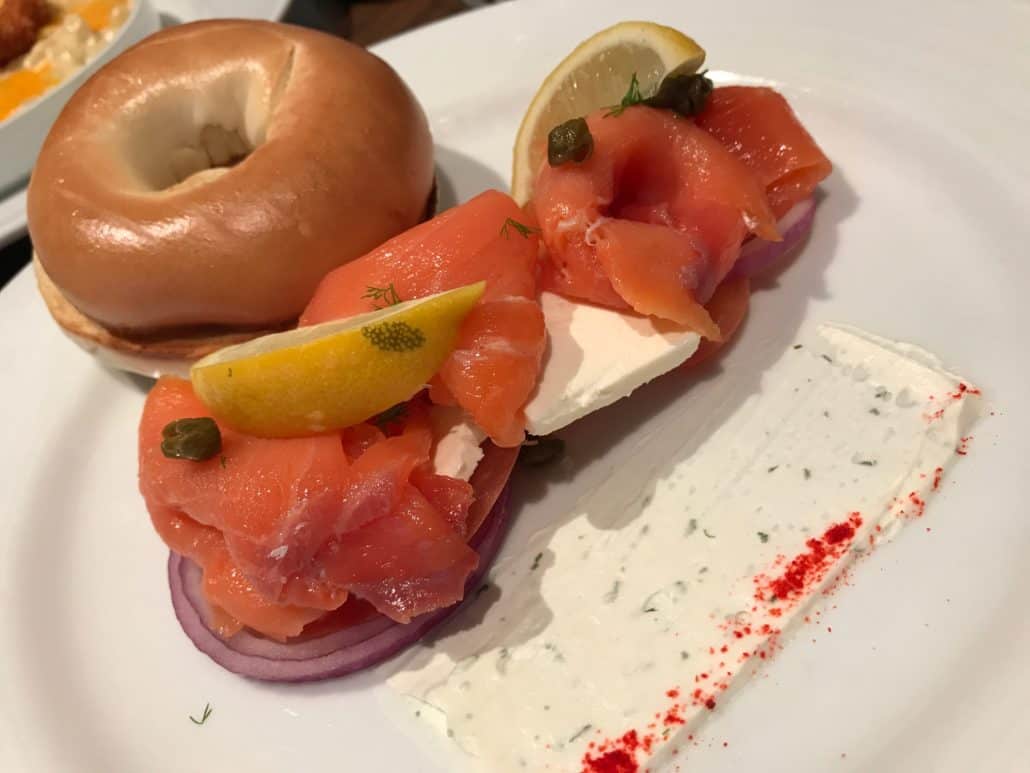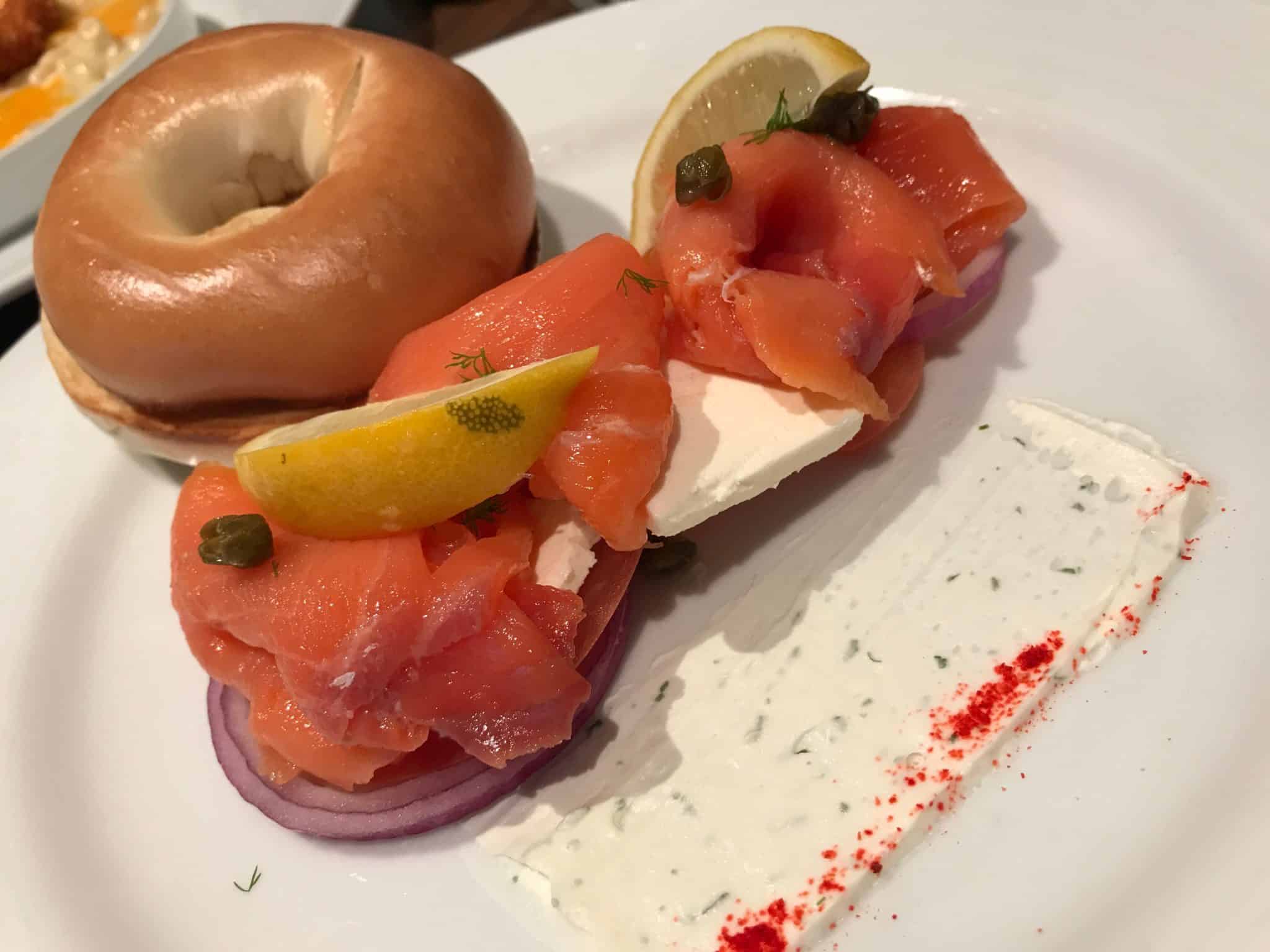 While we did go to the Sea Day Brunch this morning I was careful not to go overboard. Not because I was thinking about my diet (which has pretty much derailed on this cruise!), but in anticipation of this being a big eating day. With that in mind, I stuck with salmon on a bagel and a cup of coffee.
So far the Sea Day Brunch has been really solid. The service was a little slow in the main dining room, but I'm going to give them a pass on that because despite my best intentions, we keep arriving right at the busiest time. The brunch is open from 8:30 a.m. to 1 p.m., and it seems like the vast majority of passengers go right around 11:30 a.m., which makes sense. You can sleep in after the night before's festivities, but still get a great meal. And while I'm no expert, isn't brunch supposed to be eaten later than you would normally have breakfast?
At 11:30 a.m., the ropes course and SkyRide open. We did the SkyRide a couple days ago, but really wanted to do it again because the weather was amazing and the idea of pedaling through the cloudless sky on such a perfect day was too good to pass up. The SkyRide had a posted wait time of 30 minutes, but we were to the front of the line and getting harnessed up within 20.  They make you wear closed-toed shoes and a shirt while on the SkyRide, so don't show up in sandals and thinking you're going to work on your tan. Despite these rules being very clearly posted, people still get to the front of the line and are surprised when they are turned away. Not sure if they have vacation brain or think the rules won't apply to them, but in either case… avoid being them.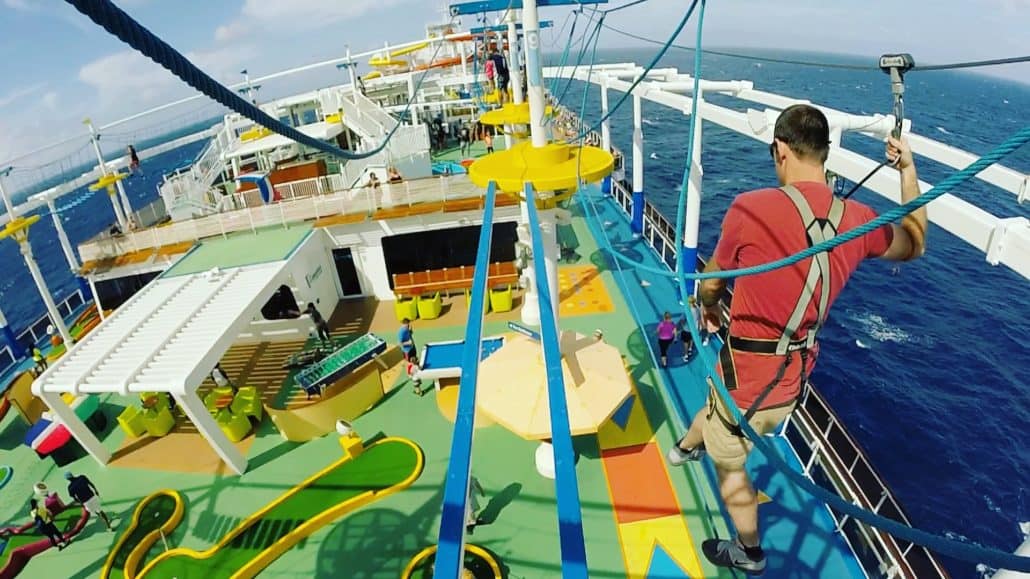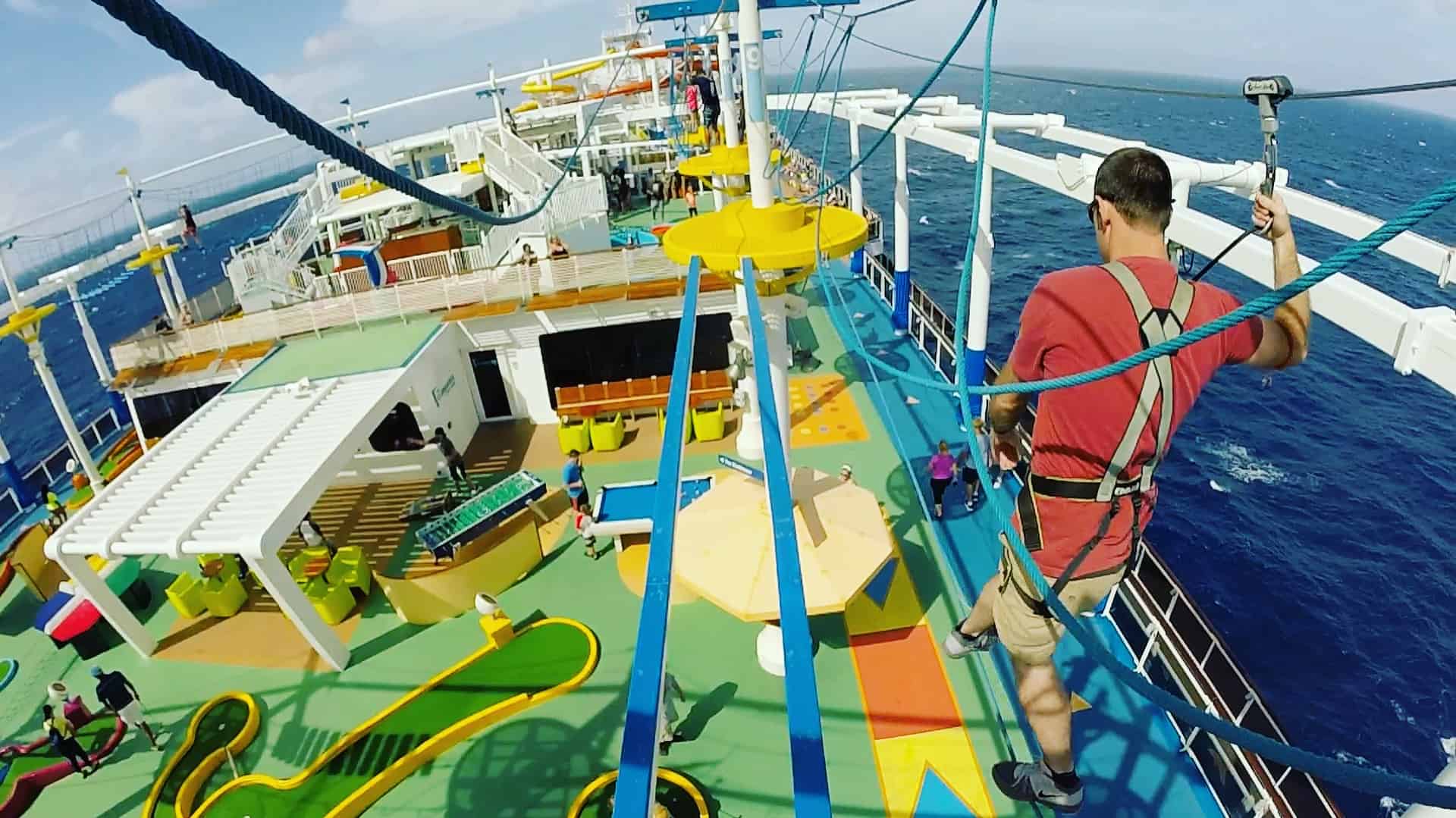 The ropes course was fun, and it's always a blast watching first timers making their way through it. I can zip across the course like a spider monkey, but some folks get up there and completely freeze up. They don't exactly have a truck with a cherry picker bucket that can come rescue you, so make sure you're ready to commit before you head up there!
Once you slip on the harness, you pick a course and begin making your way around the various obstacles. It's definitely not for everyone… especially those with a fear of heights. On the one hand, you're not really that far above the lido deck. But you also happen to be atop a 15-story ship! Depending on your comfort level, it can take anywhere from 5 to 25 minutes to complete the whole course. I don't wanna brag or anything, but… I'm totally in the five-minute club.
Next up? The Very Hairy Chest Contest, which is always a blast, if only because it proves — every single time, without fail — that middle-aged white men really have no moves. But all six guys were great sports, and the crowd was loving it. We're talking hundreds of people, lined up on the pool deck and watching from the railings above, cheering the guys on.
I stayed for about half of the show, but all I could think about was food. (I told you this was going to be an eating day!) So while seemingly half the ship was judging the shirtless, hairy guys, we slipped up to Cucina del Capitano. Although it's a for-fee specialty restaurant at night, they offer a complimentary pasta lunch.
Interestingly, the way they do lunch on board the Vista is different than the way it's handled on Carnival Sunshine. On that ship,  you filled out an order slip, handed it to a hostess and grabbed a pager. When your order was ready, they paged you to come get it. On Vista, you take a seat, they have drink service, you fill out the order form and give it to a server. About 10 minutes later, the food is brought to you. The servings are huge, and it's not just pasta. You can also order Caesar salad or lasagna. If you're not all that hungry, consider asking for a half-serving. That's what I did, and I still walked away stuffed.
READ MORE: Review of Lunch Experience at Cucina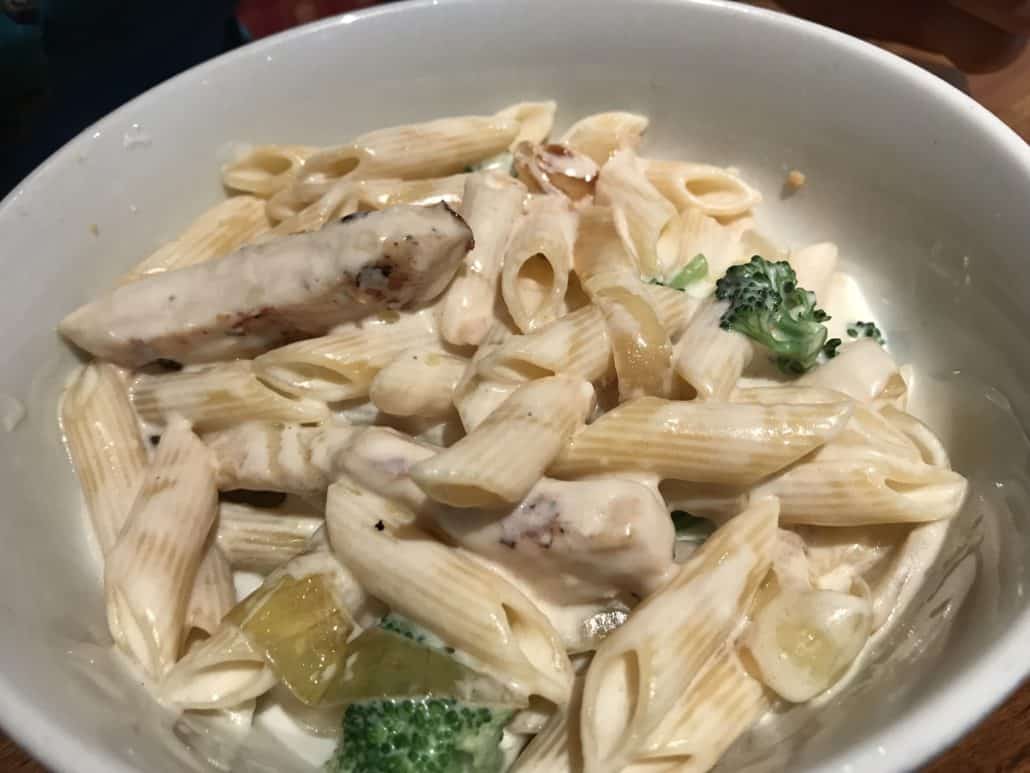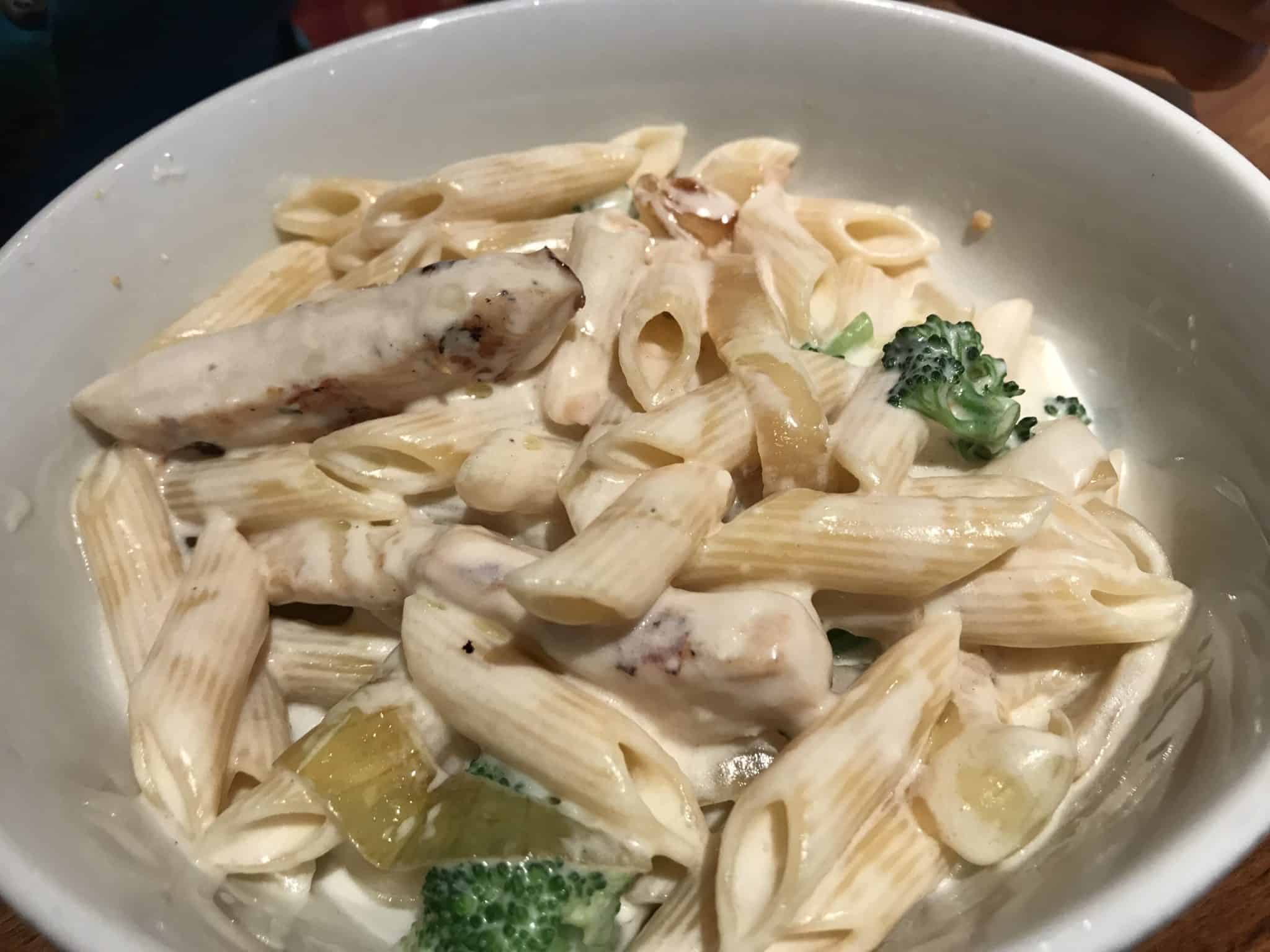 After lunch we had to drop by the chocolate buffet for a photo opportunity. I'd love to say that I didn't actually indulge but, well, that would be a lie.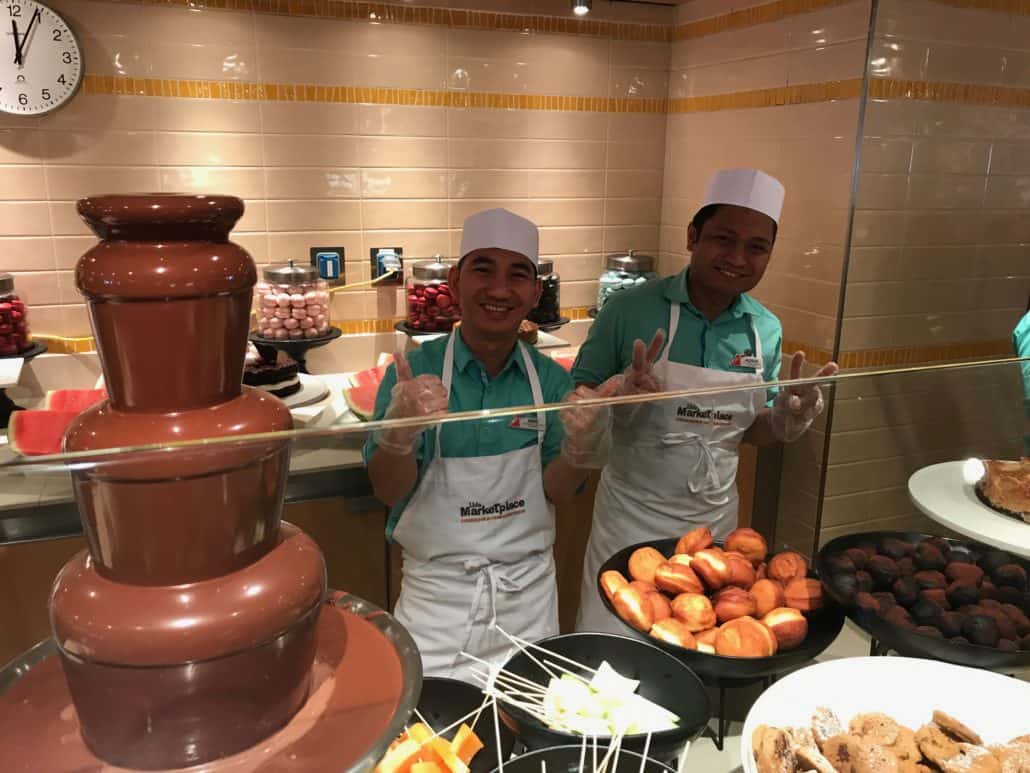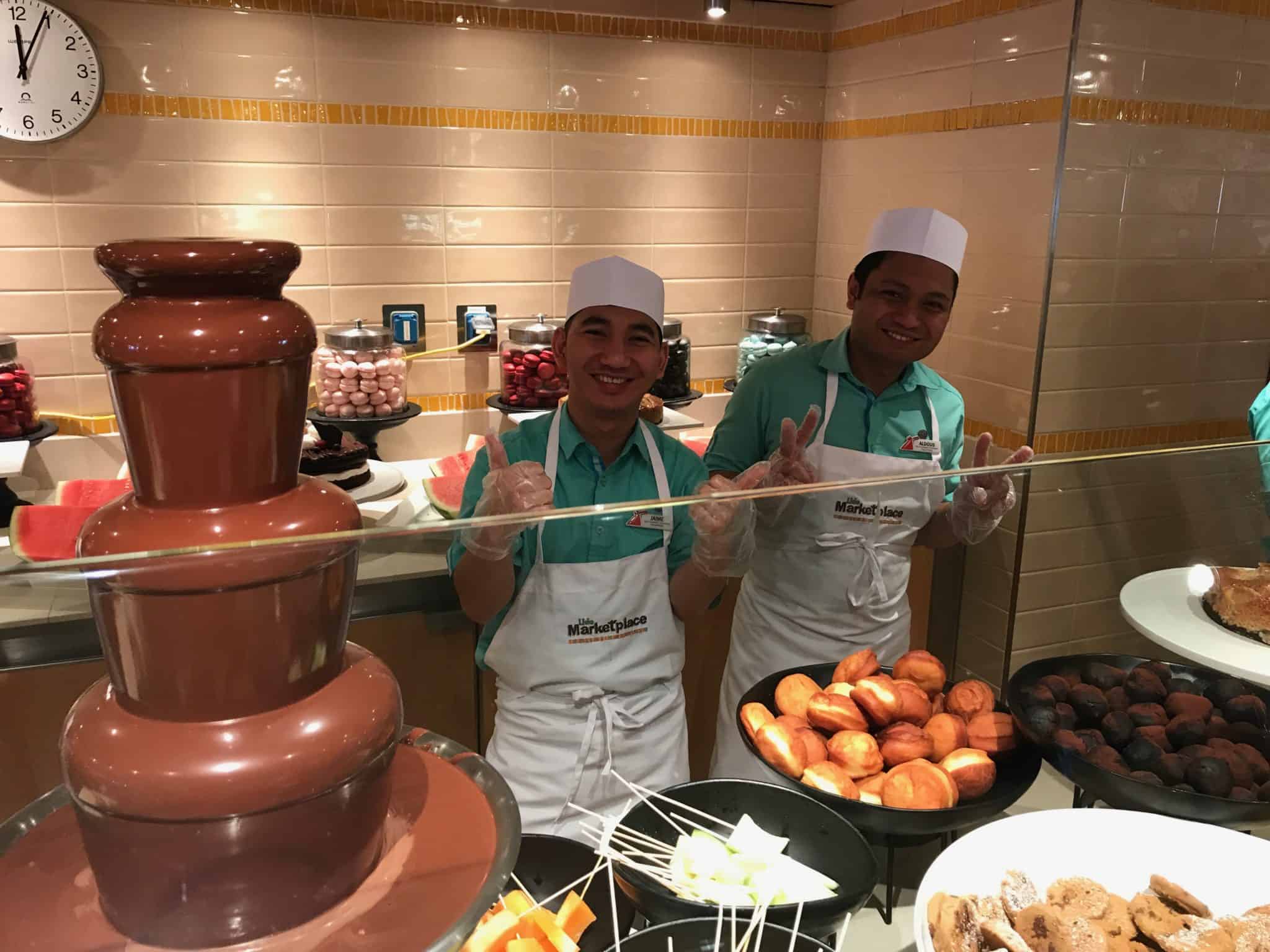 I've made mention of Carnival's Military Appreciation event in past trip reports, but it's worth shining a spotlight on again. The military event — which always packs whatever venue it's held in — is designed to allow everyone to show their gratitude for the men and women who served in not only the United States armed forces, but for any military operation worldwide. It's an incredibly emotional experience, and it is held on every Carnival sailing. Hearing vets telling stories dating all the way back to the Korean War gave me goosebumps. One high ranking officer in the Air Force told us about special combat missions they conducted and the living hell they went through over there. We all know the big battles that they make movies about, but there are so many smaller battles fought by everyday heroes who we will never know. And here, during this special event, we get to hear their stories and show our appreciation. Hats off to Carnival Cruise Line for doing this. I make it a point to go every single time I'm on a Carnival ship, knowing I'm going to be both humbled by and an emotional wreck after the event.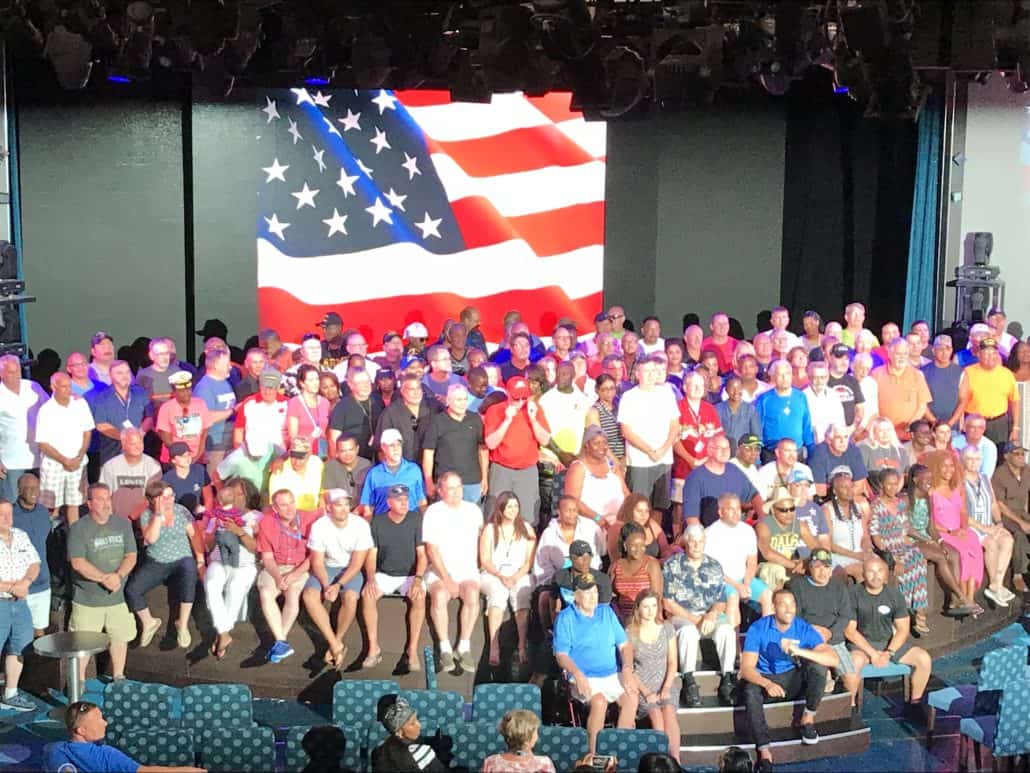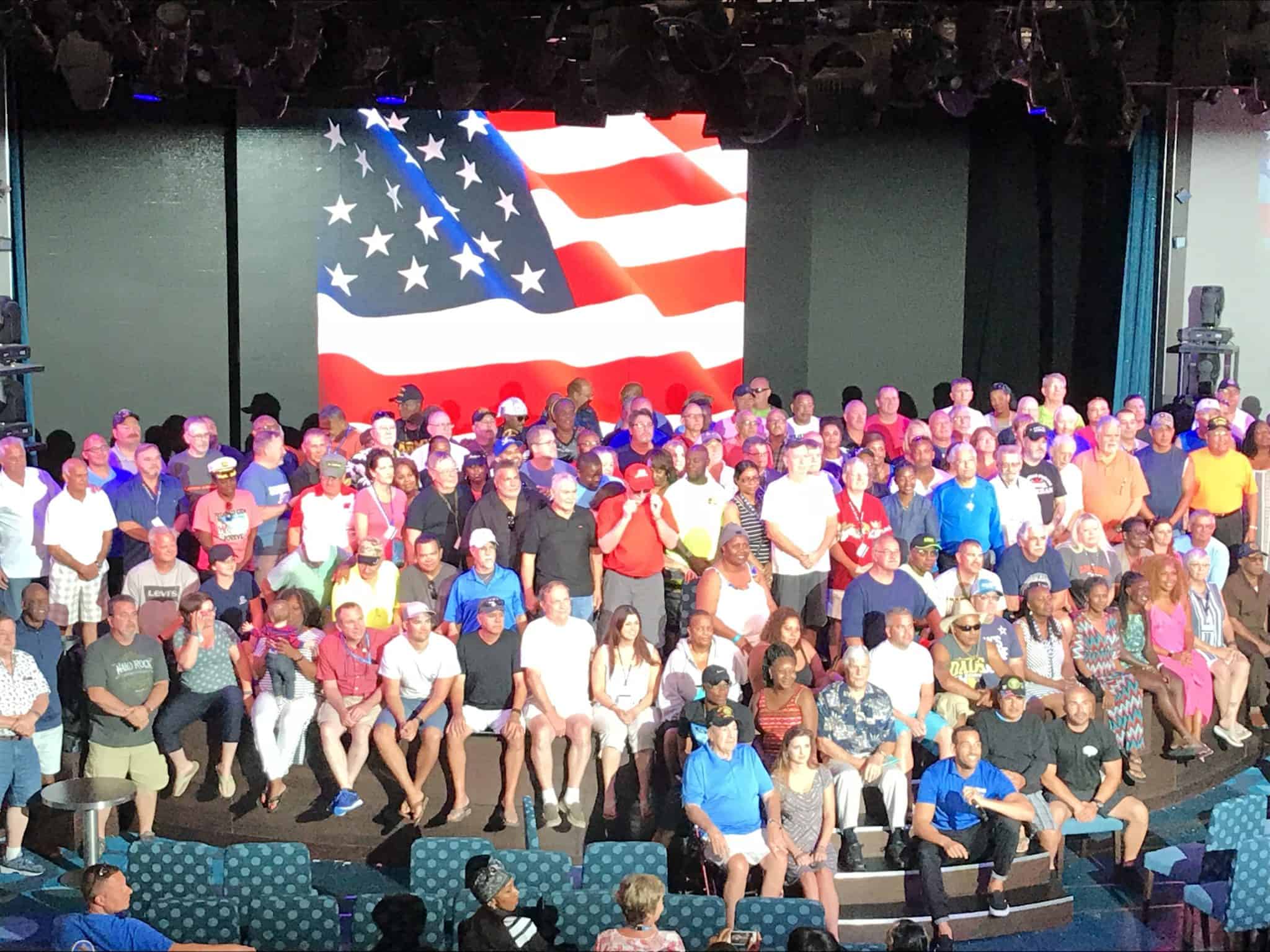 Which brings us up to my next regularly scheduled feeding. Tonight was formal night in the main dining room. Since lobster was served during the first formal night on Carnival Vista, this time was jumbo shrimp, crab cakes and prime rib. Despite those being things I absolutely love, I decided to go with clam chowder and salmon. So that's at least a little less work I'll have to do to get my diet back on track when we get back home.
I love people watching on formal nights because you can tell a lot of the husbands don't want to dress up. And sure enough, the guys (present company included) who are looking spiffy at 8 p.m. have run back to the cabin and are wearing shorts and flip-flops by the time they hit the theater two hours later for the evening's entertainment. Meantime, I met some lovely ladies from West Virginia enjoying a pre-dinner cocktail at the Alchemy Bar. They said they were hunters who, back home, never have the opportunity to dress up, so they were loving formal night! They looked stunning and were having a blast, and isn't that what vacation is all about?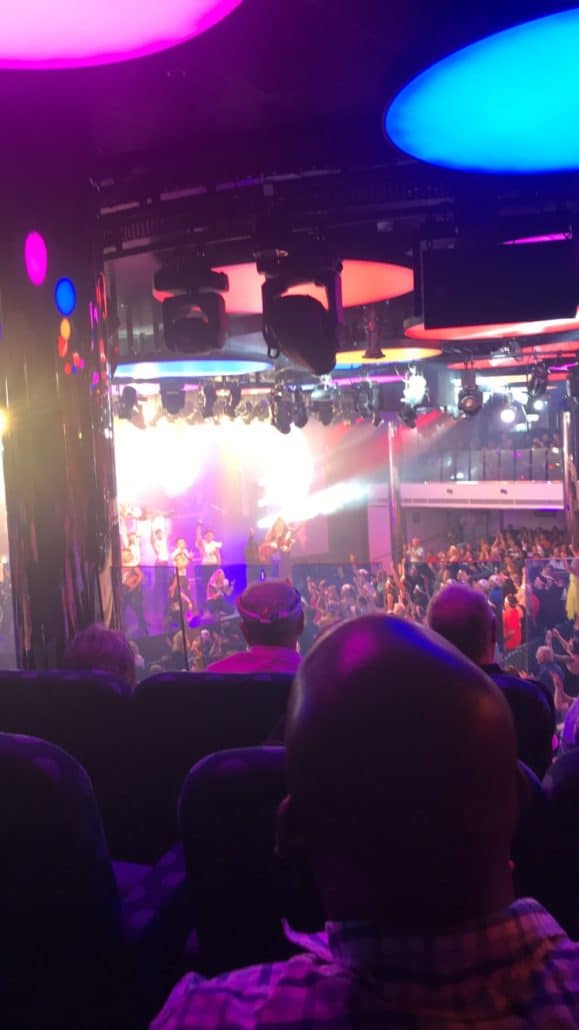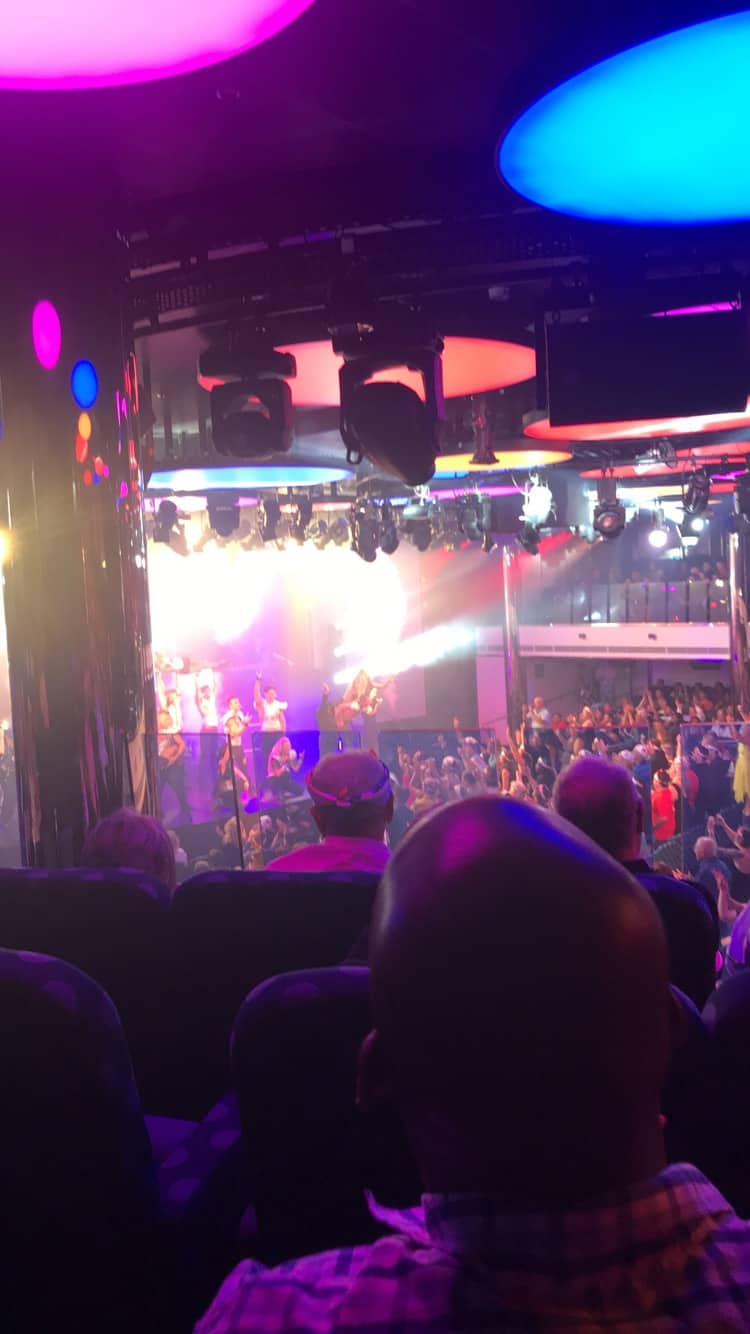 The Playlist Production show tonight was called America Rocks and, while it was entertaining, the poles in the main theater got in my way… proving that I really I should practice what I preach about getting their early to avoid exactly this problem! The performers took us through several decades worth of music with the help of a live rock band and some pretty cool special effects. Being a huge fan of live music, I have a great appreciation for special effects 0n stage, but also appreciate solid vocals, which were lacking. Then again, who am I to judge? It's not like I could get up there and do that. Heck, I won't even do karaoke.
The end of the day left me with a pretty big decision to make about tomorrow's final sea day: Should I order room service in the morning, or hit the main dining room? Then I remembered that I'm on vacation and decided… I'll do both.
Until breakfast… good night.