For the upcoming Christmas season, Carnival Cruise Line will be giving guests the chance to grow their heart three sizes and meet none other than the Grinch himself!
As a part of Carnival's Seuss at Sea program, this holiday season the Grinch will be a part of the fun, decked out in his signature "Santy Claus" costume.  He will slither and slink throughout the ships with both scheduled appearances as well as spontaneous pop-up visits.  Not a fan of Christmas, he will be up to his usual tricks in an effort to "stop Christmas from coming!"  He'll playfully disrupt onboard festivities and steal things from crew members.  He will also participate in the holiday show at the end of the cruise.
There will be arts and crafts sessions where kids can create Grinch ornaments and masks, Grinch face-painting, and special screenings of both the animated classic and the live action versions of "Dr. Seuss' How the Grinch Stole Christmas" on Christmas day.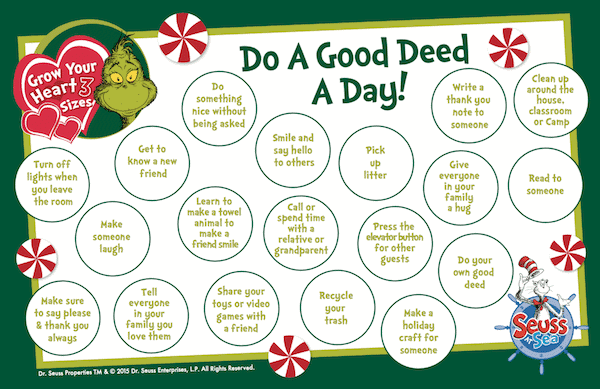 Kids will be able to complete their own Grinch Good Deed Tracker and once the card is filled, receive a certificate saying that they grew their heart "three times its size."  The Grinch will also be included in the popular Green Eggs and Ham Breakfast.
"Grinchmas" will complement Carnival's annual holiday festivities where their ships are decorated with Christmas trees, mistletoe, wreaths, caroling, and more on board.  Santa will also make an appearance bringing gifts for kids, and a special menu will be offered on Christmas day with traditional holiday foods.