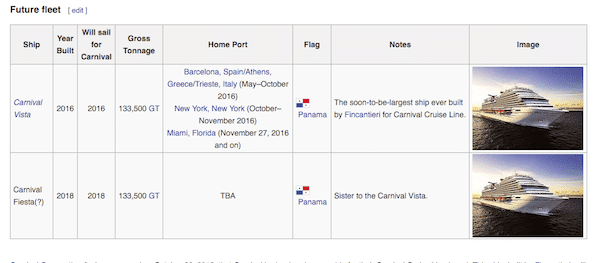 You know what they say: You really shouldn't believe everything you read on the internet. (Unless, of course, you read it here!) That being the case, you should probably take what we're about to tell you with a grain of salt. But if Wikipedia is to be believed, we might just know the name of the Carnival ship currently under construction and expected to launch in 2018: the Carnival Fiesta. At least, that's what a page on the site indicated until late Wednesday afternoon, when the reference to the ship's name was deleted.
We contacted a spokesperson for the line who informed us that "the official name of [the ship] has not been announced yet." In other words, it could be Fiesta… or something entirely different!
Little is Known
At this point, little is known about the ship, whose keel was laid at Fincantieri Shipyard only a few short weeks ago. It will be their second Vista class ship (with the first, the Carnival Vista, debuting on May 1), and is expected to feature many of the same restaurant and design features as its sister as well as a few new bells and whistles yet to be announced. Capacity wise, she's expected to carry 3,954 passengers, although there's no word yet as to where she will spend her debut season.
What's in a Name?
Do you think Fiesta is the actual name of the ship… or did the Internet get this one wrong? And if Fiesta isn't the new ships's name, what should it be? Hit the comments below!