In case you missed it, The Cat in the Hat is running for president.
Sort of.
In the realm of kids who sail on a Carnival cruise, this statement is indeed true.  And to further his presidential campaign, he held a rally aboard Carnival Ecstasy while the ship was docked in Charleston.
The #CatInHat4Prez campaign goes along with the release of the new Dr. Seuss book, "One Vote, Two Votes, I Vote, You Vote," which teaches kids about the election process and importance of voting.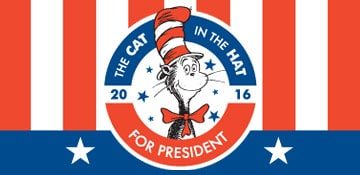 Joined by Thing 1 and Thing 2, The Cat in the Hat hit the campaign trail in his special presidential clothes to showcase his platform "it's fun to have fun but you have to know how," and lead kids on a special presidential-themed parade.  After the rally, kids and their families had Carnival's Green Eggs and Ham Breakfast with the characters.  The young voters also did patriotic crafts, voted for their favorite Dr. Seuss book, and received a voting certificate.
In the Port of Baltimore, Carnival held the same activities for kids aboard Carnival Pride while it was docked there.  The cruise line also held a similar rally aboard Carnival Magic while it was docked in Port Canaveral in early September.
The presidential activities are part of Carnival's Seuss at Sea program, which features fun experience inspired by the stories and worlds of Dr. Seuss.  For more information on The Cat in the Hat's campaign, visit carnival.com/catinhat4prez.
Updated August 30 to mention activities aboard Carnival Pride.