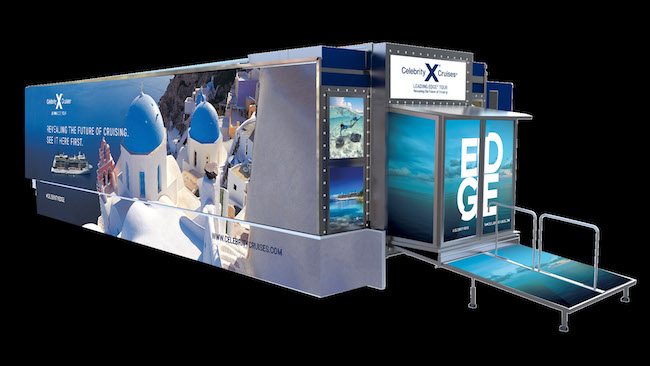 Celebrity Cruises has announced that they are taking the story of their newest upcoming ship Celebrity Edge to the roads of America on a cross-country journey.  The 'Leading Edge Mobile Cinema' will make 48 stops over 12 weeks, beginning March 29 and ending on June 30, traveling over 10,000 miles around the country.
Attendees will enter the cruise line's custom-built 91-seat high-definition mobile cinema for a 15 minute experience, including a 3D animated reveal of Celebrity's newest class of ships in almost a decade – Edge class.  Inside, guests will enjoy gourmet popcorn and beverages, with the opportunity to win one of over 50 giveaways with Celebrity.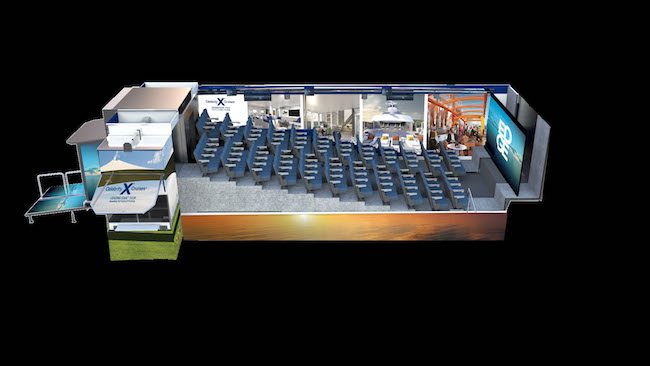 The tour will launch at the Sonoma Film Festival, and screening inside the mobile theater will be the world premiere of "This Side of the Dirt" by Tito Vodka founder Tito Beveridge, as well as the US premiere of "Goddesses of Food" by director Vérane Frédiani, a documentary following inspiring women in the world of food working to change the world.
Other stops will include the California Wine Festival, 50th Houston Film Festival, SPAC Rock & Run, CitiCenter DC, and the Toronto Wine & Spirits Festival on Sugar Beach.  At select stops, the cruise line's own Marine Research Naturalist Brent Nixon will provide an "Oceans Alive" experience featuring HD underwater filming encounters with sharks, turtles, stingrays, and humpback whales.
To view the complete list of cinema tour stops, visit celebritycruises.com/edge/mobile-tours.