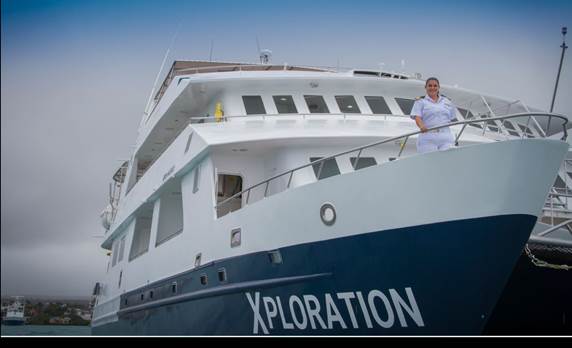 For the first time in cruise industry history, a female captain will navigate the rich archipelago of the Galapagos.  A native of Ecuador, Nathaly Albán will command the exclusive Celebrity Xploration, which was recently revitalized.
With a total of 12 years' experience sailing around the Galapagos, Captain Albán has worked on several vessels in the region, first joining the Celebrity family in 2006 as third officer aboard the 100-guest Celebrity Xpedition.  Continuing the line's dedication to advancing the role of women in leadership, Nathaly's appointment follows that of Celebrity Summit's Captain Kate McCue.
Albán was only one of six women in her graduating class at La Escuela de la Marina Mercante Nacional in Ecuador.  Prior to graduating, she held a variety of positions in the maritime industry, most notable serving in the FLOPEC Tanker Fleet of the Ecuadorian Navy.  After graduating, Albán worked on several ships in the region.
When asked how it feels to be named captain, Albán said "It is a great honor and privilege – I'm overwhelmed with positive emotion. I told my family many times that I would be wearing white one day and be the first woman to serve as a captain of a ship in the Galapagos, now it's happening and I'm committed to delivering the very best experience for all guests onboard."
Nathaly Albán will begin her new role on Celebrity Xploration this month.