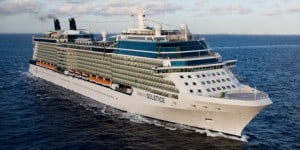 MIAMI – October 20, 2011 – As part of its mission to offer modern luxury vacation experiences, Celebrity Cruises is adding yet another enhancement to its robust onboard activities program, Celebrity Life. Through a collaboration with Rodale Inc., the world's leading authority on health and wellness, Celebrity is offering a new series of interactive activities themed around healthy eating choices.
The new activities will draw on Rodale's expertise in health and wellness; the first of these activities are themed around Rodale's New York Times best-selling "Eat This, Not That!" series. Celebrity's version of "Eat This, Not That!" is an interactive trivia game that challenges guests' knowledge of healthy eating and promotes ways to make smart, healthy choices when dining out. "Cook This, Not That!" is a cooking demonstration that highlights ways to get the most flavor and nutrition for fewer calories when cooking at home. "Drink This, Not That!" is a mixology demonstration that presents tips for serving up tasty, libations while avoiding unnecessary calories.
 Celebrity and Prevention Magazine, one of Rodale's longest-running publications, are in the midst of developing additional wellness-focused activities, including enrichment talks led by a host of health and wellness experts from the title.
 "Our guests have told us how fulfilling our wellness activities are, particularly in a world where schedules are hectic and vacation time is so precious," said Dominique Bonavita, Director, Product Development. "The collaboration with Rodale is a new evolution of programming that enriches our guests' lives long after their cruise, and we couldn't be more excited about all that we're offering and all that is yet to come."
David Marchi, Senior Vice President of Rodale Integrated Marketing, commented, "Partnering with Celebrity Cruises is a smart and entertaining way to extend Rodale's health and wellness mission– now guests can enjoy our passion for wellness while relaxing and enjoying the best Celebrity Cruises has to offer."
Source: Celebrity Cruises