What started out as a nominal fee for specialty dining aboard a Celebrity ship has now raised beyond that. Effective September 1, 2011 select specialty dining venues aboard Solstice-class ships and Millennium class ships will raise $5-$10 dollars.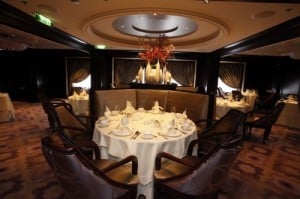 In a recent episode of Cruise Radio, cruise-expert Stewart Chiron said, "These surcharges were supposed to cover the additional food costs and of all the services, now you're still essentially not only paying for your waiter and your busboy in the dining room but also paying the surcharge charge [to dine]."
The brand new cook-it-yourself specialty venue Lawn Club Grill which debuted recently on Celebrity Silhouette will also be raised from $30-$40 dollars per person.
"In a family of four talking you're talking $160 [to dine], that's a lot of money on top of the excursions, shops, gambling all the other things that are available," said Chiron.
On Solstice-class you will find the price change in Murano, Qsine, and Lawn Club Grill while Celebrity Millennium will increase the cost of the RMS Olympic dining venue. Families that have booked dining reservations prior to September 1 will still be honored at the current dining surcharge.