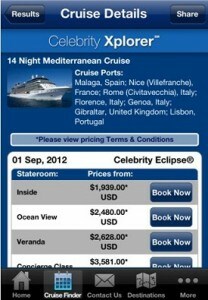 Good news for you smartphone app junkies, Celebrity Cruises just updated their free Celebrity Xplorer app to version 2.0.
Those interested in a Celebrity Cruise vacation can now view current fares, place a vacation on hold, or even complete your booking. Also added to the update are destinations, more stateroom and ship details, and photos around the ship, along with a "what to pack " feature.
The new release is available for the iPhone, iPod, iPad and Android, just search your smartphone application market.
Subscribe to our Cruise News Updates.
Related articles