One of the questions we're asked often, especially by first-time cruisers, is whether it's better to do an itinerary that's loaded with sea days or port days. Of course, I'm willing to bet that every single person on Celebrity Edge with me today — our third sea day, although not consecutive — would say, "Who cares? I'm back on a ship."
But in general, I find itineraries like this one, which essentially featured an equal number of sea and port days (if you don't count embarkation day), pretty ideal.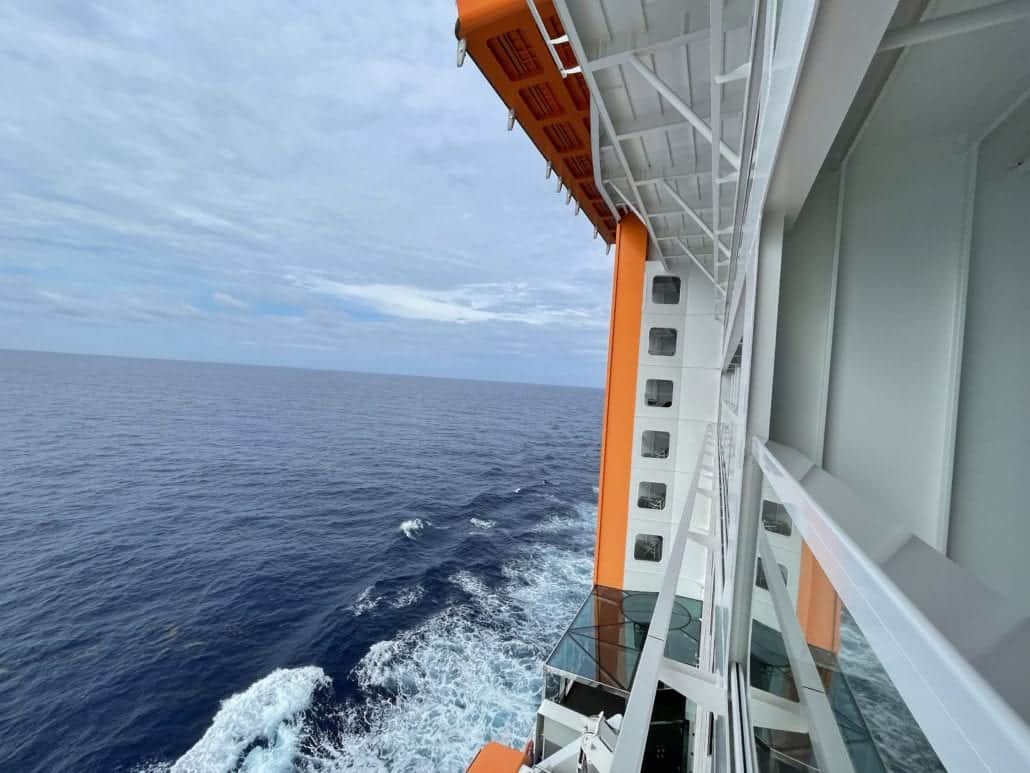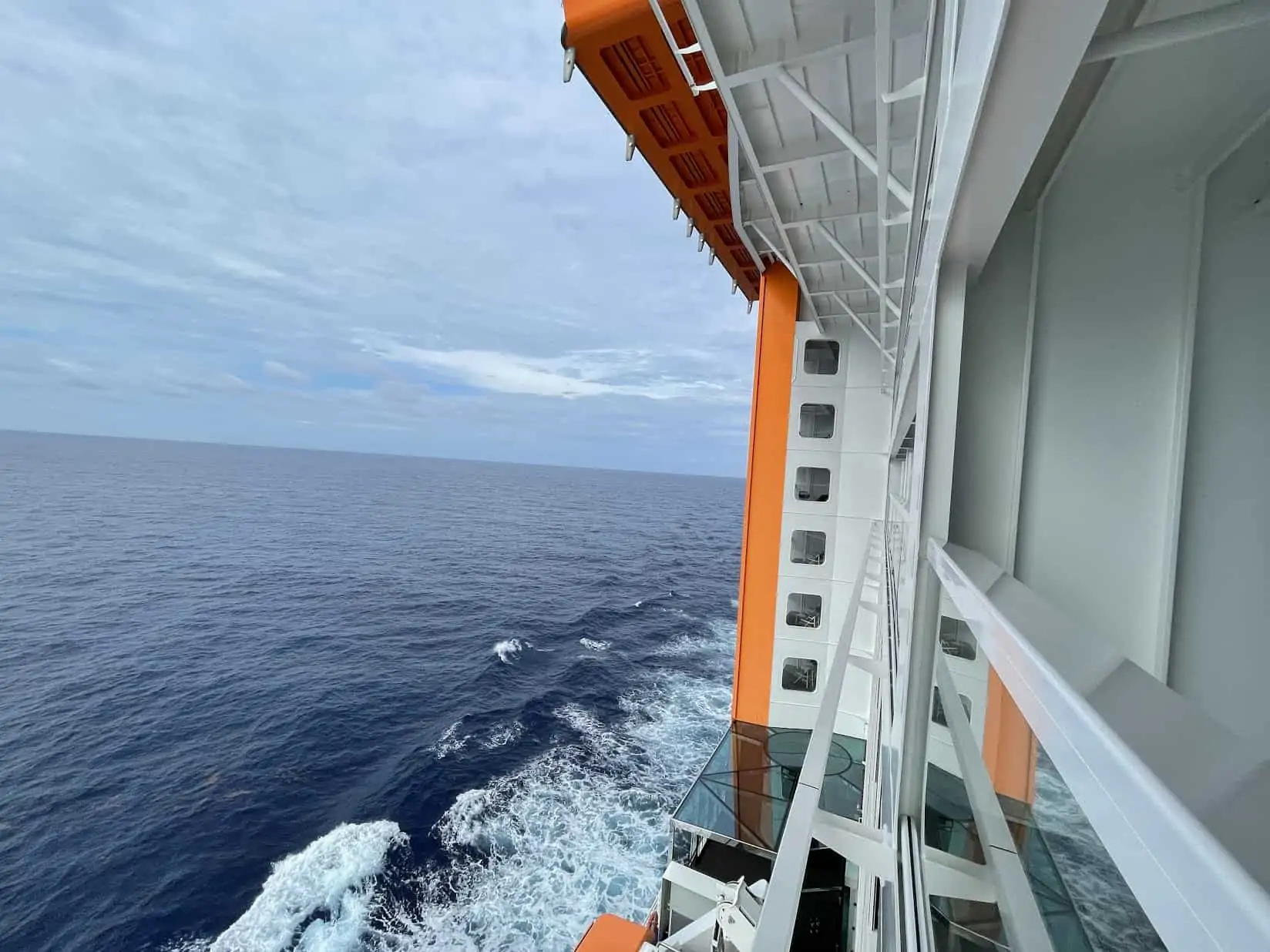 So here we are, on the last sea day of this trip. Tomorrow, we'll visit Nassau and then it's back to Fort Lauderdale.
Even when it's time to get off the ship, I won't be able to complain too much, as less than 48 hours later I'll be jumping onto Carnival Horizon. Yes, you're going to get two week's worth of trip reports! And what makes this interesting is, doing them virtually back-to-back will make it really easy to compare and contrast each line's protocols and how they're handling things.
I woke up excited today, because there were two things taking place that I was really looking forward to: a tour of the bridge, and an opportunity to sit down and have a one-on-one chat with Captain Kate McCue. (Rumor had it I would also get to meet her legendary feline companion, Bug Naked, but that seemed like almost too much to hope for.)
Needing a little fuel before diving into the day, I headed to the buffet for a very health selection of fruits and vegetables…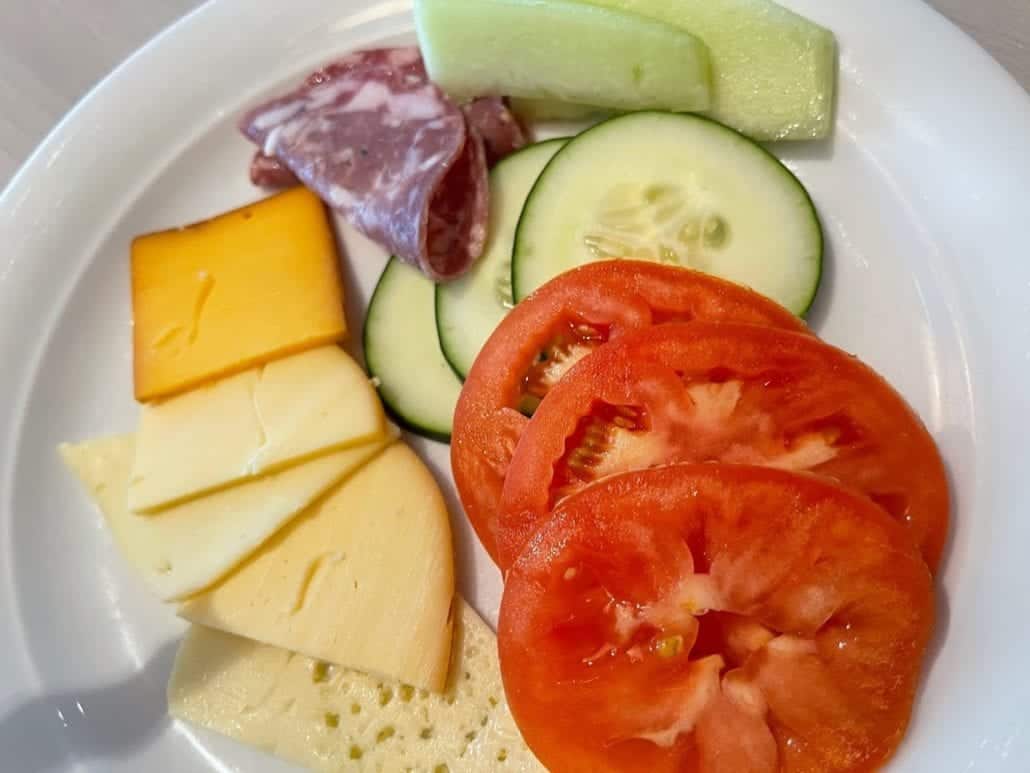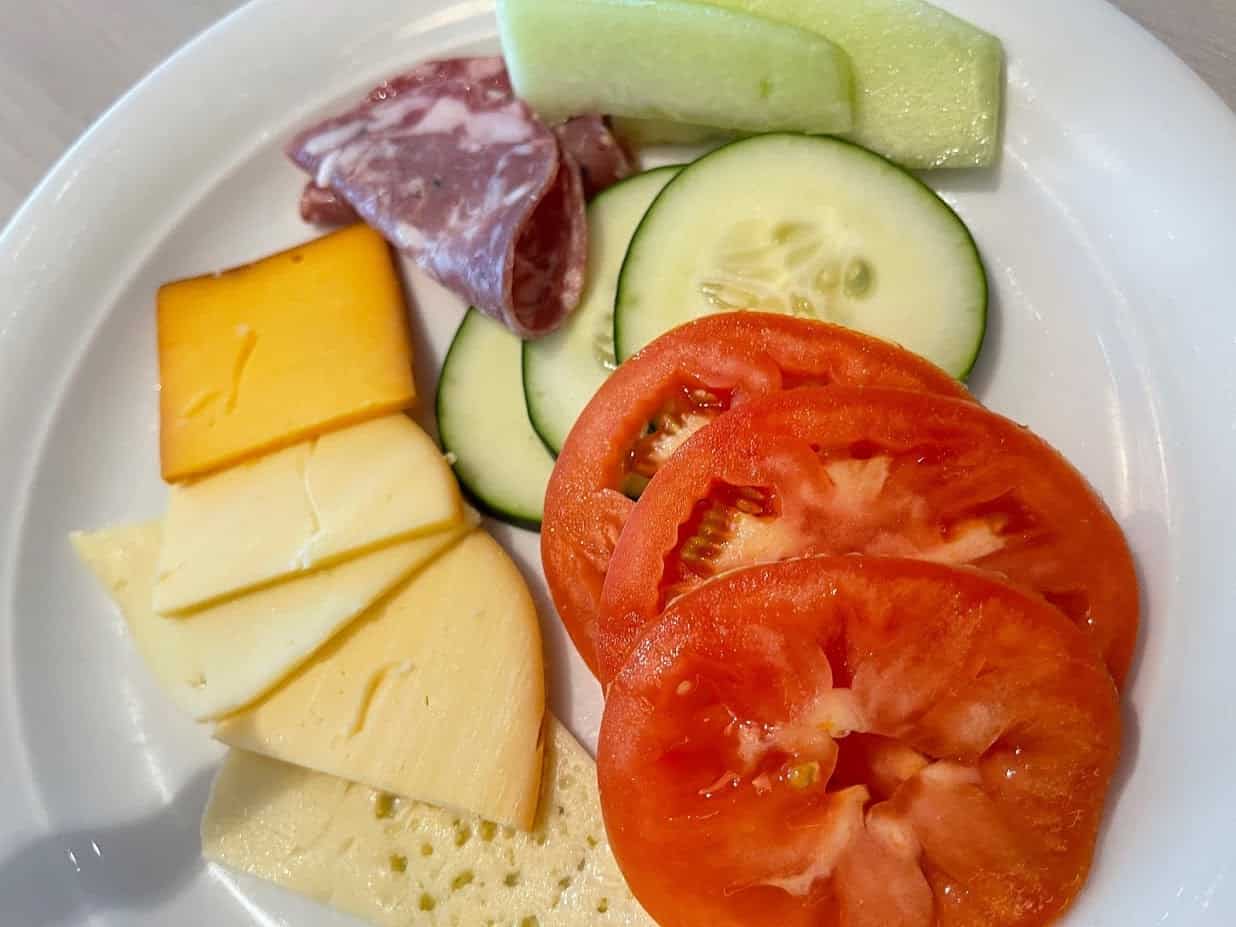 … and, I'll cop to it, a not-quite-as-healthy but really delicious cinnamon roll.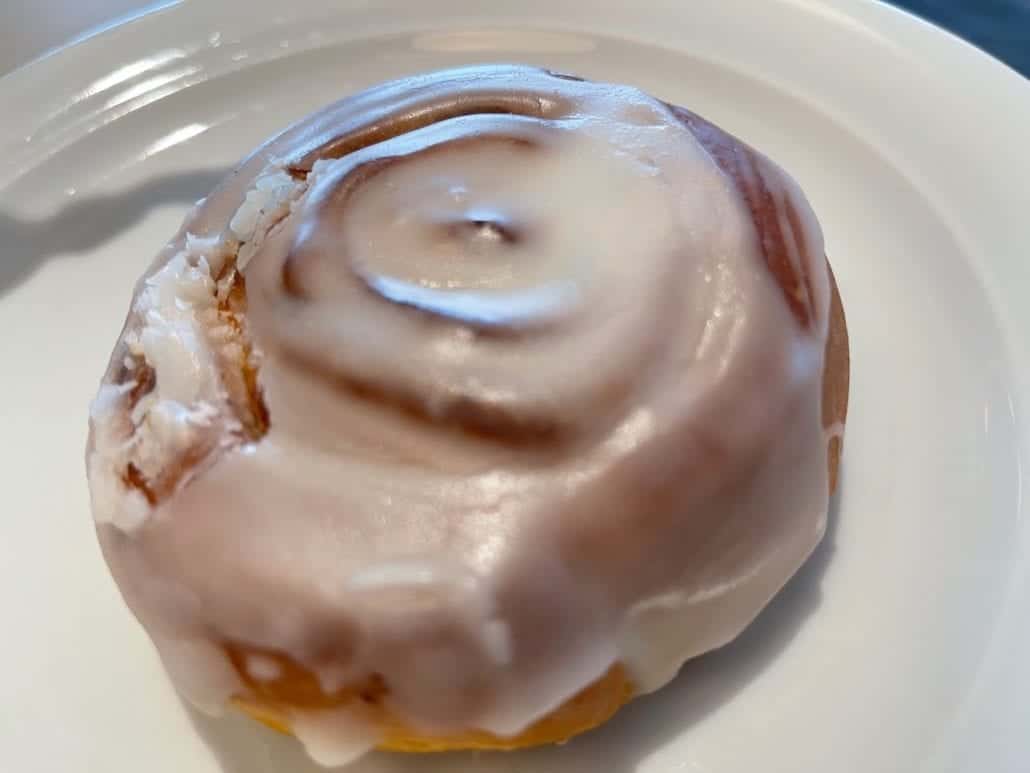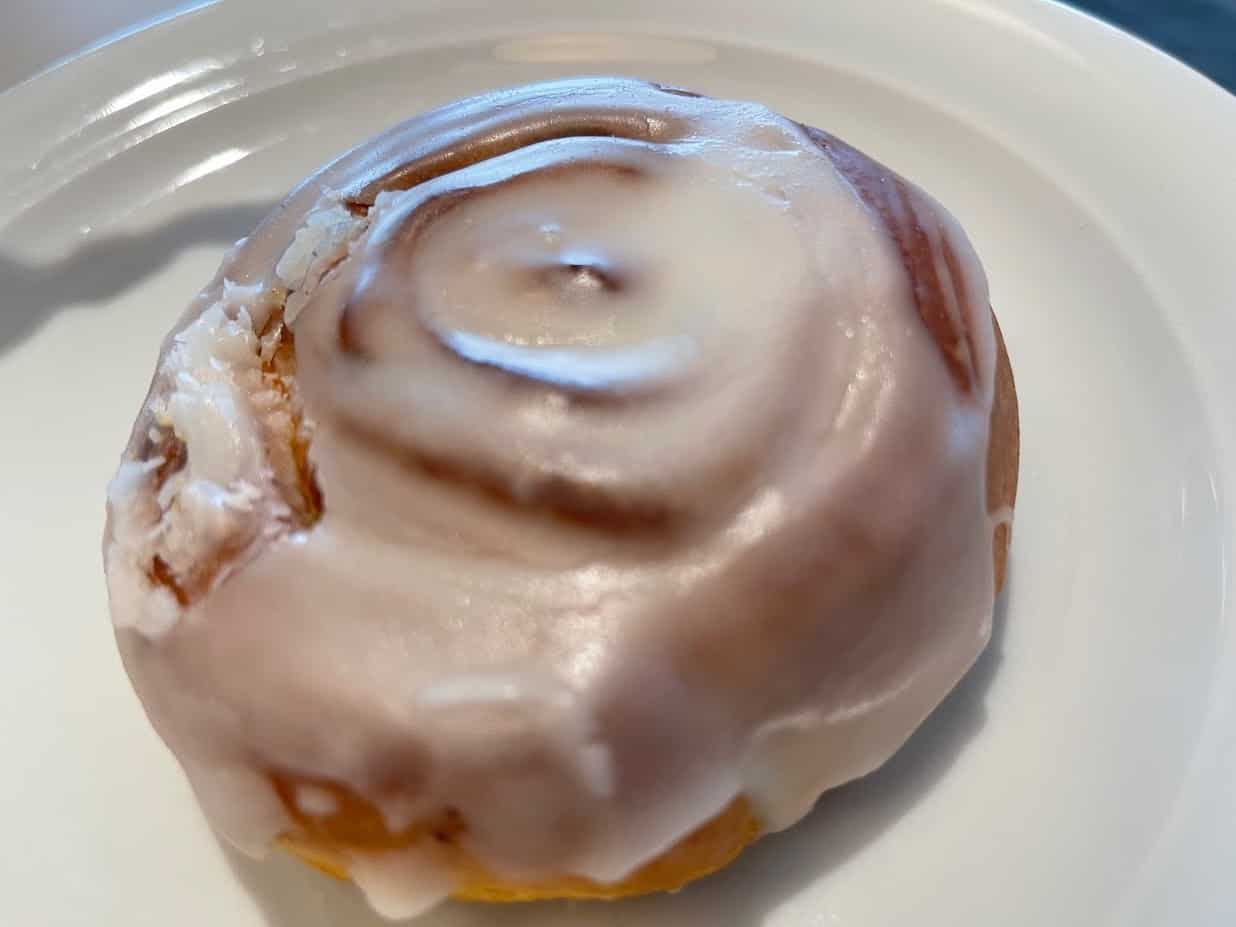 Afterwards, I headed to the theater to catch a bit of Brian Abel (Vice President of Hotel Operations) and Captain Kate doing a public question-and-answer session. One thing I've really noticed about Captain Kate is just how visible she is. I don't think I've ever seen so interactive a captain… and it's not simply because this is an important sailing with some members of the media on board. This is something that's pretty widely known about Captain Kate: She loves her job, she loves her ship, and she loves the passengers who sail with her.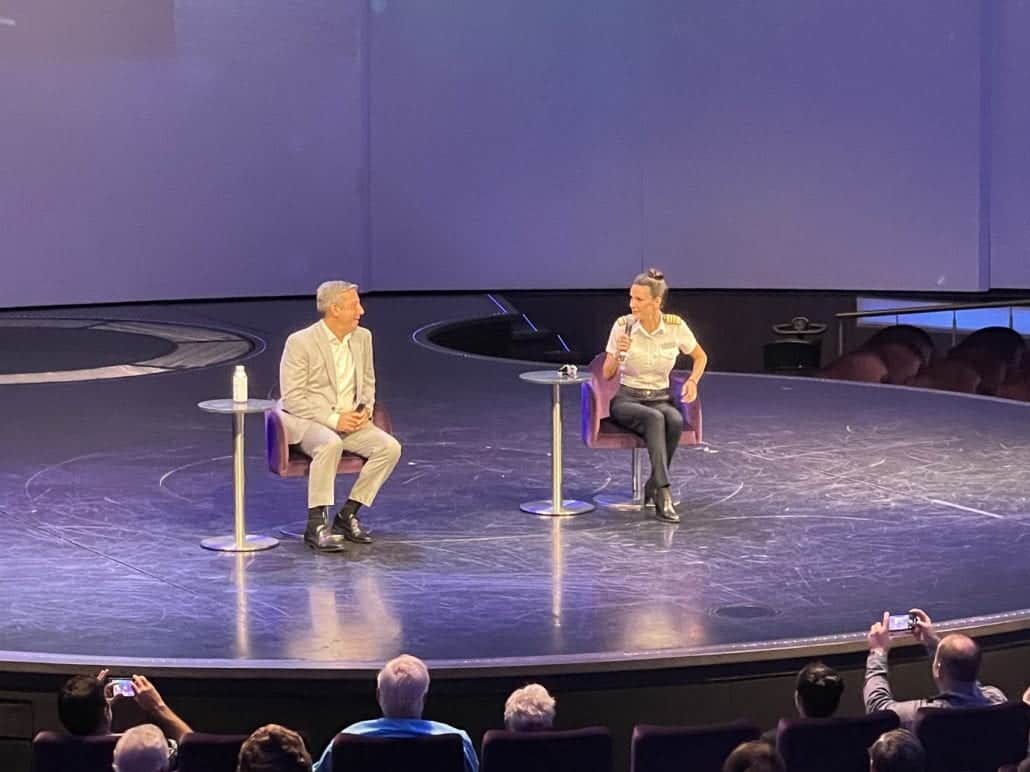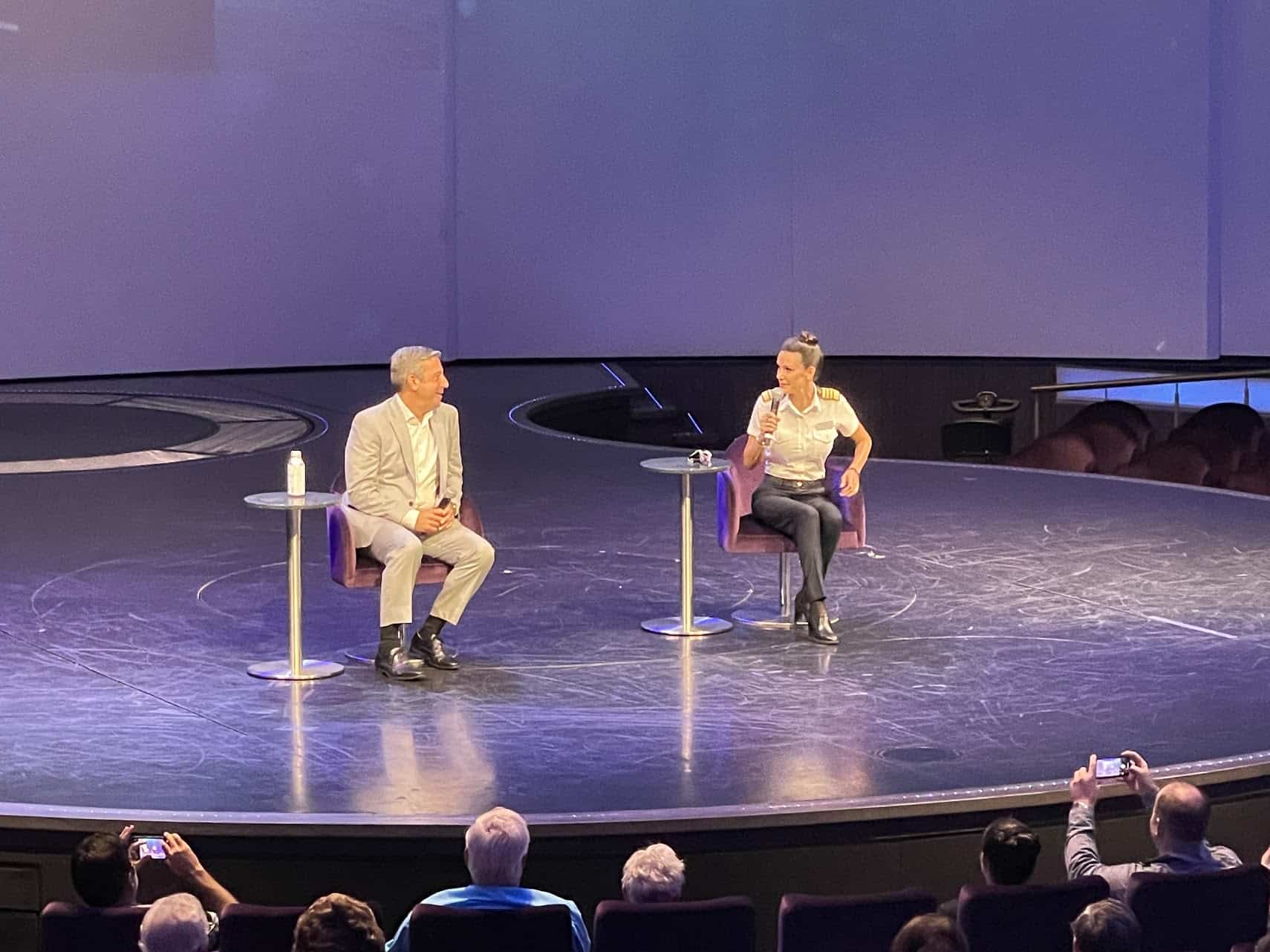 Soon, it was time to head up to the bridge tour. No matter how many times I've had the honor of being invited onto the bridge of a cruise ship, it never, ever stops being a special occasion.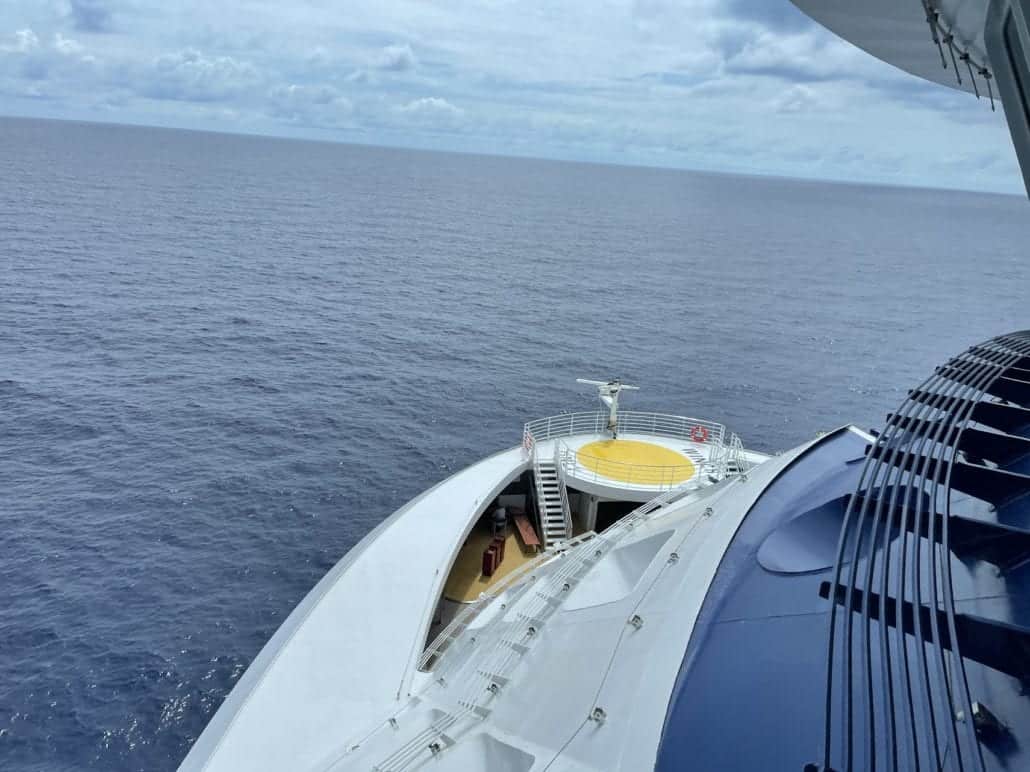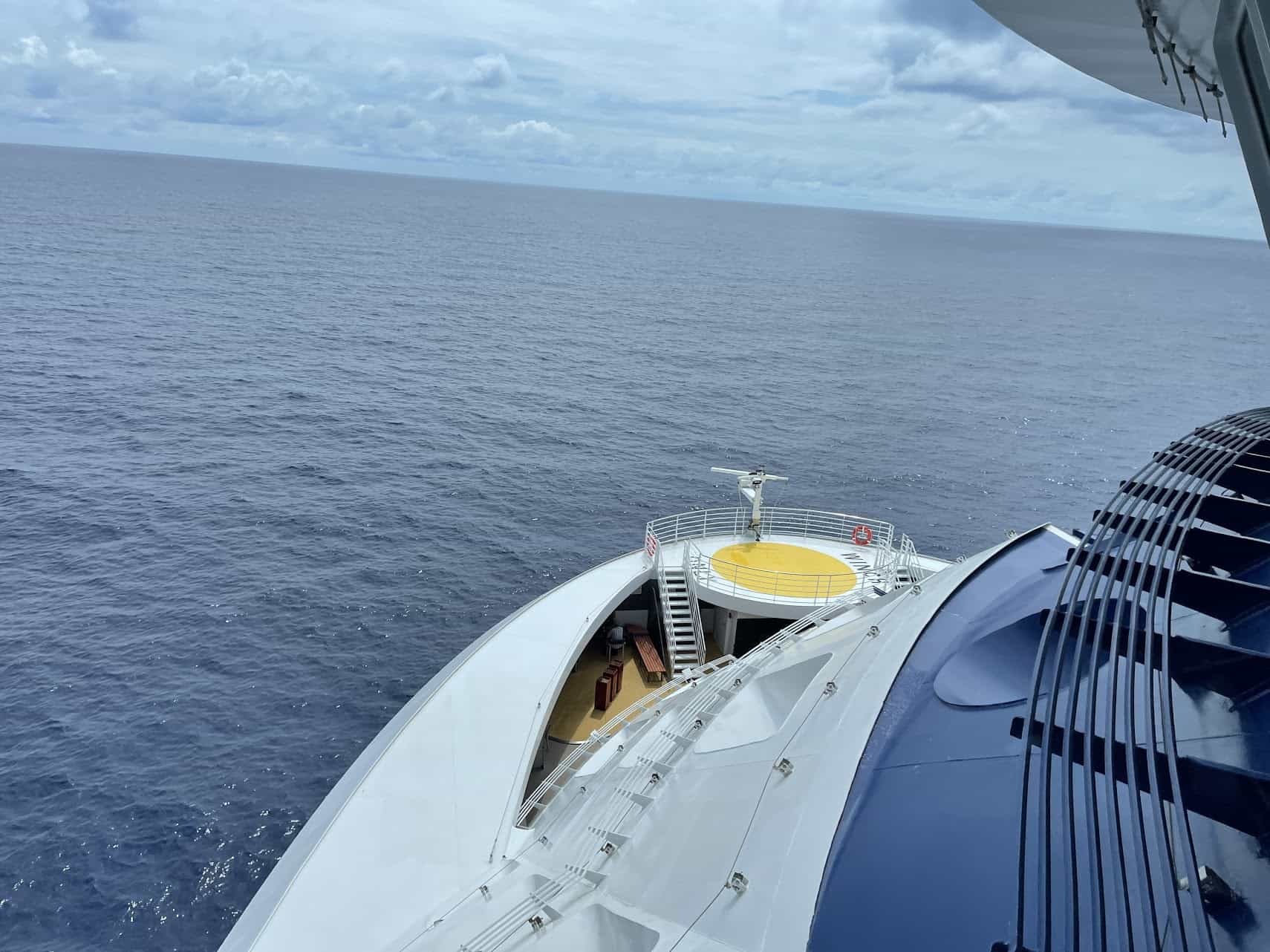 It's almost impossible to imagine that the people in this room are able to make some of the incredible maneuvers that cruise ships have to execute. It's one thing when a ship as large as Celebrity Edge pulls into a slip at a pier such as we'll do tomorrow in Nassau. It's another entirely when the entire ship has to rotate, and then be maneuvered into place — sometimes between other ships along a pier.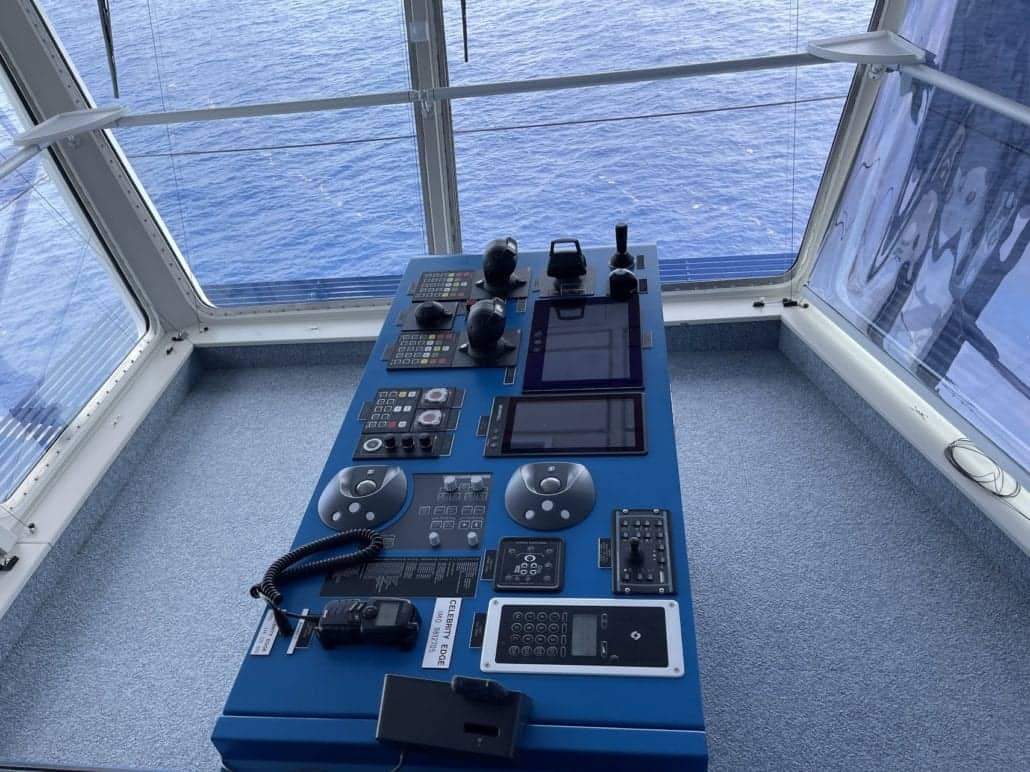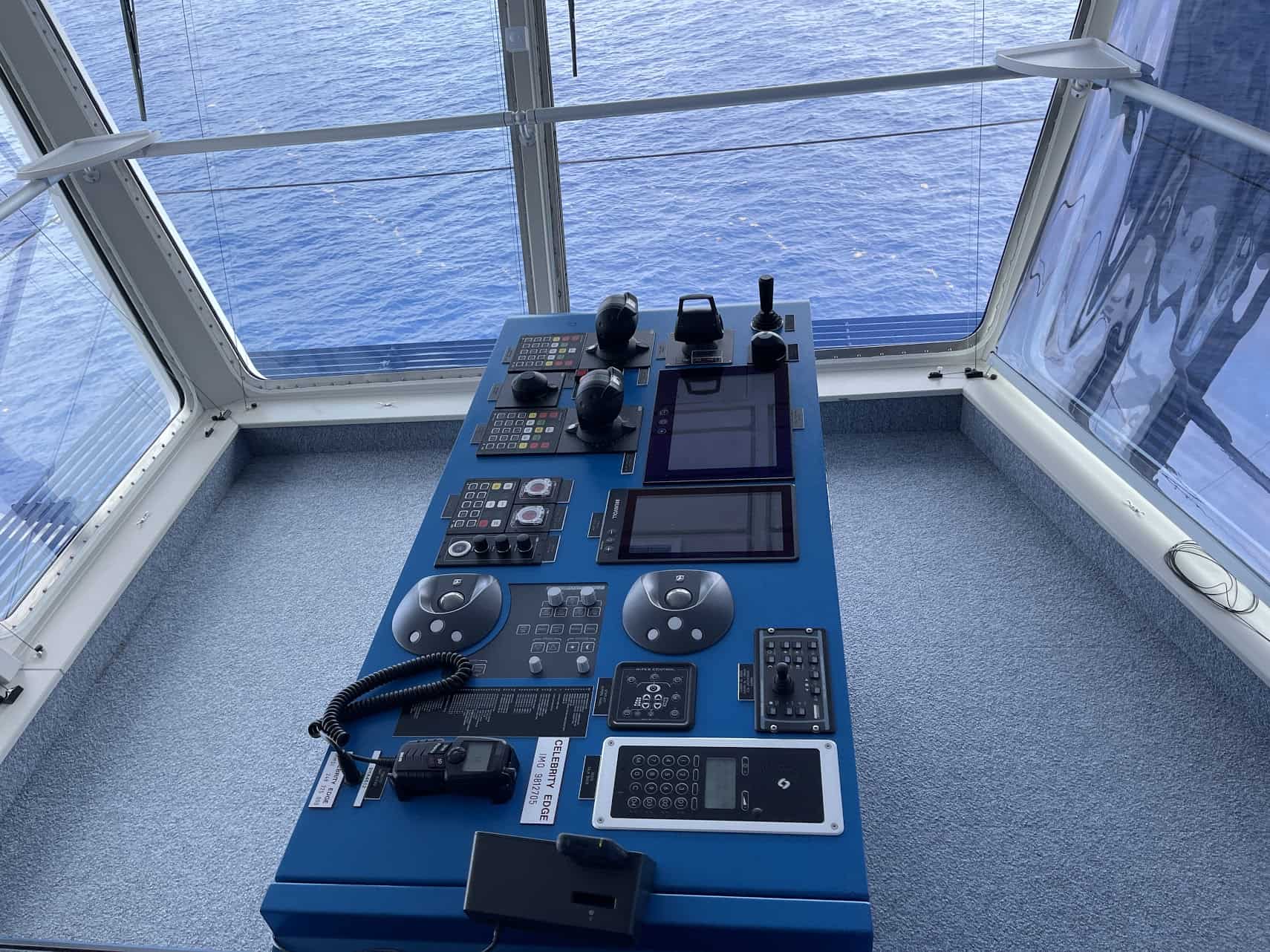 I shared the picture below with a friend who I knew would love seeing what the bridge was like, and their response wasn't at all what I expected.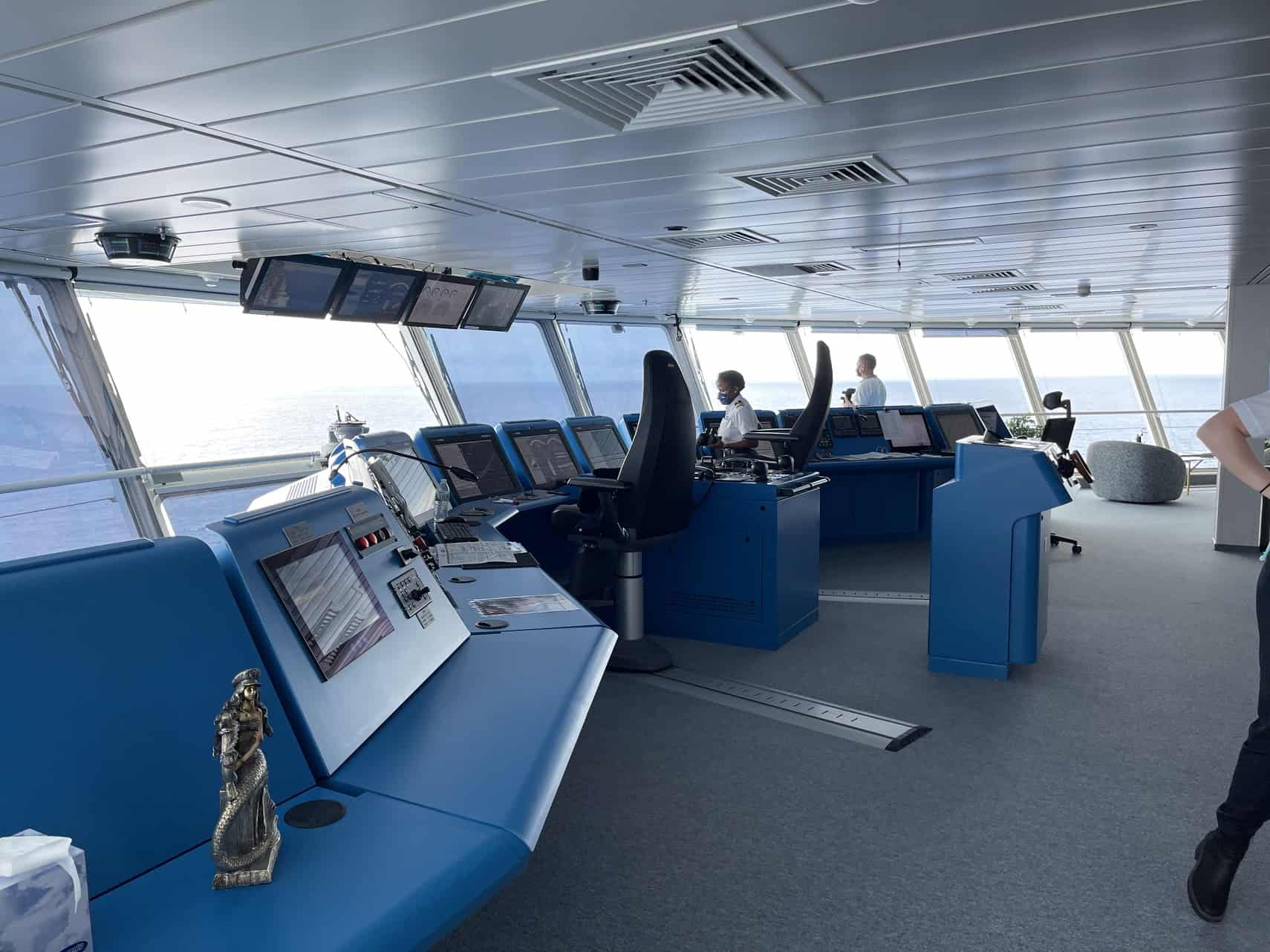 "Those blue consoles look like something out of a cheap sci-fi movie," he laughed. And just like that, I couldn't unsee it. But I'm pretty sure that each individual set-up probably cost about as much as a typical episode of a show like Star Trek or Babylon 5.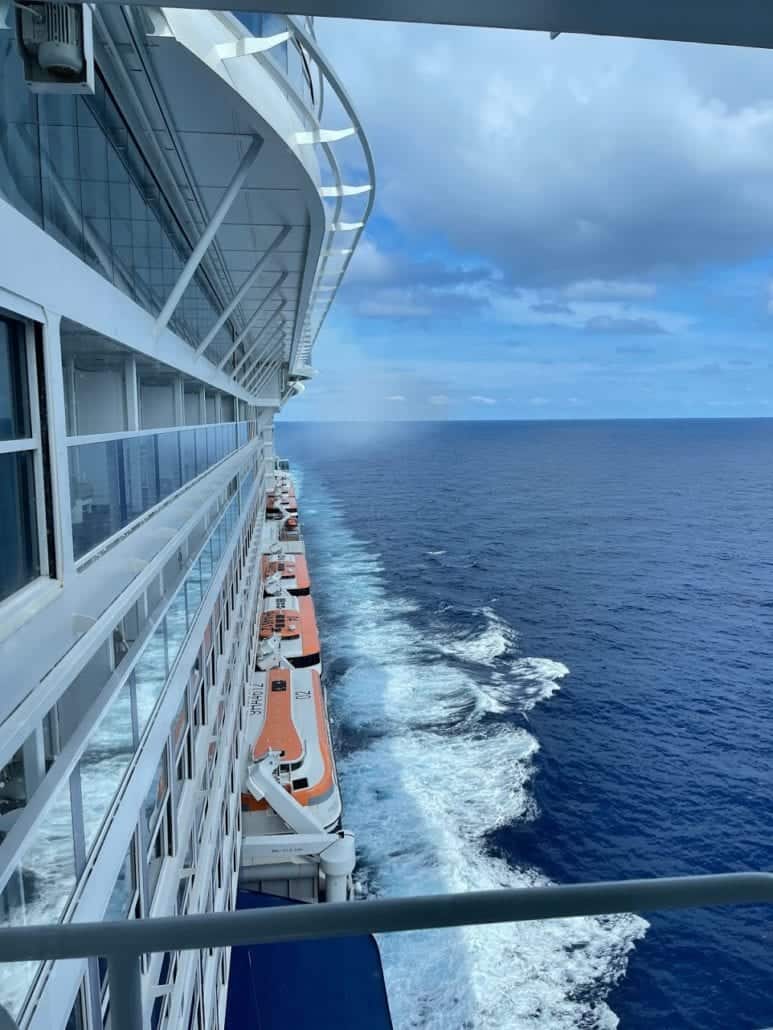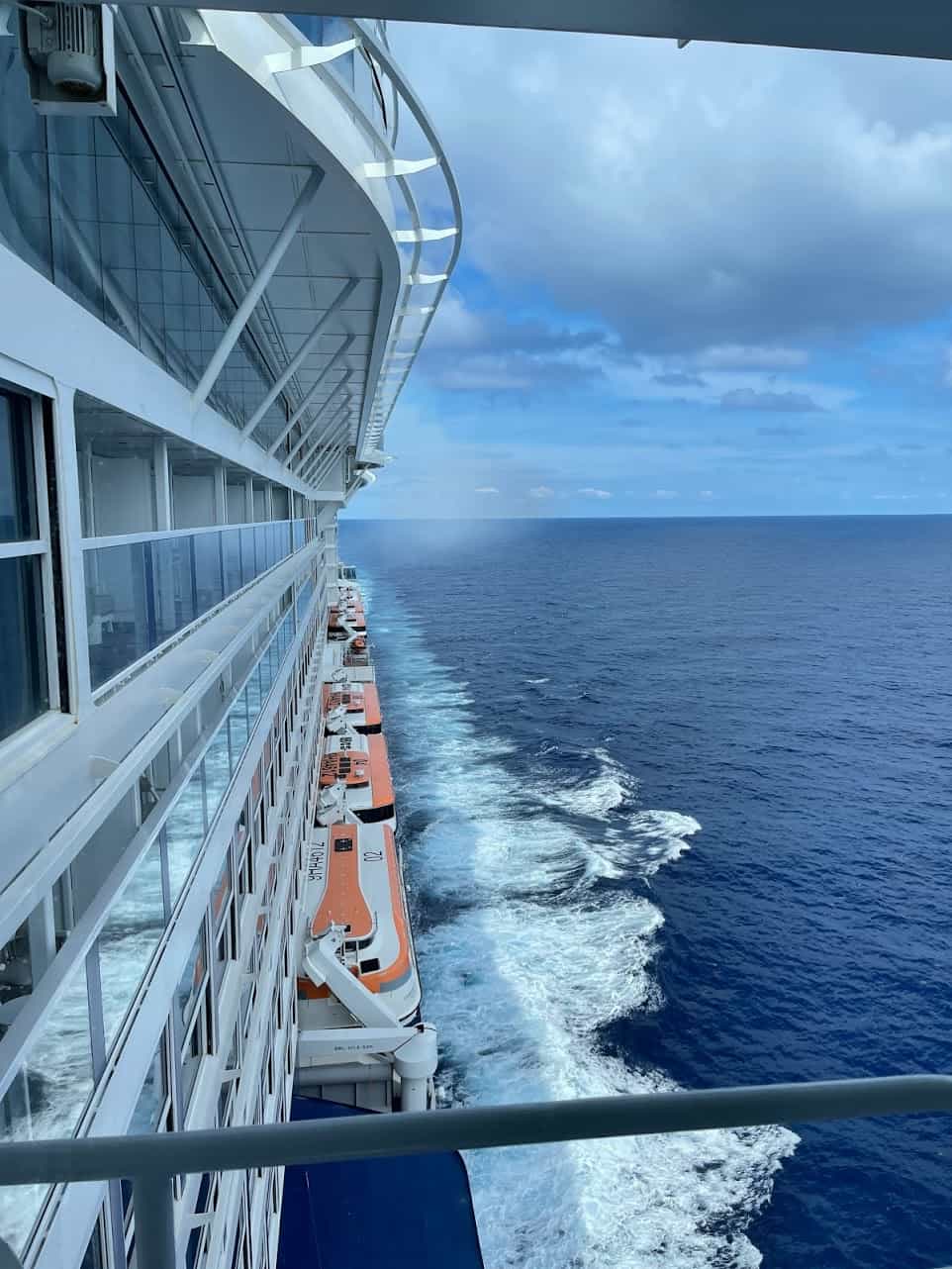 If they'd have let me, I could have hung out there all day… or better still, snuck back up tomorrow morning to listen in and watch as the Captain and her crew maneuvered their way into Nassau.
But if there's one thing that can be used to get me to leave one place, it's promising that there's food someplace else. So a few of us went down to the Eden Café for lunch.
I had a few requests for some pictures of Eden, so I'm going to post them now. As I've said before, this is a very big space that's multi-purpose. It also has a completely different feeling during the day than it does at night. If you've ever sailed on Royal Caribbean's Quantum-class ships (like, say, Anthem of the Seas), the Two70 space you find on those is the closest I've seen to this.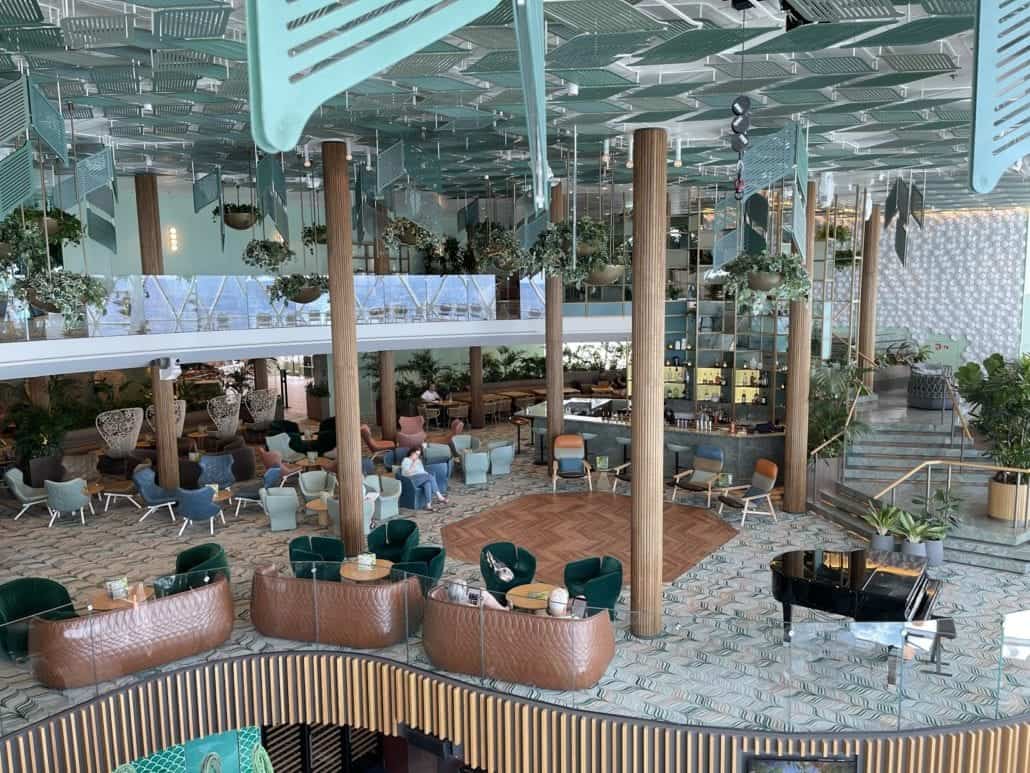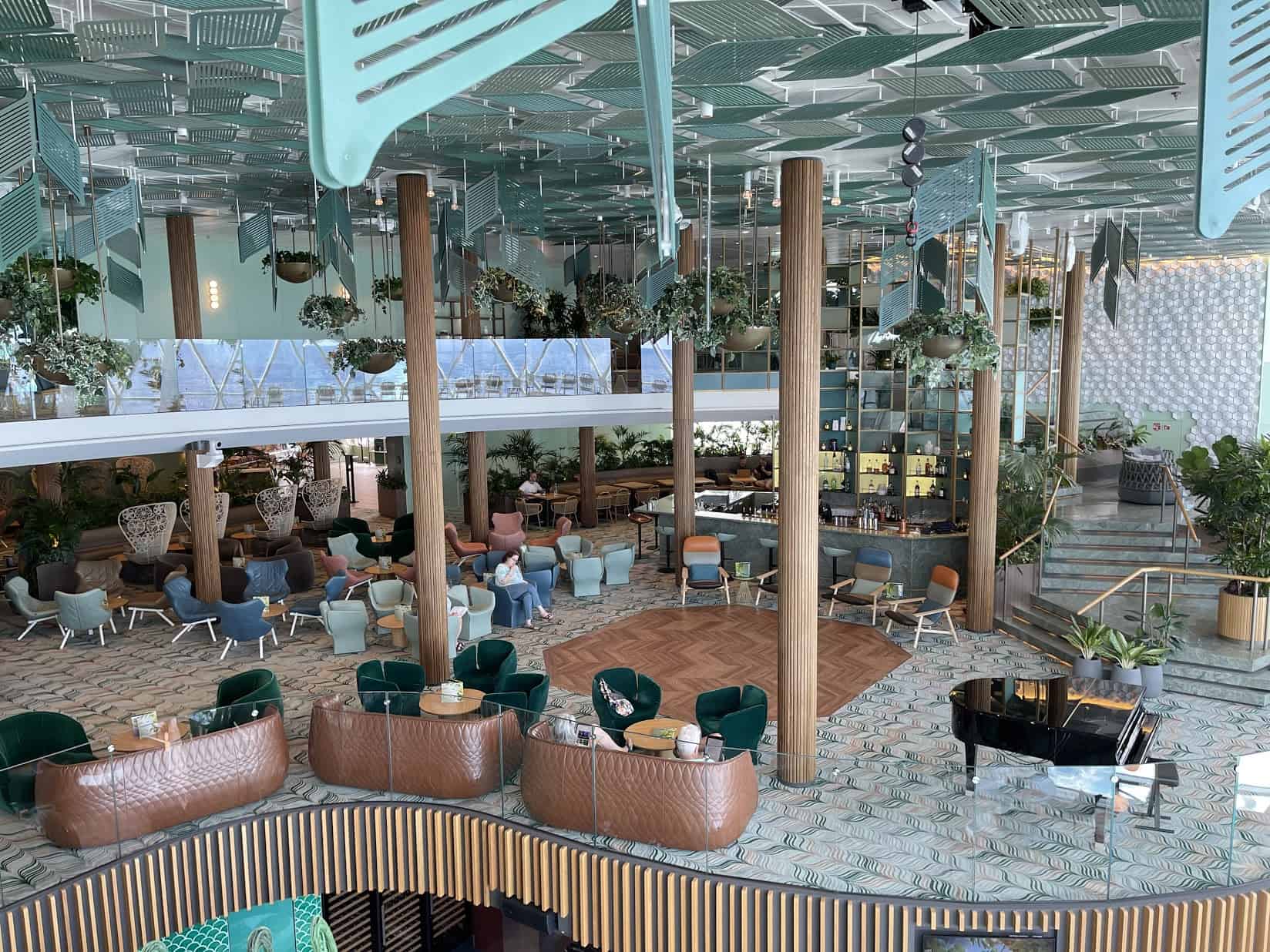 When I was on the ship shortly after it launched, they were doing some very experimental things in this space after dark. It was sort of interactive, including cast members who were "residents" of Eden. They'd put on acrobatic shows and sometimes take people by the hand and lead them through the space. It was a little too in-your-face for me, and I guess for many others as well because that element is almost entirely gone now.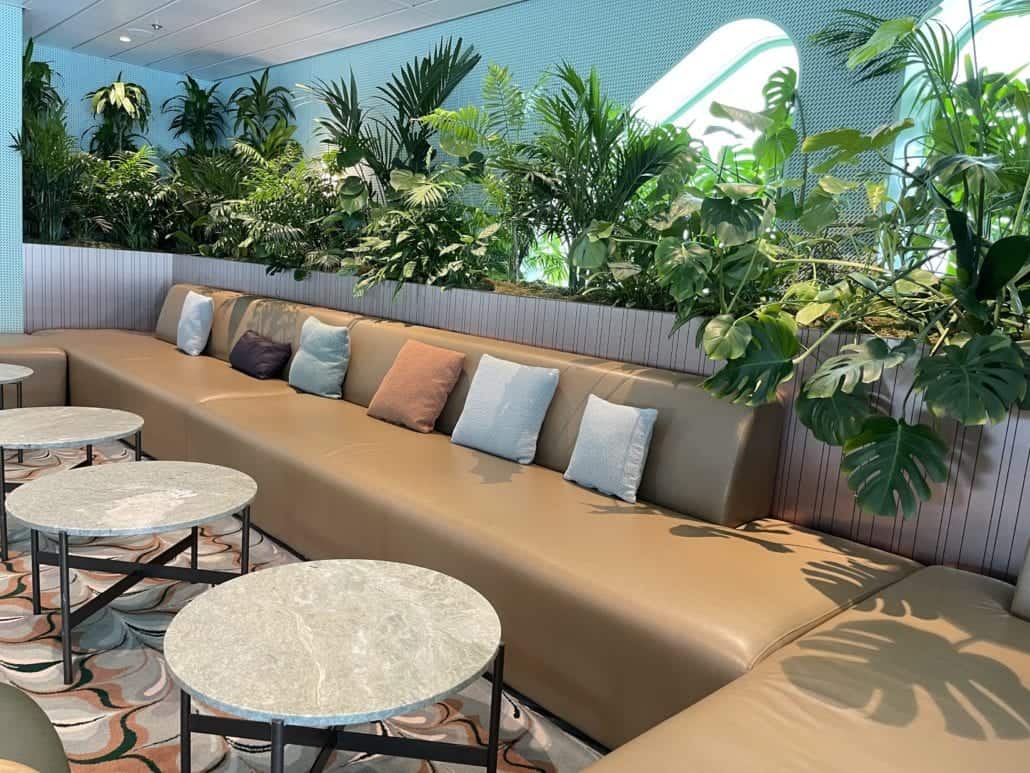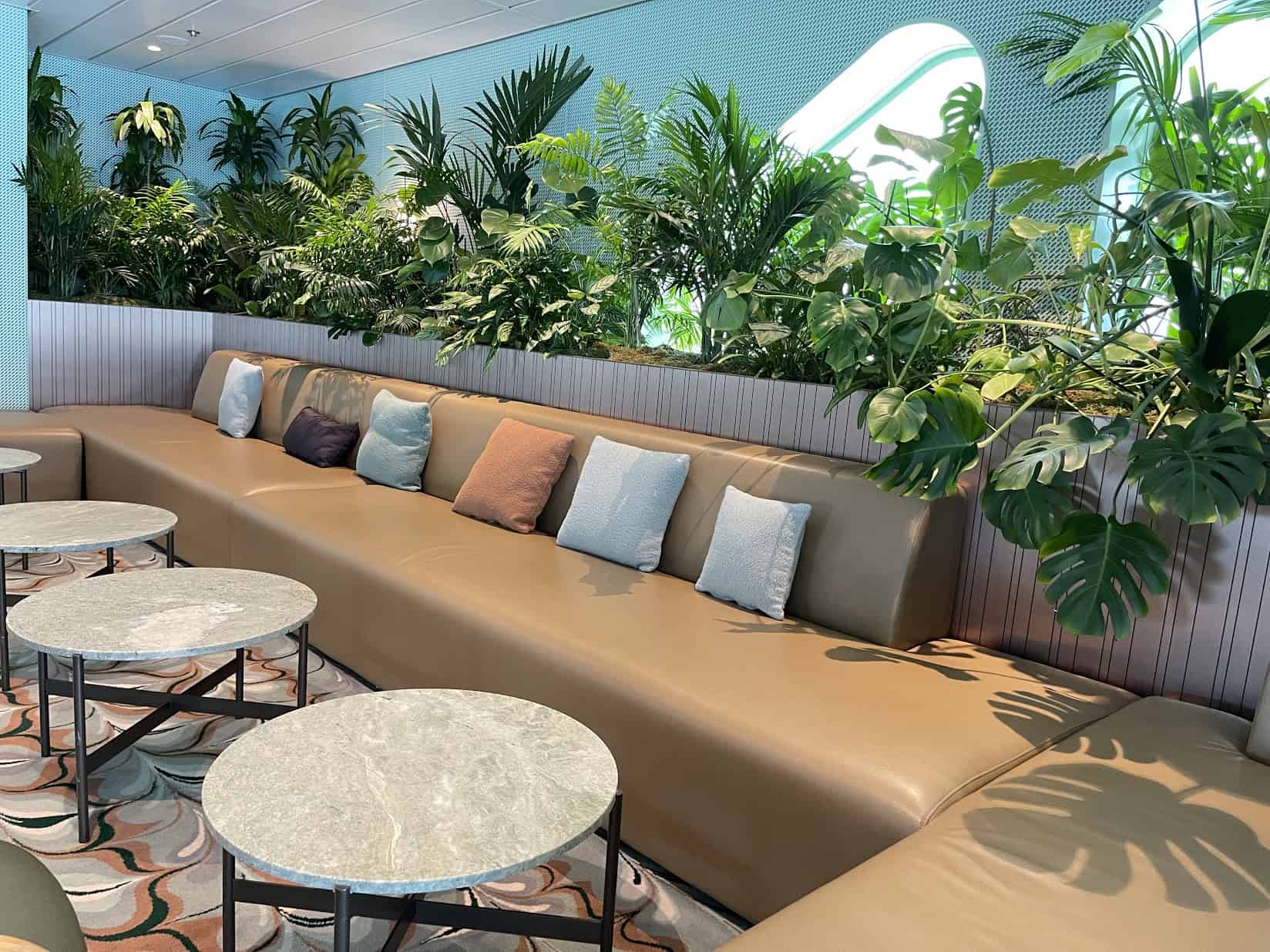 What remains, however, is a really bright and airy space with lots of ocean views and plenty of different types of seating arrangements, making it a cool place to go whether you want to curl up with a book (or, in my case, to take a nap) for a while or hang out with friends.
Lunch-wise, the Eden Café was similar to what you'd find in Two70 on the Quantum class ships. Paninis, salads, all very fresh. It's a great (complimentary) alternative to grabbing something at the buffet.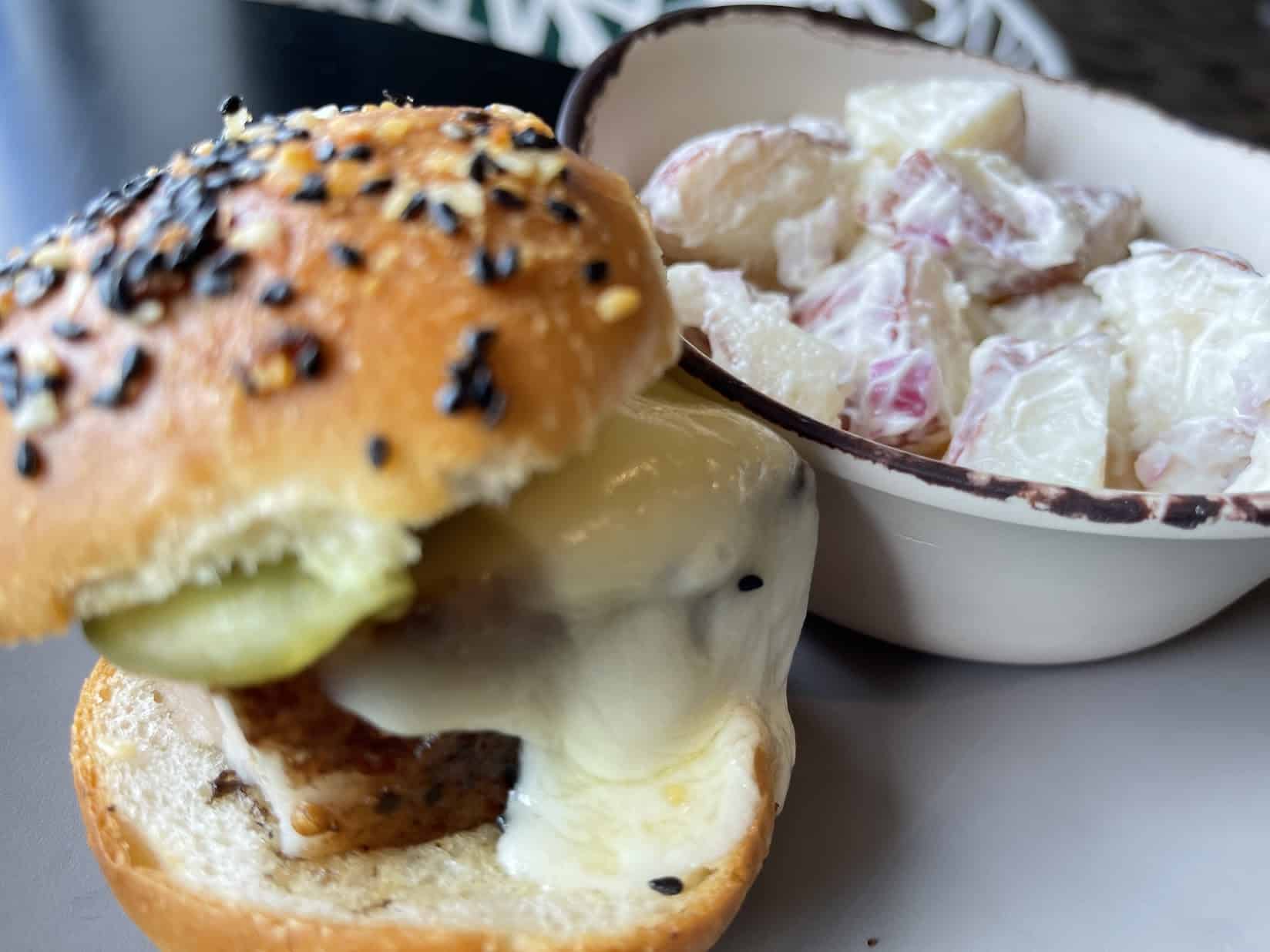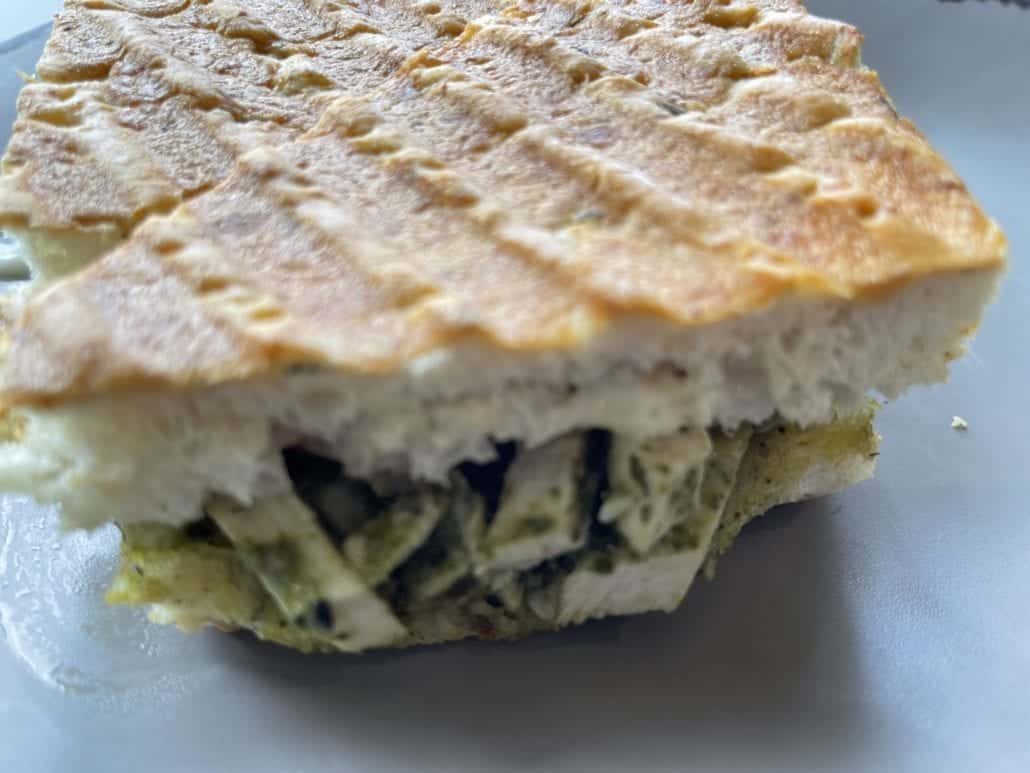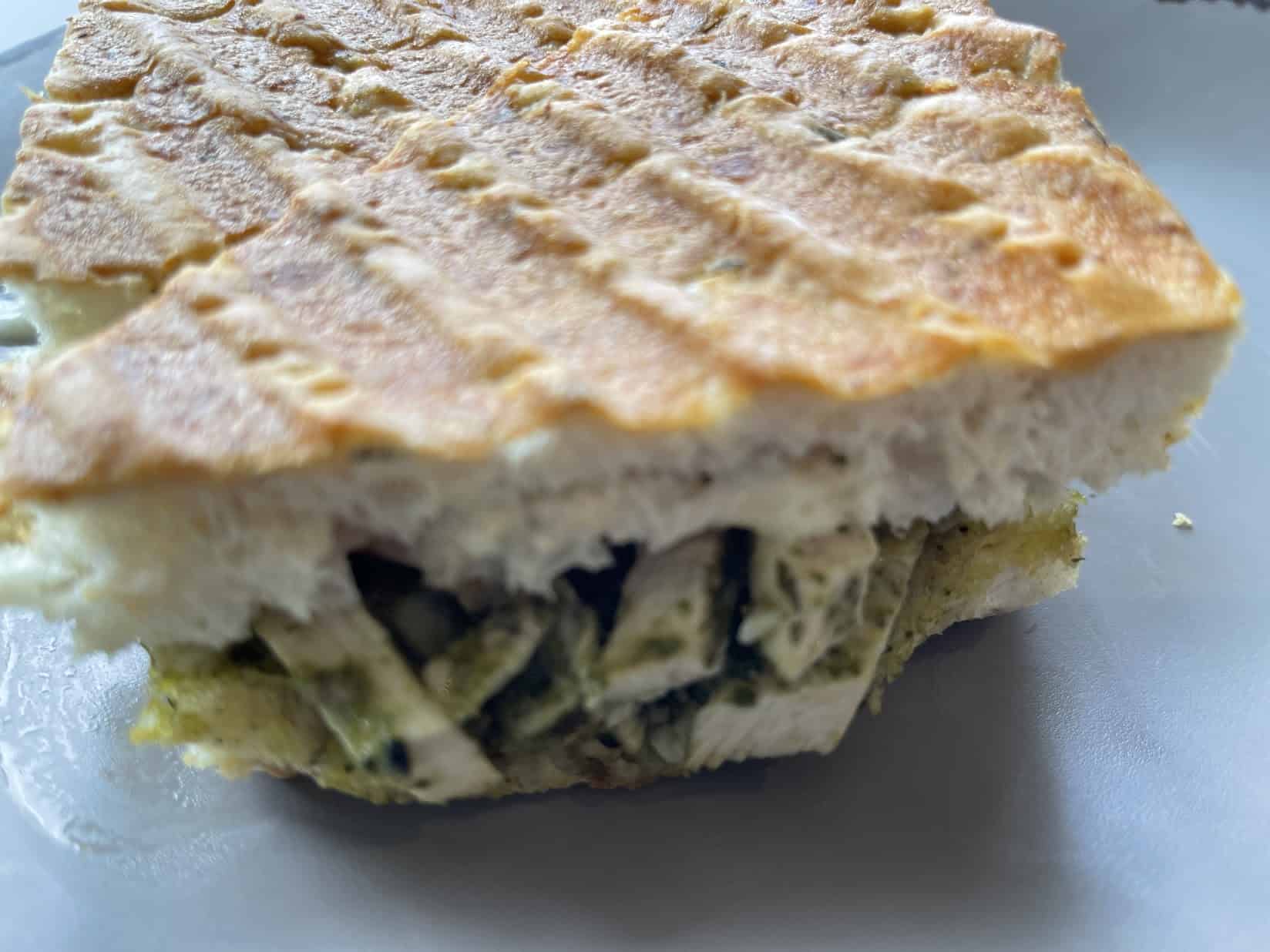 After lunch came the second big moment that I'd been waiting for. And yes, as promised, I didn't meet only Captain Kate, but Bug Naked who is, for the record, every bit as cool as reputed.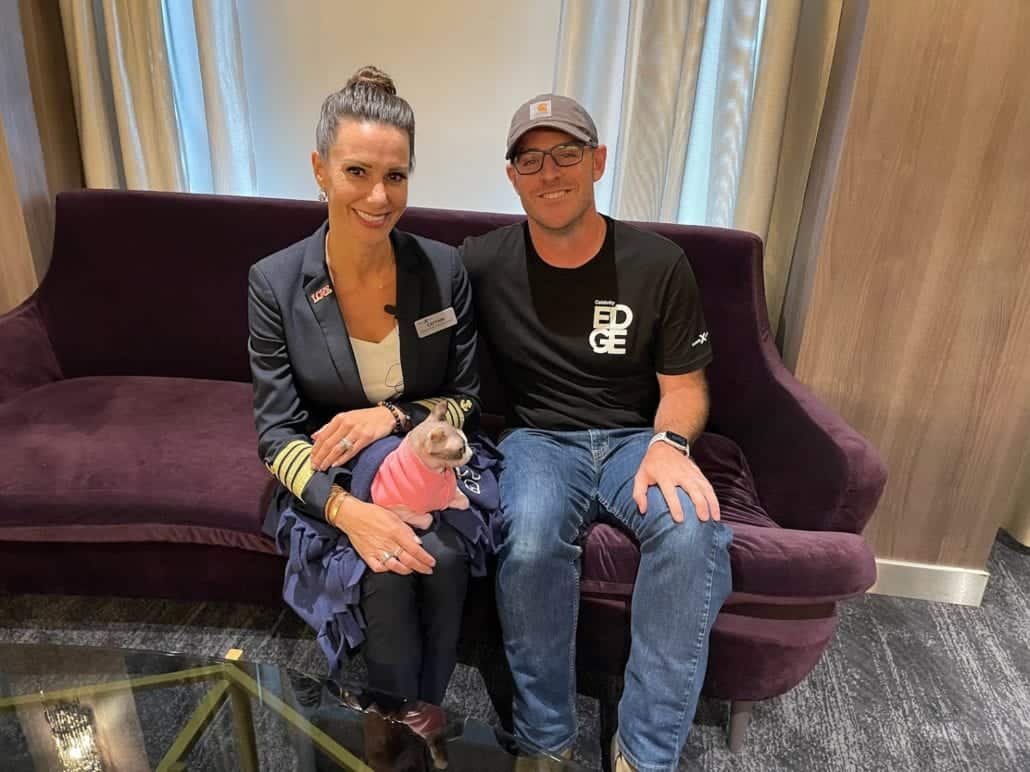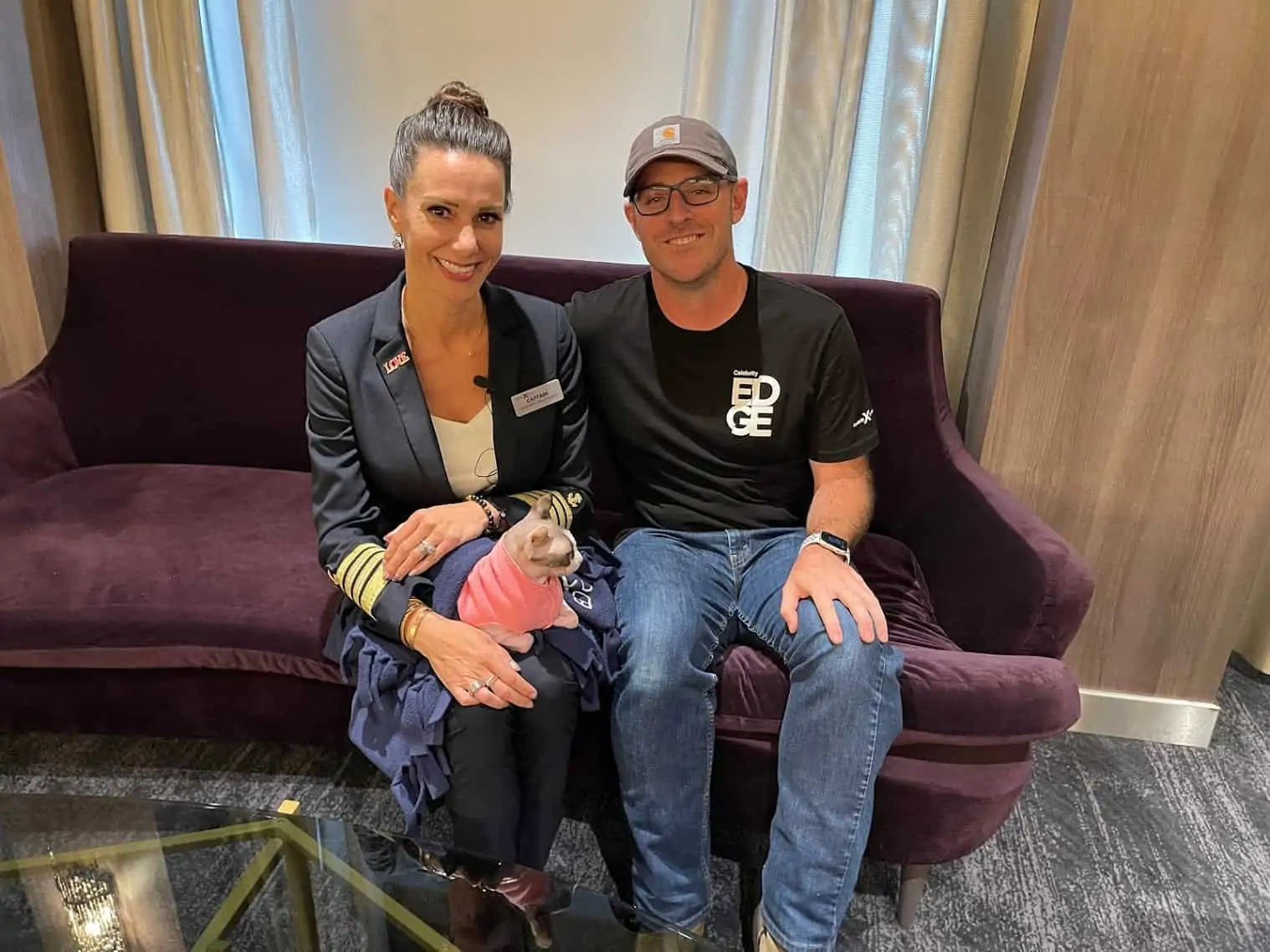 Not to be outshone by her traveling companion, Captain Kate is also as cool as reputed. She's incredibly genuine and down to earth. The love she feels for this job, this ship, and even the company itself don't feel at all put on. But judge for yourself when I post the interview later in the week.
As has become my habit at this point, I met a few friends for pre-dinner drinks at the Sunset Bar before we wandered over to the Rooftop Garden Grill for dinner. Doesn't the picture below look like something that should have a credit beneath it reading "artist's rendering?" But no, that's really how perfect the night was.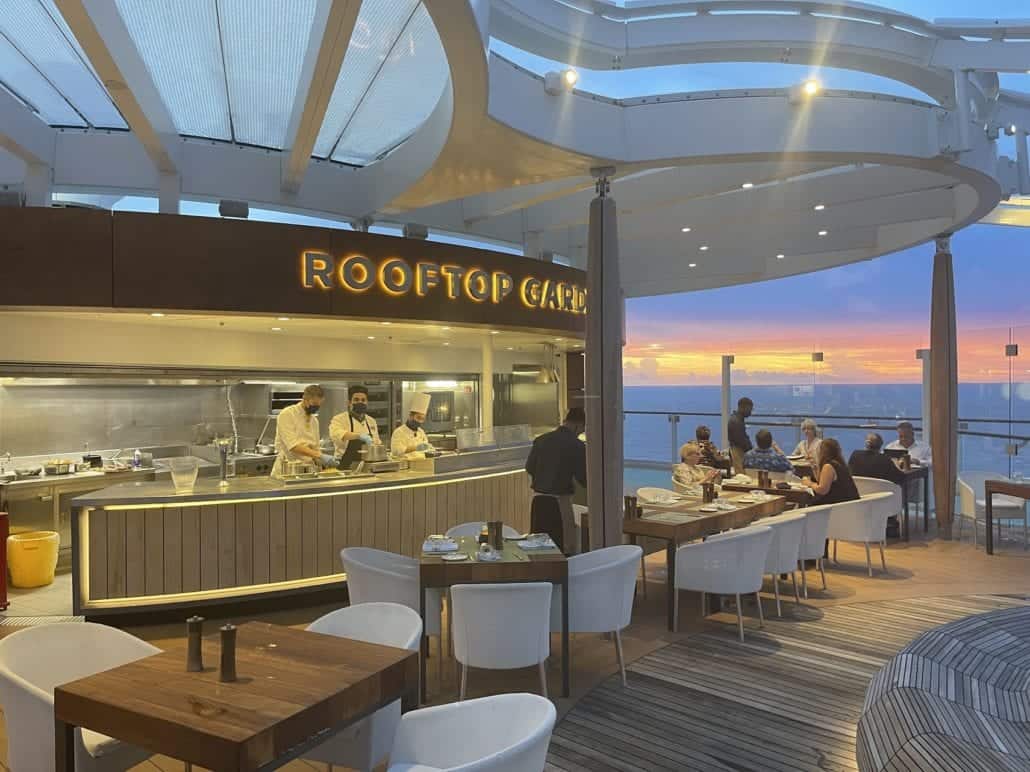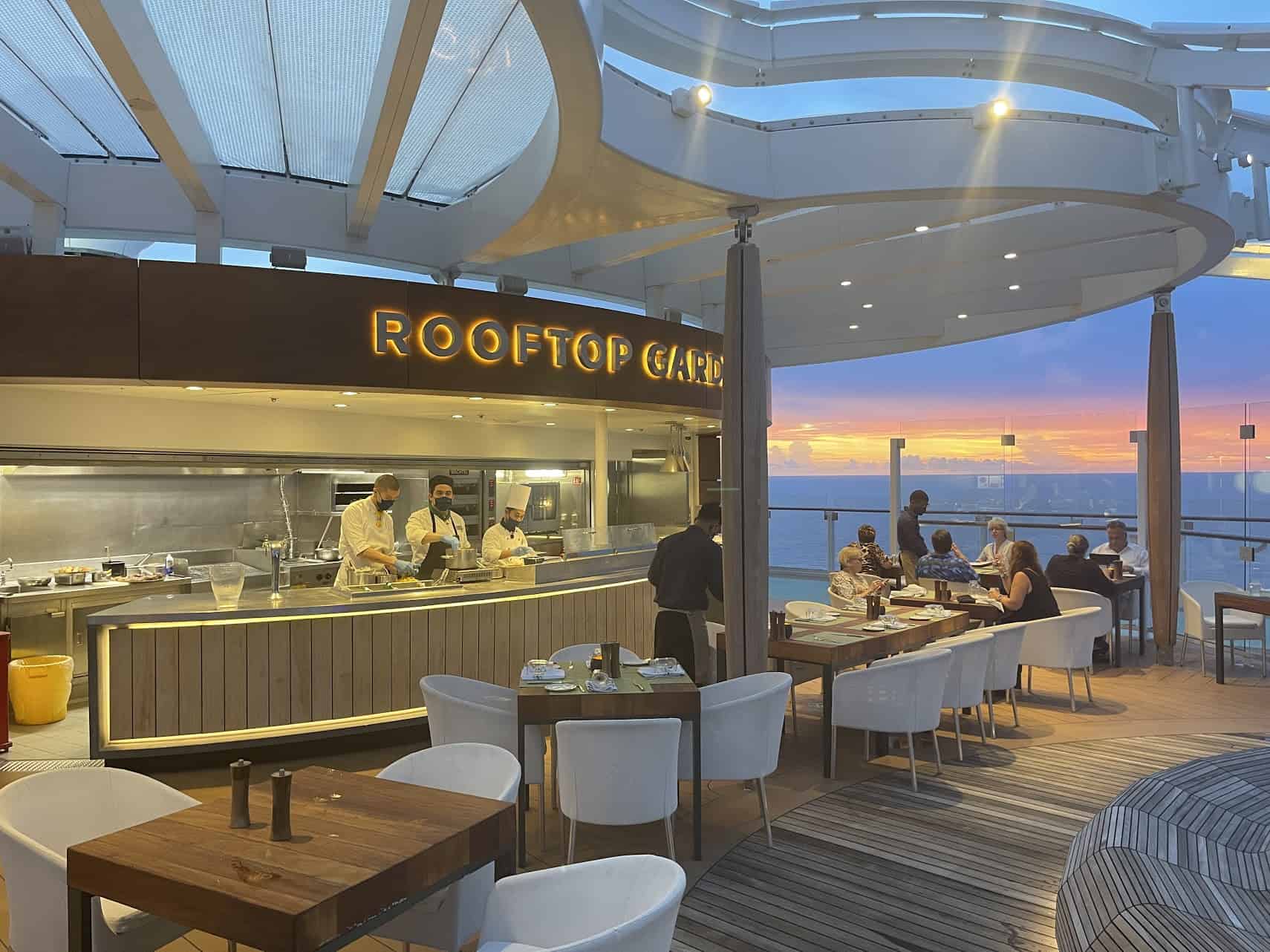 Rooftop Garden Grill is another of the specialty restaurants on Celebrity Edge, and what it's selling is pretty much right there in the name. The menu is largely comprised of things you'd expect to have grilling in the backyard. Okay, sure, a really nice, upscale backyard with a grill-master as opposed to your dad who tends to burn the steaks.
I kicked things off with one of their specialty cocktails, known as the Cucumber Southside. This tasty beverage (which goes down way too easily) is made with Titos, fresh lime, cucumber, and mint. It's the kinda thing you could probably make at home, but aren't likely to.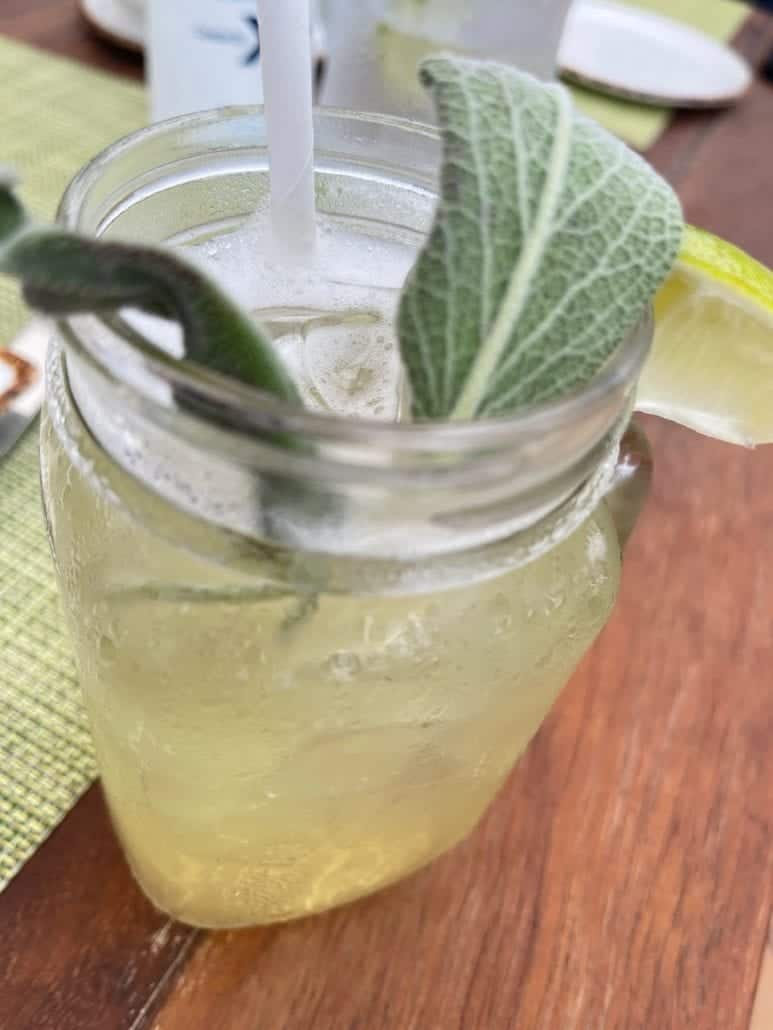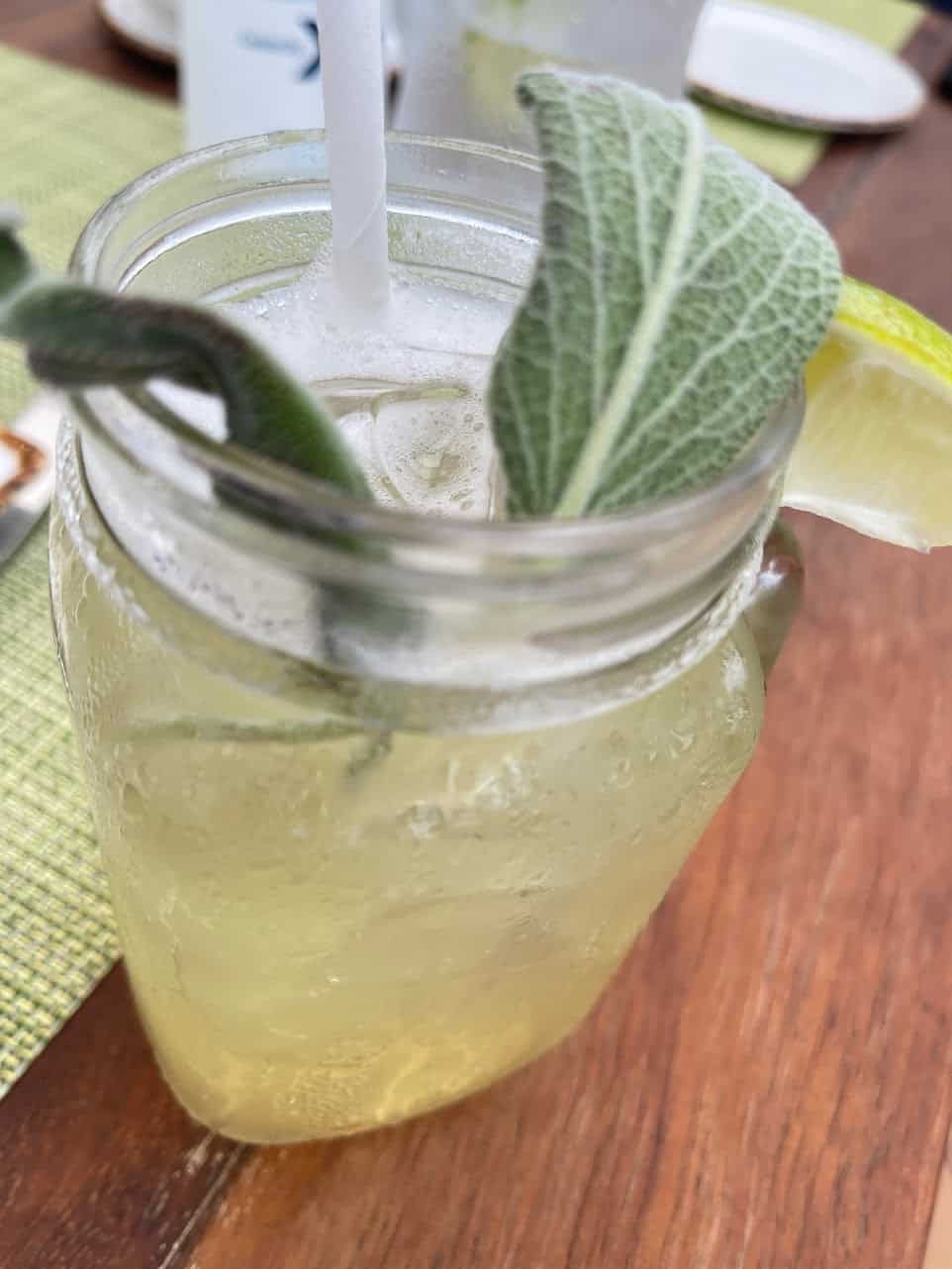 Dinner-wise, we started off with smoked wings…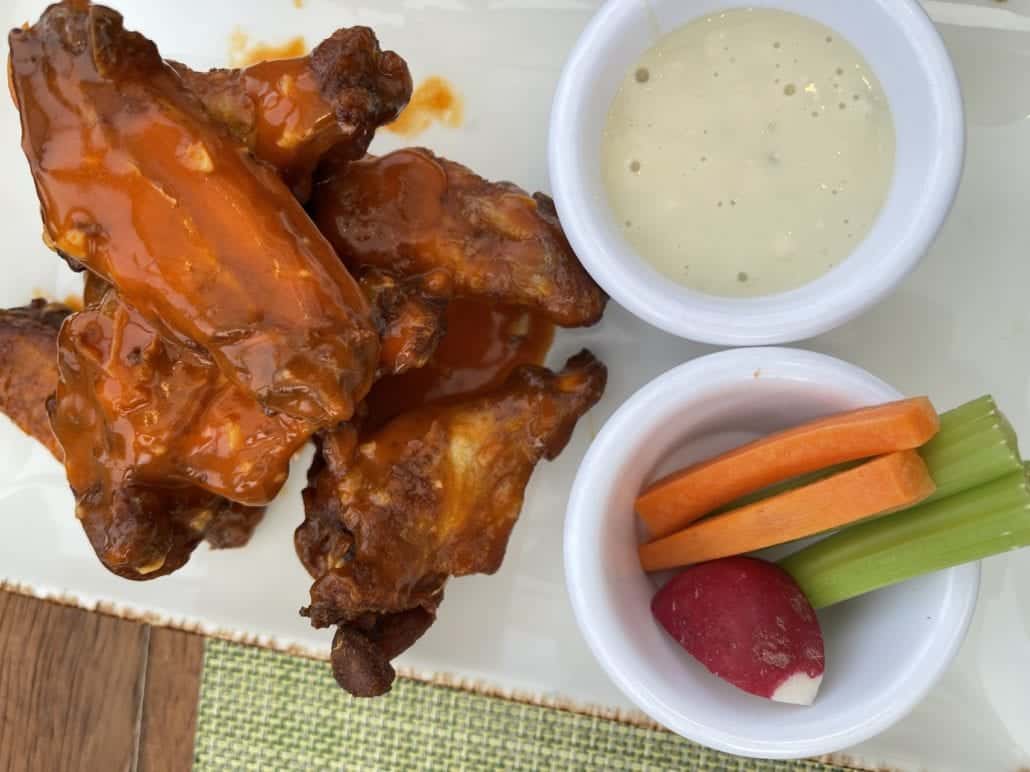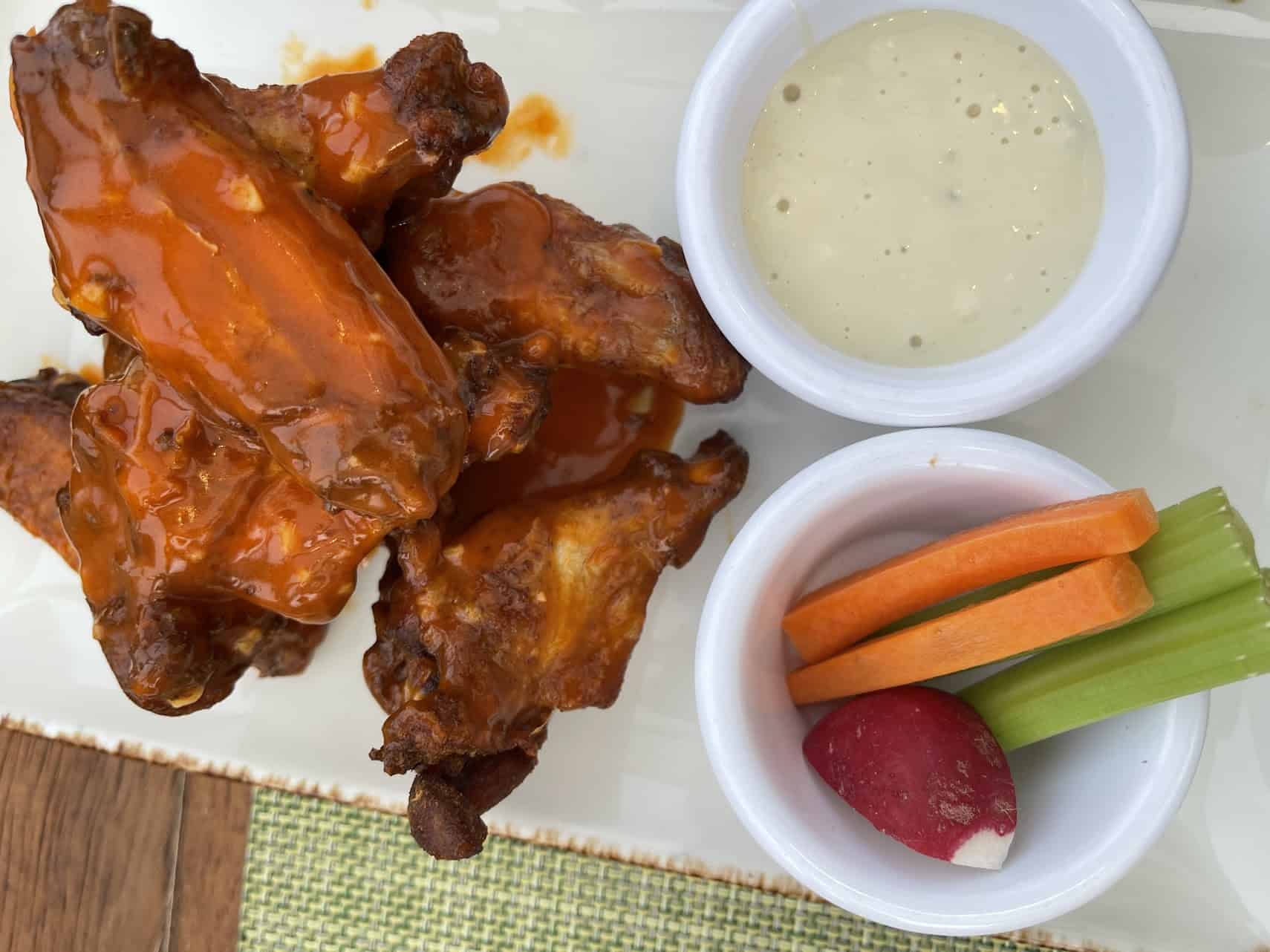 … and Train Wreck Fries (with bacon, scallions, four different cheeses, hot peppers, and ranch dressing). What I really liked about these were the ratio of toppings-to-fries. Sometimes, the toppings can overwhelm the fries or, worse, actually cause them to become soggy. That was definitely not the case here.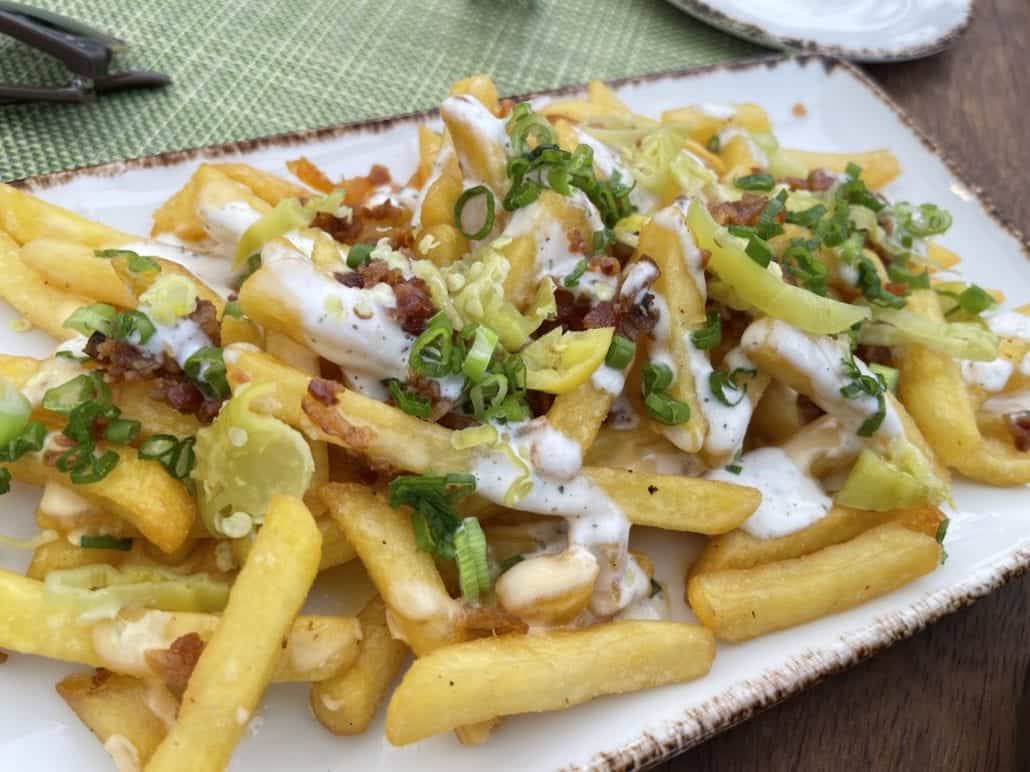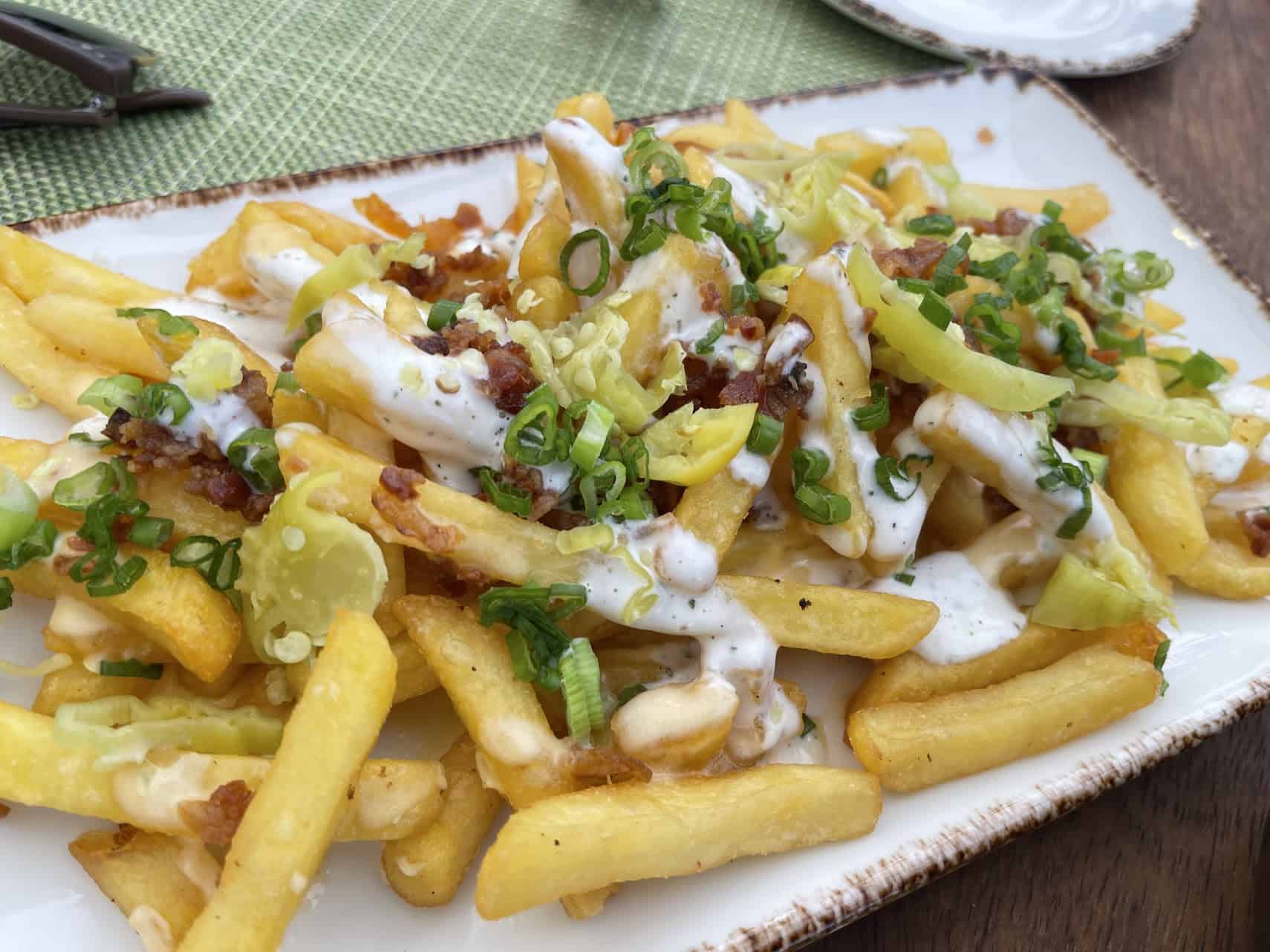 I'd love to say that we drew the appetizer line there, but they also had a trio of pulled pork sliders and it's not like I was eating it all by myself.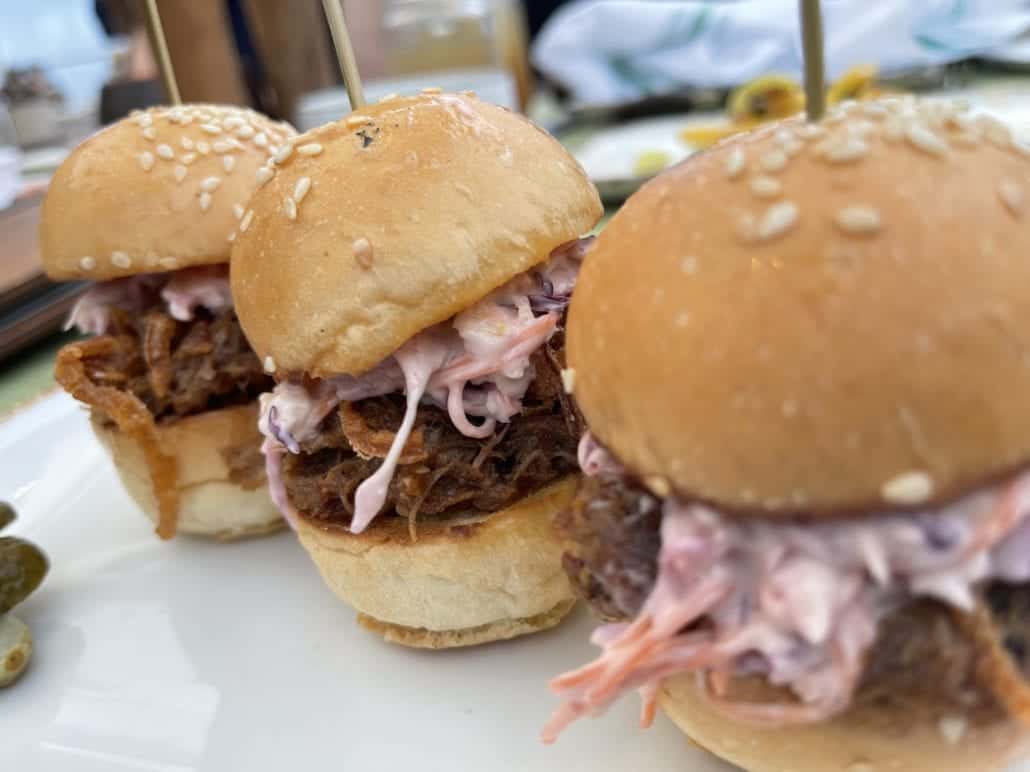 Of course, you have to have a salad with dinner. I think I've probably eaten more caprese salads this week than I did in the past two years. But man, when the balsamic hits the tomato and mozzarella just right? I'm sure foodies would have a better word, but I'm going with "yum."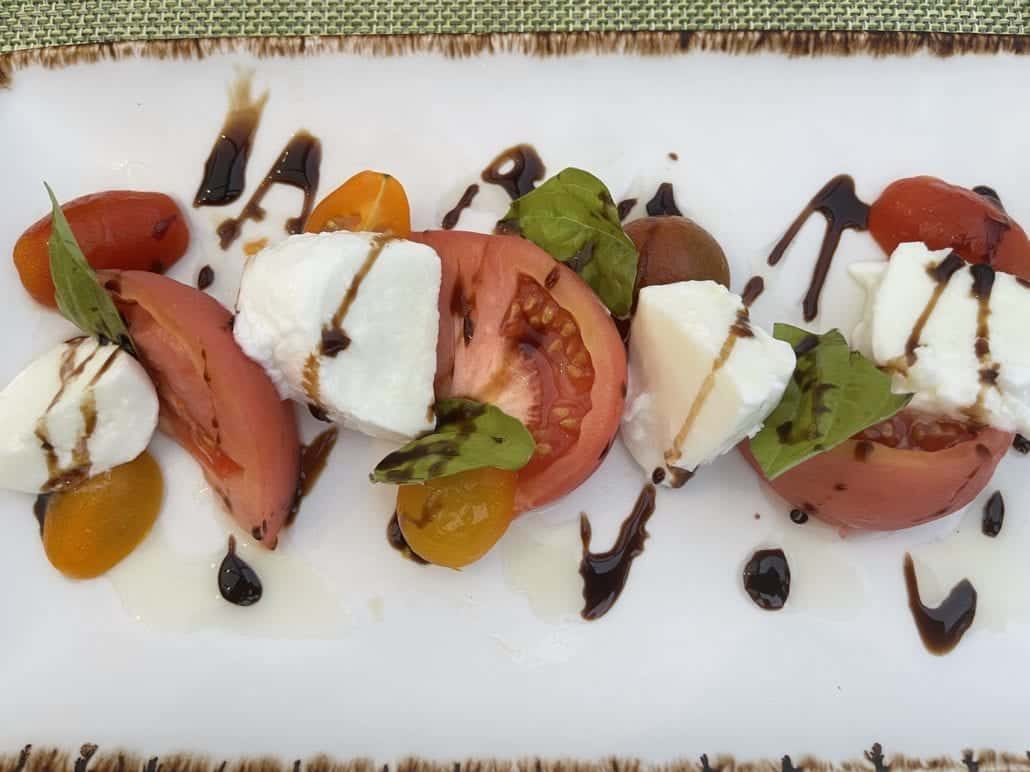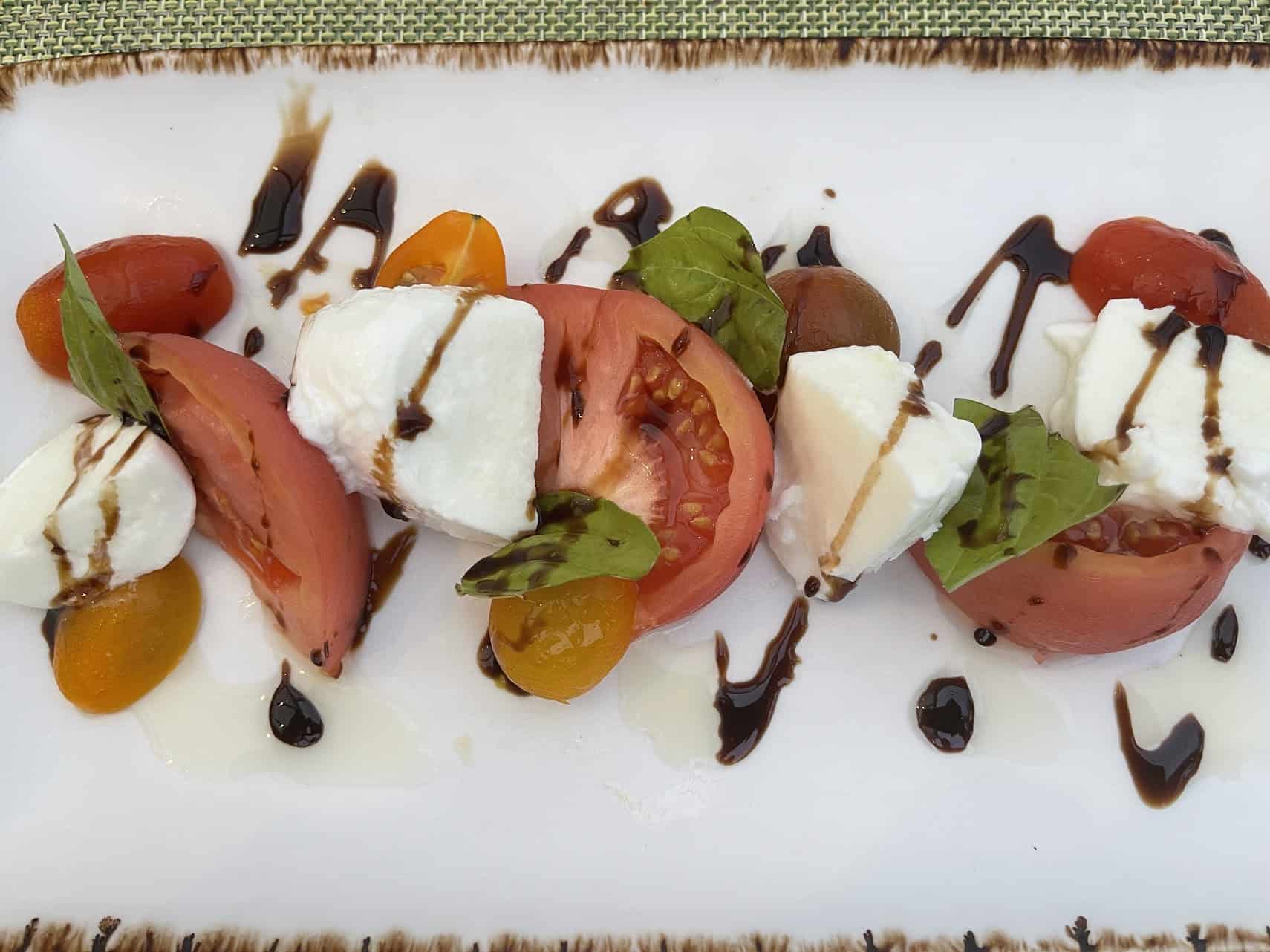 By this point, even I was starting to fill up… but the main courses were just arriving, including a grilled skirt pepper steak…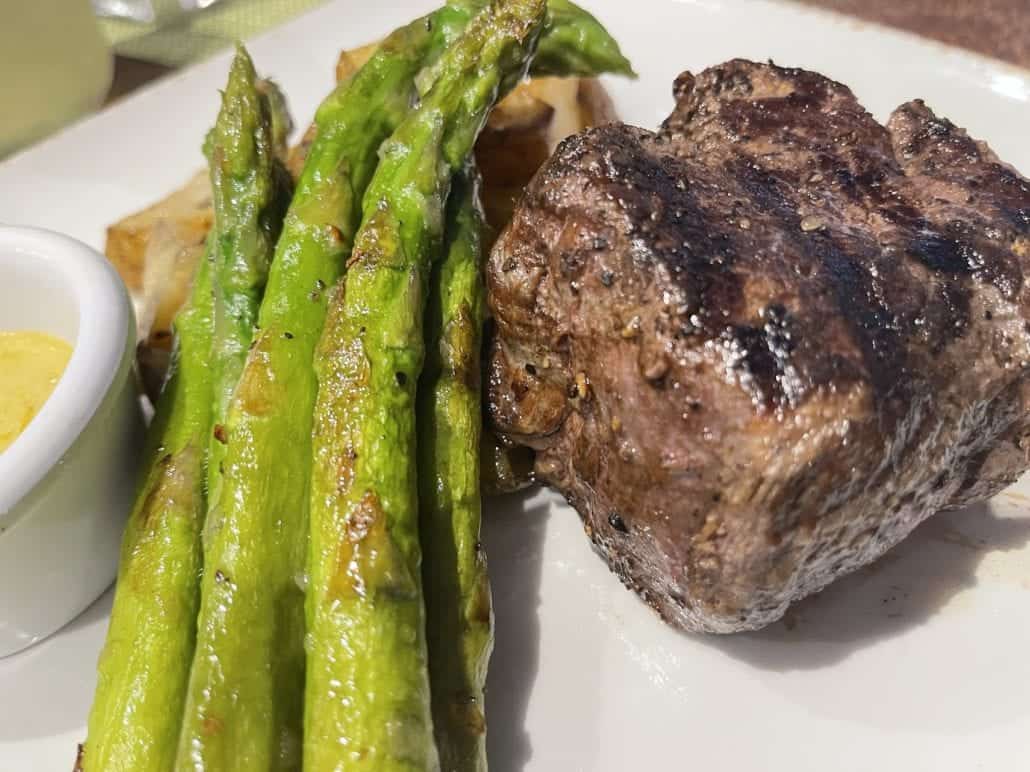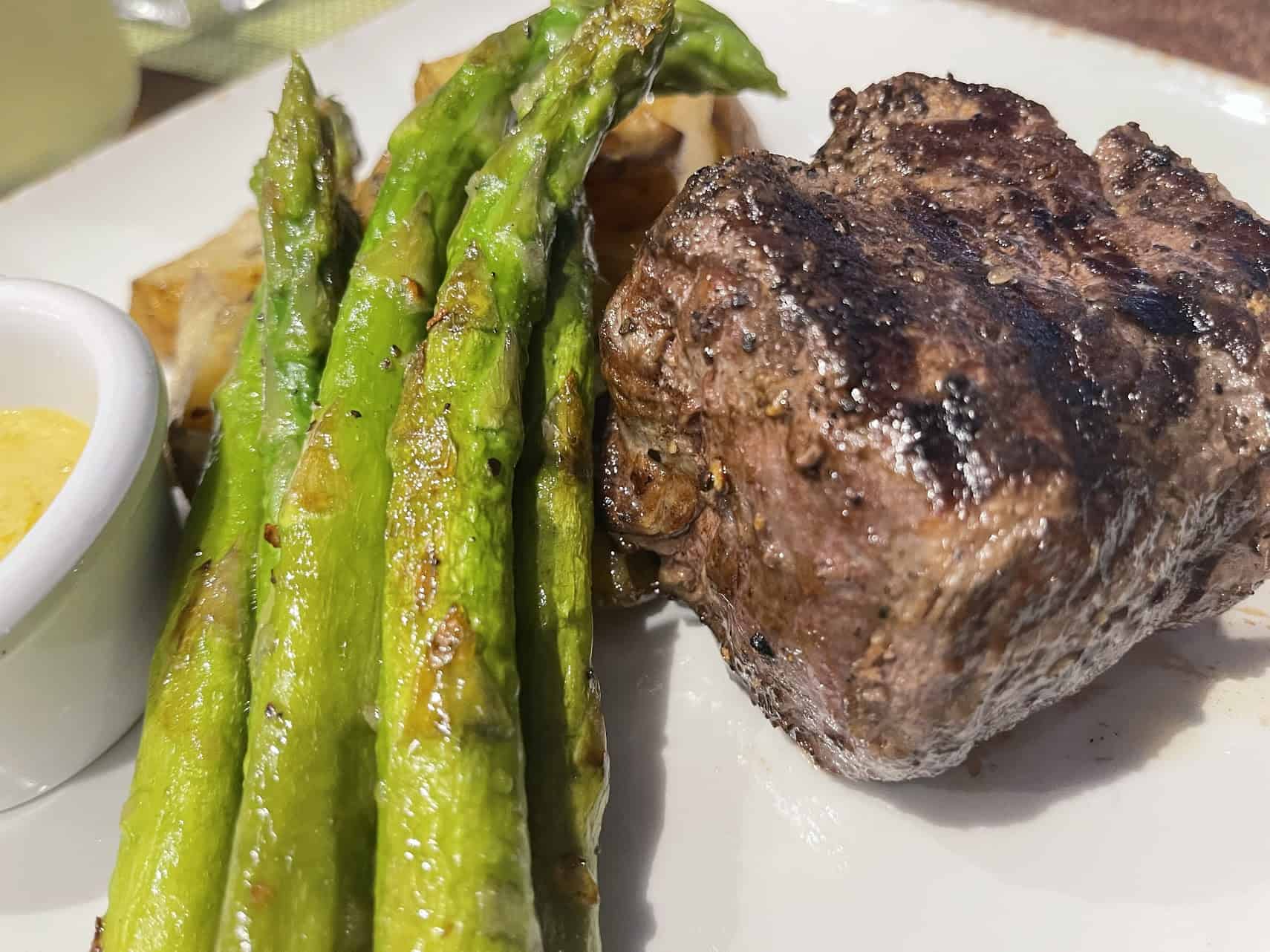 … and a nice seafood kabob with scallops, shrimp, and salmon.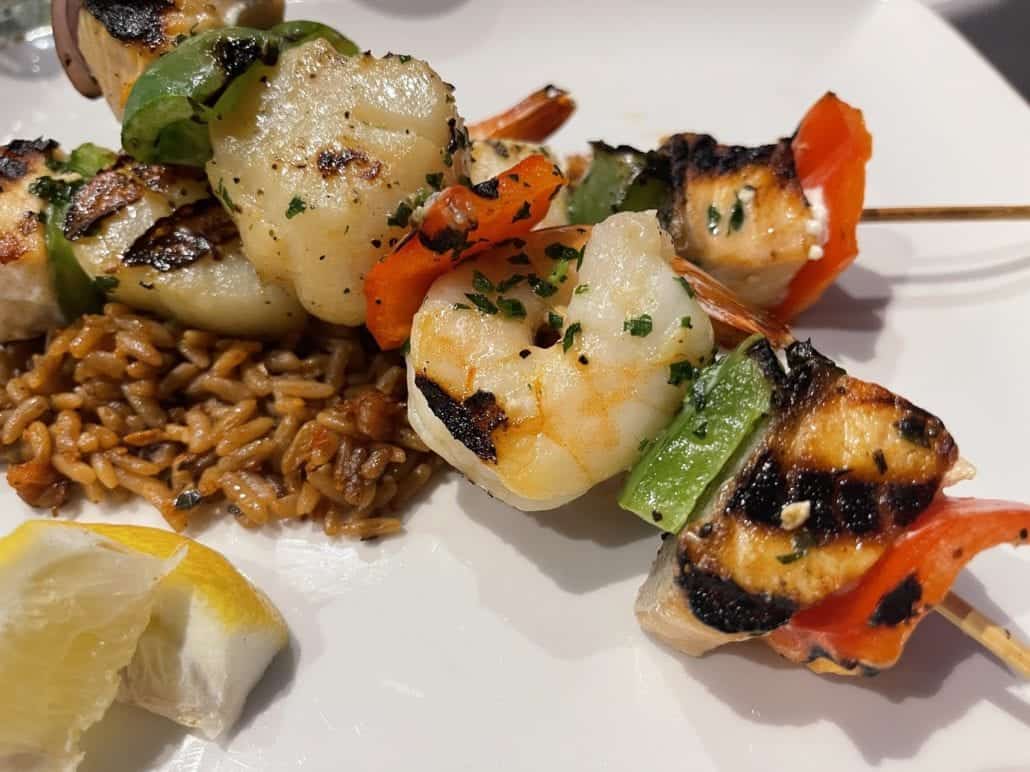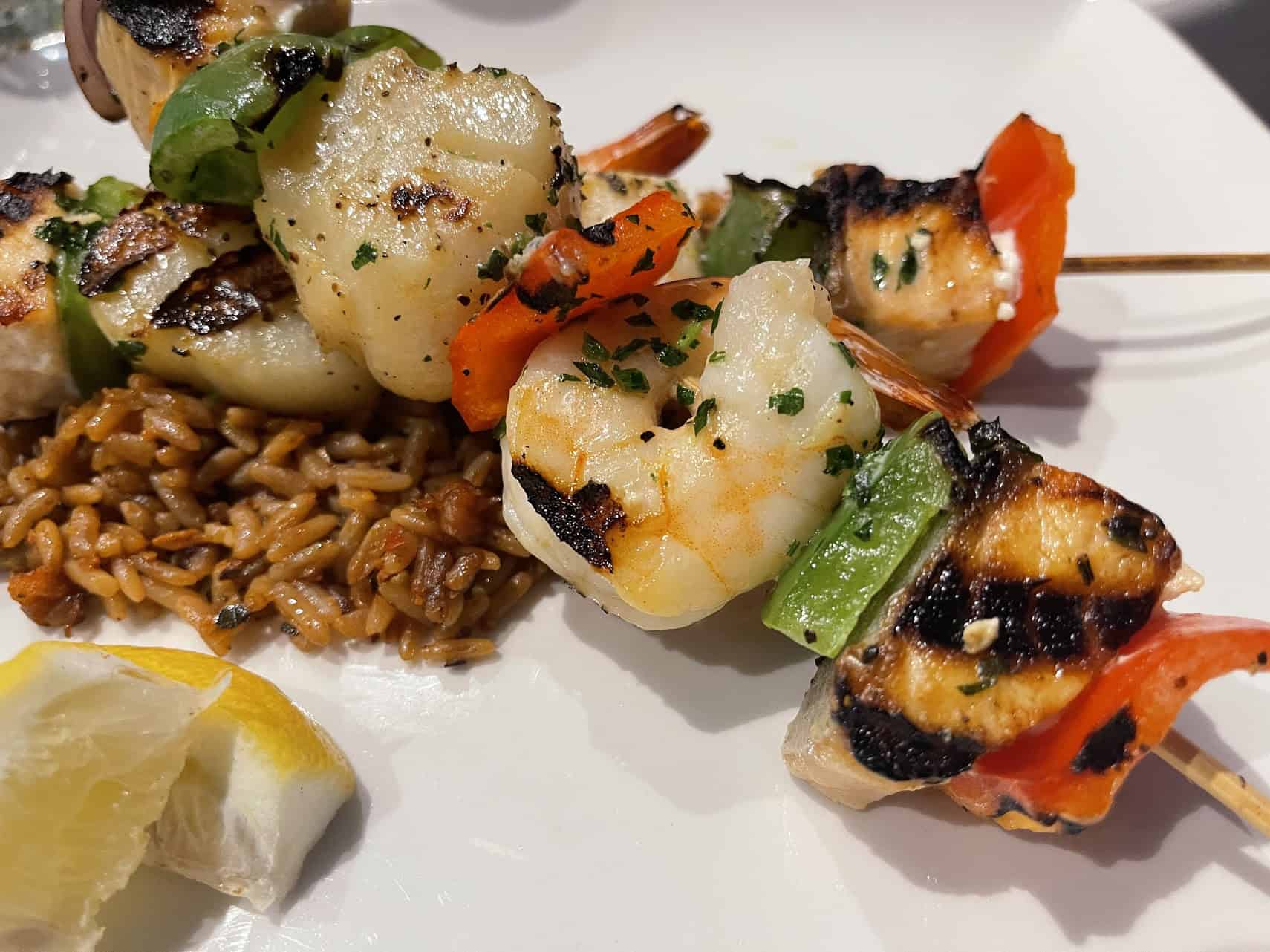 By this point, I was 100 percent full and pretty much ready to burst, so I excused myself to head back to my cabin and get a little work done. Shortly after arriving, I looked down at my app and saw that notification that no cruiser ever wants to see.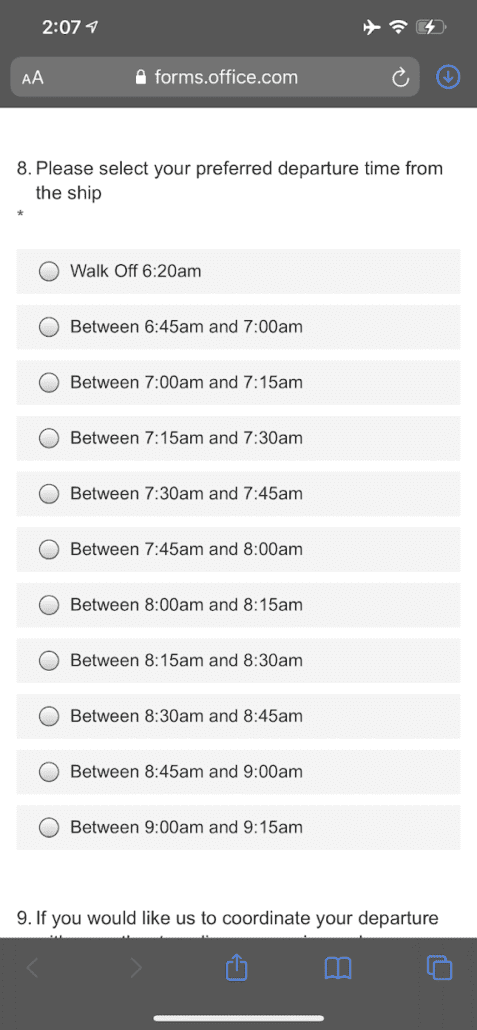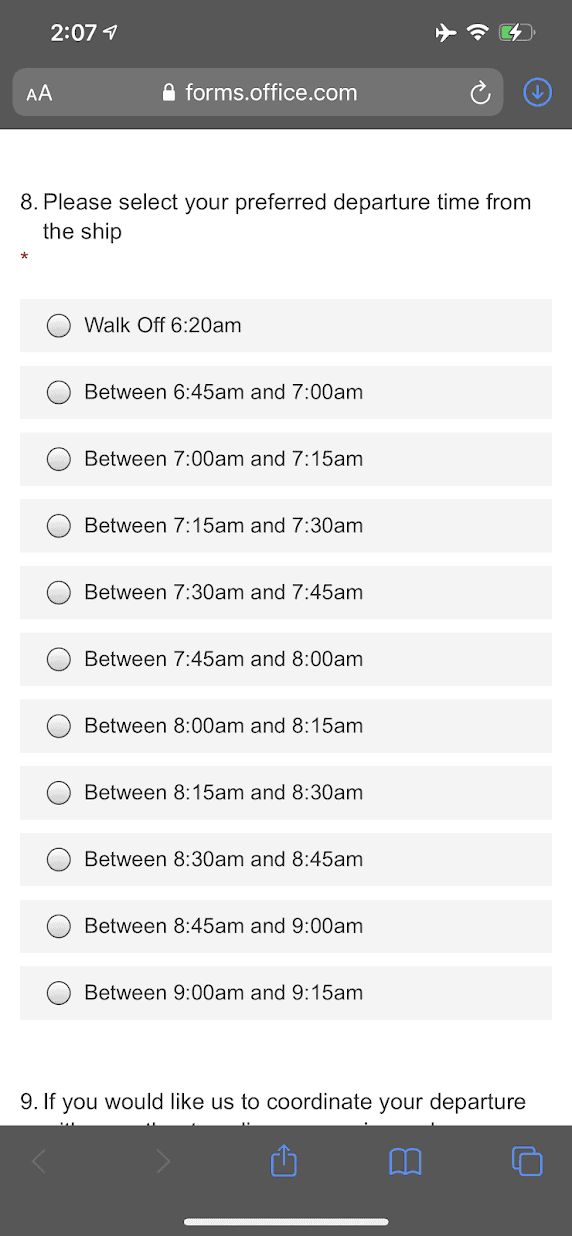 Clearly, we were getting close to the end of our trip. Tomorrow, we'll arrive in Nassau, and then it's back to Fort Lauderdale. So join me tomorrow for a final day of exploration, final thoughts, and a look at how the embarkation process goes!
Catch up on my other Celebrity Edge trip reports: