Editor's Note: Last week, our correspondent journeyed from the United States to St. Maarten in preparation for her first cruise in over a year. Here's her trip report on Day 4 aboard Celebrity Millennium, where she reveals what's different onboard in the COVID-19 era.
Sailing onboard Celebrity Millennium this week, I wondered what to expect in the COVID-19 era. How would the experience differ? What would guests do differently? Would I feel comfortable? 
First, by way of full disclosure, I'm working this week — most of it on a computer — onboard, so I'm not doing everything the average guest would do. But yes, I've wandered around the ship, talked to many guests and enjoyed the onboard ambience, dining, activities, and entertainment. 
Second, on Thursday afternoon they announced over the PA system that as part of routine testing done for guests to re-enter the U.S. or another country upon their return home, two guests in the same stateroom had tested positive for COVID-19 and were being isolated and cared for by the onboard medical team. 
I need to stress that both passengers were vaccinated and PCR-tested prior to boarding, and were asymptomatic. They were among 200 passengers that had routine testing yesterday (another 400 including me will do so today).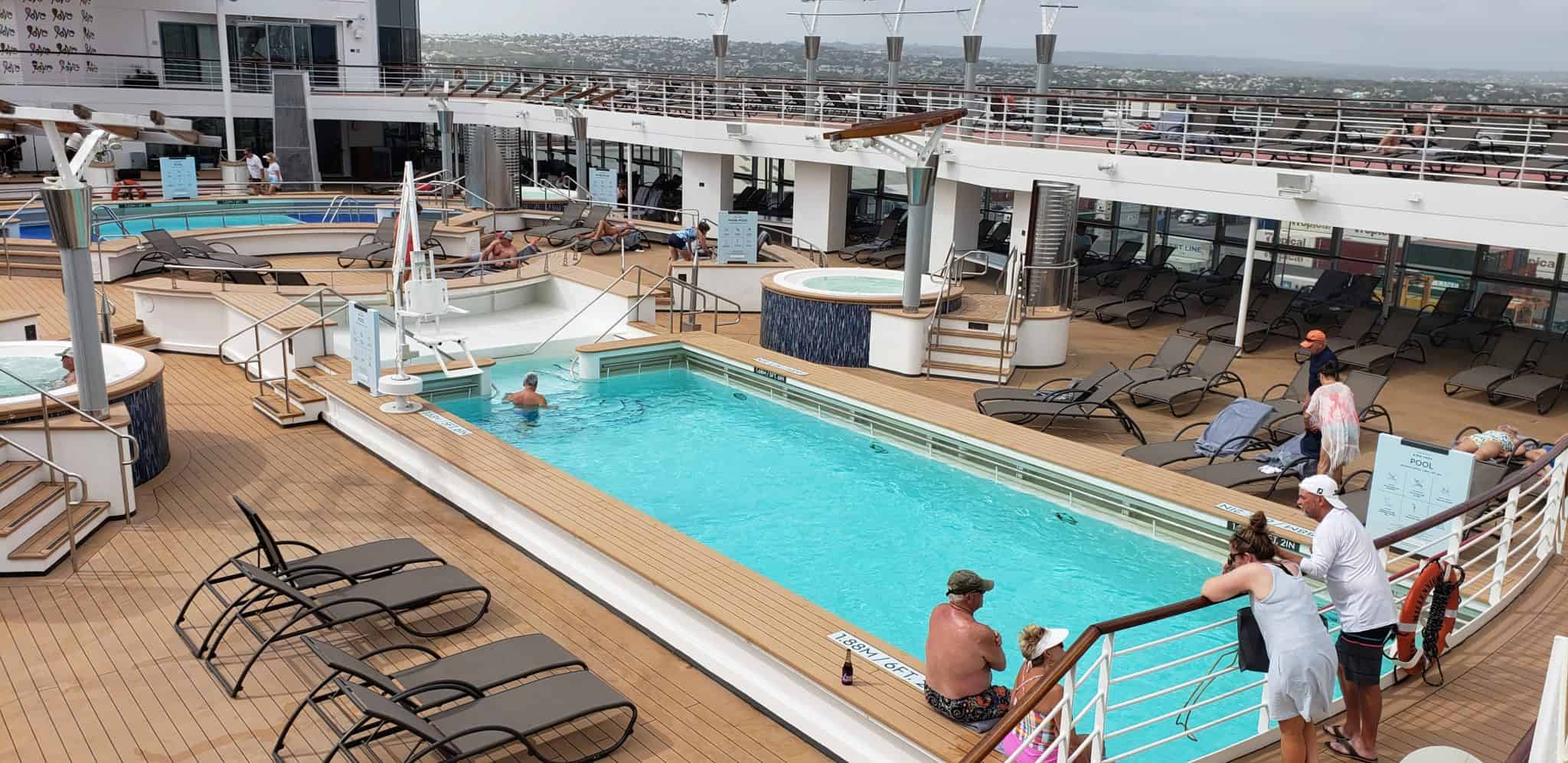 Overall, I felt the mood on the ship last evening was calm with guests enjoying normal cruise activities. When they announced over the PA system at dinnertime last night that the "count" was still at two after testing was concluded for the day, those in Metropolitan, the grand dining room, clapped. 
Contact tracing was done, as well. A few guests were asked to temporarily isolate until their test results were back. Passengers mentioned the situation to other guests, but no one was unduly upset. It was still a jovial mood at dinner and people headed out to enjoy the nightly entertainment. 
Now, for the rest of my story… On Thursday, I interviewed the affable Lorenzo Davidoiu, Celebrity Cruises' associate vice president — service excellence, who started as a waiter on a Celebrity ship decades ago, about changes on Celebrity Millennium during this pandemic era. 
Not That Different
I have to admit that before boarding — and after 15 months of no sailing for me personally — I envisioned a cruise ship on which there would be corridors reserved for walking in one direction or the other. Months of isolation and fear about exposure certainly influence one's pre-cruise perception.  
But no, that's not happening here on Celebrity Millennium. In fact, corridors in public spaces are wide open.  Perhaps the only distinguishable from the past are the hand sanitizers at more locations or that elevators have signs encouraging people to "social distance" as do the theater and exercise center, for example.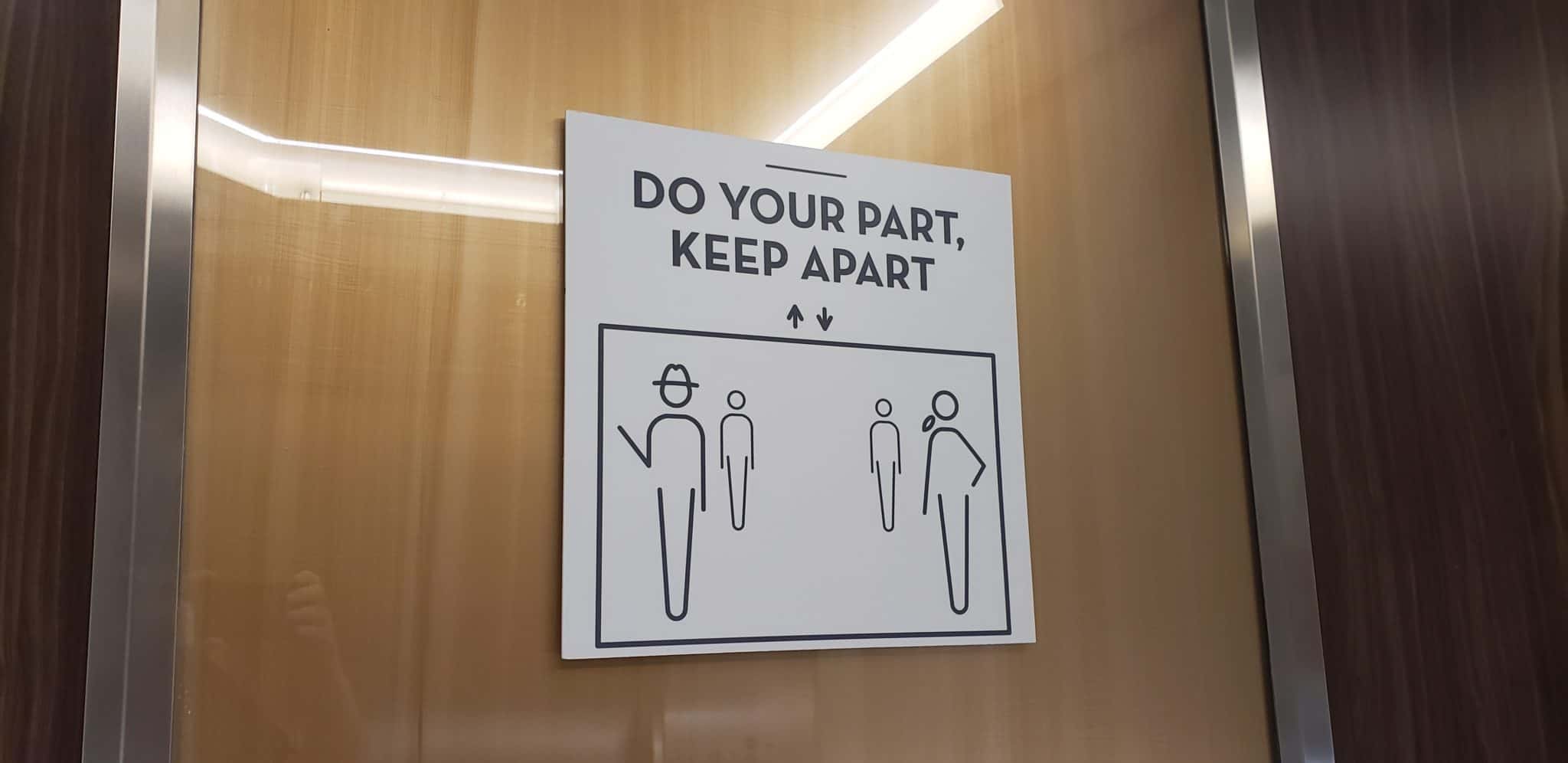 In reality, my firsthand experience here has shown me that on this specific ship at this moment in time, the onboard cruise experience truly doesn't seem that much different than in the past. "The biggest change is that everybody's vaccinated," says Davidoiu, who believes that opens up a set of protocols that protect guests but create an onboard aura "that's close to normalcy."
Of course, as we now know, vaccinations aren't total protection, given the two folks who tested positive this week. That said, clearly it is a big help. All guests (16 years of age and over) have been vaccinated and PCR-tested prior to boarding.
Celebrity's current policy is that guests can choose whether to wear a mask or not. From our time onboard, my assessment is that most are not masking up.  As for crew, they're all similarly vaccinated and tested, and they're definitely masked. 
Given current CDC guidelines, "masks for crew are not required, but we still did that [Celebrity's policy] for perception and to be extra cautious," Davidoiu emphasizes. "I think that's a good thing, especially for now."
What has changed, he says, is that Celebrity has changed the air filters on the ship. "Our HVAC was state-of-the-art to begin with," he adds, but notes that it's also been brought up to the code of what's needed today. 
Plus, "we have enhanced cleaning procedures and we've updated the disinfectant to make sure it's effective against COVID-19," Davidoiu says, adding that the frequency of cleaning throughout the ship has also changed. 
"We're fogging every public room every night," he says. "Before we used to do it on different cruises depending on what type of risk, but now it's every night."
In terms of people being able to wash their hands often, Celebrity Millennium was fitted with sinks in certain public spaces when it was revitalized in 2019. He stresses that Celebrity's philosophy is to align to the most stringent health/safety codes around the world, whether that's the U.S. Centers for Disease Control and Prevention (CDC) or government/health authorities in the European Union or elsewhere. "We always align to the highest standard."
As the first ship in Celebrity's fleet to go out of service as the pandemic hit and now the first to return to service, Celebrity Millennium has always had the ability for decent social distancing as the ship has "good space per guest compared to other ships," Davidoiu mentions.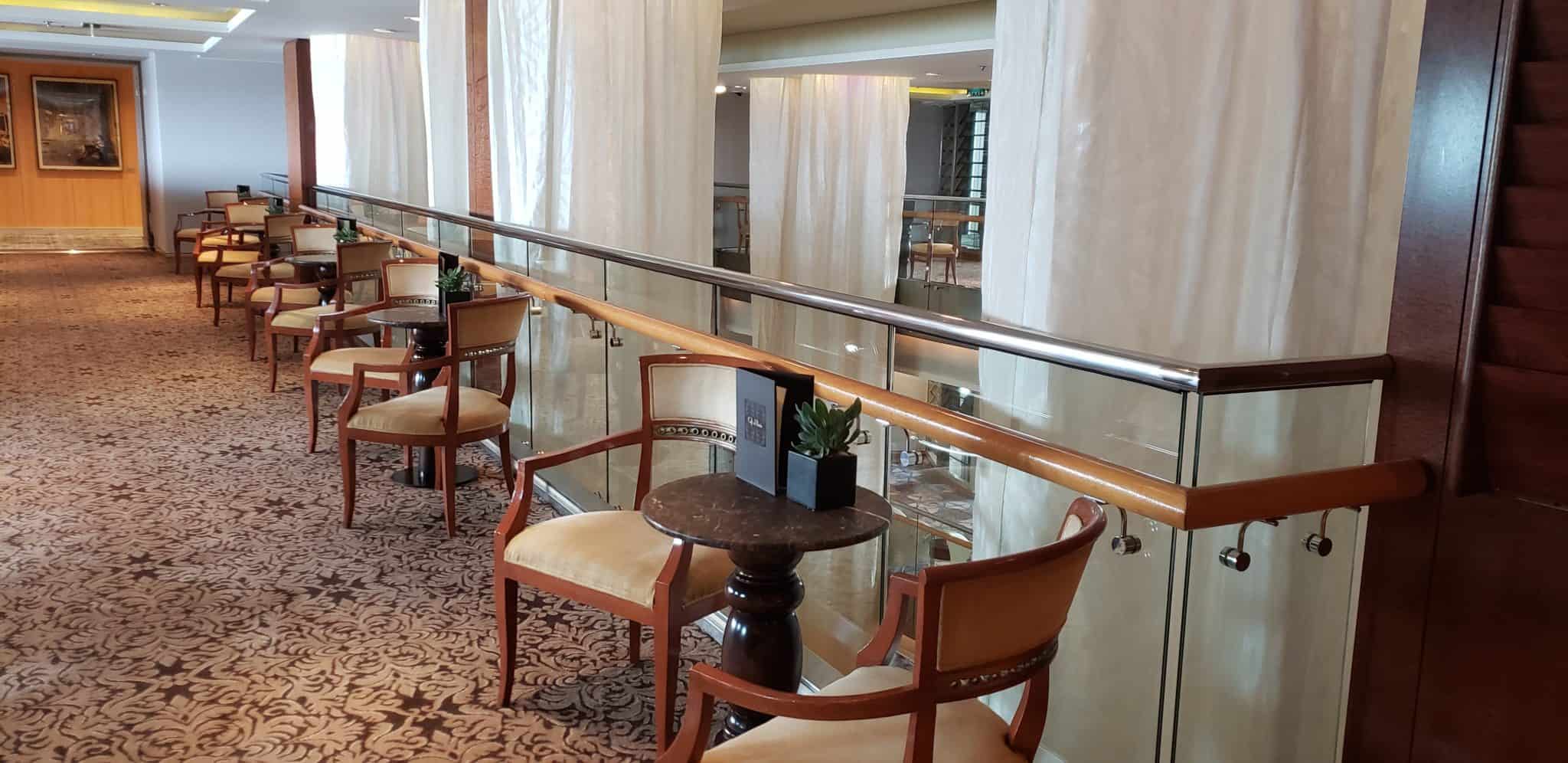 While the line has increased spacing between tables in restaurants and seating areas in public spaces, "we didn't have to do too much from the physical furniture movement" side, he says. Helping with that is that the line is limiting capacity to just under 50 percent. Simply put, on this cruise, which likely has even fewer guests onboard from what I've observed, it's uncrowded. 
In addition, as for social distancing, "we have noticed that our guests' approach has changed," Davidoiu adds, explaining that guests seem increasingly cognizant of not being on top of each other. "They're more aware," Davidoiu says. "They're waiting for the next elevator if they see three or four people inside, and a lot of people are taking the stairs."
He quips that the latter isn't a bad idea after a week at sea eating all the delicious food onboard; I'd have to concur on that, given some of my dinners here.
When people do dine, either in the main dining room or other restaurant venues, they will discover either more space between tables or, in some cases, I've noticed that restaurant managers or waiters are seating passengers in a "skip a table" process. If one couple is already seated at a table, then the next folks arriving for a table often might be seated two tables away, if possible. 
Celebrity has also added more show times in the theater so people can spread out. Davidoiu also says the line has added more personal space in the gym. That said, I did feel that some of fitness machines there still seemed pretty close, although the treadmills might be farther apart than normal; I haven't been on the ship in recent years to compare. Here are two current photos.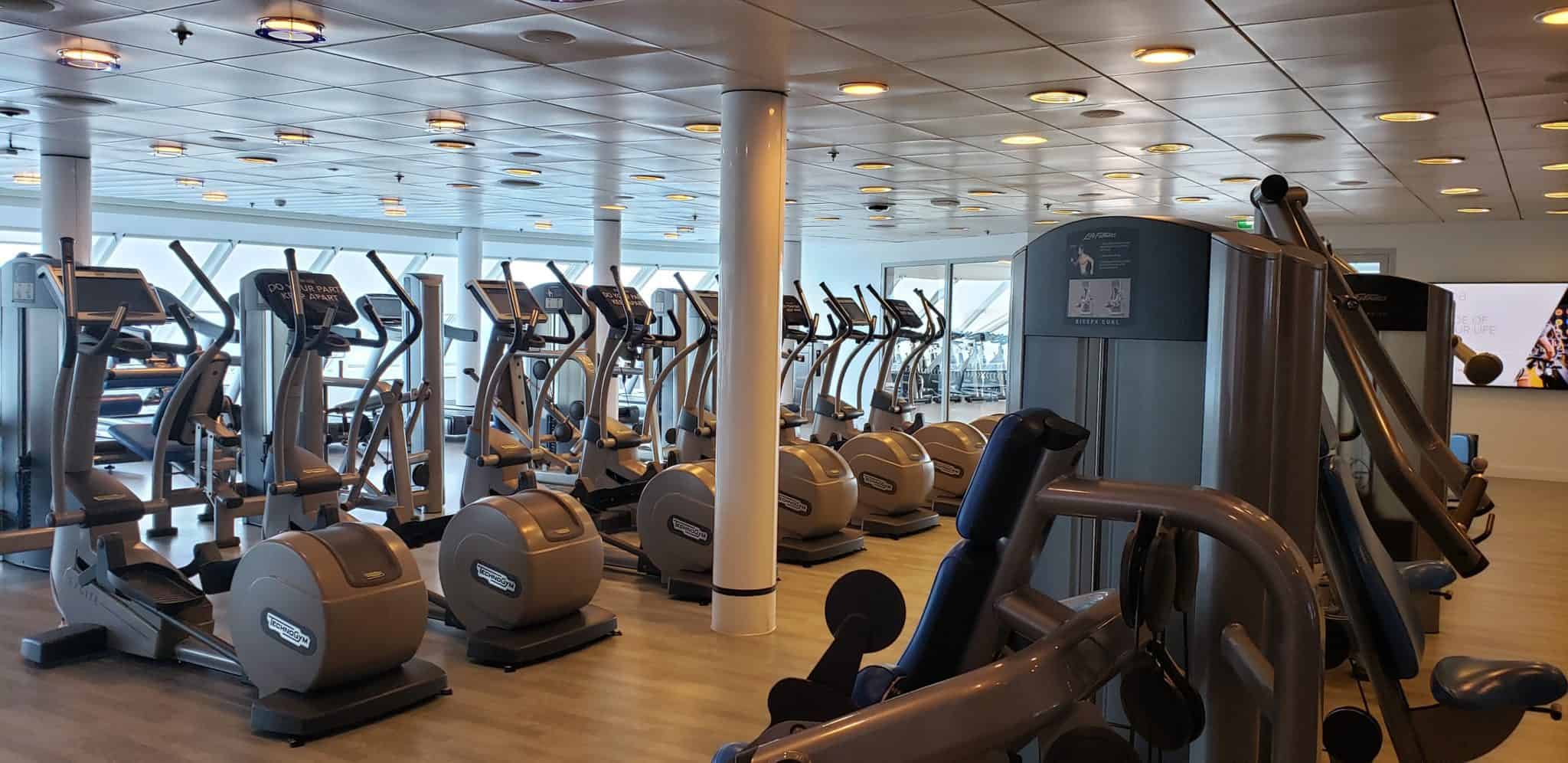 READ MORE: Cruise Ship Photo Tour: Celebrity Millennium
Two days ago, I ventured to the hair salon to get my hair cut. After inviting me into the salon, the stylist showed me to a sink there and asked me to wash my hands. That's happening in the spa too.
In the salon and spa, therapists are both wearing masks and washing their hands frequently, and if a guest is getting a spa treatment, they can wear a mask if desired.
As noted, more self-serve sanitizer receptacles are now located around the ship. Celebrity also places two small bottles of hand sanitizer and two masks in every cabin or suite for guests to use.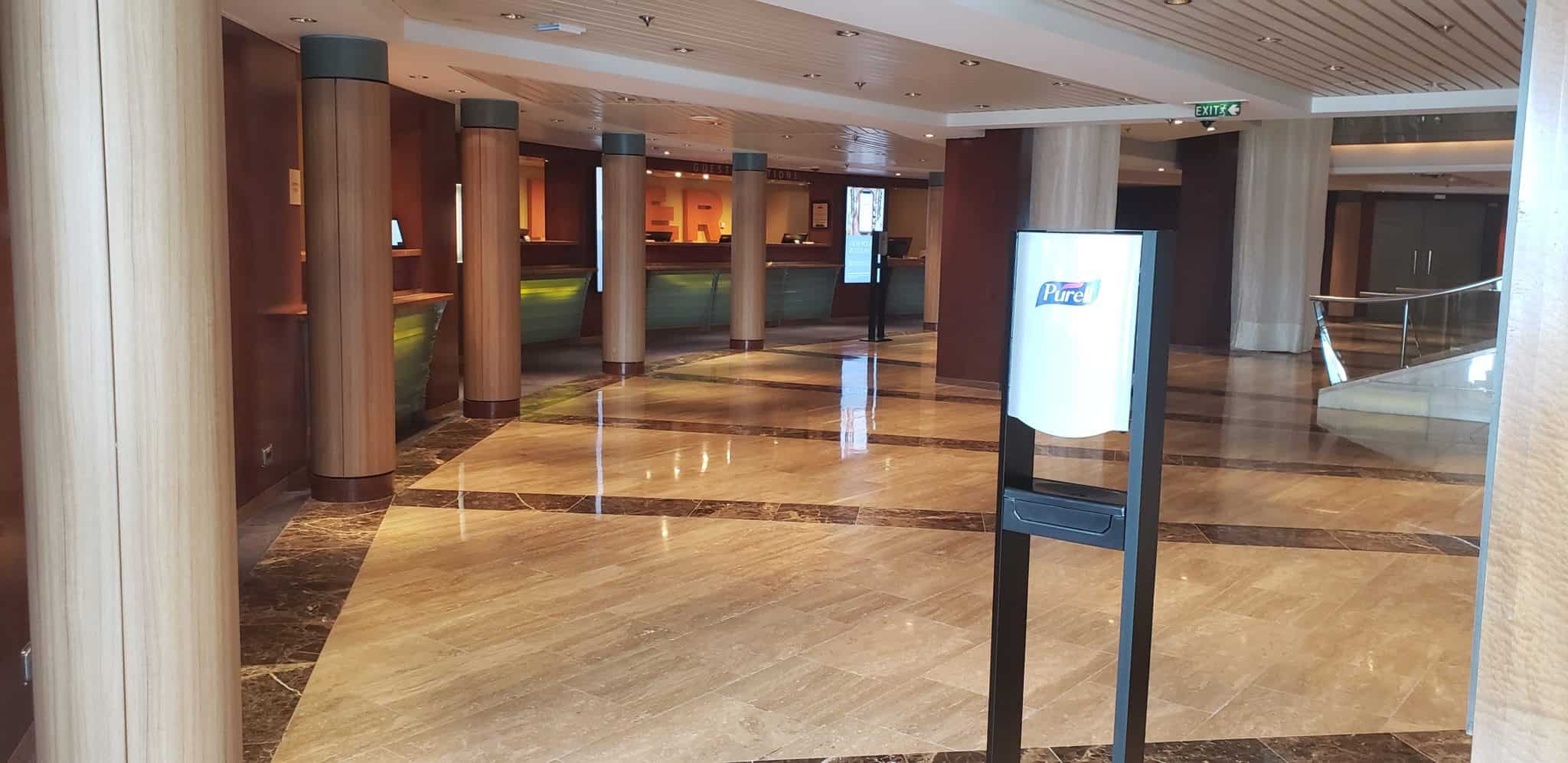 The ship does have isolation areas in case of any issues with guests testing positive for COVID-19, which is where the two guests that tested positive yesterday are right now. My understanding is that these are outside cabins. The line says those two guests as well as all other guests will disembark tomorrow. The line will discuss various options with the two impacted guests about options for "getting home." 
Celebrity also has contracts with hotels for hotel rooms in St. Maarten should guests need to quarantine there. Onboard Celebrity Millennium, the isolation cabins aren't next to other guest accommodations. In addition, "isolation rooms are fitted with individual AC units that get fresh air in and out," he stresses. "We also isolate not only the room but the area too," he says, noting that ships by their nature have zones. 
Back to normal ship operations, though. I know many people are wondering how things are going in Oceanview Café – better known as the casual (or what some call the buffet restaurant?) Simply put, it's now set up with more stations. 
I dined there for lunch today, it wasn't crowded although it is a shore day in Curaçao. I went up to two different stations — one with fresh fruit, salads, and healthy fare, and another for freshly baked pizza. In both cases, crew members behind the counters grabbed a plate, I pointed to whatever I wanted or asked for a specific kind of salad, pizza, or whatever. There was no passing a plate I or others first touched and handing it across to the crew member. Instead, the crew member placed my choice on my plate and then handed me a napkin with silverware as well.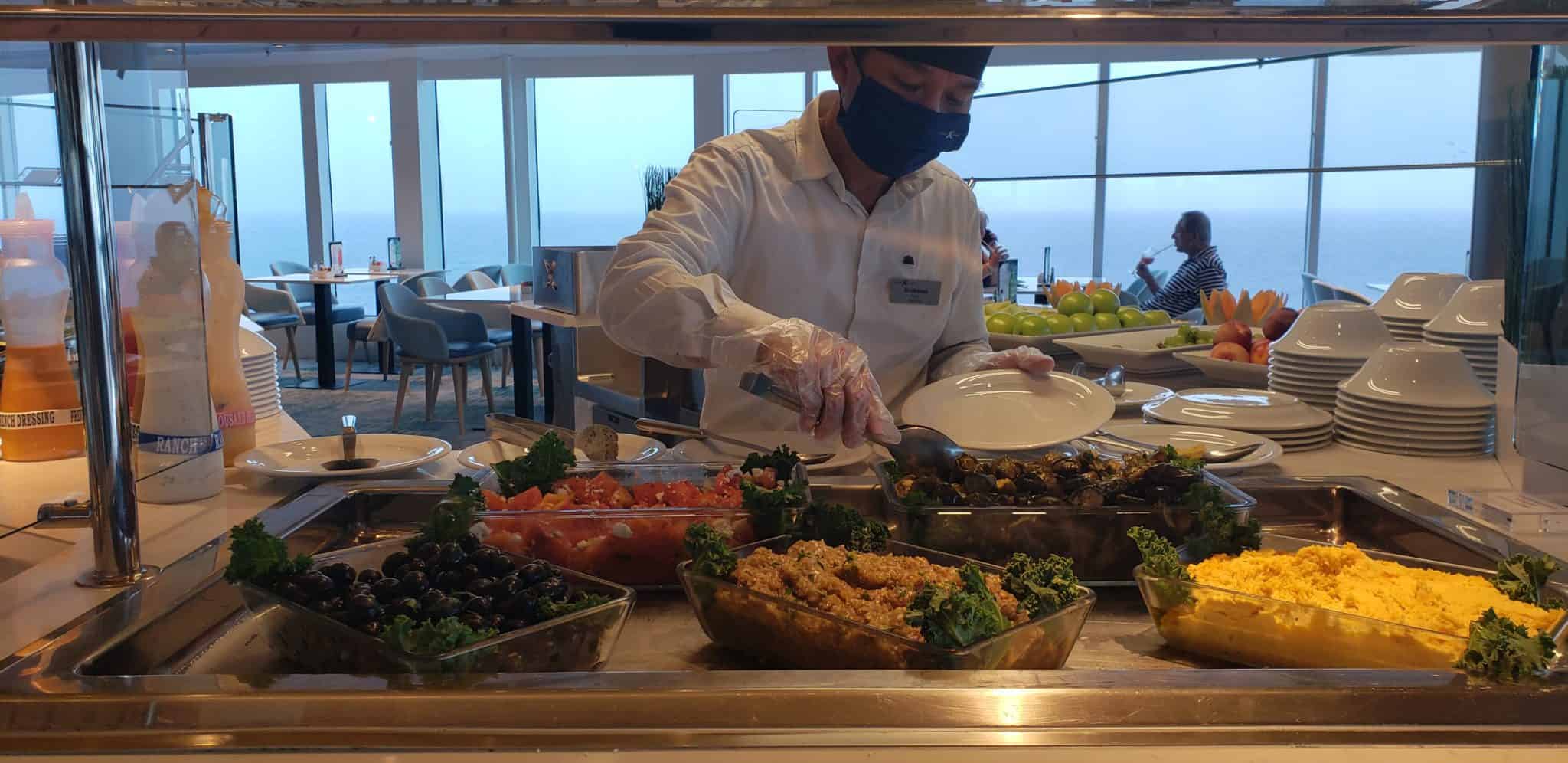 So, yes, you can still get an amazing array of buffet-type items (which I'll talk more about in my dining update of early next week), but it's definitely not do-it-yourself. 
"We added stations, there are two new stations at the back, a bakery at the front, we changed the whole look and flow," says Davidoiu. "It's open, the flow is better, and there is also better variety. We have service on all stations." Even stations that formerly were self-serve are now served by wait staff.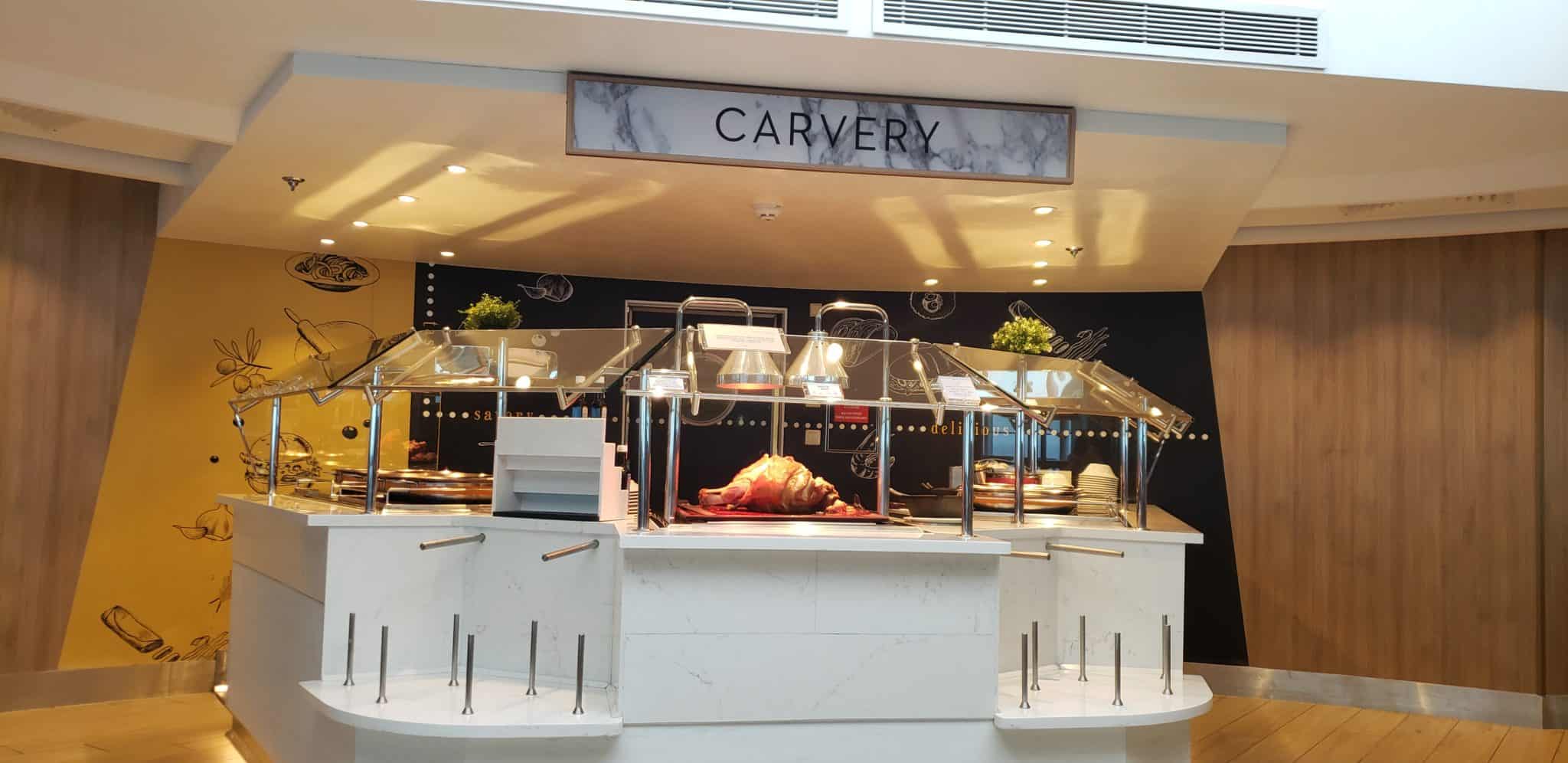 Outdoors, Celebrity Millennium has plenty of space to get fresh air on decks, guest balconies, the pool deck, or in the new Retreat, an exclusive relaxation space atop the ship for guests in the ship's 50 suites. "Chairs are a little farther apart in the pool area and adding the Retreat area is allowing for even more separation," he stresses. 
I can't speak to the shoreside experience, as my business onboard did not permit me to go ashore on this cruise. The rules for the shoreside experience are really determined by the governments there, Davidoiu said. 
In Barbados, guests were only permitted to take Celebrity's own curated excursions, so they weren't permitted to venture ashore on their own and mingle with the locals. But in Aruba, during our cruise, guests could either take Celebrity's excursions or walk ashore on their own. 
As for the onboard experience, Davidoiu had one closing thought for passengers who've sailed on cruise ships before and understand what the experience was like pre-pandemic: "We are so close to what we've done before because of the vaccines, and we think that the more people that experience this, the more people will see how normal it can be."
Having sailed for five days aboard Celebrity Millennium, I'd have to say that I agree. Yes, the process to get to and from the ship — airlines, airports, immigration, and security and the same on the other end – can certainly be daunting and complex. Absolutely no doubt about that. 
But once on Celebrity Millennium, I did feel — and still do — totally relaxed. Let's just say it feels right from my end. It feels, well, nearly normal. 
Just my personal "take," but I think in this pandemic-era, there will be people in malls, theme parks, on airlines, in hotels, and yes, on cruise ships, that do test positive for COVID-19. It's going to probably be a reality for some time. But it's all about how the situation is handled. That's improved sizably since we first learned about the virus 15+ months ago. 
Celebrity's statement said: "Celebrity Millennium is sailing with fully vaccinated crew and guests and following comprehensive protocols that align with our destination partners and exceed CDC guidelines to protect the health and safety of our guests. All guests on Celebrity Millennium were required to show proof of vaccination as well as a negative COVID-19 test within 72 hours before sailing from St. Maarten this past Saturday. This situation demonstrates that our rigorous health and safety protocols work to protect our crew, guests, and the communities we visit."
Don't miss the other Celebrity Millennium trip reports:
By Susan Young