Celebrity Cruises has revealed exciting new details on its third Edge-class ship, Celebrity Beyond.
Celebrity Cruises President and CEO Lisa Lufoff-Perlo assembled a dream team of modern lifestyle icons to enhance and reimagine some of the Edge class' iconic spaces. They include award-winning British designer Kelly Hoppen CBE; celebrated American designer Nate Berkus; lauded Paris-based design firm Jouin Manku; world-renowned British architect Tom Wright; and Michelin-starred chef and restaurateur Daniel Boulud.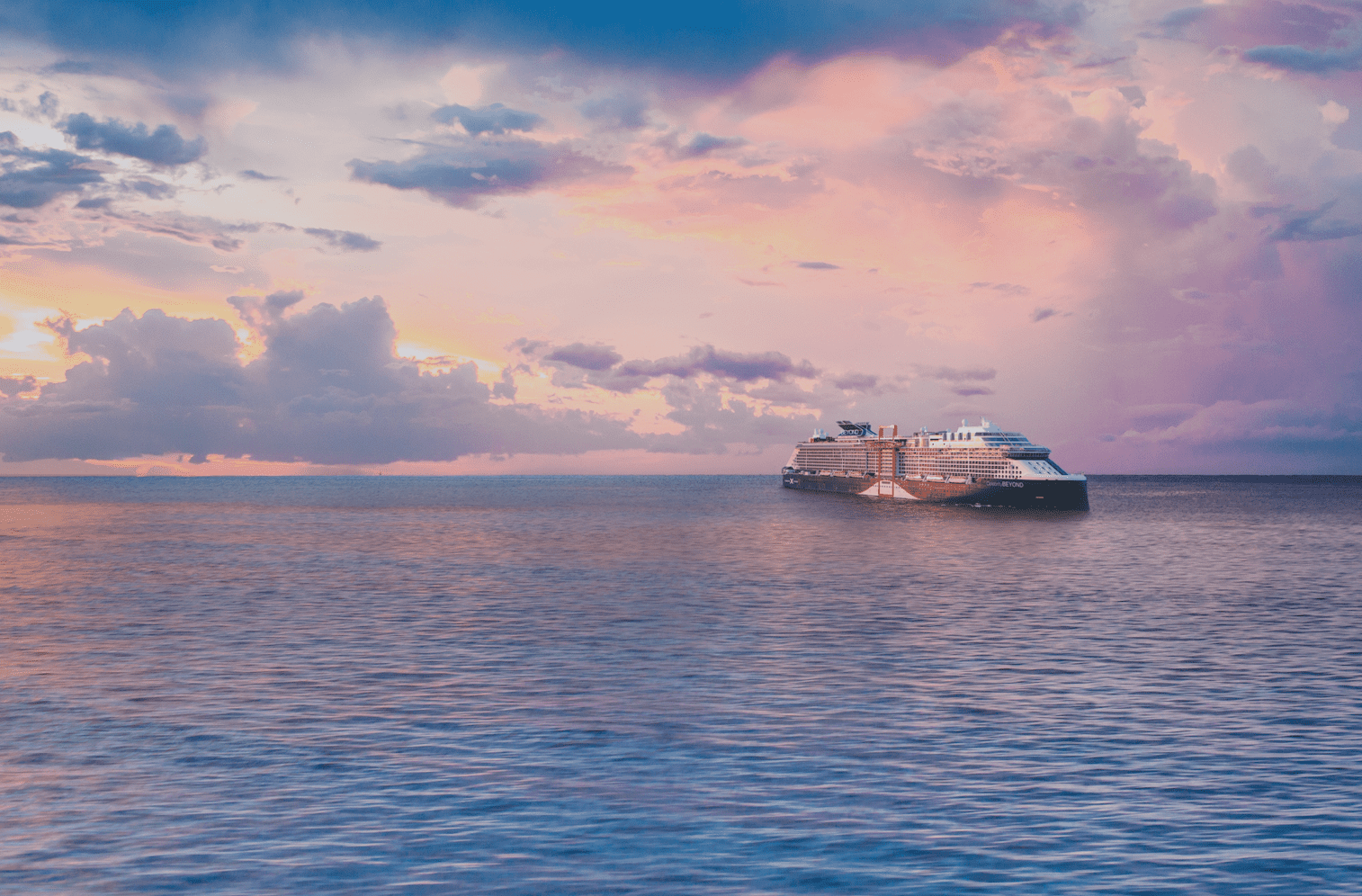 "With Celebrity Beyond, we saw an opportunity to take the extraordinary features of Celebrity Edge — like the focus on the connection with the ocean and the grand spaces — and really amplify them," said Richard Fain, Chairman of Royal Caribbean Group, parent company of Celebrity Cruises. "We focused on providing more openness, height and spaciousness throughout the ship's most popular spaces. The end result is a next generation ship that embodies the intersection of architecture and design."
The Retreat
Kelly Hoppen, who was also involved with interior design on Celebrity Edge and Apex, has reimagined aspects of design for The Retreat on Celebrity Beyond. 
The exclusive resort space for suite guests will include a new two-story Retreat Sundeck, offering new seating areas, more water features, and the exclusive Retreat Bar. The inviting Retreat Lounge is a newly stylish space to unwind, and the adjacent restaurant, Luminae, has moved to the front of the ship and been reimagined as well.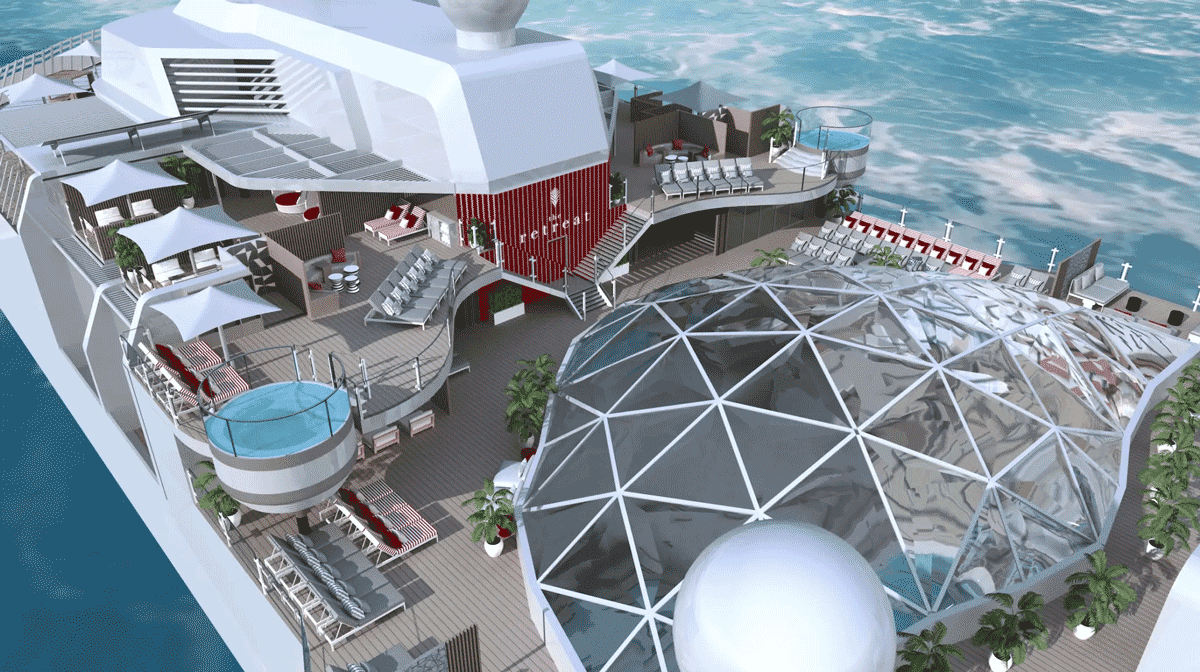 A variety of modern suites feature fresh color palettes, and design details by Hoppen include redesigned two-story Edge Villas with outdoor plunge pools and Celebrity's famous Iconic Suites, which are the largest in the fleet.
Connecting The Ship With The Sea
Perhaps best known for designing the Burj Al Arab Hotel in Dubai, architect Tom Wright has expanded the exterior spaces on Celebrity Beyond, transforming them into outward-facing sanctuaries with stunning ocean views. His design lengthened the ship by 20 meters, and raised it to 17 decks tall. This allowed for the reimagination of The Retreat, the Resort Deck, and the Rooftop Garden.
The main open deck will be 40 percent larger than on Edge and Apex, and feature an enormous living Rooftop Garden designed by Hoppen. It will include more seating with private conversation nooks and spots to watch movies, enjoy live music, or dine at the expanded Rooftop Grill. The area will also feature two new floating pools that cantilever over the side of the ship.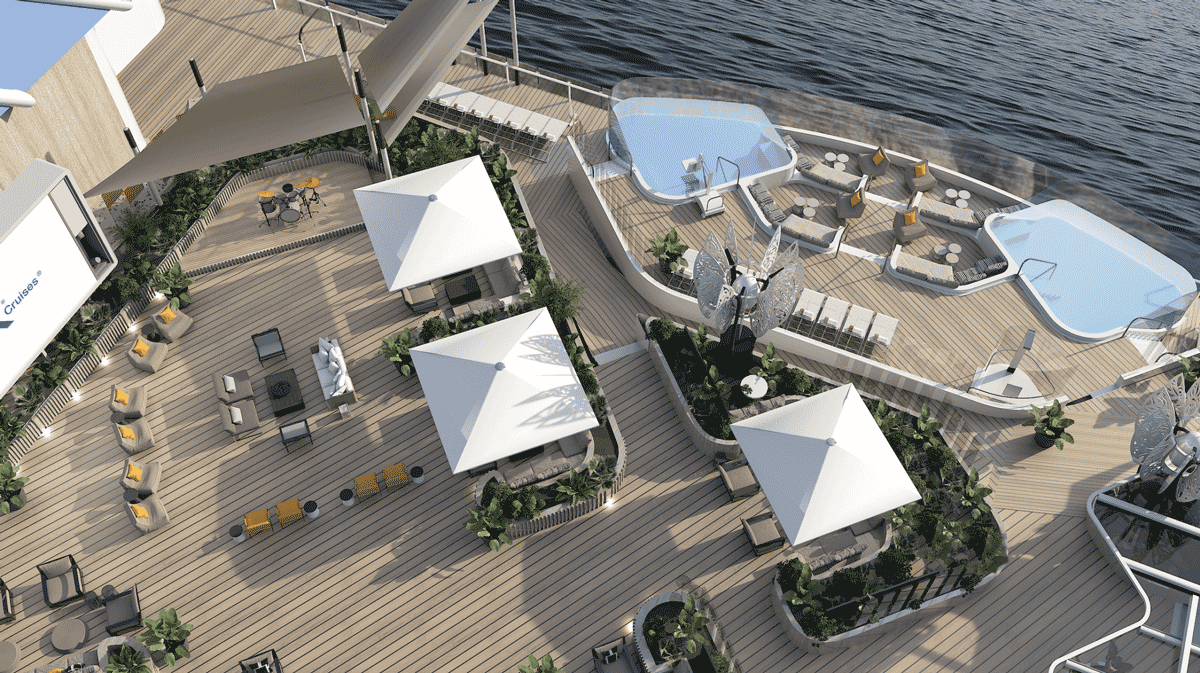 On the Resort Deck, which is the ship's main pool deck, passengers will enjoy a 25-yard lap pool surrounded by a terraced pool deck and new sunken seating areas.
Wright also designed the Edge class' signature Magic Carpet, a cantilevered platform that scales the side of the ship and transforms purposes depending on which deck it is stationed on.
Celebrity's Edge Series Design Ambassador Nate Berkus stepped into the role of designer himself to reimagine one of Celebrity's most popular venues — the Sunset Bar. The space will be nearly twice as large as previous versions, and feature Moroccan-inspired design elements, cascading terraces, and lots of conversation niches.
"When a good designer thinks about how something should look, they're thinking about how people should feel. I took inspiration from some of my favorite places in the world – the best parts of Mexico, the best parts of Greece, the best parts of Uruguay with the best parts of California," said Berkus. "I wanted this space to represent aspiration. I wanted it to represent relaxation, in an upmarket way."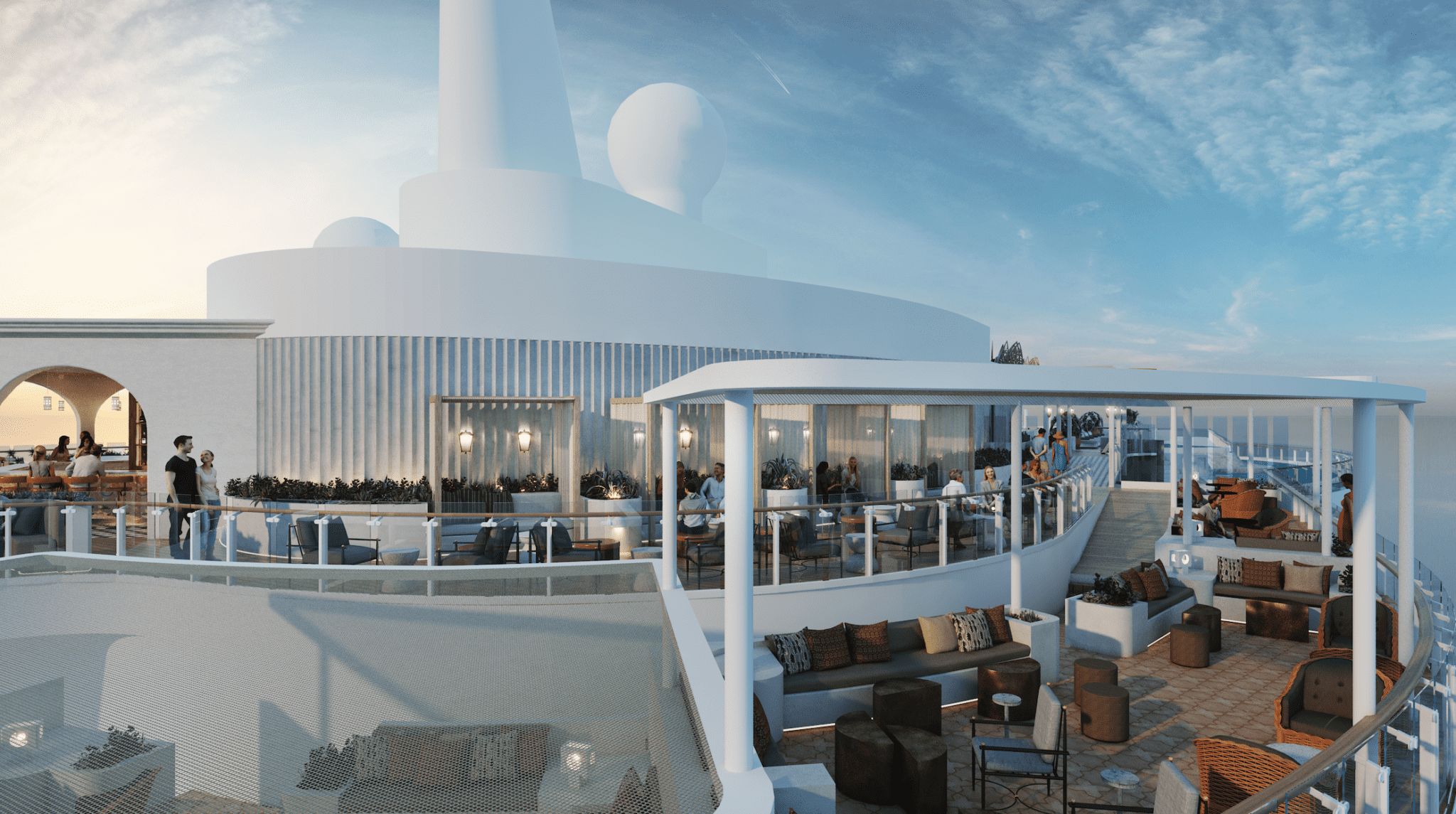 READ MORE: Celebrity Apex To Make Her Debut In Greece This Summer
Grand Plaza
The core of Celebrity Beyond will be the Grand Plaza, designed by the team responsible for the design of the Jules Verne restaurant in the Eiffel Tower, Jouin Manku.
Inspired by the piazzas of Italy, the Grand Plaza will span three decks and be larger than the Grand Plazas on Celebrity Edge and Apex. The added space allowed designers to move the Martini Bar into the center of the venue as a full, circular bar.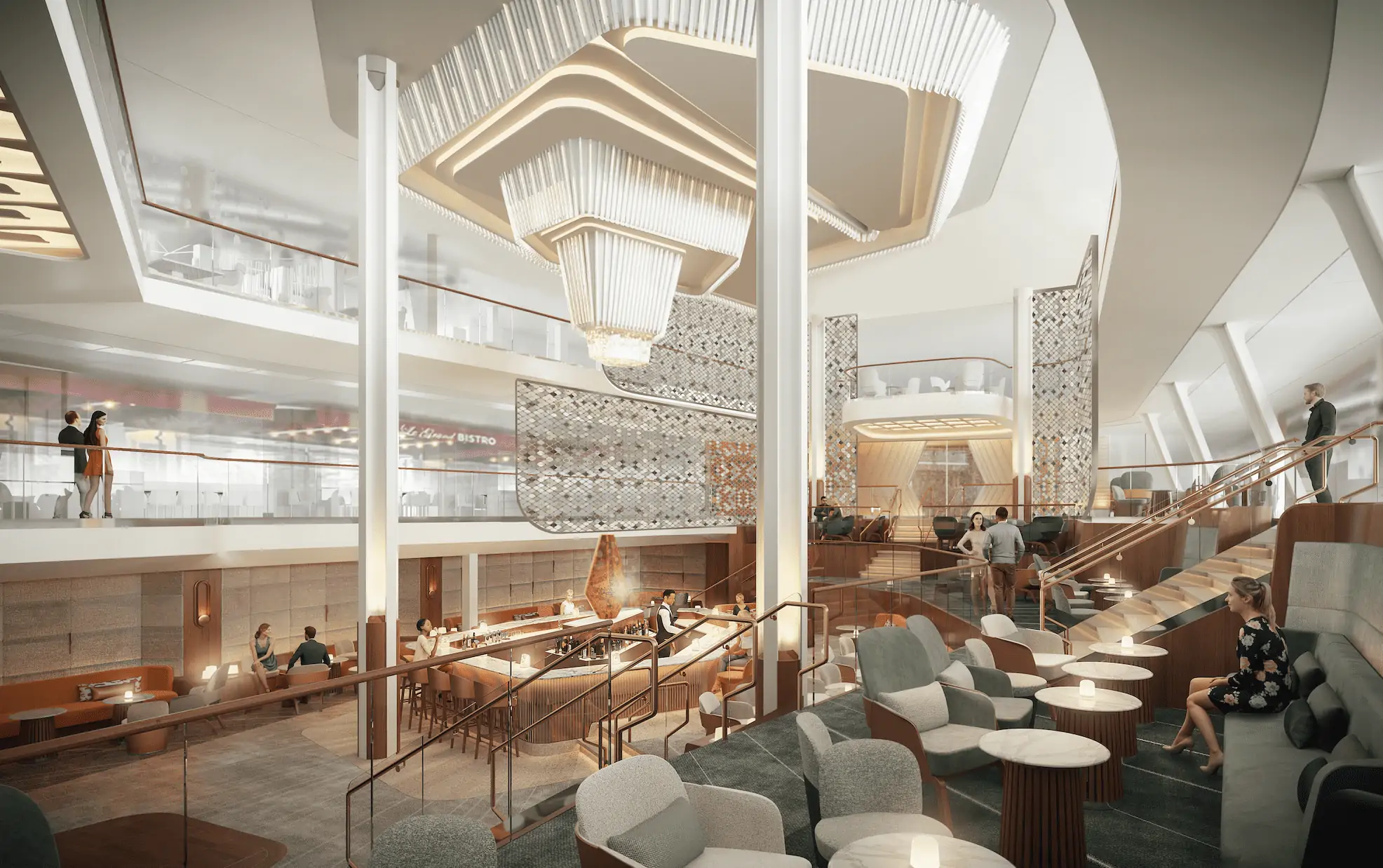 Connected to the Grand Plaza will be a new, intimate 50-seat restaurant by world-renowned chef Daniel Boulud, called Le Voyage. Chef Boulud's world-class menu will be complemented by Join Manku's design talents, which include luminous seating cocoons that are akin to dining inside of a lantern. And Lufoff-Perlo has confirmed that Le Voyage will be an additional specialty restaurant — not replacing any existing Edge-class venue.
"Le Voyage will be a culinary journey like no other and will reflect the flavors of the destinations the ship will visit. The menu will be grounded in the DNA of my French roots, but, at the same time, it's going to be very adventurous. My goal is to create a wonderfully comfortable environment where the food is center stage. I want this to be the most special restaurant at sea," said Boulud.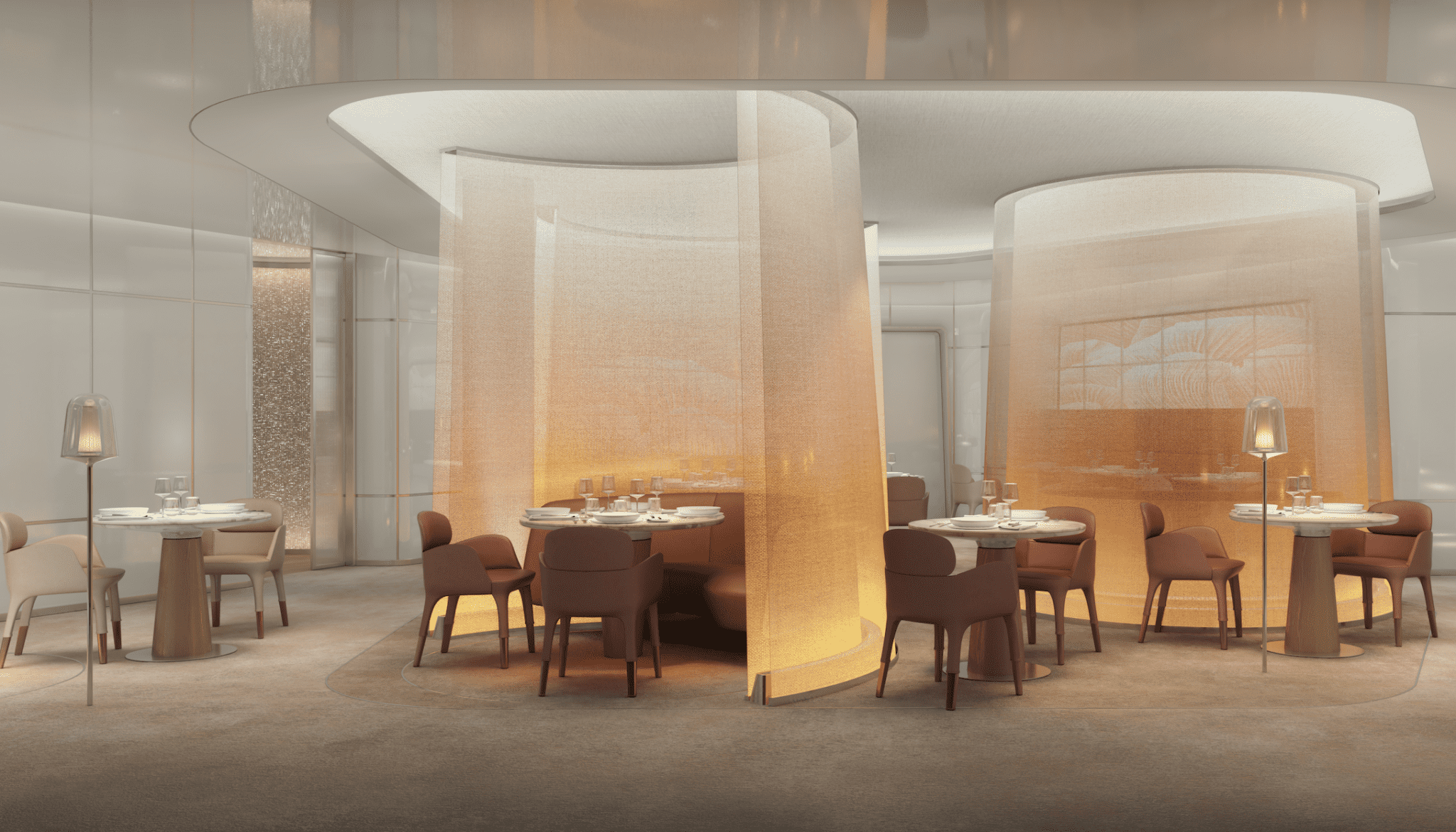 Wellness at Sea
New to Celebrity Beyond will be the AquaClass SkySuites staterooms. They will feature floor-to-ceiling windows, private balconies, luxurious bedding, and a variety of wellness amenities.
The vessel will set sail with a new partnership with actress and entrepreneur Gwyneth Paltrow, who is serving as Celebrity's new Well-Being Advisor. All Aqua Class passengers across the entire Celebrity fleet (except Galapagos ships) will be treated to onboard wellness offerings including fitness kits from Paltrow's lifestyle brand goop. Paltrow and her team at goop will also curate new onboard wellness programming.
Debut & Itineraries
Celebrity Beyond will depart on her maiden voyage on April 27, 2022 from Southampton, England. The sailing will be 10 nights, visiting Bordeaux, France; Lisbon, Portugal; and Seville, Malaga, Palma de Mallorca, and Barcelona, Spain.
Beyond will then offer a variety of Mediterranean cruises including nine-night Italian Riviera and France sailings and 10-night Greek Isles cruises through early October, when she then heads to Fort Lauderdale to offer Caribbean voyages.
Cruises on Celebrity Beyond open for sale at 3 pm ET today, April 28, 2021.
READ NEXT: Celebrity Cruises Announces 2022-2023 Caribbean Schedule