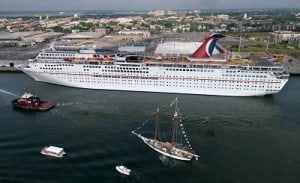 A lawsuit filed against Carnival Cruise Line by the environmentalists in Charleston, SC, will finally see its day in court, this reported by a local NBC affiliate, WSAV.
Next week the first hearing is set in front of a circuit judge to see where the case stands and what action is needed.
The environmentalist don't want the cruise ships in port because they claim they are an eye sore, pollute the local waters, violate height ordinances and bring too much traffic into the historic town of Charleston.
The city of Charleston and the State Port Authority is siding with the cruise line stating that it brings in millions to the local economy, jobs and a tremendous economic impact.
Carnival Fantasy is home-ported year-round in Charleston.
Subscribe to our Cruise News Updates.
Related articles