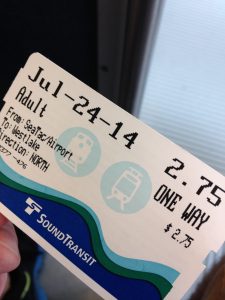 The only things I've ever heard of Seattle was that it was always dark and dreary and very expensive. But something else I discovered recently was a super easy Seattle transportation system. Let me back up.
When I take a cruise, I always fly into my embarkation city a day or two in advance, coming in early I can't take advantage of the cruise line transfer service because the ship isn't in port yet. So I have to work out the logistics on my own. I usually Google it and then go from there, but even Google and the cruise message boards didn't teach me about Seattle's Central Light Link Rail.
What is a Light Rail?
Light rails are starting to pop up in a lot of cities; in fact, the first city I saw a light rail was in Minneapolis about 10 years ago.  Imagine a subway system, that's street level, and above ground. Kind of like the monorail at Disney.
How easy is it?
Very easy. As soon as you pick up you baggage from baggage claim just look for the Light Rail signs, you can't miss them. You'll make your way outside in the parking area and follow the sidewalk to where the train is sitting high on a platform.
Before you board the train, go to the kiosk and purchase a one way or multi-day pass. A one-day pass is $2.75.  The ride is just over 30 minutes in very clean, air-conditioned rail car. There are 11 stops between Seattle Airport and the very last stop, Westlake.
Who should use it?
If you are staying Downtown Seattle I would definitely suggest using the light rail. The Westlake stop is the one that was close to my Sheraton hotel but there are other stops that are scattered around Seattle, like University Center or Union Square. Your hotel website will tell you what stop to get off on.
How fast is it?
There are other options from getting to Seattle airport like a taxi cab ($40+) or the Downtown Airporter shuttle service ($18 per person) but depending on traffic, those could take just as long.
In fact, my first time in Seattle I did the Airporter shuttle service and it took me over an hour to get from the airport to my hotel downtown because the shuttle stops at every hotel in Seattle. There are over a four dozen hotels in the downtown Seattle area. The light rail on took 35 minutes my last time I used it.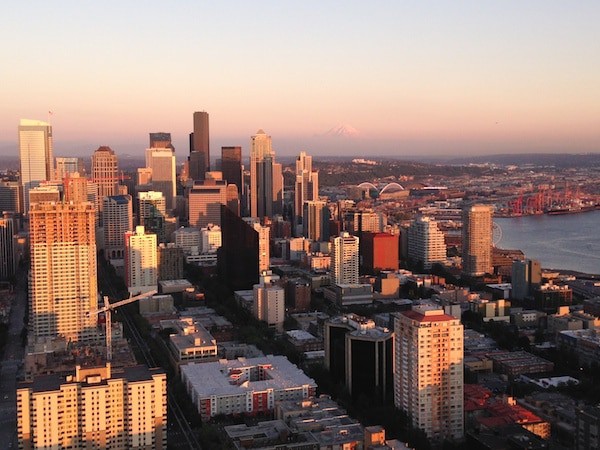 Is it traveler friendly? 
Each light rail cart has a place to store luggage so you're not having to hold on to your big bags while enroute. The best thing is you don't have to stay downtown to use the rail, I know it's cheaper to staying out by the airport. If your airport hotel has a shuttle service, just take it back to the airport and then hop on the light rail to the downtown area. If you're looking to head to the Pike Place market, take the rail to the Westlake station and walk towards the harbor, you can't miss it because the street slopes down.
Final thoughts
I would heavily suggest coming into Seattle a day or two early. It really doesn't matter where you stay, getting to the city is easily accessible by their light rail.
For more information on the Central Link Light Rail: https://www.soundtransit.org/schedules/central-link-light-rail
Have you subscribed to Cruise Radio yet? Subscribe to us on iTunes and Stitcher Radio Network.