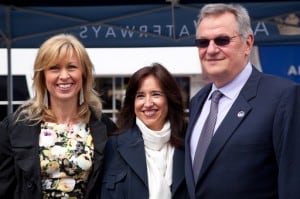 CLIA (Cruise Line International Association) President and now godmother Christine Duffy christened the 164-passenger AmaCerto, today in the Danube town of Vilshofen, Germany.
The day's festivities began with a rendition of the "Triumphal March from Aida" while "stelzengehers" or stilt walkers welcomed the crowd as the AmaCerto sailed into view. Vilshofen Mayor Georg Krenn greeted the enthusiastic crowd of local dignitaries, river cruise executives and passengers, followed by remarks from AmaWaterways President and Co-Owner Rudi Schreiner & Executive Vice President and Co-Owner Kristin Karst, as well as Godmother Christine Duffy.
AmaWaterways' new AmaCerto is a deluxe 164-passenger vessel that incorporates the most advanced river cruise ship design including Twin Balconies in the majority of its spacious staterooms and suites, which range up to 350 sq. feet. Passengers will enjoy gourmet dining with local wine at the multiple fine dining venues available onboard.
The AmaCerto also features a heated sun deck swimming pool with a 'swim-up' bar; fitness center and spa; complimentary Internet and Infotainment system in all staterooms plus Wi-Fi. For passengers wanting to explore the serene paths along the rivers, the AmaCerto offers a fleet of bicycles onboard.
The AmaCerto will serve the Dutch and Belgium Waterways and the Danube and Rhine Rivers on nine unique itineraries.
Source/photo: AmaWaterways
Subscribe to our Cruise News Updates.