MSC Cruises held a steel cutting ceremony at STX France earlier this week to mark the beginning of construction on their new ship, MSC Bellissima.  The vessel is the second of the Meraviglia generation, which will enter service in 2019.  Part of MSC's goal to triple capacity over the next ten years, Bellissima is the fourth of 11 ships due to come into service over this time period.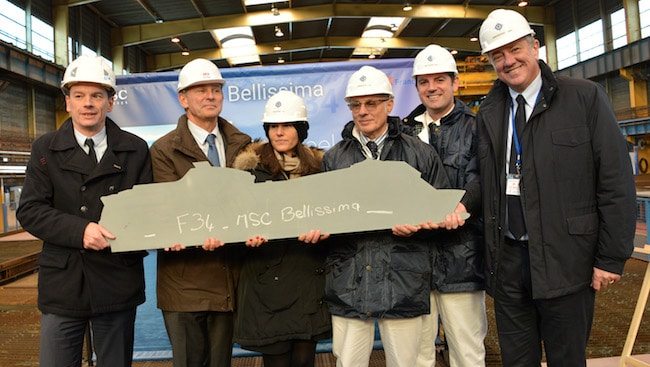 Pierfrancesco Vago, executive chairman of MSC said "MSC Cruises and STX France have walked a long path together since the construction of MSC Lirica in 2003.  Our currently fleet was built at STX France and we are now shaping the future of the modern cruise ship with two new prototypes from STX France.  With work nearing completion on MSC Meraviglia, we are delighted to begin construction of MSC Bellissima."
Bellissima has been designed to operate in all seasons and call in most of the world's international cruise ports.  The ship will embody the beauty of magnificence of MSC's upcoming mega-ships, rich with new features and amenities for guests of all ages.
The new vessel will weigh 167,600 gross tons, and hold over 5,700 guests.  Along with Meraviglia, it will be the largest in MSC's fleet.